By Lambert Strether of Corrente.
TPP/TTiP/TSA
List of traitors in House and Senate, with phone numbers. Hat tip, reader Vatch. Be sure to visit them when they return to the district. If a traitor is mentioned in Water Cooler, their name is in bold. (A reader helpfully sent me an updated version with phone numbers which I will install shortly!)
"[T]he most hideous aspect of the three trade agreements currently under negotiation is precisely that they describe a world devoid of any other political actors; it's just companies out there" [Guardian].
"There are certainly arguments that, in their efforts to promote free international trade in services, the governments working on this treaty haven't gotten the balance between economic efficiency and national autonomy exactly right" [Cato]. And that's how far Cato will go.
"The Obama administration is caught in a trap as it tries to bring home a trade deal with its Pacific Rim partners. Some of the chief beneficiaries may be big drug companies like Novartis AG, Roche Holding AG, and Pfizer Inc. while the losers could be consumers in both the U.S. and the region" [Bloomberg]. "Trap"? What trap?
"[TPP's e-commerce] free flow of information rules are designed to subvert data localization laws…. On the one hand, these can prevent countries from distorting Internet traffic flows and imposing unnecessary costs on platform operators—so they do have the potential to protect free expression and access to information on the Internet. On the other hand, these same rules could be used to undermine consumer protections for personal data. For example, these kinds of provisions could be used to unravel national efforts to pass legal requirements around how companies handle citizens' sensitive medical data [EFF]. Roundup of tech issues for all the so-called trade deals; worth a read.
On country-of-origin labeling, still punching out there in the heartland [Missourian].
[Obama claims so-called "trade deals"] would not undermine democracy, national sovereignty or laws and regulations. He was and is wrong. This May we lost a legal trade challenge by partners Mexico and Canada, under existing trade deals, with the same dispute mechanism TPA agrees to in new deals, claiming our 1946 law, Country of Origin Labeling (COOL), gave "unfair" advantage to American meats producers via labeling. Investor State Dispute Settlement (ISDS) tribunals, under World Trade Organization, in NAFTA and CAFTA, agreed country of origin labeling impacted Mexico and Canada's meat industry profits negatively, thus supporting facts that U.S. labeled meat was successful for U.S. meat producers' economic markets.
I suppose when all meat is equally rotten world-wide, then indeed COOL would no longer give an unfair advantage. The future lies ahead! (I buy from a local farm. It says right there on the label. And you know what? The meat doesn't rot in my bachelor fridge if I don't cook it instantly, unlike supermarket meat. I realize not all are privileged as I am.)
On recent events in Greece, speculating very freely: I think one thing NC readers across the board would agree on is that the Greek programme amounts to a significant loss of national sovereignty, as do the so-called "trade deals," which are not about trade. It looks to me — tinfoil hat time, here — like important factions in the global elite have invested in projects designed to destroy national sovereignty and the nation-state as part of their political portfolios — especially those post- and transnational elites with boltholes in London, Manhattan, Singapore (or Montana); elites who regard nation states as flags of convenience. Greece would then be not an outlier but a model, in the same way that Katrina and Detroit are models. "Never let a crisis go to waste."
2016
Readers, I'm light on 2016 today. However, I'm breaking out the magic markers for Hillary's speech on the economy, tonight.
Letterman comes out of retirement to deliver top ten list on Donald Trump [Entertainment Weekly]. Spoller: "No. 9: During sex Donald Trump calls out his own name."
Welcome to the Bush/Clinton speakers' bureau [Bloomberg].
Stats Watch
"[S]ince 2000, consumption has not grown at a smooth pace; it has seen steep ups and downs…. [E]conomic policy needs to rely on economic models which depart from more fundamental [less over-simplified –lambert]determinants of consumer behavior. Pinning those down is still a major challenge for economic research" [Cleveland Fed]. The article has a very interesting set of charts comparing the recessions and booms since the 90s.
No acceleration in loans; auto loans actually down [Mosler Economics].
"Blackstone Selling 1,300 Atlanta Houses in Strategy Shift " [Bloomberg]. Landlordin' is hard. Too much work for private equity.
The Hill
Dems warm to GOP tax plan [The Hill]. Hold on to your wallets.
Health Care
Bringing single payer to DC [Medium]. Sounds like a good plan.
Greece
In conversation, I've heard what the EU is doing to Syriza and Greece compared to strangling a puppy. However, the new plan makes it look like the EU, after strangling the puppy, has decided to keep it on life support for purposes of vivisection. By quack doctors.
Greek banks remain shut [Agence France Presse].
"European equities jumped almost 2 percent while Wall Street gained about 1 percent after euro zone leaders made Greece surrender much of its sovereignty to outside supervision in return for agreeing to talks on an 86-billion-euro bailout" [Reuters]. So there you have it. Loss of sovereignty is good for Mr. Market.
"Dutch Finance Minister Jeroen Dijsselbloem was re-elected on Monday as president of the Eurogroup of euro zone finance ministers, EU officials said in a statement" [Reuters]. Well done, that man.
"Jack Lew, the US Treasury secretary, said there remains 'substantial work' to be done by Greece and its eurozone creditors" [FT, "US: 'substantial work' left after Greek deal"] "'These pledges will require difficult steps by all of the parties and substantial work remains to be done,' [Lew] said" [The Hill]. "The United States will remain engaged with all parties in this important period." tl;dr: Lew high-fives Merkel.
"[T]he brief growth that Greece had posted in a couple of quarters last year seems to be a greater function of prices falling faster than output rather than true greenshoots. This all suggests that Greece's economy is in even worse shape than it may appear" [Across the Curve].
"Amid what appeared to be open conflict between France and Germany over demands that could have pushed Greece out of the euro for five years or more, Hollande succeeded in getting the 'temporary Grexit' option off the table and convincing Berlin and its hard-line allies that a deal was in everyone's interest" [Market News]. " "The fist-fight around Greece revealed the existence of two Europes, each with its own completely different logic," the French daily Le Figaro said Monday. "One is German, accounting-based and intransigent. The other is French, political and accommodating." Le Figaro is, AFAIK, on the right.
Varoufakis gives an exit interview [ABC Australia]. All the feels, all about the feels:
'I jumped more than I was pushed,' said Mr Varoufakis, describing his resignation in the immediate aftermath of the 'no' vote in the July 6 referendum on bailout terms similar to those accepted on Monday.

'I entered the prime minister's office elated. I was travelling on a beautiful cloud pushed by beautiful winds of the public's enthusiasm for the victory of Greek democracy in the referendum. The moment I entered the prime ministerial office, I sensed immediately a certain sense of resignation—a negatively charged atmosphere. I was confronted with an air of defeat, which was completely at odds with what was happening outside.

'At that point I had to put it to the prime minister: "If you want to use the buzz of democracy outside the gates of this building, you can count on me. But if on the other hand you feel like you cannot manage this majestic 'no' to an irrational proposition from our European partners, I am going to simply steal into the night."'
I really don't know what adjective to apply, here. "Frivolous"?
Corruption
"The charter movement turns 25 next year, but whether it's fulfilling the mission early advocates had envisioned is far from clear." With a big push from Clinton I under the "reinventing government" banner [The Atlantic].
"But while publicly funded school [Eagle Arts Academy, one of Palm Beach County's largest charter schools] ran up hundreds of thousands of dollars in debt and struggled to put in place its arts-infused curriculum, a Palm Beach Post investigation has found that it served a very different purpose: filling the bank accounts of its founder's private businesses" [Palm Beach Post]. Wait, charters corrupt?
Black Injustice Tipping Point
List of women who have accused Bill Cosby of rape [Business Insider].
Wretched Excess Watch
"Realtors spent $5,000 on a private chef to convince Minecraft's billionaire creator to buy this $70 million mansion" [Business Insider].
"After about an hour and a half of protesting [a Cuomo $5,000-a-plate fundraiser[ in front of [squillionaire hedgie] Daniel Loeb's house, the [Hedge Clippers] group marched down to the beach for a few photo ops with Mr. Loeb's oceanfront house as a backdrop [East Hampton Star]. How much you wanna bet Loeb tries to privatize the beach?
"A set of 24-Carat gold vacuum cleaners are being advertised for £800,000 each and are described as 'ideal for red carpets, yacht decks and stretch-limousines'" [Daily Mail]. Well, I prefer to have my servants clean the carpets with their tongues, but to each their own, I suppose.
Class Warfare
"The most distressed cities are in blue states. The most unequal are in red states" [WaPo].
"Loan Originations and Defaults in the Mortgage Crisis: The Role of the Middle Class" [NEBR].
News of the Wired
"17 interview questions that are designed to trick you" [Business Insider]. How to game HR!
Combatting book theft in the middle ages [Medieval Books].
"My DIY Formaldehyde test kit" [Public Lab]. A very interesting platform for projects.
"A short nap could reduce impulsive behavior and improve the ability to withstand frustration, a small study suggests" [New York Times]. Cats know this, which is why they run the world.
"Fixing flaws in science must be professionalised. By me in the Journal of Clinical Epidemiology" [Bad Science].
Larry Summers is not only a horrible human being and a lousy investor, he's an idiot [WaPo].
[T]here are economic laws like there are physical laws, and as with physical laws, economic laws do not yield to political will.
I prefer a viewpoint closer to that expressed by Shevek the temporal scientist in The Dispossessed to the sloppy yet and tendentious metaphor deployed by Summers:
The politics of reality," Shevek repeated. He looked at Oiie and said, "That is a curious phrase for a physicist to use."

"Not at all. The politician and the physicist both deal with things as they are, with real forces, the basic laws of the world."

"You put your petty miserable 'laws' to protect wealth, your 'forces' of guns and bombs, in the same sentence with the law of entropy and the force of gravity? I had thought better of your mind, Demaere!"
A mistake one doesn't make with Summers, of course. Shorter Larry: TINA.
* * *
Readers, feel free to contact me with (a) links, and even better (b) sources I should curate regularly, and (c) to find out how to send me images of plants. Vegetables are fine! Fungi are deemed to be honorary plants! See the previous Water Cooler (with plant) here. And here's today's plant (Jeff):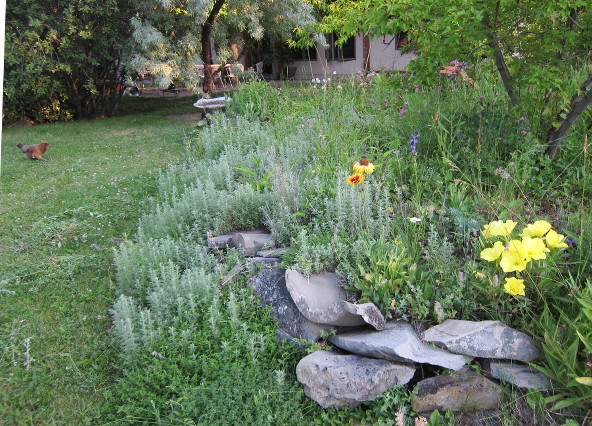 That garden looks like a good place for sitting, in the cool of the evening.
NOTE: Please free to test the donation dropdown, where the amount you select should finally appear on the PayPal form. Thanks to kind reader DK, who fixed my code. (And if you have problems, please let me know using the contact link, so as not to clutter the thread.)
If you enjoy Water Cooler, please consider tipping and click the hat. I need to keep my server up! And pay the plumber….