By Lambert Strether of Corrente.
TPP/TTiP/TISA
List of traitors in House and Senate, with phone numbers. Hat tip, reader Vatch. Be sure to visit them when they return to the district this week. If a traitor is mentioned in Water Cooler, their name is in bold.
Maui: "Trade ministers are meeting behind closed-doors at the Westin Resort and Spa in Maui this week to finalize the terms of the Trans-Pacific Partnership (TPP). This is the first formal round of talks since the U.S. passed the controversial Fast Track trade legislation in June… The U.S. Trade Representative (USTR) seeks to wrap up talks by the end of the week" [EFF].
Maui: "The 12 negotiating countries are Australia, Brunei, Canada, Chile, Japan, Malaysia, Mexico, New Zealand, Peru, Singapore, the United States and Vietnam" [Mainichi]. I'd welcome reader information on countries I find hard to track, like Brunei or Peru.
Maui: "A group of anti-corporate and pro-labor and environment organizations are planning a series of demonstrations" [Maui Time]. Clever of the organizers to site the talks on a tiny island in the middle of the Pacific. Antarctica next?
Malaysia: "Mustapa: Malaysia not signing TPP in Hawaii"  [Rakyat Post]. International Trade and Industry Minister Mustapa: "Like Malaysia, each TPP member will need to go through its own domestic process before a final decision to sign and ratify the TPP is made." Hence the importance of the $700 million 1MDB scandal, muzzling the press, etc.
Malaysia: "Malaysia's trade minister vowed to safeguard state-owned enterprises and policies favouring ethnic Malays in a Pacific trade deal, as he hit back at domestic critics of the pact" [Malaya Online]. If this is true and not mere posturing, and Malaysia ends up "safe-guarding" such enterprises and policies, then the "lost profits" clause is meaningless,  or at least differentially applied, and TPP is not a global trade pact at all, strengthening the views of some that it's really a security agreement designed to contain our trading partner China.
Japan:  "U.S. Congress' egocentric strategem in the TPP talks" [Opinion, Japan Times]. "[M]embers of Congress can expect that Tokyo will make concessions on trade matters if Washington shows a strong card related to security. If that happens, Japan would have to do a lot more than 'agreeing to stop the drive hunting of dolphins.'"
Japan: "Japan is poised to accept an effective tariff cut for imported wheat from the United States and Australia as part of talks on the proposed Trans-Pacific Partnership, it was learned Tuesday" [Japan Times]. "Some concession is 'unavoidable in the final stages', a government source said."
Australia: "Australian Minister: Dairy Outcome Key For TPP Success" [Politico]. "'We're on the cusp [of a TPP deal], but if the leadership is not shown by the big countries, it will lead to serious slippage where people are taking things off the table and we get a very second-best outcome,' said [Australian Trade Minister Andrew Robb]." By "leadership," of course, we mean horse-trading. It would be best if Australian didn't sign anything, but it would be nice if they didn't sign away pharmaceuticals for dairy.
Intellectual property: "The TPP chapter on intellectual property covers all intellectual property types included in Part II of the WTO's TRIPS agreement, plus some others, including not only patents, copyrights and trademarks, but also 'undisclosed information' [!!], test data for the registration of drugs, industrial designs, layout-designs of integrated circuits.  The rules in the TPP are intended by the United States to become global norms, effectively replacing TRIPS" [Intellectual Property Watch]. "The TPP proposes to ban all caps on damages for infringement." So, death by firing squad for that Porky's II download! Exterminate all the brutes!
TPP is pro-slavery: "Phil Robertson of Human Rights Watch told the BBC that [Malaysian] convictions for trafficking were lower than last year and, citing the mass graves as an example, adding that trafficking and abuse of migrants were still done 'with impunity'. 'How can the State Department call this 'progress'? This upgrade is more about the TPP and US trade politics" [Malaysian Insider].
Corruption: "Lobbying expenditures by members of a pro-TPP coalition increased to $135 million in the second quarter of 2015, up from $126 million in the first quarter and $118 million in the fourth quarter of 2014, according to Senate Office of Public Records reports" [Reuters]. Tremendous ROI, of course. None better.
Malaysia: " Executive Director for International Intellectual Property (IP) of Global Intellectual Property Centre (GIPC) Patrick Kilbride also said a robust IP system, made possible by the TPP, would deliver further benefits to Malaysia by attracting more IP-intensive industries to invest in the market" [Daily Express]. As opposed to, say, ASEAN competitor Thailand, whose IP standards are notoriously lax.
ISDS:  "The reason investors are usually unsuccessful in bringing ISDS cases against states is because trade negotiation officials ensure significant protection provisions are included in agreements containing ISDS. It is clear that ISDS provisions are all in the language, and that the TPP will incorporate the results of more than 20 years of reform in ISDS" [The Diplomat]. Of course, it's not "clear" at all. We can't see the text!
"Would you sign an important deal where the details were secret until after your name was inked on the page?" [The Tyee].
2016
Readers, I have recategorized this section. I had been filing items in candidate- and party-focused buckets, but I think that's encouraging people discussing their votes or, worse, proselytizing for candidates or even parties. We have Kos, Reddit, and any number of conservative sites for that. I hope this recategorization encourages discussion of policy and structural issues, though I have to confess I love the human interest of the campaign trail, which is in there too. I'm retaining the Clown Car because the stupid! It b-u-r-r-n-n-n-n-s!!!!!
Policy
There is in fact a link between climate and war, specifically in Syria, and O'Malley was right to draw it [The Atlantic].

"A seemingly exasperated Hillary Clinton refused for the second consecutive day to stake out a position on the Keystone XL pipeline, telling a crowd in New Hampshire that she would answer the question 'when I become president'" [The Hill]. Picking out the drapes for the Oval Office, eh?

"Sen. Bernie Sanders (I-Vt.) took a shot at Hillary Clinton on Tuesday, suggesting that her refusal to take a position on the Keystone XL Pipeline is "hard to understand" [The Hill]. I don't know if it's hard to understand, but it certainly seems hard for Clinton to explain.
The Voters
"Bernie Sanders is taking a General-Sherman approach to his summer, barnstorming across a deep South that is definitely enemy territory for Northeastern liberals. But unlike Sherman, the strategic purpose isn't clear" [Bloomberg]. What's unclear about it? If you want to appeal to the working class as such, as opposed to (say) "the white working class," then you have to appeal to them without geographical limitation. It's like the 50-state strategy.

A conservative take on Nixon's Southern Strategy [Daily Beast]. The obvious solution is a Sister Soulja movement, but for Bubba. Won't happen this cycle.

"After decades of subordination to a Republican "base" composed of social conservatives, it seems, libertarians and others who have felt alienated from the party see an opportunity to seize the reins" [National Journal]. But see above.

"Bernie Sanders makes direct appeal to black voters" [MSNBC]. For his campaign's sake, I hope he's reaching out to organizations less, er, venerable than the SCLC.
Money
"During the last election cycle, the fundraising arm for the Congressional Hispanic Caucus took in just under a million dollars over two years. Six months into 2015, BOLD PAC has already raised more than half that under Democratic Rep. Tony Cárdenas's leadership—and it's one of several Latino political groups ramping up its fundraising in anticipation of having a big effect on the 2016 elections" [National Journal].

Politico's Mike Allen emceed Koch Brother's beauty pageant of Republican candidates [Politico]. Ka-ching.

"The Koch brothers are freezing out Donald Trump from their influential political operation — denying him access to their state-of-the-art data and refusing to let him speak to their gatherings of grass-roots activists or major donors" [Politico].
The Trail
Sanders made Chaffee "the other other guy" [National Journal]. Profile of Chaffee on the trail in New Hampshire.

Walker passes cheese steak test in Philly [NBC]. Not Swiss.
Clown Car
FOX opens Republican debates t caondidates polling under 1% because of "overwhelming interest" [The Hill]. Help me.
Our Nation's Capital
50 Most Beautiful [The Hill].
"The end result of all the twists and turns in reaching an extension of the highway bill will not be a one-time repatriation holiday for profits held overseas, and the administration will hold out for a 'significant' infrastructure spending package, Treasury Secretary Jack Lew said Wednesday" [Market News].
Stats Watch
MBA Mortgage Applications, week of July 24, 2015: "[L]ittle changed in the latest week, up 0.1 percent, but continues to trend much higher than a year ago" [Bloomberg].
Pending Home Sales Index, June 2015: "[S]ales of existing homes fell a sharp 1.8 percent in June" [Bloomberg]. "Strength in housing may contribute less than expected to the second-half economy." And: "Confirms other indicators of housing a bit volatile but still depressed and going nowhere" [Mosler Economics].
"Econintersect's Economic Index declined to the lowest level since April 2010. The tracked sectors of the economy remain relatively soft with most expanding at the lower end of the range seen since the end of the Great Recession. Our economic index has been in a long term decline since late 2014" [Econintersect]. Bearish or not, fascinating methodology discusssion. This: "The leading indicators are for the most part monetary based. Econintersect's primary worry in using monetary based methodologies to forecast the economy is the current extraordinary monetary policy which may (or may not) be affecting historical relationships." And: "Econintersect believes that the New Normal economy has different dynamics than most economic models are using." We'll see!
"Bond-fund managers may debate the exact reason for the deterioration in market liquidity, but one thing is clear: they're highly concerned about it" [Bloomberg]. The Fed's "easy-money policies pushed many investors into the same [record-low interest rates] bonds, leaving many analysts wondering who'll be left to buy up all those same securities when sentiment sours."
"Wall Street's Secret Dividend from the Fed May Go to Fixing Potholes" [Wall Street on Parade]. See Yves here on "the Yellen subsidy."
Dear Old Blighty
Interim leader Harriet Harman defends Labour leadership election system amid claims it has been infiltrated by the hard left and Tories determined to upset process [Guardian]. £3 to join and get a vote, it was?
Corruption
"The Justice Department indicted sitting U.S. congressman Chaka Fattah, D-Pa., and four of his associates for their involvement in a racketeering conspiracy 'to further their political and financial interests'" [National Journal]. So they're going to crucify Fattah for being a member in good standing of the political class?! And a Philadelphia, too… 
"Why and how fighting corruption matters for economic growth" [Bruegel]. Italy, but not without application elsewhere.
Our Famously Free Press
Clinton hair permathread [New York Post]. Maybe she and The Donald can switch.
Black Injustice Tipping Point
"On the same day Samuel Dubose was laid to rest after being shot to death by University of Cincinnati police, the city's police chief said Tuesday that he had seen the unreleased video recording of the incident and it was 'not good'" [Al Jazeera America]. The tape will be released tomorrow, so pay attention to Cincinnati. Dubose is a hash tag…. 
Sandra Bland's life and work [Houston Chronicle]. Bland is another hash tag….
"Myth, Reality and the Underground Railroad" [New York Times].
Imperial Collapse Watch
$500 million Syrian training effort yields 60 volunteers. Ka-ching [WaPo]. Clearly, there's not enough ice cream in the self-licking cone. What say we pencil in a billion, and shoot for 120 (hopefully moderate) Syrians? 
Ukrainian "mavericks" becoming a problem. "'I would like Ukraine to lead the crusades,' said Korchynsky, whose battalion's name is Saint Mary. 'Our mission is not only to kick out the occupiers, but also revenge. Moscow must burn'" [Business Insider]. Maybe Victoria Nuland can rustle up some Ukrainain moderates?
About those schools in Afghanistan [Buzzfeed]. I remember the school in Iraq where the plumbing dripped sh*t on the students. Ka-ching. Things have not changed:
But a BuzzFeed News investigation — the first comprehensive journalistic reckoning, based on visits to schools across the country, internal U.S. and Afghan databases and documents, and more than 150 interviews — has found those claims to be massively exaggerated, riddled with ghost schools, teachers, and students that exist only on paper. The American effort to educate Afghanistan's children was hollowed out by corruption and by short-term political and military goals that, time and again, took precedence over building a viable school system. And the U.S. government has known for years that it has been peddling hype.
"Psychologists Who Collaborated on Torture Program May Face Ethics Charges" [Truth-out].
Class Warfare
"A Mini-Dictionary of Neoliberalism?" [Michael Perelman].
"In the last 25 years, the odds that an old person is a millionaire have improved slightly. But for young people, they have gotten much worse" [WaPo]. Despite the colossal pile of steaming dung that is our famously free press's coverage of [genuflects] startups (a froth phenomenon of QE).
News of the Wired
"Fear Is F*cking Us All Up" [Terrible Minds]. Not so much reason to fear the (metaphorical) weather. The climate, however… 
"Facebook Ordered by Hamburg Regulator to Allow Pseudonyms" [Bloomberg].
"A cataclysmic event of a certain age" [Phys.org]. The Younger Dryas.
"Housing in the Eastern Bloc" [Architectural Review]. "While some countries, such as Czechoslovakia or Germany were already reasonably well-off, much of the Bloc lived in slums or age-old rural poverty in 1945, and by 1990 most of it was decently housed, with clean, sound and virtually free housing. For all the obvious failures of the system in consumer goods, this was a hugely impressive achievement. By the 1980s, panel-building was even becoming eclectic."
PowerPoint presenations not allowed at Amazon by Bezos [Business Insider]. Smart!
* * *
Readers, feel free to contact me with (a) links, and even better (b) sources I should curate regularly, and (c) to find out how to send me images of plants. Vegetables are fine! Fungi are deemed to be honorary plants! See the previous Water Cooler (with plant) here. And here's today's plant (Kurt):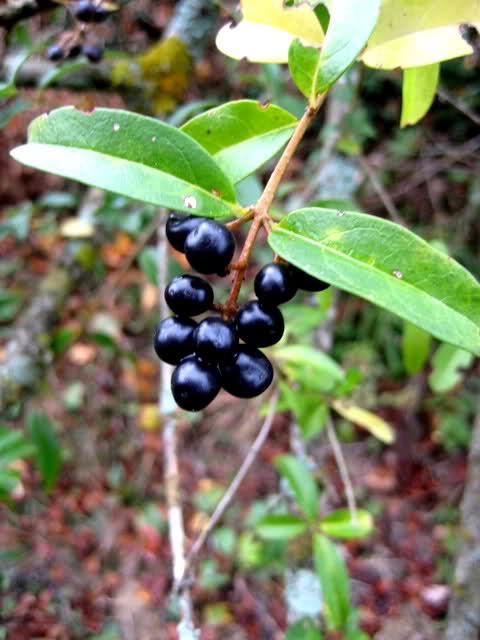 From Tuscany. Kurt thinks it might be a Lonicera. Readers?
NOTE: Please free to test the donation dropdown, where the amount you select should finally appear on the PayPal form! Thanks to kind reader DK, who fixed my code.
If you enjoy Water Cooler, please consider tipping and click the hat. I need to keep my server up! And take a trip….