If you did not visit the site yesterday, please read our post on our site policy change.
Warming 'squeezing out' bumblebees BBC
Hold the Phone, It's Patti LuPone New York Times (reslic)
Stiglitz Calls Climate Talks a 'Charade,' Pushes Plan C Bloomberg
The Secret Startup That Saved the Worst Website in AmericaPrestige of the Communist party tumbles in the Great Fall of China Financial Times
China's Illness Is Contagious for Asia Bloomberg
The Non-independent ECB Social Europe Journal
Grexit?
New Greece bailout plan 'thorouhg' BBC

Greece news live: Markets surge on news of Tsipras's climbdown as Greeks propose much harsher austerity deal Telegraph. Mr Market is not a nice person.

Greece Proposes Deal Worse Than It Could Have Got Two Weeks Ago Forbes

Greek deal in sight as Germany bows to huge global pressure for debt relief Ambrose Evans-Prichard, Telegraph. Note that debt relief is nowhere to be found in the proposal submitted by Greece. It could conceivably be in a side document, but I have yet to see any media reports of that nature. Note however, that debt relief, via extensions of maturities, interest rate reductions, and payment deferrals, was always expected to happen. But the creditors insisted that Greece complete its "second bailout," the deal signed in 2012, before it negotiated its "third bailout." And the timetable envisaged in the February Eurogroup memo was that the "second bailout" negotiations over structural reforms would be completed by end of April, with the "third bailout" negotiations to start immediately thereafter.

Leaked: Greece's new economic reform proposal Financial Times. "First, none of the documents mentions debt relief."

Merkel ally says hard to trust latest Greek reform proposals Reuters

Schäuble told Greece: 'How much money do you want to leave the euro?' Business Insider

Greek debt writedown would be red line for me – Latvian PM Reuters

Europe will pay the price for Greece Financial Times. Yes, but the Eurocrats, whether they admit it to themselves or not, are in "IBG?YBG" ("I'll be gone, you'll be gone") mode. This is actually not a very good piece, which in and of itself is telling (as in is everyone looking at this unable to get beyond tired tropes?)

With cash fast running out, Greek bank failures loom Financial Times

Fear Grows in Greece as Decisive Hour Nears Wall Street Journal

Greek Economy Under Siege, With Fears That the Worst Is Coming New York Times. We warned that a bank holiday alone was massively destructive. From the article:

As Greece hurtles toward a Sunday deadline for either reaching a bailout deal or risking a hasty exit from the eurozone, the one certainty is that its economy is already on the brink of collapse…

"Greece already has a humanitarian crisis, and we'll have to prepare for a harder aftermath if a deal collapses," Nikitas Kanakis, the president of the board of directors of the Athens chapter of Doctors of the World, a health care charity, said Wednesday. "I'm not sure how proud we should feel about letting social destruction return within Europe."

Greece: pushing and shoving in ATM queues Telegraph. This is tame, but notice the policeman and the size of the crowd. The altercation probably would have escalated if he was not there.

If Syriza Blinks Ian Welsh

Tsipras has just destroyed Greece MacroBusiness
Syraqistan
How Not to Measure the Iran Deal Bloomberg

Iran talks trigger sanctions delay BBC

ISIS Steps Up Recruiting in Georgia's Pankisi Gorge Intercept (reslic)
Big Brother is Watching You Watch
Bernie Sanders Is Not the Left's Ron Paul New Republic
Matt Taibbi: Eric Holder Back to Wall Street-Tied Law Firm After Years of Refusing to Jail Bankers Democracy Now
The Quiet War Squirrels Are Waging on U.S. Stock Exchanges Atlantic (reslic)
Colbert Shows How to React to a Market Collapse Big Picture
Calling Off the Credit-Card Debt Collectors New York Times (reslic)
Zombies stumble in June, but finally have something to be less ashamed about FT Alphaville
Class Warfare
SCOTUS Comes Calling on Public Sector Unions American Prospect

The Supreme Court, the Fair Housing Act and the Racism Debate Alan White, Credit Slips
Antidote du jour. Lance N: "'Just give us the mice and nobody gets hurt.' The three thugs are either "Russian Snow Cats" or "Norwegian Forest Cats"." I think we might rename the The Troika.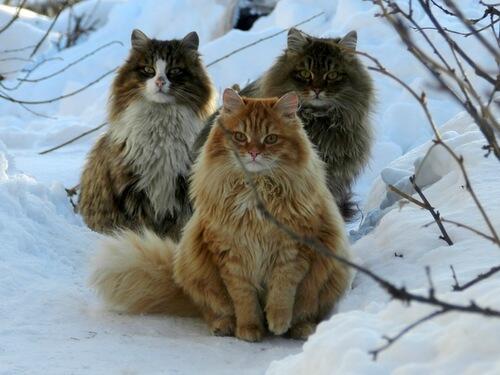 See yesterday's Links and Antidote du Jour here.