By Lambert Strether of Corrente.
TPP/TTiP/TSA
List of traitors in House and Senate, with phone numbers. Hat tip, reader Vatch. Be sure to visit them when they return to the district. If a traitor is mentioned in Water Cooler, their name is in bold.
2016
Let me just turn the mic over to Alan Grayson for a moment:
"Why Is Everyone Angry? I'll Tell You Why" [Alan Grayson, HuffPo]:
But here is the deeper explanation for all of that anger: For most Americans, life simply is getting harder. This was painfully obvious from a Sage Foundation study last year, following up on an article in the Annals of the American Academy of Political and Social Science. The study looked at changes in the wealth of American households over a decade, from 2003 to 2013. The study found that median net worth had dropped by 36 percent, from $87,992 to $56,335.

Let me repeat that: The net worth of the average American household dropped by more than one-third in ten years. The decline from the 2007 peak was almost 50 percent, in just six years. (Most of that loss was in the value of one's home — home is where the heartache is.)

That's why everyone is so angry.
A staffer should have helped him on one point, there, but on the big picture: He's right. And concrete material benefits is where it's ate.
"Why Don't Democrats Vote? I'll Tell You Why" [Alan Grayson, HuffPo]:
The [Florida Gubernatorial] Democratic nominee [in 2010] was Charlie Crist, a REPUBLICAN former governor. Crist was so far to the right that he was known as "Chain-Gang Charlie." In 2010, when Scott was first elected, Crist killed the Democrat's chances for a US Senate seat from Florida by dropping out of his own Republican primary, where he was 25 points down, and running as an "independent." That "stinking maneuver" … made Marco Rubio the junior senator from Florida.

Rather than shunning Crist for blowing that 2010 Senate race for the Democrats, the Democrats actually recruited him. They crowned someone who was a Republican just a few years earlier, and a conservative Republican at that, as the "Democratic" nominee for governor.

Political strategists called this a brilliant move by the Democratic Party. And Democratic voters were appalled, as my own little poll showed. Democratic voters stayed home in droves, and the Democrats lost.

As Gov. Howard Dean has said, if you offer people a choice between a real Republican and a fake Republican, they will choose the real Republican every time.
It's been a long time since a Democrat threw me some red meat.
Stats Watch
Wholesale trade, May 2015:  "Wholesale inventories rose a sharp 0.8 percent in May, a much larger-than-expected gain but still in line, though just barely, with sales" [Bloomberg]. "Builds were posted in furniture, farm-products, and apparel." And: "another soft report" [Econintersect]. Grrrr: " The textbook narrative where sales lead inventories, with inventories falling after sales fall and production is reduced, is most likely what's going on here, as evidence that we may already be in recession continues to increase" [Mosler].
Greek industrial production down 4% in May [Hellenic Statistical Authority].
"The IMF forecasts 3.3 percent global growth this year, down from the 3.5 percent it predicted in April. That would be slowest pace of global growth since the world economy shrank slightly in the recession year 2009. The main culprit: The American economy, world's biggest, shrank at a 0.2 percent annual rate from January to March" [AP].
LIBOR
"Ex-Deutsche Bank Traders Said to Face Libor Charges" [Bloomberg].
"Three years on from the Libor-rigging scandal, the key interest rate benchmark is still not fully repaired, the Financial Stability Board (FSB) warned" [Telegraph]. "if economic times get tough the index could become an unreliable tracker of the risk-free interest rate in financial markets, undermining its core purpose." Oh, that's its core purpose? I wonder if "markets" have a false origin story, just like Adam Smith's false origin story of money. I mean, surely market makers don't create markets only out of altruism, but for profit? And why should not the market itself have rent as a purpose, in addition to whatever profits are taken from trading? The whole "free markets" thing seems Utopian to me, and one of the bad things about Utopias is that sometimes the kill people. Readers: Can any of you recommend any scholarly anthropological or historical works on the origins of markets?
"Former trader Hayes denies trades were bribes for brokers, Libor trial hears" [Reuters]. "'He denies it,' said the King: 'leave out that part.'"
"'I wanted to say 'I haven't done anything wrong. I was just doing my job and I'm not dishonest'," Hayes said, breaking into tears." [Daily Mail]. While executives laugh.
"Tom Hayes, the alleged mastermind of a global interest-rate-rigging conspiracy, said that he decided to fight charges against him after discovering in 2013 that his former employer, UBS AG, had what he called an "instruction manual" for manipulating rates" [Wall Street Journal]. The tears trigger my all-too-human impulse to rip the throats from the weak, but an "instruction manual"… Hmm. I wonder who signed off on it? And who managed the distribution list?
Lambert here: I remember very well this column in 2008 from Krugman [Paul Krugman, "My Friend TED," New York Times], which I saw as nugget of true wisdom because Sveriges Riksbank Prize in Economic Sciences in Memory of Alfred Nobel:
The TED spread is the difference between the interest rate banks charge each other on 3-month loans (3-month LIBOR) and the interest rate on 3-month U.S. Treasury bills. It's a measure of financial jitters.
What Krugman either did not know (bad) or did not say (appalling) was that LIBOR data was corrupt data, manipulated data. So who wants a "friend" like that? This is not unique to Krugman, of course. Oddly, or not, corruption figures no more in academic economic discourse — salt or fresh — than does, say, banking.
Corruption
"As one of the foreign exchange traders encouraged a fellow conspirator, 'If you ain't cheating, you ain't trying.'" [The Hill].
"[T]he practice of selling bonds remains a morass of opacity, and there seems to be little examination of the practices surrounding how the securities are issued" [Bloomberg]. Hmm.
"'When [it is] a rich guy or someone who has power in the country, normally they are not arrested and sent to jail,' [Bunthoeun Soun, a coordinator of the Judicial Reform Project at the Cambodian Center for Human Rights] said" [Phnomh Penh Post]. Of course, Cambodia is a third-world country. It can't happen here.
Our Famously Free Press
"Joshua Topolsky, the top digital editor at Bloomberg, has been fired from the company due to Michael Bloomberg's frustration with the website" [Bloomberg]. BWA-HA-HA-HA!!! Literally the ugliest, most unusable front page I've ever given up on checking regularly. To be fair, Paul Ford's "What is Code" was a brilliant example of how to integrate working code into well-written copy. But it was also meta, or reflexive: The article was about code, and the working code embedded in the text was, in essence, illustrative.
My free advice for Bloomberg: Your readers are time-stressed. Make sure your site delivers text clearly and efficiently. Consider visualizations — which code can display brilliantly, as in Ford's piece — as illustrations, and make sure the text works without them.  Writing is around 5000 years old, and delivering information in that medium has an immense accumulation of social capital behind it. All the JavaScript brogrammers and Brooklyn design hipsters in the world wouldn't be able to change that in a year, or a decade, or even figure out the right thing. Put them back in their box and don't embarass your publication by giving them more control than they should have over your process, or more bandwidth than readers want to give them. 
"Vice is also increasingly throwing its weight behind hard news, and in late March, the company announced a deal with HBO that will expand its vaunted documentary series and give Vice a 30-minute newscast every weekday" [Columbia Journalism Review].
"One thing we can learn from Circa: A broader way to think about structured news" [Nieman Labs].
"Print and online readers of a heart-wrenching true story display equal empathy and emotional engagement, regardless of the medium in which they read" [Columbia Journalism Review].
Black Injustice Tipping Point
"[Missouri] Gov. Jay Nixon signed legislation Thursday limiting the ability of cities to profit from traffic tickets and municipal court fines" [New York Times]. Leaving open the issue of how else cities like Ferguson will raise revenue. My guess is they'll target the same people they targeted before.
"Confederate flag removed from South Carolina Statehouse after a 54-year presence; heads to nearby museum" [AP]. Marking, one might hope, the end of Nixon's Southern Strategy.
"Bill Cosby's Famous "Pound Cake" Speech, Annotated" [Buzzfeed]. "Algernon: Really, if the lower orders don't set us a good example, what on earth is the use of them? They seem, as a class, to have absolutely no sense of moral responsibility" —The Importance of Being Earnest.
Climate 
"'A lot of people are asleep, they are on the Titanic and they drink champagne, while we are about to crash,' Jerry Brown, whose state is struggling to cope with a historic drought that many blame on climate change, told the Climate Summit of the Americas" [France24].
"As a recent study from the University of Bristol documented, climate scientists have been so distracted and intimidated by the relentless campaign against them that they tend to avoid any statements that might get them labeled "alarmists," retreating into a world of charts and data" [Esquire]. Those plucky billionaires!
Wretched Excess Watch
"Mr. Vowels says he likes the quirky touches of his modern home, which includes a front gate that once was part of a cell of a now-demolished prison. [Wall Street Journal, "Seattle's Luxury Homes Get a Tech Boom Boost"]. Ha ha teh funny. Which way does the gate swing?
"How to Buy a Bordeaux Château" [Bloomberg].
Class Warfare
Nate Silver on the "work longer hours" controversy [FiveThirtyEight]. I want to focus on this sentence:
After accelerating in the late 1990s, productivity growth has slowed markedly in the past decade. The slump is a bit of a mystery given the rapid pace of technological progress, which should generally allow companies to produce more per hour of work.
Is it possible that after seeing generation of productivity gains creamed off by owners, American workers have finally figured out there's nothing in it for them, so why do it?
News of the Wired
"The big problem we face isn't coordinated cyber-terrorism, it's that software sucks" [Medium]. This is an excellent counterweight to the triumphalism of "The Startup that Saved America."
"Post-politics and the future of the left"  [Open Democracy]. The whole thing is worth a read:
The left's rejection of ideology is, in this light, deeply problematic, as it accepts an attack on ideology that is implicitly an attack on the left. Everyone declares left and right to be 'over', but the left is a lot more over than the right. The right is comfortable in a post-ideological era: they have evolved into a kind of anti-establishment establishment, talking local and acting central. But the left has taken the fragmentation imperative at face value, splintering off into atomised single-issue campaigns. The grassroots revolution is, in this sense, an unwitting symptom of neoliberal hegemony. The right emphasises concrete practicality while keeping its eye on the ideological prize; the left has given up on grand narratives, yet needs one all the same.
* * *
Readers, feel free to contact me with (a) links, and even better (b) sources I should curate regularly, and (c) to find out how to send me images of plants. Vegetables are fine! Fungi are deemed to be honorary plants! See the previous Water Cooler (with plant) here. And here's today's plant, or rather, fungus (Diptherio):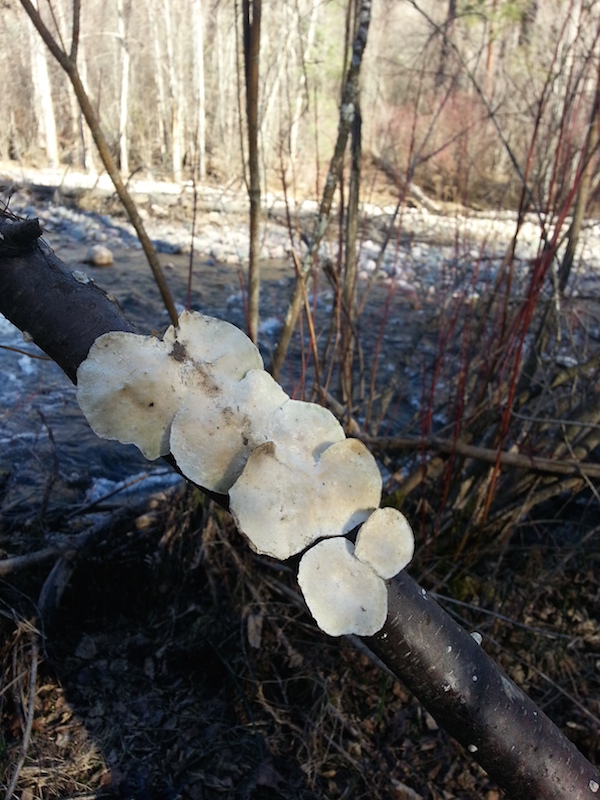 NOTE: Please free to test the donation dropdown, where the amount you select should finally appear on the PayPal form. Thanks to kind reader DK, who fixed my code. (And if you have problems, please let me know using the contact link, so as not to clutter the thread.)
If you enjoy Water Cooler, please consider tipping and click the hat. I need to keep my server up! And pay the plumber….