If you did have not visited the site in the last couple of days, please read our post on our site policy change.
A typhoon shelter… for homeless dogs Hong Kong Free Press
Lazy lifestyle key to pandas' bamboo-only diet BBC
What kind of happiness should we strive for? Cathy O'Neil. From last week. I suspect Buddhists would have trouble with these ideas, since they still involve striving or pleasure-seeking (the "striving" sounds discordant). Would be curious to get reactions.
NYT: Turns Out Atticus Is a Racist in New Harper Lee Novel Gawker
Uber driver who threatened to slit customer's throat suspended RT UK
'Awful,' 'Evil' New Airline Seat Design Unveiled Newser Mobile
Thousands stranded as Indonesia's Bali airport shut after volcanic eruption Reuters (furzy mouse). What a nightmare. I am one of the very few people who had a happy volcano refugee experience in London in 2010, when Richard Smith and his wife let me stay on in their flat until I could depart. I can't imagine what it would be like to be stranded.
Gaudí's Great Temple New York Review of Books. I was lucky enough to visit the Sagrada Família on a Sunday morning, when it was not very busy, on a sunny day. What a glorious building.
Rousseff battles impeachment calls Financial Times
Grexit?
Crippled Greece yields to overwhelming power as deal looms Ambrose Evans-Prtichard, Telegraph. If no deal, "We're going to see severe shortages of basic food in Greece in less than a month."

Greek debt crisis: MPs approve bailout plan but some Syriza MPs rebel – as it happened Guardian (furzy mouse). A recap of the debate and votes.

#Greece govt suffers wider losses than expected – Tough days ahead for Tsipras – Almost impossible to pass bailout laws under this coalition @YanniKouts

Greece Faces Showdown With Creditors as Lawmakers Back Bailout Bloomberg

Yanis Varoufakis, who is the MP for the district with the largest number of voters in all of Greece, did not show up to the vote. Here's his excuse. You can run it through Google Translate

What was the point of Tsipras referendum? Paul Mason. Wow, this is strained. Start with the "flush out that clear threat" part. Where has Mason been all these years? That threat was used successfully against Ireland. That's why its government absorbed the ginormous liabilities of its banks even though Ireland had no deposit guarantee. It was also used against Cyprus, which was forced into a bank holiday and a depositor haircut (it had the alternative of Euroexit too but never considered that seriously since its banking system was not anywhere near as troubled as Greece's is).

Opinion: Why a Grexit Must Be Avoided Der Spiegel. Important. The first line tells you why we may still have a Grexit despite Greece having prostrated itself: "Anyone who opposes the prospect of a Grexit can feel a little lonely in Germany these days."

Angela Merkel faces 'lose-lose' choice on Greece Financial Times

Different line-up on Grexit from Handelsblatt. Belgians shift camp. Austria neutral @AmbroseEP. Important. An ever clearer reason why Grexit is likely. It requires all 19 Eurozone states to approve a deal. Look at the number of holdouts. Unless Merkel and the US spend a shitload of political capital, it's hard to see how this changes, particularly in a couple of days.

Putin: Where was EU when Greek crisis was evolving? RT

TSIPRAS: IT WILL BE COMPLETELY EU PLAN; IMF TECHNICAL SUPPORT – MNI @FGoria

The Club Med Marshall Plan Gillian Tett, Financial Times

'We underestimated their power': Greek government insider lifts the lid on five months of 'humiliation' and 'blackmail' Mediapart. Sad and revealing. When you are negotiating and engaged in diplomacy, you don't have the luxury of having emotional reactions like experiencing humiliation. This is also why Juncker's recent public wallowing in self pity is similarly really shocking.

Greece: Humanitarian Crisis on the Islands ReliefWeb

'We're living the Thug Life': refugees stuck on Greek border have nothing left to lose Guradian
Ukraine/Russia
The Shadow of Brest-Litovsk (with image, tweets) · billmon1 Storify
Syraqistan
Turkey arrests 21 suspected ISIS members CNN

Negotiators extend teetering talks on Iran Financial Times

Major blast rocks Italian consulate in Cairo reports RT News
Imperial Collapse Watch
Big Brother is Watching You Watch
The Risks of Mandating Backdoors in Encryption Products Bruce Schnier

Anonymous: How To Fool Facial Recognition YouTube (furzy mouse). Wish they gave an instruction manual. Won't just wearing a fake nose and enormous sunglasses do?

When the FBI Went After 'Mad' Magazine Mental Floss
Big changes proposed for Medicare surgery payments MSN
Immigration Agents Find Common Cause with Hate Groups Texas Observer
Hillary Clinton's push on gun control marks a shift in presidential politics Washington Post. Translation: Hillary's election mavens have figured out gun lovers will never vote for her, and this stance will shore up her "progressive" claims
Good Cop: Watch Policeman Uphold Constitution, Prevent Citizens from Being Searched & Accosted Free Thought Project
Here's the Most Interesting Thing in GSElevator's New Book Bloomberg. Read about price fixing!
Oil price could fall further, warns IEA Financial Times
Join Occupy the SEC in Urging the President and the Senate to Appoint a Progressive as SEC Commissioner! Petition2Congress. Please sign!
Who Runs the Fed? Dissent. There is one part I quibble with. The boards of the regional Feds are not at all like private company boards. They could never force out a Fed president, for starters, and they play almost no oversight role. So the result is actually worse: the regional Feds are not properly governed at all, but get some pathetic oversight from both the Board of Governors and some intervention from the private boards (the private boards do nominate the candidate for the next regional Fed president, which the BoG usually accepts. While that is appallingly obvious, the BoG would almost certainly come up with an equally cronyistic selection process). In practice, the regional Fed boards are almost entirely advisory in nature. So the regional Feds operate in a banking bubble with virtually no accountability.
Modern Money Theory – Part 1 New Economic Perspectives
U.S. Primary Bond Market Seized Up, Junk Bond Issuance Frozen, Chaos in China, Greece, Puerto Rico, Commodities Cited Wolf Richter
Class Warfare
Sorry, but the jobless future isn't a Luddite fallacy. We need to be ready. Vivek Wadhwa (David L)
Two Cheers for the Middle Ages! New York Review of Books
Antidote du jour. @World: "A mother bear and her cub taking a dip in Kurile Lake in Russia."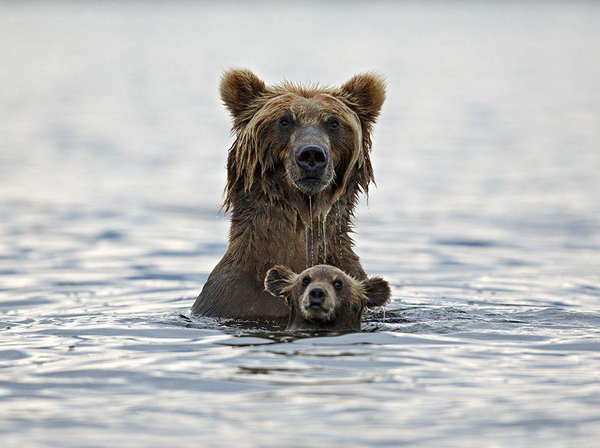 See yesterday's Links and Antidote du Jour here.