What happened when we took a lie detector on some internet dates Guardian (furzy mouse)
Winter is Coming: Scientist Says Sun Will Nod Off in 15 Years Huffington Post (furzy mouse)
Go Set A Watchman: read the first chapter – interactive Guardian
The most successful female athlete of all time just got body shamed in the New York Times Business Insider (furzy mouse)
An Algorithmic Sense of Humor? Not Yet. MIT Technology Review (David L)
Mozilla blocks all versions of Adobe Flash in Firefox ghacks
Eurozone industrial production underwhelms in May Financial Times. A feature, not a bug.
Britain won't recover while its economy is dominated by magical thinking Guardian
Grexit?
The Greek bailout deal resolves nothing Center for European Research (Swedish Lex)

Greece is being treated like a hostile occupied state Ambrose Evans-Pritchard, Telegraph

Europe Owns This Disaster Bloomberg. "In other words, successive episodes of backsliding and financial crisis are more or less a deliberate feature of the design."

Schäuble's plan: Germany has to get out of this Euro-Zone Deutsche Wirtschafts Nachtrichten (guurst). Some readers have claimed this site verges on CT so take this as a hypothesis.

Tormenting Greece is about sending a message that we are now in a new EU Irish Times (Swedish Lex)

Premier of Greece, Alexis Tsipras, Accepts Creditors' Austerity Deal New York Times. Key detail: the speaker of the Parliament is opposed to the deal and might be able to derail it.

Syriza set to rebel over 'humiliation' Financial Times

Greek PM Tsipras faces party revolt over bailout deal Reuters. Bilmon on Twitter: "In "gesture" to Greece, Merkel agreed €12.5 billion from asset sales could be invested back in country that owns them."

Greeks 'humiliated' by bailout, cry 'hands off the Acropolis' Agence France-Presse

Deal on Greek Debt Crisis Exposes Europe's Deepening Fissures New York Times

Analysts express widespread Greek deal doubts Financial Times

Greece Should Just Quit Bloomberg. Editorial.

Greece Needs the Euro New Yorker

Europe's Insane Deal With Greece Bloomberg (Swedish Lex)

IMF: Most misleading sentence ever? Mean Squared Errors

Greece's Banks Are Next in Line for a European Bailout New York Times
Ukraine/Russia
Ukraine leader attacks Greek 'disaster' Financial Times
Syraqistan
Iran and major powers reach nuclear deal: Report CNBC (furzy mouse)

Iran nuclear agreement 'reached' BBC

The War on Yemen and Al Qaeda American Conservative (reslic)
Big Brother is Watching You Watch
Oscar and Pulitzer Award-Winning Journalist Laura Poitras Sues U.S. Government To Uncover Records After Years of Airport Detentions and Searches. Read complaint here.
Imperial Collapse Watch
Opening Comments to the American Psychological Association (APA) Board of Directors Counterpunch. Chuck L:

If the Report is released on July 20th, there will be front-page articles in every major newspaper in this country and around the world on July 21st.

The headlines will read: "Report Finds APA Leadership Colluded With Bush Administration in Support of Torture."

What will the subheading read: "Many named remain in leadership positions" or "APA removes tainted leadership in response to investigation"?

This is not a PR problem. This is a survival of the Association problem. And there is no good way to get through this.

The Biggest Threat to Americans? Other Americans With Guns Daily Beast (reslic)
Trade Traitors
Debasing the US TIP report Bangkok Post. Editorial
Clinton gets tough on Wall Street, vows to tighten oversight Reuters. EM: "Words are wind." Lambert's shredding, um, analysis goes live later in the AM.
Rubio raises $45m in White House bid Financial Time
Voices from Trump Supporters Atlantic. Ed Harrison: "These are your countrymen!"
Gov. Jerry Brown signs bill barring fines for dead lawns during drought Los Angeles Times
Nudist resort owners charged with stealing water San Jose Mercury News. EM could not resist: "Such naked criminality must not stand!"
New York City agrees to pay $5.9m in settlement with family of Eric Garner Guardian
Bringing Broken-Windows Policing to Wall Street Atlantic (Gabriel)
Algorithms Had Themselves a Treasury Flash Crash Matt Levine, Bloomberg
Puerto Rico Faces Its Creditors in Early Debt Resolution Talks New York Times
Class Warfare
There's a fascinating difference between income inequality in red states and blue states Yahoo. Hate to say, but all this study seems to do is raise doubts about its methodology. With the number of hedgies and private equity firm partners that live in NYC (0.1fi types) while we have low income people living nearby in Queens and the Bronx (and lots of homeless people these days), NYC has to be in the top ten in income inequality, and more like top three, and it's not even on the list! Just look at the number and pricing of the top restaurants, or the price of summer rental in the Hamptons for confirmation. NYC apparently gets bonus points for having good amenities like public transportation, for the working classes. But it utterly misses the amenities at the top end, like cars and drives and private jets.

Mass incarceration in America, explained in 28 maps and charts Vox (reslic)
The Cure Culture Motherboard
Antidote du jour (Lance N). A cold climate sphinx? A guard cat?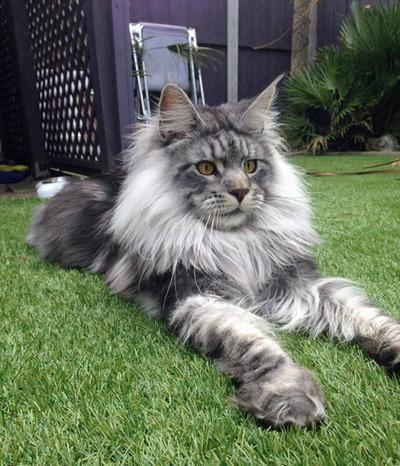 See yesterday's Links and Antidote du Jour here.