If you have not visited the site in the last few days, please read our post on our site policy change.
This 3D map shows every object orbiting earth Business Insider
The Earth erupts! Spectacular pictures show THREE volcanoes ablaze in Mexico, Chile and Indonesia while a fourth rumbles away Daily Mail. Gaia's ticked. And rightly.
Iowa Makes a Bold Admission: We Need Fewer Roads City Lab (furzy mouse).
This Rooftop Garden Is Feeding Atlanta's Homeless Vice
Calpers' private equity problems pile up FT. Nice to see the pink paper catching up, here.
Trouble-Shooting Wall Street (cartoon) New York Times
Global investors hang on as China swings Australian
An annotated chart of China's stock market boom and crash Business Insider
China's Incendiary Market Is Fanned by Borrowers and Manipulation NYT
Malaysian Central Bank Fights to Stay Above 1MDB Political Mess Bloomberg
Putin Leads BRICS Uprising Counterpunch
Sharing economy disruption, maybe not so disruptive? FT Alphaville
Is there a chance that whilst everyone's talking about Airbnb's stellar growth — which increasingly stands, just like in the case of Uber, for getting amateurs to invest in fixed assets on the false presumption they can make guaranteed profits and then being sorely disappointed — there's going to be significant churn in the next few years as those who can't stomach the costs, the depreciation or the hassle pull out?
Less politely, the initial "disruption," exactly as with Uber, is breaking the law.
Grexit?
The Ugly Heart of the European Project Ed Harrison, Foreign Policy

Political will keeps Greece's stopgap loans remain — for now FT

ECB likely to hold meeting on Greek ELA on Monday Hellenic Shipping News

French deny EU report of possible loan for Greece Reuters

Greece debt crisis: Athens fights against temporary Grexit plan – live Guardian.

There are also many questioning the sense in a group of people, no matter their ranks or experience, making decisions like this at 5am after an all night meeting.

Chernobyl: 1:23AM. Three Mile Island:  4:37AM.

Greece news live: eurozone split over Grexit ultimatum plan as Greeks says they are being 'crushed' by Brussels Telegraph

Greek crisis: surrender fiscal sovereignty in return for bailout, Merkel tells Tsipras Guardian

UPDATE 1-"Kindergarten" as weary euro ministers divide over Greece Reuters

Timothy Geithner reveals Schauble's plan to kick Greece out of the euro and 'terrify' the rest of Europe The Press Project (2014).

What were the Greeks thinking? Here's a poll taken just before the referendum. WaPo

Where does the legal right to a 5y GREXIT exist? Brian M. Lucey

Greece's Tsipras faces storm at home over debt talks Ekathimerini

Greek Debt Crisis: Germany Flexes Its Muscles in Talks With Bailout Ultimatum WSJ

Greek Bailout Offer Passes Ian Welsh. 

The Moment The Euro Became Reversible Sky News

How a Chinese puzzle could enable the Greeks to have the last laugh David McWilliams. Greece could adopt the Chinese Renminbi; an idea from Ireland.

We Can All Get by Quite Well Without Banks – Ireland Managed to Survive Without Them Common Dreams (Edward Qubain). Another idea from Ireland:

Undated checks, often endorsed over to others but never cashed, became a form of currency. When the supply of checks dried up, people wrote new ones on any available piece of paper, sometimes adding a postage stamp to give it an official appearance. There was talk of some checks being written on beer mats and lavatory paper. It was a system that worked because it drew on local knowledge and trust. The people exchanging checks and IOUs knew each other well, and if they did not, they could soon find the necessary information to assess each other's credit-worthiness. At that time there were 11,000 pubs in Ireland and 12,000 shops that became substitutes for the banks. Antoin E Murphy, who carried out a study on the strike's effects, found the public's ability to assess risk 'was based on a vast pool of information available to transactors on the credit-worthiness of other transactors'.

Yves has addressed this idea, but I thought it was important to hoist the link for the record. It's a fascinating take on Minsky's epigram that "Everyone can create money; the problem is to get it accepted." Yves points out this idea will hardly work for the tourist industry (18% of GDP) or imports (oil to refine for export; pharmaceuticals). I'd point out that a strike is, by definition, temporary; it's not clear how long Ireland could have played pass the parcel like this, let alone Greece. Now, it's possible that if Greece reverted to autarky, this might be tried, assuming that cultural factors don't prevent porting an Irish solution; but my guess is that if this were going to be done, it would already have been done, and that an existing local currency like TEM might be a better bet.

Finally, these ideas — this one, and the previous one — although well-meant, are just that: Ideas. Planning or at least publicity for each would have had to have started long ago, and there's no sign that any of that has been done, or that the Greece has the organizational capacity to do that, or even did any planning for a Grexit.
Romanian PM steps down as party leader amid graft probe France24
2016
Document Reveals Billionaire Backers Behind United Against Nuclear Iran LobeLog
Get ready for the pro-Israel NRA Jennifer Rubin, WaPo
Psychologist accused of enabling US torture backed by former FBI chief Guardian. Well, naturally.
Health Care
Health Law's Contraceptive Rule Eased for Businesses With Religious Objections New York Times. Category error: A "business" can't have a "religious objection." 

Modern Doctors' House Calls: Skype Chat and Fast Diagnosis New York Times. What could go wrong?

Small Business Health Insurance Exchanges Are Off To A Rocky Start KHN. Shocker.
Class Warfare
Whataburger takes stand against Texas' new open carry gun law and bans visible weapons from restaurants Daily Mail
F-35 Nears Combat Readiness As Massive Order Planned InvestorsBusinessDaily. 2,443. Save the skeets!
Building real markets for the good of the people – speech by Mark Carney Bank of England
Real markets are professional and open, not informal and clubby. Participants in real markets compete on merit rather than collude online.

Real markets are resilient, fair and effective.  They maintain their social licence.

Real markets don't just happen; they depend on the quality of market infrastructure.

Robust market infrastructure is a public good, one in constant danger of under-provision because the best markets innovate continually.  This inherent risk can only be managed if all market actors, public and private, recognise their responsibilities for the system as a whole.
Well, as I said yesterday, I dunno. I would like, seriously, for somebody to explain, historically or theoretically, why Carney's view of what "real markets" are is not a Utopian fantasy, and why the humongous LIBOR fraud — only one of many — is not the reality. Note that at the very least, Carney flushes the concept of "equilibrium" down the toilet — where it belongs — since as he explains markets are, as it were, aerodynamically unstable, requiring the constant intervention of skilled and authoritative humans to remain airborne. Leaving aside the edge case of a controlled flight into terrain, as we have been seeing in Europe.
Antidote du jour: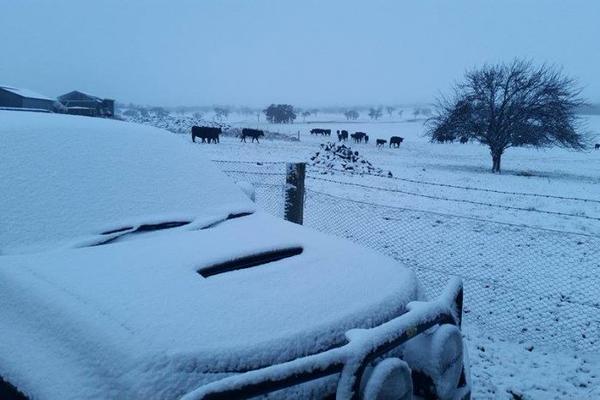 Winter is coming! Unless you are in the Antipodes, in which case it is already here. Poor cows! (Snow in New South Wales south and north-west, and west of Sydney.)
See yesterday's Links and Antidote du Jour here.