Manatee spotted in Chesapeake Bay Baltimore Sun (furzy mouse)
Polar bears fail to adapt to lack of food in warmer Arctic BBC. Sadly, as one of my colleagues said apropos of business, "Specialization of diet leads to extinction." That is ever more true in nature.
'Pluto Truthers' are pretty sure that the NASA New Horizons mission was faked Examiner (Chuck L)
Scientists discover seaweed that tastes just like fried bacon Inhabitat (furzy mouse)
They Knew, They Lied: ExxonMobil and Climate Change Truthout
Imagine if the "Uber is a good start" guy turned out to be a crazy racist homophobe Pando
Why Go Set a Watchman is a much better novel than To Kill a Mockingbird New Statesman
China's real estate, credit and investment bubble risks global recession Sydney Morning Herald (EM)
China banks lent $209bn for stock rescue Financial Times
Japan Moves to Allow Military Combat for First Time in 70 Years New York Times
So, Jamie Dimon came to Europe FT Alphaville (Scott). Nothing like good old fashioned corruption!
High street shops enjoy huge sale spike after thieves destroy Welsh town's parking meters Independent. YY: "Too late for Chicago…"
Grexit?
The end of an affair for France and Germany Financial Times

"Germany's policies pose a danger to Europe for the first time since 1945" A View From Poland (furzy mouse)

Germany's Tone Grows Sharper in Greek Debt Crisis New York Times

The end of an affair for France and Germany Financial Times

Merkel 'gambling away' Germany's reputation over Greece, says Habermas Guardian (nobody)

Monti: Anticipate huge problems for Tsipras in Greece DW (IsabelPS)

EMU brutality in Greece has destroyed the trust of Europe's Left Ambrose Evans-Pritchard, Telegraph

The Leaders of Greece Are Some of the Phoniest Idealists You'll Ever See Alternet

The lack of a clear plan was Syriza's strength – and then its achilles heel Guardian. Boy, do I not agree with the headline. Sun Tsu: "Tactics without strategy is the noise before the defeat."

Germany's Tone Grows Sharper in Greek Debt Crisis New York Times. If you read the statement from the US official, he is not calling for debt haircuts, merely debt reduction. The US wants to look like it is on the more Greece-friendly side of this issue (only because the Germans are being so thuggish, the US has been siding with the creditors since February) without throwing its weight around. They are basically following the IMF line and trying to pretend they are playing a leadership role. In Venezuela, they call this "getting in front of a mob and calling it a parade." BTW very good graphics in here comparing Greece to the US in the Great Depression.

IMF's Lagarde: Greek plan not viable Financial Times. Clickbait alert! Headline at odds with the article. Lagarde says the IMF will participate (so she is committed regardless of what the outcome actually is) and that the debt relief will be sufficient without principal haircuts.

More than one way to skin Greece loan Financial Times This is a point too often forgotten: Greece has already gotten a lot of debt relief. The headline amount is lower than the actual economic value due to maturity extensions, payment deferrals, and interest rate reductions:

Where else have the two kinds of relief been used before?

Look no further than the writedowns which private bondholders already weathered in Greece just over three years ago.

In March 2012 nearly all Greece's remaining bondholders exchanged their securities for bonds of diminished value after months of negotiations. The old bonds received haircuts of up to 65 per cent, knocking €107bn off their face value.

In present value terms however, relief was more like €100bn, or a 55 per cent haircut, because of official financing for some parts of the restructuring.

Austerity will wreck Europe: Greece and the scary new European ultra-nationalism Salon (Oregoncharles)

Majority of Syriza central committee reject austerity deal Redline (SS)

Greece: Donald Tusk warns of extremist political contagion Financial Times

How Goldman Sachs Profited From the Greek Debt Crisis Nation (resilc)

14 people arrested during violent protests in Athens – but not one of them was from Greece Independent. YY: "Odd if true." This points to two radically different conclusions: the rioting was the doing of foreign provocateurs (which seems less plausible in Greece than elsewhere given that riots in Athens are not unheard of) or the cops detailed people but only "arrested" non-Greeks, which is a form of protest against the government.
Syraqistan
California may let undocumented immigrants buy Obamacare Politico
Chattanooga shooting: What we know about the attack that killed 4 Marines Vox
Litigation Costs Drag Down Goldman Sachs's Earnings New York Times
Falling markets hit Blackstone profits Financial Times
Judge Kozinski: There's Very Little Justice In Our So-Called 'Justice System' Techdirt (Chuck L). Today's must read.
Antidote du jour. A red footed falcon, @ColDav10 via Lambert: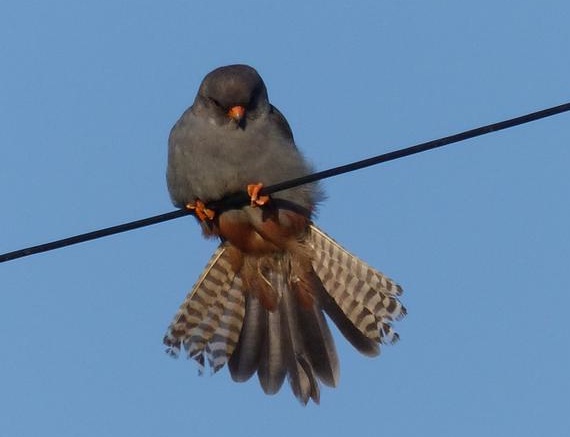 See yesterday's Links and Antidote du Jour here.