The New York Stock Exchange goes down: inside the dystopian aftermath Guardian (Lambert). OMG, too funny.
Diving dolphins are exhalation champions PhysOrg. The dolphins were sports and cooperated with the research.
Exxon knew of climate change in 1981, email says – but it funded deniers for 27 more years Guardian
Are Uber and Lyft Driving Recalled Cars? American Prospect
Dog Needs a Walk? There's an App for That New York Times (David L). Uber for dogs. Ugh.
Coal habits die hard as Australian miners boost exports Sydney Morning Herald (EM)
Meditating Portuguese actor mistaken for terrorist on Paris plane Reuters
China Stock Market Meltdown
What's known, unknown in money trail to Najib's accounts – The Malaysian Insider
Tube strike: London grinds to a complete halt Telegraph
Lagarde: Development Role of the IMF C-Span (Kevin C)
Government expenditure accounted for 48.1% of GDP in the EU Eurostat. IsabelPS: " Some are counterintuitive and some are downright surprising, like the social expenditure re unemployment (I'm comparing PT and GR, which have similar numbers in many things)"
Grexit?
Greeks Spend in Droves, Afraid of Losing Savings to a Bailout New York Times. Wow, this is sad. The earlier hard asset purchases came in February and March, of foreign cars. The appliance purchases in particular again are of goods that would be effectively denominated in Euros after a drachma introduction. From the article: "Panicked doesn't begin to describe how people feel." And mind you, this is the mainly somewhat to better off people doing what little they can to protect themselves.

No money, no supplies, no workers: Life for Greek small business ekathimerini

Countdown to Grexit deadline day Financial Times. Important. And you can see how many of the rigidities are driven by treaties. And in comments, someone suggested a mechanism for expulsion of Greece, although that hardly seems necessary (as in de facto, by virtue of forcing Greece to resolve and recapitalize its banks, would seem more than sufficient for their purposes for now). But would they use this to tidy up the de jure matters later? Let's hope it does not get there. Reader thoughts? The comment:

An international treaty (such as the TEU) does not need to make explicit provisions for the expulsion of a signatory (for violations of treaty provisions) for this is regulated in Article 60 of the Treaty of International Treaties, Vienna 1969.

The EU *can* kick Greece out were it to violate the TEU (by eg introducing a new currency). In fact, it would have to go to some length to prevent such expulsion and I am unsure that the collective will would be there to prevent it.

ECB chief: It will be 'really hard' to prevent Grexit – and Russia won't save them Telegraph

ECB Weidmann: Freeze on Emergency Loans to Greece Should Continue Until Deal Reached WSJ Economics

Syriza leftwinger opposes Greek bailout deal with creditors Financial Times. Not news for NC readers.

Alexis Tsipras loses Sigmar Gabriel, his last best hope in Germany Financial Times. Also not news if you have been paying attention, but important to bear in mind: "He has also all but eliminated the prospect of Europe's centre-left parties rallying around an initiative by France's socialist president, François Hollande to try to snatch a last-minute deal."

What Greece Can Expect Carmen M. Reinhart, Bloomberg. Mind you, this looks ONLY as severe currency depreciation. We've stressed a Grexit entails far more dislocation due to the need to resolve all banks and get a new currency functioning.

Greek Bank Union President Louka Katseli told state ERT TV, that "money at the ATMs will be sufficient until Monday night" Keep Talking Greece. IsabelPS: "Second comment very telling."

Greek crisis: Athens racing to deliver reform plan to avoid Grexit – live Guardian. Live blog. Greece has until Friday at 8:30 AM (at least according to Juncker on Tuesday) to deliver a detailed proposal. And see this subsection: Greece falls deeper into deflation

Setting a Deadline for Greece Proves Much Easier Than Sealing a Fate New York Times

Greece Is Merkel's Failure Too Clive Crook Bloomberg
Syraqistan
Syrian refugees: four million people forced to flee as crisis deepens Guardian

In Tunisia's Wild South, Dozens Slip Away to Join Jihad Bloomberg. Reslic: "No hope, no jobs, no chance to get married, except is2 offers wives too"
Big Brother is Watching You Watch
Gestures Will Be the Interface for the Internet of Things Harvard Business Review (David L)
Medicare Plans to Pay Doctors for Counseling on End of Life New York Times
How Making Patients Pay for Drugs Breeds Superbugs Bloomberg (reslic)
The Silly Analogizing of Bernie Sanders to Ron Paul Angry Bear
VIRAL VIDEO: Cops Called After Kentucky Gay Couple Denied Marriage License Alternet
Google News Is Better at Collecting Data on Cop Killings than the F.B.I. Alternet
California Farms Are Using Fracking Wastewater to Grow Crops Bloomberg (Robert M)
New Mexico Cops Bummed They Can't Just Steal People's Money Anymore Alternet (YY)
Baltimore Fires Police Chief in Wake of Unrest and Crime Surge New York Times
The surprising decline in US petroleum consumption VoxEU
Goodlatte and Marino Statement on Recent Developments Regarding Puerto Rico House Judiciary Committee (Credit Slips)
Bad Math and a Coming Public Pension Crisis New York Times. BTW private pensions are a mess too but they can keep that hidden better.
I.R.S. Cracks Down on Hedge Fund Tax Strategy New York Times (reslic)
Oregon Becomes Second State To Offer Free Tuition To All Graduating High School Students Consumerist
Class Warfare
Antidote du jour (furzy mouse). We featured one of this sculpture quite a while ago and thought readers might like seeing another one. The background:
South Dakotan sculptor John Lopez creates life-sized scrap metal sculptures with a uniquely Western American twist. In his hands, old discarded farm equipment is recycled into sculptures of iconic creatures from the American West like a bison, a horse plowing a field, or a Texas Longhorn. Lopez already had a career as a bronze sculptor, but after creating a family grave for his deceased aunt using scrap metal, he began creating recycled metal sculptures out of found or donated pieces of metal as well. "My favorite part about these pieces is the texture," explains Lopez. "I just start grabbin' stuff from the pile and welding it in, and if you weld enough of the same thing on over and over it creates this really cool texture that I've never seen in these kinds of pieces before. I think that's what draws people in."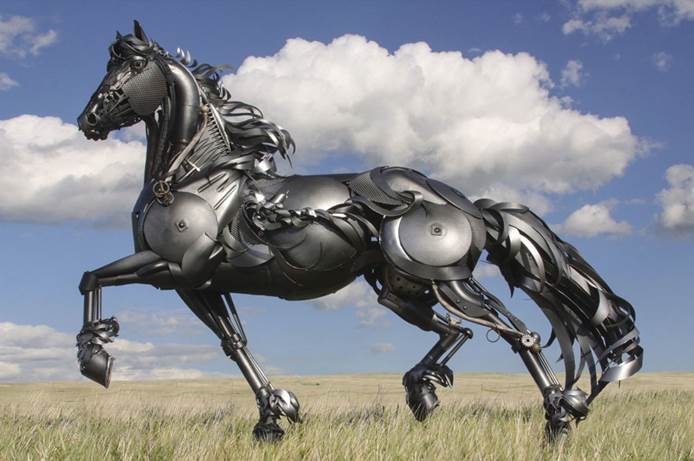 See yesterday's Links and Antidote du Jour here.