By Lambert Strether of Corrente.
Readers, I'm travelling today, and hence not able to put together a Water Cooler full of timely links. So I thought I would direct your attention to a trend I've noticed that bugs me, but that I don't have a name for; I'll call it "Trend S" (for "Subscription," for reasons we'll see). In a way, Trend S seems similar to the "sharing economy," because the vendors seem to seek to conjure up a sort of horrid intimacy with me, the, er, consumer. Fellow zeitgeist watchers, I wonder what you think of this!
I first noticed what later (for me) turned into Trend S with "Dollar Shave Club." The Revolutions podcast, which I listen to on my iPad, advertised Dollar Shave Club, and then it started following me around on the Twitter. Here's the deal:
Dollar Shave Club couldn't be simpler. Select one of our great blades, pay only for the cost of your blades, and we send 'em right to your door every month.
And here's the image: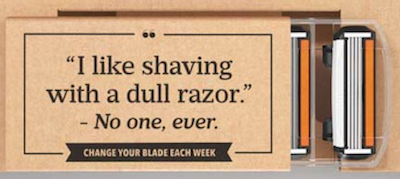 Sort of turns the "Give away the razor, sell the blades" concept if not on its head, then sideways, doesn't it? 
And then somebody at the local coffee shop mentioned Blue Apron. Here's the deal:
No Commitment

Get your delivery when it's convenient for you.

Personalized Menus

Select from our 2-Person or Family plans. Tell us your dietary preferences and we'll personalize the menus you receive.

Convenient Delivery

Ingredients are carefully packaged in a refrigerated box so food stays fresh even if you're not home when we deliver.
And the image:

So, a food subscription… 
And then I saw Stand-Up on the front page of Yahoo News. The deal:
The Stand Up system is a subscription service, meaning you pay monthly for however many packs you choose to be sent to you directly. (You can also choose a one-time purchase option.) Six dollars a month gets you a pack of six, which come in a triangular pink box resembling something you might use to transport a single slice of pizza big enough to feed one medium-sized bunny. Once you're done using each Stand Up, you simply throw it away.
And the image: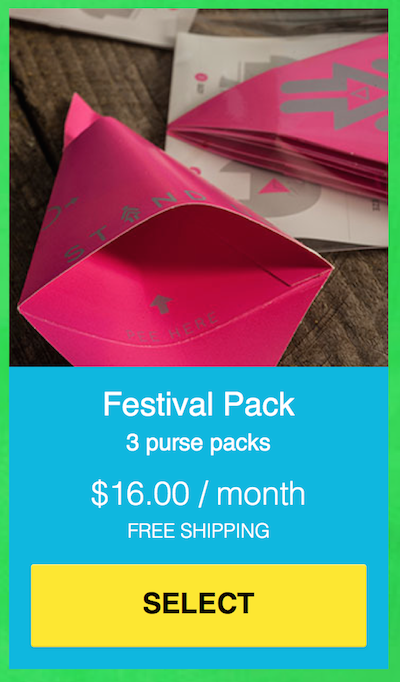 And then Bespoke found me on the Twitter. The deal:
How it works
Box Announcement

On the 1st of each month we'll email your new themed box selection.

Skip or Ship

Skip it free of charge, swap into a different box, or let it ride. You have until the 5th to decide.

On its Way

We'll charge you when your goods ship. Sit back, enjoy, and get ready for next month.
The image: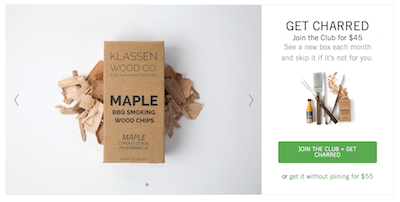 The Bespoke Trend S vertical, at least, is heading for ubiquity; the product category is called a "subscription box." For men: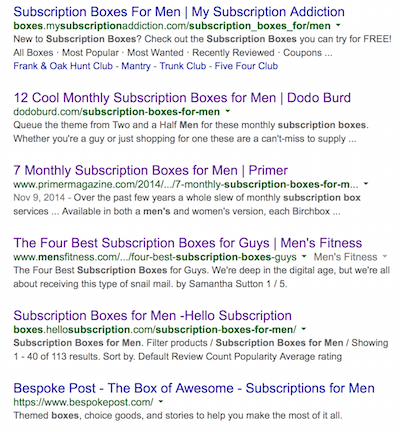 And for women: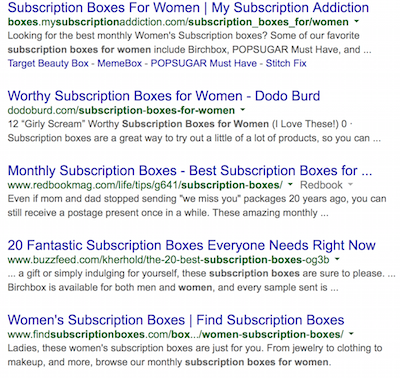 * * *
Trend S reminds me of "software as a service." We used to buy software on disks (or at least we thought we bought it, if we didn't read the EULA too closely). But in many cases, now we subscribe to software instead; we rent it, and the advantage, if it is an advantage, is that the vendor updates and upgrades it automagically, wherever there's an Internet connection. That's how several apps work on my iPad. But all of the product lines above are physical, not digital. 
I don't know what class of people subscribes to these things. People who don't have time to go to the store? People who think going to the store is beneath them? People who have no "social capital" of their own, and need to seek out a curator for class markers?
Anyhow, are the similarities I see between the product lines:
1) Masterful use of global logistics. When you think about it, the packing and shipping really is amazing.
2) Twee design. All the artwork looks like it's been designed by people who worked on the 2008 Obama campaign. Overly precise typography. The informal and yet highly manipulative tone. The manufactured perception that you belong to something special. The prehensile intimacy.
3) 21st Century Middlebrow taste. These are people who can use "curated," "artisanal," "great," or "awesome" almost without irony.
4) Weak ties. The offerings all stress the lack of commitment. They're not like the Book of the Month Club — that's how I got my OED! — where you had to commit to four books.
5) Yet another intermediary using the payments system, which handles the subscriptions (and, presumably, any failures to pay).
It's the last point that really worries me, because if the Greek fiasco teaches us anything, it's that the payment is the political. If we want to understand elite thinking on such matters, we could do worse than turn to the wisdom of Baron Harkonnen, in Frank Herbert's Dune:
"Hawat will be given both food and drink," the Baron said. "Treated with kindness, with sympathy. In his water you will administer the residual poison…. And you will see that the antidote becomes a regular part of Hawat's diet from this point on unless I say otherwise."

"The antidote, yes." Nefud shook his head. "But–" …

"We will woo Hawat," the Baron said. … And we will hold in reserve… the withdrawal of the antidote for the poison. There's no way of removing the residual poison. And, Nefud, Hawat need never suspect. The antidote will not betray itself to a poison snooper. Hawat can scan his food as he pleases and detect no trace of poison."

Nefud's eyes opened wide with understanding.

"," the Baron said, " The absence of air, eh? The absence of water? The absence of anything else we're addicted to." The Baron nodded. "You understand me, Nefud?"
"Withdrawal…." meaning what happens when you don't keep up with your subscription. Perhaps more prosaically, the Digital Rights Management-chip in your car subscription might freeze everything if you fail to keep your payments current.
Or even more prosaically, water, as the Baron points out. Or your bottled air.
Readers, what do you think of Trend S? Is the trend real? Am I late to the party? Am I being too paranoid and cynical?
* * *
Readers, feel free to contact me with (a) links, and even better (b) sources I should curate regularly, and (c) to find out how to send me images of plants. Vegetables are fine! Fungi are deemed to be honorary plants! See the previous Water Cooler (with plant) here. And here's today's plant (Kurt):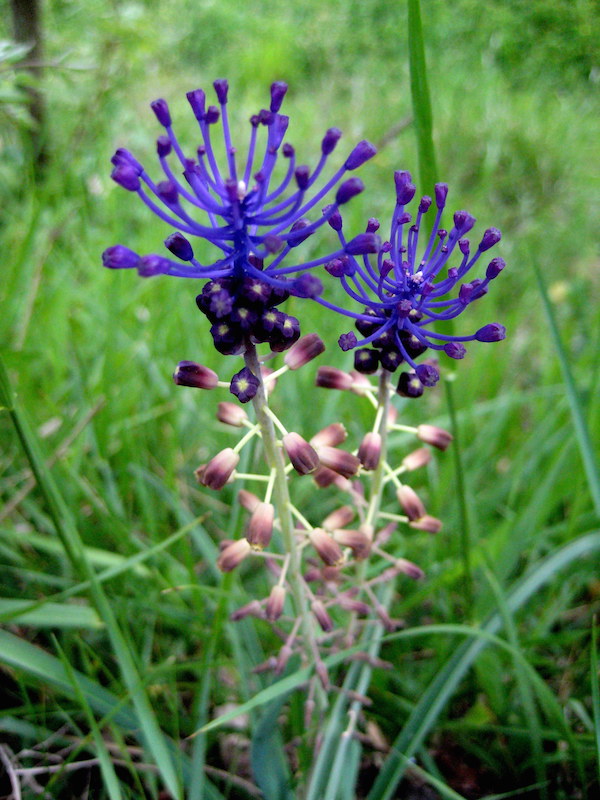 If you enjoy Water Cooler, please consider tipping and click the hat. I need to keep my server up! And take a trip….