By Lambert Strether of Corrente.
2016
Policy
"In his own book in 1997, Sanders called the [1996 Clinton "end welfare as we know it"] bill 'the grand slam of scapegoating legislation…' Now a U.S. senator from Vermont, he doubled down on that assessment in his interview with Bloomberg. 'I think that history will suggest that that legislation has not worked terribly well,' he said, arguing that too many politicians would rather target the poor than poverty [Bloomberg].

UPDATE Yglesias points out that in the Republican debate, Trump offers the political class an alibi on single payer ("path dependency," AKA TINA) but proposes a saner reform than the others: Federalizing insurance regulation [VOX]. "Nobody had any criticisms of Trump's proposal to offer, nor any praise. They just moved on."
The Republican Debates
Readers, let's remember that we won't know "what happened" in the debates until our famously free press agrees on a narrative. In 2000, the "hot take" was that Gore wiped the floor with an inarticulate Bush. In a couple of days, this morphed — the press hated Gore, although perhaps not as much as they hate the Clintons — into Gore losing the debate because he "sighed" when Bush said something stupid, which was often. For the Republican debates, what matters is who wins "the Ailes primary," Ailes being the head of FOX News. Cheering in the hall, and even voter reaction, matter much less. We don't know what call Ailes will make, but it almost certainly won't be Trump, as the questions to Trump showed. The wild card here is how ticked off the Republican base is; my guess is mighty ticked off, which helps Trump, but we'll see how Trump holds up under Ailes's gentle ministrations. And let's remember that nobody thought Schwartzenegger or Ventura could win, either. Especially the smart money.

If I had to make a totally subjective and (see above) useless call, it would be: Bush down, Christie up, Kasich up, Rubio up slightly, Walker down slightly, Paul neutral, and Trump off the charts, indeed any chart, and I forget all the others, even though I wasn't drunk. Edwards did well in his first 2008 debate, IIRC. So there you are.

Trump was gloriously Trump, says the conventional wisdom [WaPo]. He also got the most questions and the most time.

Politico's rolodex all over the map on the winner, modulo Trump [Politico].

WaPo's rolodex all over the map on the winner, modulo Trump [WaPo].

Best lines [Los Angeles Times]. And they're not very good.

Jebbie re-imagined as Shakespeare. "BUSH: Give me my robe. Put on my crown. I have / Immortal longings in me" [McSweeney's]

Fiorina won the undercard, says the conventional wisdom [WaPo]. 

And Sanders live-tweeted the debate [WaPo].
The Trail
Sanders "plans to speak next month at Liberty University, the evangelical Christian college founded by Rev. Jerry Falwell" [HuffPo]. Sanders: "It goes without saying that my views on many issues — women's rights, gay rights, education and many other issues — are very different from the opinions of some in the Liberty University community. I think it is important, however, to see if we can reach consensus regarding the grotesque level of income and wealth inequality in our country, about the collapse of the middle class, about the high level of childhood poverty, about climate change and other issues."

Sanders outdraws Trump in Phoenix [Phoenix Business Journal].
Our Nation's Capital
Schumer comes out against Iran deal during the Republican debates (!) [WaPo]. Reading between the lines, the revolving hero game can be played against AIPAC, too.
Stats Watch
Employment Situation, July 2015:  "The numbers aren't spectacular but they're solid enough to keep a September rate hike in play" [Bloomberg]. "Another plus in the report is a decline in Janet Yellen's favorite reading, the broadly defined U-6 unemployment rate which is down a notch to 10.4 percent." Last month, unemployment fell because participation decreased, so this a stronger report. But when you think about it, this entire narrative is as crazy pants as it gets. People are thrown out of work to regulate the economy. How does that make any sense? It's like the forcing the family outside in the winter and leaving the doors open to cool down an overheated house, instead of turning down the thermostat. And then when they crawl through the ice and snow back into the now-cooler house, we check our "dashboard" and declare victory.
"The judgment call to make relies not on parsing confusing or contradictory data, but in whether is time to raise rates to prevent the economy from overheating down the road" [New York Times]. Like I said…
"A rise in the number of US citizens in work in July could be strong enough to encourage the Federal Reserve to raise its interest rates in September, economists said on Friday" [Telegraph]. "The Federal Reserve has not raised its interest rates in more than nine years [!!!]; they are currently set at a range between 0pc and 0.25pc." Oligarchs like free money, and can't possibly believe that nine years of free money is too much. Why stop when things are going so well? Going out on a limb here, but the "one and done" commenters have a point. Maybe four 0.25% increments over the next couple of years, pulling back in 2016 if there's too much blinding and stiffing and sqealing?
"Along with the jobs report, the Bureau of Labor Statistics publishes a chartbook which paints a picture of a steadily improving labor market in the US" (more charts) [Business Insider].
"Only three of the monthly indicators [on Yellen's "dashboard" are back to where they were in the four years leading up to the last economic downturn" (handy charts) [Bloomberg].
White House on employment: "But despite the rapid pace of recent growth, some slack left over from the financial crisis remains in our labor market, and there is more work to do to ensure that we continue to make progress" [Market News].
"BLS Jobs Situation Mixed in July 2015. Growth Rate of Employment Continues to Slow" (deep dive with charts) [Econintersect]. "The BLS jobs report headlines from the establishment survey was at expectations. The unadjusted data shows growth is lower than last year with continued almost insignificant deceleration of year-over-year rate of growth. Overall, this report paints a mixed picture." Bringing some reality to the White House cheerleading, here's a FRED chart (annotated) from that article; "Index of Employment Levels – 55 and up (blue line), 45 to 54 (red line), 35 to 44 (green line), 25 to 34 (purple line), 20 to 24 (light blue line), and 16 to 19 (orange line):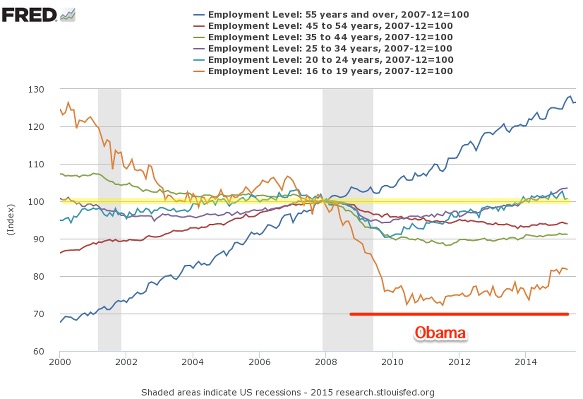 Econintersect asks: "Who are the victims in this mediocre employment situation? It is not people over 55" (a good argument for lowering Social Security eligibility to 60, to lure more of those old codgers out of the workforce and onto the shuffleboard courts). One set of victims is clearly betrayed Obama voters from 2008 and 2012, and the "youth" that Democrats hope to attract in 2016. Still, some day I should learn Fred. I'd love to see that same chart by income (or education level as a proxy for income).
Consumer Credit, June 2015: "Revolving credit has been on the climb in the consumer credit report, offering a possible signal of deepening strength for consumer spending. Still, this report is dominated by the non-revolving component where the inclusion of student loans has been exaggerating gains" [Bloomberg].
TPP/TTiP/TiSA
List of traitors in House and Senate, with phone numbers. Hat tip, reader Vatch. Be sure to visit them when they return to the district this week. If a traitor is mentioned in Water Cooler, their name is in bold.
"Senators angered by the decision to upgrade Malaysia in the State Department's human trafficking report threatened a subpoena on Thursday unless they receive all communications related to the annual US ranking of countries' efforts to combat modern-day slavery" [Associated Press].
Handy TPP voting timeline (PDF) [Public Citizen]. Important!
"It's not yet clear when all the negotiators will meet for yet another definitely final round — some reports speak of one this month, others of a November meeting — but it's already emerged that sectoral talks are taking place in an attempt to hammer out deals in the areas where problems remain" [TechDirt]. Then again, it could be the body twitching. Or negotiators saving face.
"It seems clear to everyone except US negotiators – and biopharmaceutical industry lobbyists – that the demand for extending data exclusivity for biologics needs to be dropped if the TPP is to be finalised" [The Conversation]. "Despite the setback, there will be a strong push to sort out the remaining issues in August." (I don't see how another ministerial gets organized before Abe's August 29 deadline; that's less than three weeks. Sherpas can't set up camp and fix the ropes in that time frame. Since these guys have to put their pants on with corkscrews, anything's possible, given a level of desperation, but can Big Pharma and Hollywood create that, even playing the most inside of inside games? Seems dubious.)
Japanese cosplayers continue petition drive against TPP on copyright [Transparency of TPP].
"As a result of these higher prices for a substantial category of goods, the total volume of trade may actually be lower with the TPP than without it. For this reason, those who want to see more trade may have good reason to oppose the TPP. (The various studies that analyze the impact of the TPP have not incorporated the impact of higher prices due to stronger patent and copyright related protections.)" [CEPR]. If you think TPP et al. are "trade deals," that's a good argument.
Black Injustice Tipping Point.
"Ferguson's radical knitters: "If someone asks me what I'm doing, I say, 'I'm knitting for black liberation'" [Guardian]. Word of the day: Tricoteuse. 
"A year after the fatal shooting of Michael Brown sparked a firestorm in Ferguson, the city is still pumping out thousands of new arrest warrants and jailing people over minor offenses" [CNNMoney]. Shocker; the city still needs the money, hence law enforcement for profit. Institutional racism always exists for a reason; it isn't "motiveless malgnity."
"A majority of whites now say the country needs to do more to make equal rights a reality, and a significantly larger number of white Americans say that blacks are treated less fairly than others by law enforcement officials, according to several newly released polls" [Los Angeles Times]. Do note that #BlackLivesMatter did this, and not Democrats, and not Obama.
"[Documents from a 'crisis management' report produced by the Okhrana the cybersecurity firm ZeroFox] identified [Bowdoin graduate and Teach for American maven] Deraay McKesson and Johnetta Elzie, two prominent Black Lives Matter organizers who took part in the Baltimore protests, as 'threat actors' for whom 'immediate response is recommended" [Mother Jones]. Last of the Romanovs-level stupidity.
"Even as job growth has been sustained month-over-month during the bulk of Obama's presidency, the recovery from the 2007-09 financial crisis has been slowest for African-Americans — and that has troubled both [Jesse] Jackson and economists" [International Business Times], interview with Jackson (who I would imagine is a good deal more "troubled" than "economists").
"[R]ace and colour in Brazil are lived differently than they are in other parts of the world. But a range of colours cannot disguise a fundamental truth: There is a hierarchy, and white is at the top" [Globe and Mail].
Imperial Collapse Watch
"Tyler S. Drumheller, a high-level CIA officer who publicly battled agency leaders over one of the most outlandish claims in the U.S. case for war with Iraq, died Aug. 2 at a hospital in Fairfax County. He was 63" [WaPo]. Over a decade later, "one of the most outlandish claims." I seem to remember WaPo cheering the war on, back in the day. 
Corruption
"The man who set up and administered Hillary Clinton's personal email server during her tenure as Secretary of State worked for the State Department. This adds ethical issues to the problems Clinton already faces, as well raising questions about a taxpayer-paid official conducting private business on our dime" [The Ghost of Tom Joad]. "According to the Washington Post, those briefed on the server state the hardware was purchased for use by Hillary Clinton's 2008 campaign and installed at the Chappaqua home. That means any malware acquired under the conditions of the campaign migrated with the server." s
"As in so many cases, there are only two logical possibilities. Either Tom Hayes's bosses at UBS and Citi knew what he was doing, in which case they are guilty as well. Or they didn't know about a widespread conspiracy being conducted across the electronic communications systems of some of the most technologically sophisticated companies in the world, in which case they are recklessly incompetent" [Baseline Scenario]. "When it comes to Tom Hayes, there is a lot of evidence for the former."
"Secret audio recordings made public Friday by the Detroit News revealed a tea party lawmaker in Michigan tried to fake a gay sex scandal with a male prostitute in order to cover up his affair with a married, female tea party state lawmaker" [Talking Points Memo].
Agnotology Watch
Jon Stewart:

My rough transcript of Jon Stewart's extraordinary "Bullshit is everywhere" speech. pic.twitter.com/guXBbIDD9g

— Dave Itzkoff (@ditzkoff) August 7, 2015
Lambert here: No, it isn't "everywhere."
This, however, is encouraging: "14 logical fallacies that keep showing up in bad arguments" [Business Insider]. And see Dan Froomkin's commentary on both Stewart and bullshit in 2006.
Class Warfare
"[Elida Gonzalez, the] now-23-year-old daughter of a farm worker from Santa Maria, Calif., signed up with 13th Avenue Funding, borrowing $15,000 to complete her bachelor's degree at the University of California, Santa Cruz. The Sacramento-based nonprofit group agreed to fund her college expenses in exchange for a share of her future earnings in an arrangement called an income-share agreement" [Yahoo News].  Yikes. "[There are] a variety of government, university and market-based experiments with such income-share agreements, in which investors essentially buy stock in the students. At stake: a fundamental shift in the way Americans finance higher education." "'It feels icky to me,' said David Bergeron, a former Obama White House education adviser."
Well, sharecropping, indentured servitude, serfdom, and slavey are all "icky." Let's just hope Gonzalez's "income share" agreement — note the word "share," again — doesn't include a contract for, er, personal services….
News of the Wired
"The general rule seems to be: systems which eat items quickly are fed more items. Slow systems starve" [jsomers.net]. Yeah, like forests. Or groundwater. "Furious activity is no substitute for understanding." –Jon Benteley
"The slow-chemistry movement" [Nature]. "Slow, solid-state reactions used by lichens and Renaissance pigment-makers could help to make chemistry greener."
"The number NHLBI trials reporting positive results declined after the year 2000. Prospective declaration of outcomes in RCTs, and the adoption of transparent reporting standards, as required by clinicaltrials.gov, may have contributed to the trend toward null findings" [PLOS-One].
"MH370: France launches searches around Reunion" [BBC].
"The Pros And Cons Of Trophy Hunting" [The Onion].
"Where the New York City Subway Doesn't Go" [CityLabs]. Outer boroughs in "subway deserts."
"Op-Ed: I'm Breaking Up With Drake" [Pitchfork]. A stylish, fun article whose lingo I read with the same comprehension I read stylish, fun cricket coverage.
* * *
Readers, feel free to contact me with (a) links, and even better (b) sources I should curate regularly, and (c) to find out how to send me images of plants. Vegetables are fine! Fungi are deemed to be honorary plants! See the previous Water Cooler (with plant) here. And here's today's plant (Kurt):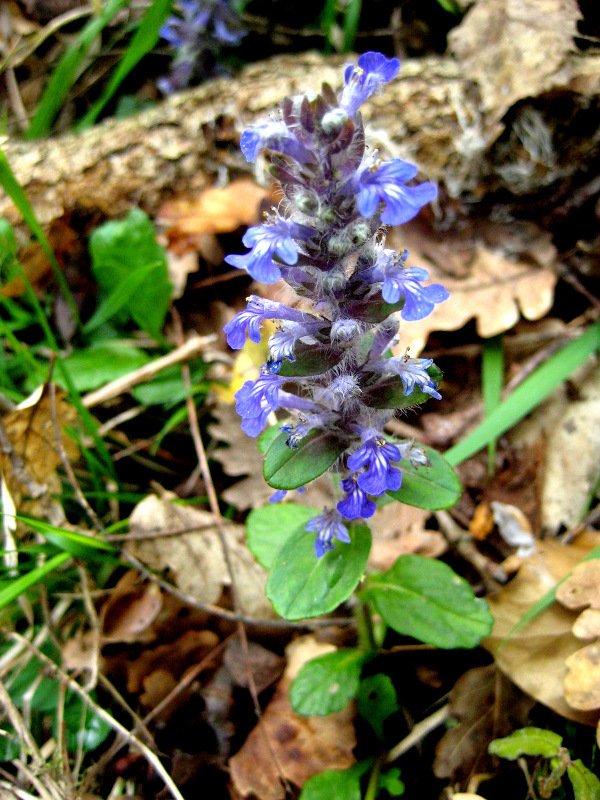 Another pretty flower from Kurt's European visit
If you enjoy Water Cooler, please consider tipping and click the hat. I need to keep my server up! And take a trip….