By Lambert Strether of Corrente.
2016
Policy
How does your student loan debt make you feel?
Tell us in 3 emojis or less.

— Hillary Clinton (@HillaryClinton) August 12, 2015

Can't, sorry. There's no emoji of chains that are animated, include the clanking noise, and simulate the dragging weight. What were Clinton's social media people thinking?!

After reading this page, I think we should update our views of where Bernie Sanders *officially* stands on racism. https://t.co/vhHLvjz7st

— Jamelle Bouie (@jbouie) August 13, 2015

So far as I can tell, there's no #BlackLivesMatter spokesperson — any more than Occupy had one such — but this is interesting nonetheless.

UPDATE "[Jebbie's] account of the withdrawal as a 'case of blind haste' omitted the fact that it was his brother who'd set the withdrawal date of Dec. 31, 2011, in an agreement that he signed with the Iraqi government in 2008" [McClatchy]. Jebbie is a horrible human being.
Criminality
Readers: I'm filing the Clinton email saga under criminality (a) because it's demonstrably corrupt, and (b) because if an official privatizing their public communications isn't criminal, we should find a way to make it so.

Jennifer Palmieri, Clinton press secretary, in mail to supporters: "'It's okay. We'll be ready. We have the facts, our principles, and you on our side. And it's vital that you read and absorb the real story so that you know what to say the next time you hear about this around the dinner table or the (!)" [Business Insider].

"Howard Dean believes 'there's nothing criminal' about any of the correspondence Hillary Clinton kept on a private email server she used while in office, the former Vermont governor said Thursday [Today].

"'I'm not sure they completely understand the credibility they are losing, by the second,' said one Democratic strategist, who spoke on the condition of anonymity. "At some point this goes from being something you can rationalize away to something that becomes political cancer. And we are getting pretty close to the cancer stage, because this is starting to get ridiculous" [The Hill]. Well, take anything any "Democratic strategist" says with a dose of  salts, anonymous or not. But that fact of the quote has its own significance.

"Huma Abedin, Hillary Clinton's most trusted confidante, is increasingly becoming a central figure in the email scandal that's haunting her boss on the campaign trail" [Politico]. But then, that's what a fishing expedition would do, isn't it?

"Two aides to former Secretary of State Hillary Rodham Clinton say they've agreed not to delete any work-related emails. The pledges from Huma Abedin and Cheryl Mills are in response to a federal judge's order that they preserve their records" [AP].
The Voters
"[P]eople do care about electability. They just don't care about it yet" [WaPo].
The Trail
Kasich: "If I'm talking about someone else, I'm not talking about me. And I would rather them know what my record is and my passion is. time attacking other people, that doesn't get me anywhere" [National Journal].

"Fox News chairman Roger Ailes on Monday reportedly told real estate tycoon Donald Trump to make nice with the powerful network or else 'go to war'" [Talking Points Memo].

"Weak Men Like Trump Have Always Feared Menstruation" [Daily Beast]. Ouch!

"It only took six weeks for the Bernie Sanders presidential campaign to outgrow its headquarters in New Hampshire" [WaPo].
Stats Watch
The Fed: "The Fed finds itself in a dangerous quandary: no ability to cut rates to stimulate the economy if growth starts to tank again because the Fed is already at the zero bound range; while conversely running the risk of setting off a global financial asset selloff that destabilizes markets further if it raises rates" [Wall Street on Parade].
The Fed: "But I do agree the Fed is heck bent on raising rates in Sept, even without 'some' improvement, and will do so unless there's a stock market decline severe enough to hold them back. So far that's not happening" [Mosler Economics].
Jobless claims, week of August 8, 2015:  "Jobless claims continue to hold at historically low levels" [Bloomberg]. "The unemployment side of the labor market is very healthy and, for policy makers, is very tight, justifying perhaps a rate hike at the September FOMC." It's the bestest recovery EVAH! And: "Initial Unemployment Claims Rolling Average Improves Marginally" [Econintersect].
Retail sales, July 2015: "Big upward revisions underscore a very solid and very important retail sales report" [Bloomberg]. "Strength in both vehicles and restaurants point to the health of the US consumer and will likely give the hawks the courage, despite all the troubles in China, to push for a rate increase at the September FOMC." And: "[T]his month's data has improved the rolling averages" [Econintersect]. "The quirky U.S. consumer has apparently decided to load up on building supplies, eat and drink at restaurants, forego filling the refrigerator, and snub Macy's" [Wall Street on Parade].
"Combined revenue from the most popular dark Net sites, the online black market, exceeds $100 million every year" [Business Insider]. Not very much.
Mortage delinquency: "The delinquency rate for mortgage loans on one-to-four-unit residential properties decreased to a seasonally adjusted rate of 5.30 percent of all loans outstanding at the end of the second quarter of 2015. This was the lowest level since the second quarter of 2007" [Market News].
Business Inventories, June 2015: "Inventories rose relative to sales in June but the news isn't that bad given that the build was centered in autos" [Bloomberg]. "Note that this report, along with the retail sales report, are likely to lift revision estimates for second-quarter GDP."
Import and Export Prices, July 2015: "Cross-border deflationary pressures were, unfortunately, very evident in July with import prices falling a very steep 0.9 percent and with export prices down 0.2 percent" [Bloomberg]. "This report highlights the risk of deflation which, given this month's ongoing decline in the price of oil, remains a stubborn obstacle for Federal Reserve policy."
Bloomberg Consumer Comfort Index, week of August 9, 2015: "Consumer confidence readings are solid but off highs early in the year" [Bloomberg].
Renting: "Americans living in rentals spent almost a third of their incomes on housing in the second quarter, the highest share in recent history" [Bloomberg].
"With inflation adjustments, business sales is in now marginally in expansion. The inventory-to-sales ratios remain at recessionary levels" [Econintersect].
Rail traffic: "Continued Decline of One Year Rolling Average" [Econintersect]. Note that this analysis backs out coal (and grain).
Black Injustice Tipping Point
"Jeb Bush's town hall in North Las Vegas on Wednesday ended abruptly after the Republican presidential candidate answered a question about racial inequality, and Black Lives Matter advocates began chanting as he made his exit" [CNN]. So, not only non-front running Democrats.
"Ferguson is not a ghetto. It is an established, solidly working-class suburban municipality on the outskirts of St Louis. Ferguson saw significant demographic change during the 1990s, going from a majority white to majority black population" [Raw Story]. "Ferguson is not a ghetto. It is an established, solidly working-class suburban municipality on the outskirts of St Louis. [But] municipalities [like Ferguson] rely heavily on traffic fines and court fees to stay afloat…. We should expect continuing community unrest anywhere that similar conditions are allowed to continue to smolder."
Police State
"Cops Are Not 'Warriors'" [East Bay Express]. "The increasingly over-the-top funeral services for police officers killed on the job are hugely disproportionate to the dangers of the profession." Amen.
Militia Watch
Noting the deep roots in the Democratic nomenklatura of the first two sources… 
"Founded last April by Yale-educated lawyer and ex-Ron Paul aide Stewart Rhodes, the group has established itself as a hub in the sprawling anti-Obama movement that includes Tea Partiers, Birthers, and 912ers" [Mother Jones]. 
"'We are committed to securing the mine site of George Kornec and Phil Nappo, owners of Intermountain Mining LLC, which was requested due to threats to their mining venture,' the [Oath Keepers of Josephine County and the Idaho Three Percenters, another militia group] press release read. 'There is a dispute between the actions taken by the United States Forest Service and the miners. Our goal has been and will continue to be to secure that area from threats until a legal action takes place within the court system'" [Talking Points Memo]. So Oath Keepers are all about resource extraction? I don't get it.
"Why is it that white Americans carry high-powered weapons openly in the name of 'property,' while African Americans constantly risk the full wrath of state power for virtually no reason?"  [Pacific Standard].
TPP
Malaysia: "The Malaysian Medical Association (MMA) has urged the government not to rush into signing the Trans-Pacific Partnership Agreement (TPPA), which it said may have adverse effects on the nation's healthcare system" [Malaysian Insider].
ISDS: "US Says 'No' To EU Plan For New Corporate Sovereignty Courts: So What Happens Now With TAFTA/TTIP?" [Techdirt].
United States: "While [Senate Majority Leader and] Kentucky Republican [Mitch McConnell] stopped short of pulling his support for the deal, he warned in a letter that U.S. Trade Representative Michael Froman should "not set a new precedent for future U.S. trade negotiations by negatively carving out a specific American agricultural commodity — in this case tobacco" [Politico].
ISDS: Interesting article on Argentinas's experience. "The system has proved to be extremely inflexible, which prevented it from addressing the exceptional peculiarities of the Argentinian case. [T]he wide margin of discretion available for the arbitral tribunals resulted in the adoption of inherently poor decisions, and with high levels of incoherence among them" [IPS News].
Press
"My timeline is unique to me. No one else follows exactly the same shifting group of gurus, so no one assembles exactly the same set of maskings and mummeries. This is my exceedingly fine slice across the global conversation" [New York Magazine].  "This is what the company is trying to muck up [emphasis in orginal]. Twitter's investors are getting golden eggs, but they want foie gras."  Great article. Exactly. Thanks to QE, there is far too much stupid money, and stupid money thinks Twitter should be like Facebook because returns. But we have Facebook. 
"[NBC Universal] is investing $200 million in Vox Media" and Buzzfeed each [Recode]. You'd think with all that lovely loot, their reporting would be better.
"Hersh's stories break down complex events into chains of isolated, largely reactive individual decisions. His reporting never points back, as Pynchon's novels do, to shadowy conspiracies; there is no titanic clash between impersonal forces, no central organizing principle, only human action churning away. Near the beginning of Hersh's book on the Iraq war, an intelligence official complaining about the 'enhanced interrogation' tactics at Guantánamo says, 'It was wrong and also dysfunctional.' A few pages later, this refrain is repeated by another source: "It's evil, but it's also stupid'" [N+1]. Good long form!
Tianjin
The heart of a normally busy industrial zone in Tianjin. No one knows what's in that smoke pic.twitter.com/poBq1nBru1

— Adrian Brown (@ajabrown) August 13, 2015
Tianjin body count now 50, 12 of them firefighters [WaPo]. As opposed to the official count of 17. Look at the pictures, though; I would guess the official death total is off by an order of magnitude. Granted, I haven't seen images that would prove this, and granted the explosion didn't happen during the working day, but it's hard to imagine the port shuts down at night. And the port area is surrounded by apartment blocks. And see the last sentence here (also in links): "Executives of the company [whose "chemicals" exploded] have been controlled." "Controlled"? It would be interesting to know who those executives are. And who owns the company. I'd welcome commentary from any China hands in the readership on this point.
Corruption
"KUALA LUMPUR—Malaysia's central bank said Thursday it has completed an investigation into debt-laden 1Malaysia Development Bhd, or 1MDB, and submitted a report recommending 'appropriate enforcement action' to the country's chief prosecutor" [Wall Street Journal]. The $700 million (!) that appeared in Prime Minister Najib's personal bank account…. We still don't know where it came from.  Move along people, move along. There's nothing to see here!
"Malaysian authorities using Sedition Act to stem criticism, opposition says" [ABC].
"[Illinois governor Bruce Rauner] is part owner of a company that advises the Chicago teachers pension fund" [Chicago Reader]. What, isn't that conflicted? Do these private equity dudes even know what conflicted means? (Of course, it's not conflicted if you assume they act in their own interests no matter where they are, but public office isn't supposed to work that way.)
Dear Old Blighty
Tony Blair on Corbyn: "The party is walking eyes shut, arms outstretched over the cliff's edge to the jagged rocks below" [Guardian]. Anything that induces hysteria in a war criminal like Tony Blair is probably a good thing.
Class Warfare
"The 'Worker Voice' summit will focus on how to ensure workers 'are fully sharing in the benefits of the broad-based economic growth [ha ha ha] that they are helping to create,' the White House said in a statement Wednesday that announced the Oct. 7 event. [Wall Street Journal]. That's "helping to create create." Fixed it for ya. More: "The White House said that as it continues to address economic inequality and adapt to workforce changes it wants 'to energize a new generation of Americans to come together and recognize the potential power of their voice at work.'" Their voice? More Democratic nomenklatura "join the conversation" crapola. Say, how's card check coming?
"The Future of Work: Why Wages Aren't Keeping Up" [Pacific Standard].
News of the Wired
"How Doodling Can Help You Get Ahead at Work" [Bloomberg]. Verges on product placement, but (confession time) I like the products.
"Why I'm The Best Programmer In The World*" [Coding Horror].
Unfortunately for privacy advocates, [Windows 10's] controls don't appear to be sufficient to completely prevent the operating system from going online and communicating with Microsoft's servers" [Ars Technica]. This is the "weak tea" version of Weinstein's article in Links today.
"Harvard student loses Facebook internship after pointing out privacy flaws" [Boston Globe]. Attaboy, Markie. You're a squillionaire. You show 'em what Facebook is all about!
"The real reason American public transportation is such a disaster" [Vox]. Seems to me that "public transportation" is transportation; it's only that subsidies to the car are privileged by being hidden.
"'Shakespeare Smoked Dope?' Shakespeare Magazine Editor Pat Reid investigates the clickbait headlines and reveals the dodgy research and unbelievably shoddy journalism behind the sensational claims" [Shakespeare Magazine].
"Hello. My name is Michael Hsu. I'm an adult. And I ride a kick scooter" [Wall Street Journal].
"No More Crying Babies: Are Child-Free Flights the Next Thing?" [Yahoo Travel].
"Google is testing drones in US airspace by piggybacking on Nasa exemption" [Google]. "Documents show the tech company has skirted regulations for private firms for a year by flying its Project Wing aircraft over private land as part of a deal with Nasa. Privilege = private law….
* * *
Readers, feel free to contact me with (a) links, and even better (b) sources I should curate regularly, and (c) to find out how to send me images of plants. Vegetables are fine! Fungi are deemed to be honorary plants! See the previous Water Cooler (with plant) here. And here's today's plant (Alex):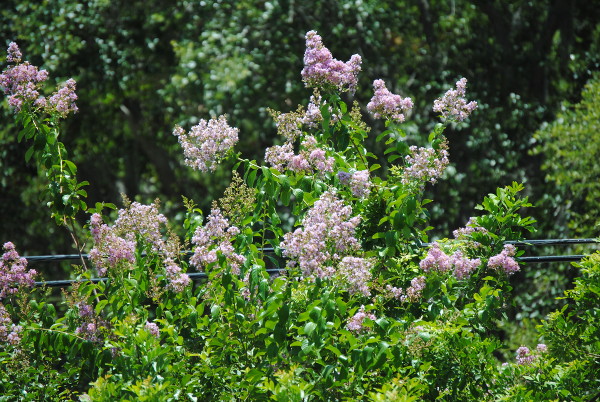 Near his coffee house… This reminds me of a vast stand of basil near my little fountain — the bees love it, and you can see the basil vibrating slightly as the heavy bumblebees alight…
If you enjoy Water Cooler, please consider tipping and click the hat. I need to keep my server up! And cover the travel home, as opposed to the first leg of the trip….