By Lambert Strether of Corrente.
2016
Policy
"[Clinton's] plan came on the heels of Bernie Sanders' plan, which is much simpler. Sanders has called for 'tuition-free' public colleges, similar to how college used to be for most of U.S. hiistory and in most of our economic rivals abroad" [Alternet]. The parallel between RomneyCare (whose essentials Clinton supported and Obama implemented) and single payer is suggestive. Sanders plan: Simple, proven internationally, little room for rent seekers. Clinton plan: Complicated, not proven, lots of room for rent seekers. Of course, the Democratic nomenklatura likes it for that reason, exactly as they liked ObamaCare, but in each case, why not focus on the patients students consumers citizens?

" A day after the Obama administration gave Shell the green light to search for oil in icy Arctic waters, Hillary Clinton took to Twitter to voice her disapproval" [National Journal]. Closing the barn door….

"Despite his nativist rhetoric, Mr. Trump may grasp the staggering economic and social havoc that mass deportation would wreak. Hence his offhand comment, on NBC's "Meet the Press," that he'd 'bring them back rapidly, the good ones'" [WaPo]. Impressive agility.

"Late Monday, Black Lives Matter Boston released the first video from the closed-door encounter between Hillary Clinton and activists with the group" [Buzzfeed]. "Currently, there does not appear to be one, full, unedited video of the entire interaction." From the transcript; I picked this part because it shows the interactions between the questioner, Clinton, and a staffer:

QUESTION:  But your—you and your family have been personally and politically responsible for policies that have caused Health and Human Services disasters in impoverished communities of color (inaudible) the domestic and international War on Drugs that you championed as First Lady, Senator, and Secretary of State. And so I just want to know how you feel about your role in that violence and how you plan to reverse it?

HILLARY CLINTON: Well, you know, I feel strongly, which is why I had this town hall today. And as the questions and comments from people illustrated, there's a lot of concern that we need to rethink and redo what we did in response to a different set of problems.

And you know, in life, in politics, in government—you name it—you've got to constantly be asking yourself, "Is this working?  Is this not?" and if it's not, what do we do better?  And that's what I'm trying to do now on drugs, on mass incarceration, on police behavior and criminal justice reform. Because I do think that there was a different set of concerns back in the '80s and the early '90s. And now I believe that we have to look at the world as it is today and try and figure out what will work now. transcriptAnd that's what I'm trying to figure out and that's what I intend to do as president.

QUESTION:  Yeah. And I would offer that it didn't work then, either, and that those policies were actually extensions of white supremacist violence against communities of color. And so I just think I want to hear a little bit about that, about the fact that actually while—

HILLARY CLINTON:  Well, I'm not sure—

QUESTION:  —those policies were being enacted, they were ripping apart families and actually causing death.

HILLARY CLINTON:  Now, I'm not sure I agree with you.  I'm not sure I disagree that any kind of government action often has consequences.  And certainly, the War on Drugs, which was started back in the '80s, has had consequences. Increasing penalties for crime and "three strikes and you're out" and all of those kinds of actions have consequences.

QUESTION: I think that the next step, respectfully, and I have attempted to allow you, and I feel like we have allowed space for a nice conversation and it is a pleasure and an honor to be in this dialogue with you but i think that a huge part of what you haven't said is that you have offered a recognition that mass incarceration has not worked, and that it is an unfortunate consequence of government practices that just didn't work. But the truth is that there is an extremely long history of unfortunate government practices that don't work that particularly affect Black people and Black families, and until we as a country, and then the person who's in the seat that you seek, actually addresses the anti-Blackness current that is America's first drug.

We're in a meeting about drugs. America's first drug is free black labor, and turning black bodies into profit and the mass incarceration system mirrors an awful lot like the prison plantation system. It's a similar thread, and until someone takes that message and speaks that truth to White people in this country so that we can actually take on anti-Blackness as a founding problem in this country, I don't believe that there is going to be a solution.

Because what the conversations that are happening now and why there is so much cohesion across the divide, the red side and the blue side, it's because of money, right, we are spending a lot of money on prisons. We're spending more money on prisons than we are on schools, but if we look at it from lens of let's solve this financial problem, and we don't look at the greater bottom line that African-Americans who are Americans are suffering at greater rates than most other people, every other people, for the length of this country then it's not going to go away. It's just going to morph into something new and evolved.  You know, I genuinely want to know, you, Hillary Clinton, have been in no uncertain way, partially responsible for this.  More than most.  There may have been unintended consequences.

But now that you understand the consequences, what in your heart has changed that's going to change the direction of this country?  Like what in you—not your platform, not the things you're supposed to say—like, how do you actually feel that's different than you did before?  Like what were the mistakes, and how can those mistakes that you made be lessons for all of America for a moment of reflection on how we treat black people in this country?

SPEAKER:  I just wanted to say apologies.  We have—

QUESTION:  I would really love for her to answer this question.  We've worked really hard.  We've driven so many hours.

SPEAKER:  We have to stop before—I'm just letting you know, we have a couple more answers left, more people (inaudible).  I'm not interrupting what you're about to say, I'm just doing you a heads up on timing.

HILLARY CLINTON:  Well, it's a very thoughtful question, and here's a thoughtful answer.  And I can only tell you that I feel very committed to and responsible for doing whatever I can.  I spent most of my adult life focused on kids, from the Children's Defense Fund and then efforts to try to give kids—particularly poor kids, particularly, you know, black kids and Hispanic kids—the same chance to live up to their God-given potential.  And that's where I've been focused. 

And I think that there has to be a reckoning. I agree with that.  But I also think there has to be some positive vision and plan that you can move people toward.  Once you say, I mean, this country has still not recovered from it's original sin—which is true—once you say that, then the next question, by people who are on the sidelines—which is the vast majority of Americans—the next question is, "Well, what do you want me to do about it?  What am I supposed to do about it?"

That's what I'm trying to put together in a way that I can explain and I can sell it.  Because in politics, if you can't explain it and you can't sell it, it stays on its shelf.  And this is now a time—a moment in time, just like the Civil Rights Movement or the women's movement or the gay rights movement or a lot of other movements reached a point in time—the people behind that consciousness raising and advocacy, they had a plan ready to go.  So that when you turn to, you know, the women's movement—we want to pass this and we want to pass that and we want to do this—problems are not taken care of, we know that.

#BlackLivesMatter is not a monolith. Nevertheless, I find the deferential tone shown by the questioner to Clinton startling, and in great contrast to the events both at Netroots Nation and Seattle. Here we have — as the oleaginous Democratic argot has it — a "conversation." I stand by my claim that #BlackLivesMatter does not disrupt powerful Democrats. UPDATE "What in your heart has changed?" I can't even. And "tone-policing" charges coming in 10… 9… 8…. counting…
The Voters
"On Apr 14 2015, the Virginia State Board of Elections immediately decertified use of the AVS WinVote touchscreen Direct Recording Electronic (DRE) voting machine. This seems pretty minor, but it received a tremendous amount of pushback from some local election officials" [Freedom to Tinker]. Check out the tech. The horror! The horror!
The Trail
"U.S. Sen. Bernie Sanders eked out a win over former Secretary of State Hillary Clinton in the informal Iowa State Fair poll during the weekend, finishing with 47.5 percent of the Democratic voters polled to Clinton's 47.17 percent" [International Busines Times]. The butter cow only got 14.29%.

"How Black Lives Matter is making Bernie Sanders a better candidate" [Waging Nonviolence].

Sanders: 1) Narrow base; 2) Bill Bradley; 3) New Hampshire is unique [Wall Street Journal, "Three Reasons to Be Skeptical of the Bernie Sanders Surge"].

"'I know a little bit about Carly Fiorina, having watched her almost destroy the company my grandfather founded,' Arianna Packard, the granddaughter of the Hewlett-Packard co-founder David Packard, wrote in a letter in 2010, when Mrs. Fiorina was a candidate in California for the United States Senate" [D%albook, New York Times]. When you've lost Andrew Ross Sorkin… 

"Mark Halperin Rides in Style With 'The Donald'" [Bloomberg]. Everything that's wrong with American political journalism packed into one headline.

"Maureen Dowd Explains Defending Trump's 'Blood' Remark: 'I Believe Him'" [Talking Points Memo].
Stats Watch
Housing Starts, July 2015: "Building permits slid sharply in July but reflect in part a plunge in the Northeast where a change in New York City real estate law pulled permits into June at the expense of July" [Bloomberg]. "Report is on the soft side and doesn't increase the chances for a September rate hike from the Fed." And: "Permits always lead, as there are no starts without permits. And in NY it was the rush to get multi family permits in before June 15 when a tax break expired is what caused the prior surge in permits and some starts as well and is now reversing" [Mosler Economics]. Caution: "Be careful in looking at this data set with a microscope as the potential error ranges and backward revisions are significant. Also the nature of this industry causes variation from month to month. But… " [Econintersect] "… the July data was not good. Using 3 month rolling averages likely is the best way to view this series – and still the data remains in the range we have seen over the last 3 years.
"According to data from Bloomberg, corporations have issued a stunning $9.3 trillion in bonds since the beginning of 2009. The major beneficiary of this debt binge has been the stock market rather than investment in modernizing the plant, equipment or new hires to make the company more competitive for the future. Bond proceeds frequently ended up buying back shares or boosting dividends, thus elevating the stock market on the back of heavier debt levels on corporate balance sheets" [Wall Street on Parade]. The rest of the post confirms my Maine Bear priors…
Walmart: "Walmart cut its annual profit forecast on Tuesday, attributing the move to the effects of a stronger dollar and increased spending on workers' wages and e-commerce" [New York Times]. 
Walmart: "'Inventory shrinkage [theft] was meaningfully higher than planned for the quarter,' [Walmart US president Greg] Foran said in an earnings call" [Business Insider]. "Walmart probably loses about 1% of its US revenue — or roughly $3 billion every year — to stealing by customers and employees." Oddly, or not, the Times left that out. Speculating freely, could Walmart's reputation be so bad that people feel it's fine to steal from it, on a tit-for-tat basis?
Walmart: "The profit challenges have caused one other big change at the hard charging Wal-Mart: A pullback in planned new-store openings. Wal-Mart now expects to open a total of 160 to 170 of its smaller format Neighborhood Market stores this year, down from a previous forecast of between 180 and 200" [The Street]. Good. See also under Class Warfare.
Charlene Chu, the "rock star of Chinese-debt analysis," has "a doomsday scenario" [Business Insider].
Black Injustice Tipping Point
"One year later: Ferguson is still pumping out arrest warrants" [CNN]. Sort of amazing to see "Policing for Profit, Targeting the Poor" on a mainstream chyron.
"[T]here is the Ferguson that new arrivals see: cheap housing, a diverse population and vibrant community activism" [NBC News, "Why Move to Ferguson?"]
"The New York Civil Liberties Union today requested that the New York Court of Appeals review a lower court's decision to keep secret records from the Grand Jury which failed to indict an NYPD officer in the death of Eric Garner" [NYACLU].
"But a new study has found that for black and Hispanic college graduates, the shield [of a college degree] is severely cracked, failing to protect them from both short-term crises and longstanding challenges" [New York Times].
"'Muslim-Free' Gun Shop Raffles Off Confederate Flag Painting by George Zimmerman" [Gawker]. When multiple buttons are pressed, is the result additive or geometric?
Corruption
"Faked peer reviews prompt 64 retractions" [Nature].
"Lawmakers call for oversight hearings on green jobs measure" [AP]. "The Legislature decided to send half the money to fund clean energy projects in schools, promising to generate more than 11,000 jobs each year."
The AP reported that three years after voters passed Proposition 39 [the Clean Energy Jobs Act], money is trickling in at a slower-than-anticipated rate, and more than half of the $297 million given to schools so far has gone to consultants and energy auditors. The board created to oversee the project and submit annual progress reports to the Legislature has never met.
Hmm. I wonder what party the consultants and energy auditors were from; we had a similar problem, on Maine's scale, up here with an insulation program.
Dear Old Blightly
Re: Corbynomics, Corbymania, and Corbynmania:  "[T]hese neologisms serve to confirm the man's media supremacy" [Guardian].
TPP, TTIP, TiSA
"Sen. Sherrod Brown (D-Ohio) said Friday that he will block a trade nominee's Senate floor vote until the Obama administration makes the text of a sweeping transpacific agreement available to eligible staffers" [The Hill]. Setting the table for the next round.
"Mexico car makers seek 50% regional content in TPP trade deal "  [Globe and Mail]. Ditto, now that other countries have made the running.
New Zealand, Prime Minister John Key: "Name a single free trade agreement we've ever done in the public" [Stuff]. So that's alright, then.
"Publicly, business lobby groups are heavily pushing the idea that TTIP will benefit small and medium-sized enterprises (SMEs). But behind closed doors they admit the reality: that small companies will "face increased competition" and that "benefits remain hypothetical" [Corporate Europe].
"A huge Trojan horse … has been erected in Valletta this morning to protest against the Trans-Atlantic Trade and Investment Partnership (TTIP), 'a dangerous deal that puts the interests of big businesses before the rights of EU citizens', according to Friends of the Earth Malta [Malta Today].
Gaia
" 'First flowers' may have 'bloomed' in water, not on land, fossils suggest" [Los Angeles Times].
"[B]reathing Beijing's air is the equivalent of smoking almost 40 cigarettes a day and calculates that air pollution causes 1.6m deaths a year in China, or 17% of the total" [The Economist, "Mapping the invisible scourge"].
Anthropoligist Lawrence Keeley: "The only reasonable interpretation of these cases, as here, is that a whole typically-sized Linear Pottery culture hamlet or small village was wiped out by killing the majority of its inhabitants and kidnapping the young women. This represents yet another nail in the coffin of those who have claimed that war was rare or ritualised or less awful in prehistory or, in this instance, the early Neolithic" [Guardian].
Class Warfare
"We live in capitalism, its power seems inescapable – but then, so did the divine right of kings. " [Ursula LeGuin, Guardian]. Timeless, rather than stale.
"But when algorithms start affecting critical opportunities for employment, career advancement, health, credit and education, they deserve more scrutiny" [Aeon]. Very important; another example of "Code is Law" (see here, here, and here).
"Football Players at Northwestern Barred From Unionizing" [New York Magazine].
"There is a rich research agenda ahead" [Economist's View, "Stiglitz: Towards a General Theory of Deep Downturns"]. Indeed! I'm filing this here, making an assumption that since "at the center of these [new] models is a wide variety of financial market imperfections and a deep analysis of the process of credit creation" that something akin to a notion of class warfare will result. I mean, we don't believe that financial transactions are in any way symmetrical, right? Given what we know about how the payment system can be made to operate, after Greece? (Sady, the complete paper is paywalled; the so-called "National" Bureau of Economic Research is, after all, not a public institution.) UPDATE Yves's crosspost bears on the same topic!Dennis Buckley, mayor of Beech Grove: "Walmart is draining our resources, it's bleeding us. They only pay property taxes into the local taxing district, not back to us in the town. So Walmart is using our cops we pay for, for their security… They also use our fire department services, too" [FOX (!)]. For my money, this is a more significant story than Walmart not meeting profit expectations, since so much of Walmart's profit comes from "draining local resources," i.e. plunder.
"80 percent of domestic air travel now goes through just four carriers, and one of them is Delta" [Gawker]. Funny how Amtrak, woefully underfunded, and not subject to the mantra of "because markets," is so much more dignified and comfortable as a travel experience than our horrible airlines.
"Amazon Chief Executive Officer Jeff Bezos asked employees to report to human resources any like those described in a New York Times article published over the weekend" [Bloomberg]. Go to HR? Is Bezos demented? I also like "shockingly callous management practices." It's got a-a-l-l-l-l-l-l the wiggle rooms. For example, would "the Red Wedding" qualify? I'm guessing no, since that was a one-time thing, and therefore not a "practice."
News of the Wired
"While we in the science fiction community have been debating the need for optimism, and indeed encouraging it, we have forgotten that, like a predictable pessimism, optimism can also be the function of a weak imagination" [Madeline Ashby].
"Stop pushing redux" [QuirksMode]. Why aren't apps shareable? A question that answers itself, once asked.
"The curious case of whistled languages and their lack of left-brain dominance" [Ars Technica].
"Physicists Solve the Mystery of Interleaved Phone Books" [MIT Technology Review].
"The internet is a magical place full of mainframes. This bot finds them for you and puts them on your screen" [Mainframesproject].
"Flamethrowers – given up by the military – are now being sold to the public" [WTKR]. A hundred household uses…. 
* * *
Readers, feel free to contact me with (a) links, and even better (b) sources I should curate regularly, and (c) to find out how to send me images of plants. Vegetables are fine! Fungi are deemed to be honorary plants! See the previous Water Cooler (with plant) here. And here's today's plant (optimader):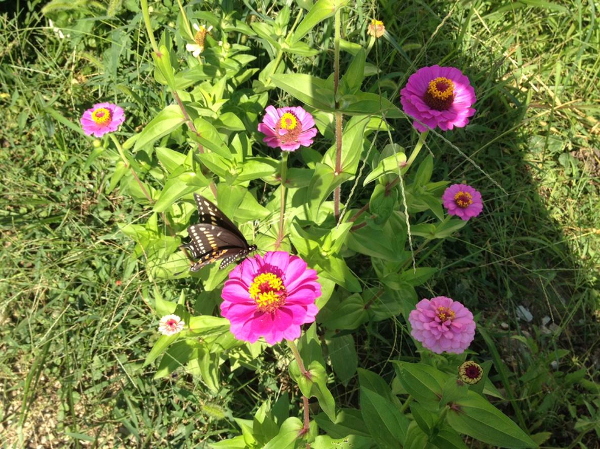 Optimader sent me a ton of pollinators, and this is an especially nice one!
If you enjoy Water Cooler, please consider tipping and click the hat. TAhis is turning into a tough month, and I need to keep my server up!