By Lambert Strether of Corrente.
2016
Policy
Clinton meeting with #BlackLivesMatter: "Oliver Willis, an African-American blogger and Media Matters for America fellow: 'You meet with the Democratic frontrunner for president, right now the person in the field in either party with the highest likelihood of being president, and the best you can do is ask her about her feelings?'" [New York Magazine]. I see I was not alone in my reaction…

"[In the #BlackLivesMatter video:] Mrs. Clinton, after listening and nodding for several minutes, responds calmly that her life's work has been helping the nation's poorest children, many of them black — before turning the tables on the much younger man and demanding instead to know how he plans to turn his deeply felt emotions into meaningful, lasting change" [New York Times]. And those tables should never have been turned or turn-able. That was the time for the "much younger man" to pull out the list of demands. Didn't happen. Missed opportunity. And royal audiences aren't granted that often. To be fair, we haven't seen the second video; the demand/policy shoe might yet drop. But still.
Money
"[Climate-change activist Tom] Steyer is part of this small but growing cadre of mega-donors whose influence has grown since the U.S. Supreme Court ruling in the 2010 Citizens United case lifted limits on independent campaign spending. Now, non-candidates including Steyer, the Koch brothers and George Soros are subjects of attacks, much like politicians" [Bloomberg].

"Election 2016: Jeb Bush Got $1.3M Job At Lehman After Florida Shifted Pension Cash To Bank" [International Business Times]. Ka-ching. 
Crooks
"Two U.S. government officials reportedly say an 'attempt' was made to wipe the hard drive of Hillary Clinton's email server—or, in other words, remove all data on it" [Daily Beast].

"The FBI has taken possession of thumb drives from Mrs. Clinton's lawyer and a server from a computer company she used" [Wall Street Journal, "Clinton Is Defiant as Email Cases Loom"]. It boggles my mind that the Secretary of State's email is on a thumb drive — no security issues there! — controlled by the personal lawyer of the individual holding the office. There is a distinction between offices and persons who hold them, though Clinton appears not to recognize it.

"Asked if the server, which has been turned over to the Department of Justice, had been wiped clean, Clinton initially shrugged and later joked, 'Like with a cloth or something?'" [The Hill]. Giving zero f*cks.

"Clinton was one of just 20 high-ranking officials whom President Barack Obama named in a December 2009 executive order as having the authority to classify material as 'top secret.' … An aide to a Republican member of the Senate Intelligence Committee: '[Clinton] was one of a few dozen people in Obama's administration with the knowledge and experience to decide if something was top secret… " [Daily Mail]. A Republican aide actually makes a good argument, which just goes to show how nutty things are getting.

"5 mistakes Hillary Clinton made in her latest e-mail press conference" [Chris Cilizza, WaPo]. Inside baseball, to be sure, but you know the old saying: There ain't no cryin' in Inside Baseball…

Dean gets sucked in, fact-checked, ground up, and spat out [Politifact]. Embarrassing. And for what?
The Voters
"It's people from the Northeast Kingdom who've overwhelmingly elected Bernie to almost 20 years in Congress" [Alternet]. Clue stick: The Northeast Kingdom is not full of Volvo-driving "progressives." You won't spot any Birkenstocks for miles. You will see a lot of rural poverty, plenty of beards, trucks galore, and guns. Rather like other parts of the country, come to think about it. It's going to be interesting to see how Sanders does at Liberty University, and whether he barnstorms the South afterwards (building a firebreak, one might add, against Joe Biden).
The Trail
"Hillary Clinton's Inevitable Problems" [Nate Silver] and "No, Hillary Clinton is not spiraling downward" [WaPo]. These pieces are evidenced and reasoned. But I can't shake the feeling that the political class is more or less in the position of the neo-liberal economists who thought they — and their models — had produced "The Great Moderation." That was true, until it wasn't. It takes a Potemkin Village….

James Carville for the defense [Correct the Record]. "In my life, I've seen a lot of 'nervous Democrat' stories. I have been a Democrat for some time – finding a 'nervous Democrat' is about as hard as finding a drunk in the French Quarter." Fun stuff. "Hillary's campaign has put forth some superb policy proposals." Oh yeah. And couldn't Carville have gotten himself published on a real site, instead of a Clinton campaign site?

"Carson draws thousands to Arizona rally" [The Hill]. As it turns out, one debate winner was the guy who was practically silent. Not my call, and AFAIK not anyone's call.
Stats Watch
MBA Mortgage Applications, week of August 14, 2015: "A dip in rates gave a boost to refinancing demand, up 7 percent in the latest week, but failed to give much lift to purchase applications which fell 1.0 percent" [Bloomberg]. Year-on-year, howerer, purchase applications are up 19%.
Consumer Price Index, July 2015:  "The consumer price index rose only 0.1 percent in July as did the core, both under expectations" [Bloomberg]. "There may be some upward creep in the headline year-on-year rates but, given the ongoing decline in oil, this report won't be pushing the Fed for a September rate hike" [wipes brow]. More free money for elites! And: "The year-over-year core inflation (excludes energy and food) rate remained unchanged at 1.8%, and continues to be under the targets set by the Federal Reserve" [Econintersect].
"July 2015 Sea Container Counts Improved But Still Showing a Weak Economy" [Econintersect].
Fastest 100 growing companies [Fortune]. I filtered on the United States: FIRE sector: 3; pharma: 2; health "care": 2;  manufacturing (networks, auto): 2; and Facebook. In other words, 80% business, 20% industry. Seems about right.
China's devaluation: "China's real motivation seems to be more far-sighted. The devaluation advanced China's strategic goal of turning the renminbi into an international reserve currency" [Project Syndicate].
The Fed: "[O]nce again the rates world awaits the move off zero by the FOMC.  Much like the parable Before the Law by Kafka it seems the Fed is standing at the door asking if they can ever go through, the doorkeeper says it is possible but 'not just yet'" [Across the Curve]. "Unfortunately the man in the story waits outside this door his whole life without ever going through.  After 7 years at near zero rates it has felt like a lifetime for most. Since this first move is so critical, the fact that the market is still split on a move (40% priced in Sep) leaves me feeling less optimistic that the time is now.  The Fed is running out of time to make it clear to the market that a first step is imminent and the recent drop in inflation expectations has weakened the urgency to act."
The Fed: "Stephen D. Williamson, vice president of the St. Louis Fed … believes the zero interest rates in place since 2008 that were designed to spark good inflation actually have resulted in just the opposite" [Mosler Economics]. It's all good. Elites get free money.  They like that. It will be hard to change.
The Fed,  Narayana Kocherlakota: "If the Fed raises interest rates when inflation is so far below target, market participants and other members of the public could well conclude that the FOMC has implicitly lowered its inflation goal" [Wall Street Journal, "Raising Rates Now Would Be a Mistake"]. "Now, this is not to say that increasing the federal-funds rate by a mere quarter of one percentage point, as many advise, would in and of itself have a huge direct impact on the U.S. economy." One-and-done, by quarter points, looks pretty good. The Fed needs to figure out how to take the free money bone away from the snarling dogs that have hold of it; and I don't see how. 
Another cost-of-doing-business fine for JP Morgan from the SEC [Market Watch]. Another day, more conflict-of-interest plunder. Ho hum. Move along people, move along. There's no story here.
"There are economies of scale in options manufacture. Making artisanal stock options in your Brooklyn loft co-working space is expensive" [Bloomberg].
Black Injustice Tipping Point
"At least 1014 Black Lives Matter demonstrations have been held in the last 396 days" [Elephrame]. Solid work, though the number may be low.
"[The College of William and Mary] would remove the 'commemorative plaque in the Wren Building (naming soldiers from William & Mary who fought for the Confederacy)' and also that it would remove from 'the College Mace (a gift of alumni, students and faculty in 1923, carried in university ceremonies)' the likeness of the Confederate flag" [The Hill]. Laudable, but I still wish I knew how the discourse, after the Charleston shootings, turned to symbols rather than policy; the shift was remarkably rapid and pervasive. What — by which I mean who — drove it?
Police State
"Documents obtained by The Intercept confirm that undercover police officers attended numerous Black Lives Matter protests in New York City between December 2014 and February 2015" [The Intercept]. "Many of the documents released include live updates on protests from undercover police officers, reporting on group sizes, and the tracking of protesters' movements around the city, particularly the movements of New York's 'People's Monday' protests."
Militia Watch
"OKLAHOMA CITY – [Sam Andrews,] a Missouri Oath Keepers leader and his squad will test state law with a unique experiment by arming 50 blacks with AR-15 rifles while marching through downtown Ferguson, Mo" [Red Dirt Report]. Andrews: "It will be an iconic event." Cue multiple intra-cranial splatterfests…. 
Dear Old Blightly
"UK wants to create world's largest honeypot of centralised personal financial data" [Ars Technica]. "[T]o check someone's identity, a company would then ask potential customers a series of questions and check the answers against the information in the vault." What could go wrong? I mean, besides the back doors the vendors (Google and Microsoft) will build in.
TPP, TTIP, TiSA
"Five Reasons Why TPP Countries Should Unite To Oppose The US Pharmaceutical IP Agenda" [IP Watch]. I like this one:
2) Bargaining with the US is risky business. Under pressure from the US, and anxious to secure gains in market access in exchange for apparent concessions on medicines, negotiators seem to be pursuing solutions in creative wording. But they can't be sure that 'carve-outs' buried in footnotes and fine print appearing to preserve existing policy settings will be interpreted in the anticipated way in any disputes that arise. No country can be confident that even the most carefully crafted workaround won't end in tears in a trade tribunal and a set of cross-retaliatory measures.
Gaia
"Is nature mostly a tinkerer or an inventor?" [Phys.org]. "'Our study paints a picture of nature innovating largely through sharing the functional bits of genes—tinkering with molecular genetic material that already exists,' said William E. Browne, assistant professor of Biology at [University of Miami's] College of Arts & Sciences and principal investigator of the study."
"Observational Signatures of Self-Destructive Civilisations" (PDF) [arXiv.org].
The aim of this paper is to use the Earth as a test case in order to categorise the potential scenarios for complete civilisational destruction, quantify the observable signatures that these scenarios might leave behind, and determine whether these would be observable with current or near future technology.
Water
"Water from [the High Plains and Central Valley] aquifers in the US contains uranium levels that are significantly higher than [EPA']s maximum contaminant level (MCL). What's more, these two aquifers provide drinking water to almost 6 million people, and almost 2 million of them live less than a mile from the contaminated groundwater" [Business Insider].
The study found that 78% of the uranium-contaminated sites are linked to the presence of nitrate, a common groundwater contaminant, that stems from chemical and animal waste fertilizers. Nitrate, through a series of bacterial and chemical reactions, oxidizes uranium which then makes it soluble and capable of leaching into groundwater.

The two aquifers irrigate cropland that accounts for one-sixth of the annual revenue generated by US agriculture.
Of course, the health effects aren't factored into the "annual revenue." They're externalities, or, in the vulgate, "plunder."
Wretched Excess Watch
Sandy and Joan Weill are ticked off that Paul Smith College won't rebrand itself with as "Joan Weill-Paul Smith's College," even though they gave it a smidgeon of their vast personal hoard [Wall Street on Parade]. So, it's not just buildings any more, but entire colleges. Wow. Idea: Tattoo "Joan Weill" on every incoming freshman's arm?
Class Warfare
"White House appoints first openly transgender full-time staff member" [Guardian]. Now if only they'd arrest the first openly transgender bankster….
"Duggars pitch TLC new show where they counsel sex abuse victims: report" [Raw Story]. Turns out they can't fund that full quiver without a project on the order of a reality TV show.
After working at Amazon, white collar manager can afford therapy [Quartz]. So there's that.
News of the Wired
"Samsung, MIT find way to make batteries with 'indefinite' lifetime" [Korea Times]. Now all we have to do is make them…
"What Makes American Men So Dangerous?" [Pacific Standard].
"Yelp Wants You to Review the Government" [Time]. In basements across the land, libertarians roll up their pajama sleeves…. 
"Professional audience members." Really [Vice]. Making it perfectly natural for Trump to hire people to attend the announcement of his candidacy.
"The whisper is that Banksy is involved in the staging of some sort of pop-up show/exhibition/thing called Dismaland — apparently a swipe at Disneyland" [Boing Boing]. Not Mauschwitz?
"US scientists have identified the chemicals responsible [coumarin] for the mosquito-repelling activity of sweetgrass, a plant traditionally used by some Native Americans to fend off the bugs" [BBC]. Interestingly, coumarin was an ingredient in Avon's 'Skin So Soft,' which many used as a repellent, back in the day. I think I'd rather grow than buy.
* * *
Readers, feel free to contact me with (a) links, and even better (b) sources I should curate regularly, and (c) to find out how to send me images of plants. Vegetables are fine! Fungi are deemed to be honorary plants! See the previous Water Cooler (with plant) here. And here's today's plant (Alex):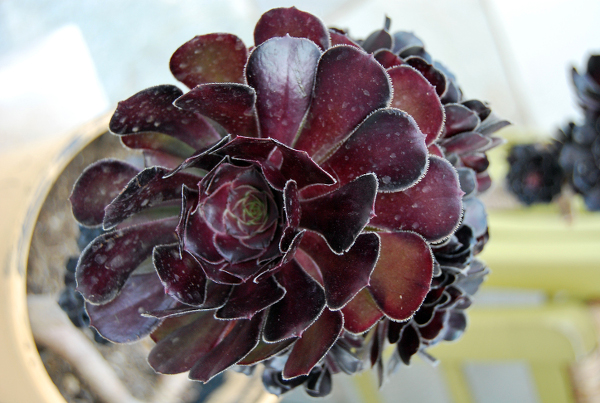 Another plant from Greece!
If you enjoy Water Cooler, please consider tipping and click the hat. This is turning into a tough month, and I need to buy a new pair of pants and keep my server up!