By Lambert Strether of Corrente.
2016
Policy
UPDATE "We haven't been talking very much about intra-conservative policy debates since the G.O.P. primary campaign, and especially the Trump boom, began in earnest" [Ross Douthat, New York Times]. [splutter]. Sorry. Should have warned you to put down your coffee.
Money
Republican presidential rivals Jeb Bush and John Kasich bring to their campaigns their experience as governors of major battleground states, but they also share a resume line from their time in the private sector. The Florida and Ohio pols both worked at the ill-fated Wall Street investment bank Lehman Brothers just as the firm was racking up vast losses for their states' respective pension systems [International Business Times]. Ka-ching.
Crooks
Clinton communications director Palmieri on Clinton privatizing her email as SoS: "She didn't really – that's the thing, she didn't really think it through. She has said, had she – she would have done it differently" [The Hill]. The Clinton Dynasty is a ginormous hairball of influence-peddling and corruption. Of course Clinton thought it through. And in the unlikely event that Clinton didn't, her ability to mentally compartmentalize her human relationships is so extraordinary as to verge on the sociopathic.
The Trail
"The Fox Business Network has learned that at least some of the campaigns are discussing an attack-ads blitz against The Donald in the coming weeks, according to several financial executives who have direct ties to the various campaigns. These people tell Fox Business that the campaigns of Wisconsin Gov. Scott Walker and Florida Sen. Marco Rubio in particular are currently raising money with aims to hit Trump on various issues such as his controversial comments about immigration, as well as his record as a businessman, in these ads" [FOX]. Ka-ching. 

Via [@advanceguynotes]

Jeb's team must deal with this.  ASAP. Rt @jdelreal: Now he's catching up with his bearded friend, flower dude pic.twitter.com/n4lGmQlPF8

— Advance Guy Notes (@AdvanceGuyNotes) August 19, 2015

I don't want to beat this into the ground, but I'm seeing public disruption here. I'm not seeing a polite private meeting. What's up with disrupting powerful candidates, #BlackLivesMatter? If "flower dude" can….

"Police: Brothers urinated on, beat Hispanic homeless man; one said 'Trump was right'" [Boston Globe]. Trump: "I will say that the people following me are passionate. They love this country and want this country to be great again. They are passionate" [The Hill]. Not so much fun anymore, eh?

"O'Malley's swipes at Trump come as he continues to lag in the polls behind Democratic front-runner Hillary Clinton and Sen. Bernie Sanders, who is starting to chip away at Clinton's lead" [National Journal].

"Deez Nuts — In It to Win It" [Foreign Policy]. Nuts "leans libertarian." He's 15 [New York Magazine]. That seems about right.
The Hill
"At this point, the chances that Congress will block the [Iran] accord are very slim indeed" [WaPo]. So Schumer got to be a revolving hero for AIPAC? Pretty funny.
Stats Watch
Leading Indicators, July 2015: " Swings in housing permits have been distorting recent LEI readings including for July, down 0.2 percent vs gains of 0.6 percent in the two prior months. Permits, which fell 16 percent in Tuesday's housing starts report, more than offset what are a run of mostly neutral readings among other components. The strongest component, as it usually is, is the rate spread which reflects the Fed's stimulative policy. Also pointing to strength are initial jobless claims, which are at rock bottom lows, and the report's credit index which points to a rise ahead for lending" [Bloomberg]. "Putting aside the pluses and especially the rate spread, however, points to a mostly flat outlook for the economy six months from now."  Yes, the FIRE sector is doing everything in its power to shock the patient into life… However: "The data does not exist to establish what The Conference Board's LEI values would have been in real time – at this point only the final numbers are known. Unfortunately, knowing the current values is no assurance that a recession is or is not imminent as there is no track record of real time performance" [Econintersect].
Philadelphia Fed Business Outlook Survey, August 2015: "The Philly Fed's index, which is very closely watched, posted a gain" [Bloomberg]. "That sigh you hear is one of relief, that Monday's historic plunge in the Empire State report is probably a fluke." But: "This is a very noisy index which readers should be reminded is sentiment based. The Philly Fed historically is one of the more negative of all the Fed manufacturing surveys but has been more positive then the others recently" [Econintersect].
Jobless Claims, week of August 15, 2015: Jobless claims are steady at rock bottom lows and are pointing to continuing improvement on the unemployment side of the labor market.  [Bloomberg]. "All these readings are very low indicating that employers, who may or may not be hiring, are definitely holding on to their employees."
Existing Home Sales, July 2015: "There's plenty of life in the housing sector with existing home sales up a stronger-than-expected 2.0 percent in July" [Bloomberg]. "[D]emand is well ahead of supply which is very thin. …. The balance of this report is impressive, pointing to a rising tide of strength across housing which, given spotty performances by the factory and consumer sectors, looks to be the leading driver for the second-half economy."
Bloomberg Consumer Comfort Index, week of August 16, 2015: "[T]he consumer comfort index, after falling for four straight weeks including a very steep 1.9 points in the prior week, is up 4 tenths at 41.1" [Bloomberg]. People have done the math and they can travel on the Labor Day weekend?
The Fed: "Adding to uncertainty for markets, Ms. Yellen won't be attending the central bank's annual retreat in Jackson Hole, Wyo., next week, where past Fed leaders have at times left clues about future policy decisions. Ms. Yellen is spending parts of the month of August vacationing out of Washington" [Across the Curve].
The Fed: "The FOMC minutes from the July 28-29 FOMC meeting were released today. Arguably they are stale. Arguably they have been overtaken by events. And because the Fed has been very good about not signaling their exact intentions, arguably you can read anything into them you want" [Tim Duy's Fed Watch]. "This is shaping up to be one of the most contentious meetings since the tapering debates. We will soon learn more exactly what data the Fed is data dependent on."
" The Asian Century Hits a Speed Bump" [Bloomberg]. "Trade slowing, currencies weakening, stocks falling, economic growth waning and political wobbles emerging."
Black Injustice Tipping Point
"Tyranny in the M-O" [Will Bunch, Philadelphia Inquirer]. Bunch is always worth a read.
"Dear #BlackLivesMatter: We Don't Need Black Leadership" [Orchestrated Leadership]. Readers like this one; and so do I.
"In a new paper, published in the journal Social Science Quarterly, [University of Connecticut researcher Thomas Craemer] makes the case that there are other examples of historical reparations paid many decades later after 'damages; were incurred. He also has come up with what he says is the most economically sound estimate to date of what reparations could cost: between $5.9 trillion and $14.2 trillion" [Newsweek].
"A Meme Gets An Uncomfortable Backstory In 'Straight Outta Compton'" [National Public Radio].
Dear Old Blightly
"Jellyfish Sightings At Record High Across UK" [Sky News]. Blairites. At least if they sting.
"Supporters who joined the [Labour] party in recent months – as £3 affiliates or fully fledged members – have been written to by the party telling them they will not be allowed to vote in September's election" [Channel4]. "Furious would-be voters, including the Have I Got News For You writer Peter Sinclair, have taken to Twitter to express their fury. The hashtag #LabourPurge was trending on Twitter on Thursday morning."  For example, British comedian @jeremyjhardy:
Bang on cue, rejected by the Labour Party. It's "we have reason to believe" that's my favourite bit

— Jeremy Hardy (@JeremyJHardy) August 20, 2015
"Russell Brand backs Jeremy Corbyn in Labour leadership race" [Guardian].
Open letter from 35 economists: "It is to Corbyn's credit that he has broadened the policy discussion so that the shared assumptions behind the narrow range of policies advocated by both  the Conservative government and the other Labour leadership candidates are now being debated" [Open Democracy].
"Taking Corbynomics Seriously" [Project Syndicate]. "Corbyn's proposal, unlike orthodox monetary financing, would not add to the national debt – a major advantage."
"Underlying much of the political discourse [including Corbyn's] is the flawed analogy, 'the government is like a household'" [Prime Economics]. And see here.
"Britain has responded to the recent news that the Department for Work and Pensions used fabricated testimonials and stock photos in their benefit sanctions leaflet in the best possible way: by coming up with a new meme" [Mashable].
"From 2020, schools will be judged by the GCSE scores Year 11 students achieve in the core subjects, but others like art, music and drama, will not be included" [Sky News]. See, art, music, and drama aren't "core" because there's no demand for narratives, or even aesthetics. If you think Torystan is ugly now, just wait.
TPP, TTIP, TiSA
New Zealand: Tech representatives meet with New Zealand TPP negotiators, who say this on ISDS: "Investor-State Dispute Settlement (ISDS) provisions remain, however are only intended [by whom?] to be used for major issues such as asset nationalisation or similarly serious government actions" [Tech Blog]. If that's the line they're taking, it doesn't hold up to even cursory scrutiny. Cigarettes?
Canada: "Canada's long-drawn-out federal election campaign has become entangled with the 12-sided Trans-Pacific Partnership negotiations, which failed to reach an agreement in Hawaii at the end of July. At this rate, with an unpredictable three-sided election in this country, it would be best for Canada if the trade talks did not resume until November, when we will know who the governing party is and when it has had a chance to catch its breath" [Globe and Mail]. I wonder what Alberta thinks…. 
Police State
"The Police Executive Research Forum, a research and policy group whose members include commanders from the largest U.S. police departments, said officers generally receive far too little training in de-escalating conflict and often are embedded in a culture that encourages them to rapidly resort to physical force" [HuffPo]. If you've lost the Police Executive Research Forum… 
"Spanish Police Park In Handicapped Spot, Fine Person Who Caught Them For 'Impugning Their Honor' [Tech Dirt].
Gaia
"And the argument that there is nothing new about genetic rearrangement misses the point that GM crops are now the agricultural products most heavily treated with herbicides and that two of these herbicides may pose risks of cancer" [New England Journal of Medicine, "GMOs, Herbicides, and Public Health"]. Ka-ching. After all, "engineering" is always done for a business purpose. Eh?
White House commemorates 10 year Katrina anniversary by holding oil lease sale in Superdome [WorldOil].
"An apocalyptic vision of Singapore" [Straits Times]. "Singapore Incorporated runs several suburbs in northern India and China, populated by a diaspora that had abandoned the island founded by Raffles."
Water
"NASA figures, based on radar data from satellites and aircraft, underscore the unsustainable levels of groundwater use in the San Joaquin Valley. Even in wet times, farmers in parts of the valley pump more from the region's deep aquifer than is replenished" [Los Angeles Times]. From @reveal:
For context, here's how much one area in California sank from groundwater pumping between 1925 and 1977. pic.twitter.com/4xhDnVoWyM

— Reveal (@reveal) August 19, 2015
Wretched Excess Watch
"A 25m glass pool suspended 10 storeys above a London street will be the first of its kind, developers say. It's 5m wide and 3m deep and you'll [sic] be looking straight down at a street scene 35 metres below" [Business Insider]. "For the frightening privilege, residents will have to fork out a minimum of £602,000 ($1.28 million)." We've got water and you don't… 
"Burning Man festival hit with horrifying infestation as CEO considers moving event to Utah" [Raw Story].
Class Warfare
Researchers found that "Machiavellians' brains went into overdrive when they encountered a partner who exhibited signs of being fair and cooperative" [New York Magazine]. That's probably why you see all those bald heads in finance and software (Bezos; Blankfein). They shave their hair off to allow their overheating brains to cool more efficiently.
Truvada, AIDS, and the class divide [Pacific Standard].
"The genius of the market, as opposed to centrally planned economies, is its humility when it comes to understanding what consumers want" [Econintersect]. As opposed to citizens, say. Or workers.
News of the Wired
fartscroll.js [http://theonion.github.io/fartscroll.js/]. I live in a wonderful world where The Onion has a github account.
"Facebook, for example, is still the most popular social media site in the United States. But its growth over the past year has been fairly flat, the study showed. Still, the site retains a commanding lead over other social media networks, and 72 percent of all American adults online have a Facebook account" [WaPo]. "My Mom's on Woo Woo" (I know this is a marketing video, but I still love it).
"Facebook's News Feed algorithm allows it to put pretty much whatever it thinks is relevant to its users front and center. Comparatively, Twitter is bound by the reverse-chronological timeline of tweets from accounts a user follows. (Co-founder and interim CEO Jack Dorsey has emphasized his desire to move away from that strict timeline, though) [Business Insider]. Again, stupid money and craven management combine to gut Twitter's unique selling proposition. I'd even subscribe to Twitter, if only to stick it to Zuckerberg.
"Lessons Learned From Reading Post Mortems" [Dan Luu]. "Postmortems that start with 'Because this was a high risk operation, foobar high risk protocol was used' are ubiquitous enough that I now think of extra human-operated steps that are done to mitigate human risk as an ops smell." And see the sources under "Elsewhere."
On the CAFC's decision in Oracle vs. Google: "[T]hese non-programmers don't realize that an API is not software" [Tech Dirt]. Yikes! Tech doc people realize this too, I'll have you know.
"The story behind Curiosity's self-portraits on Mars" [Planetary.org].
"Cadavers Are Teaching Doctors to Be More Empathetic" [Smithsonian]. Pretty amazing. Because it didn't work with neo-liberal economists.
* * *
Readers, feel free to contact me with (a) links, and even better (b) sources I should curate regularly, and (c) to find out how to send me images of plants. Vegetables are fine! Fungi are deemed to be honorary plants! See the previous Water Cooler (with plant) here. And here's today's plant (optimader):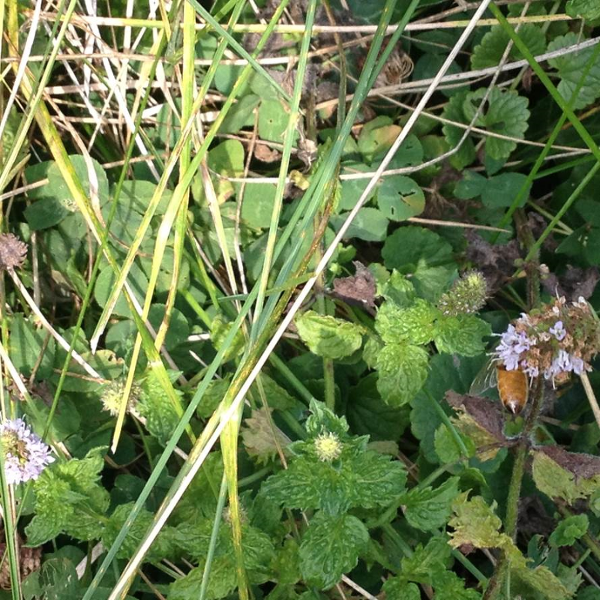 Optimader has honeybees! I have only very few…
If you enjoy Water Cooler, please consider tipping and click the hat. This is turning into a tough month, and I need to buy a new shirt and keep my server up!