Lost cat miraculously survives California wildfire CBS. Look at her singed whiskers!
'Eventually, our universe will be completely dark' DW
Wind Could Replace Coal as Nation's Primary Generation Source The Energy Collective
Science says your "gut feeling" isn't a metaphor Quartz. I'm leery of the enthusiasm for this thesis, in that this seems like yet another overhyped discovery.
World population likely to surpass 11 billion by end of century TreeHugger (resilc). It won't be any world you'd want to live in. I know plenty of people 30 and under who intend not to have kids because they anticipate that the standard of living (broadly defined, not just economic but ecological and social stability) is going to get worse, and probably a lot worse, very soon. But some people in advanced economies making this sort of decision is not likely to alter the trajectory enough. But other possible developments, like greatly reduced efficacy of antibiotics, could.
Google new operating structure Business Insider. First, The Company Formerly Known as Google looks to be going hell bent down the path of being an overly diversified conglomerate. Those typically trade at conglomerate discounts. Second, the rebranding suggests that that the Google name was becoming a negative. Companies generally only rebrand when their original brand has associations they want to shed, like Blackwater. So was Google becoming (correctly) too strongly associated with the surveillance state? And is Alphabet meant to stand for a cheerful "We are foundational to all things technology?" Good luck with that.
Video gamers win millions of dollars in Seattle championship Reuters (EM)
Protesters Press Secluded G7 Leaders on Harmful Policies, from Crippling Austerity to Dirty Coal Democracy Now (Sid S)
People's Bank of China Devalues Yuan Wall Street Journal
China Lowers Value of Its Currency as Economic Slowdown Raises Concerns New York Times
5 Things About China's Currency Devaluation WSJ China Real Time Report
China 'preparing shortlist' to replace markets regulator after shares crisis Sydney Morning Herald (EM)
The 70-year itch: America struggles to maintain its credibility as the dominant power in the Asia-Pacific Economist. Its tweek: "Barack Obama portrays the TPP as the most important aspect of America's 'pivot' to Asia."
Deflation Stalks the Euro Zone Bloomberg
For Many in Spain, a Heralded Economic Recovery Feels Like a Bust New York Times
Grexit?
Greece says outline deal with creditors struck Financial Times

Greece and lenders agree on primary budget targets-official Reuters

Germans and Slovaks stand ready to scupper Greek deal as Athens insists agreement is near Telegraph

Germany government gained from Greek crisis – IWH study BBC

Tsipras seeks to cool talk of him calling snap polls ekathimerini
Ukraine/Russia
Russian Authorities Step in to Avert Ruble Slide Wall Street Journal
Syraqistan
Turkey Invades Syria, Goes For Aleppo Moon of Alabama

29 U.S. Scientists Praise Iran Nuclear Deal in Letter to Obama New York Times (EM)
Big Brother is Watching You Watch
No-fly list uses 'predictive assessments' instead of hard evidence, US admits Guardian (Brian C, Chuck L). Pre crime is here!

Why 'Smart' Objects May Be a Dumb Idea New York Times. David L: "Our cars, fridges and even bank safes are connected to the Internet. It's making us vulnerable in new and alarming ways." Not mine!
Imperial Collapse Watch
Chalmers Johnson on Garrisoning the Planet TomDispatch. Resilc: "Nobody calls this scam. And they want to kill social security to pay for this."

War in Space May Be Closer Than Ever Scientific American
Game of Groans: How focus on Trump Taunts hides GOP war on Middle Class, Workers Juan Cole (resilc)
Megyn Kelly Says She Won't Be Cowed by Donald Trump New York Times
Lawrence Lessig to Explore a Run for President as a Democrat New York
Stock Buybacks Draw Scrutiny From Politicians New York Times
Wastewater spill from Colorado gold mine triples in volume: EPA Reuters (EM)
Black Injustice Tipping Point
Legislation would give SEC more time to go after fraudsters Investment News (Adrien)
Gang of Transnational Crime Organizations Roll Out Own Encrypted Communication System Marcy Wheeler
Senate's Warren Seeks Review of Bank Message System After Fines Bloomberg
Class Warfare
US labour market weakening Bill Mitchell

Industrial robots have boosted productivity and growth, but their effect on jobs remains an open question LSE

The Tech Productivity Mystery Noah Smith, Bloomberg
Antidote du jour. Resilc writes, "OK, Yves, top this one." From Laughing Squid, Photograph Captures Two 'Dryas Iulia' Butterflies Drinking the Tears of Turtles in Ecuador: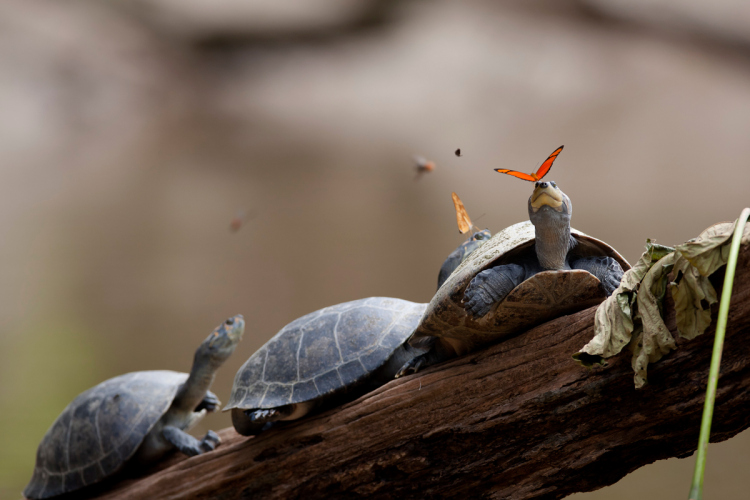 See yesterday's Links and Antidote du Jour here.