Dear patient readers,
Forgive the thinness of original posts in the last two days. I've been working on some longer-term blog-related projects that are eating into the time available for current posts.
Kids fully aware that all their questions are annoying Daily Mash
As bear sightings rise, New Jersey votes to expand hunt Reuters. EM: "While I can see the need for population control, I hate the euphemism 'harvesting' when applied to non-plant species. OK, 'kill' may be too loaded for the MSM, but how about 'cull'?"
Verizon: "People Are Going To Look Back And Laugh" At NJ Customers Worried About Their Copper Landlines Consumerist
China's Currency Whackage
An innocent man in China has revealed by drawings how local police tortured him into "confessing" Quartz (furzy mouse)
The sinking of the Canadian Navy Macleans. Chuck L: "The country which has more coastline than any other in the world (according to McLeans) is essentially without a navy."
SITREP from Brazil – is a coup d'etat next? Vineyard of the Saker (Chuck L)
Grexit?
Announcement of the KKE on the Third Memorandum the Government signed with the Institutions In Defense of Greek Workers (mda)

Bailout agreement fails to damp Greece concerns Financial Times

No wonder the Greek finance minister looks resigned over possible bailout deal Guardian. Money quote:

That means the past eight months of wrangling between the new Syriza government and the troika of the EU, International Monetary Fund and European Central Bank have not only handed the Greeks a tougher set of austerity measures than was probably available in January, but also crashed the economy.
Big Brother is Watching You Watch
What Happens When a Failed Writer Becomes a Loyal Spy? Intercept (resilc)

Sweden and Ecuador edge closer to end of Julian Assange standoff Guardian (furzy mouse)
Jeb Bush Blames Hillary Clinton and Obama for Iraq's Decline New York Times
Memo to Jeb Bush: It was W's Surge that created ISIL, not Hillary Juan Cole. Resilc: "I'm not impressed by her SecState time, and question what she's really done in the Senate or elsewhere, but no Bush should say anything about Iraq. His brother should be in jail with his VP and SecDoDs and SecStates."
Hillary Clinton to Turn Over Private Email Server to Authorities Wall Street Journal. Lambert: "So is the thumb drive identical to the server? And is it the same thumb drive David Kendall had? And how would we know? There's no chain of custody at all! One thing we know: She's not doing this to help out the committee!" Moi: "She admits to wiping 31,000 messages that were supposedly personal…so this is hardly an un-tampered with server."
Parts of 2 Clinton E-Mails Now Earmarked as 'Top Secret' Bloomberg (EM)
A Bernie Sanders Shocker Is Coming Observer (furzy mouse)
Behind the scenes of the Donald Trump – Roger Stone show Mark Ames, Pando. A must read.
How Roger Ailes Picked Trump, and Fox News' Audience, Over Megyn Kelly New York
Magazine
Donald Trump is exactly the kind of rich person politicians love to fool Quartz
Jeb Bush's Recipe for Disappointment Bloomberg (furzy mouse)
Texas power demand breaks record again in heat wave
Reuters. EM: "Good thing both global warming and natural-resource limitations are myths!"
U.S. Coast Guard unloads $1 billion in seized narcotics in San Diego Reuters (EM). Maybe we should replace the top brass at the SEC with the top brass at the Coast Guard. At least the Coast Guard has some success in catching real crooks.
Schumer Says Corporation Should Oversee Hudson Tunnels Project New York Times. Brant: "So government through Kickstarter?"
After 2 Killers Fled, New York Prisoners Say, Beatings Were Next New York Times (Scott)
Black Injustice Tipping Point
Heavily Armed Oath Keepers Show Up in Ferguson to Protect Right-Wing Journalists New York Magazine (resilc). So why is no one calling them brownshirts?

Teens at Klan-connected 'Confederate camp' learn archery, crafts, outdoor skills — and hate….. Raw Story
Data on Use of Force by Police Across U.S. Proves Almost Useless New York Times. A feature, not a bug.
Ford moves commercial truck production to Ohio from Mexico Reuters (furzy mouse)
Oil supply grows at breakneck speed — IEA Financial Times
KKR's PEU Bankruptcy: Samson Resources PEU Report
Bank rules hit bond trading, report says Financial Times. Of course, these are reports by industry lobbyists.
Class Warfare
The Point of No Return: Climate Change Nightmares Are Already Here Rolling Stone (Jeff W). Today's must read.
Antidote du jour. knowbuddhau:
On July 27, 2015, 5 minutes before noon, an abandoned mama goat walked into my life. Thought there was a big dog checking out the joggers, but then she turned and walked down the driveway.

She was the highlight of my summer. The absentee landlords of this vacation rental McMansion wanted me to scare her off the property. So typical: make her someone else's problem, never mind her well being. Instead, I showed her the same hospitality I show all my guests.

The local animal control officer put me in touch with a neighbor who has rescued goats in the past. He made several attempts, always making sure not to traumatize her, even bringing other goats. I'm equal parts sad and glad he was successful. At least I get to visit :)

The whole time she was here, I hoped for a shot of her doing what goats love best: standing on things. The pic of her, standing on a bolder in the back yard, is the best "wildlife" pic I've ever taken. I hope you like it.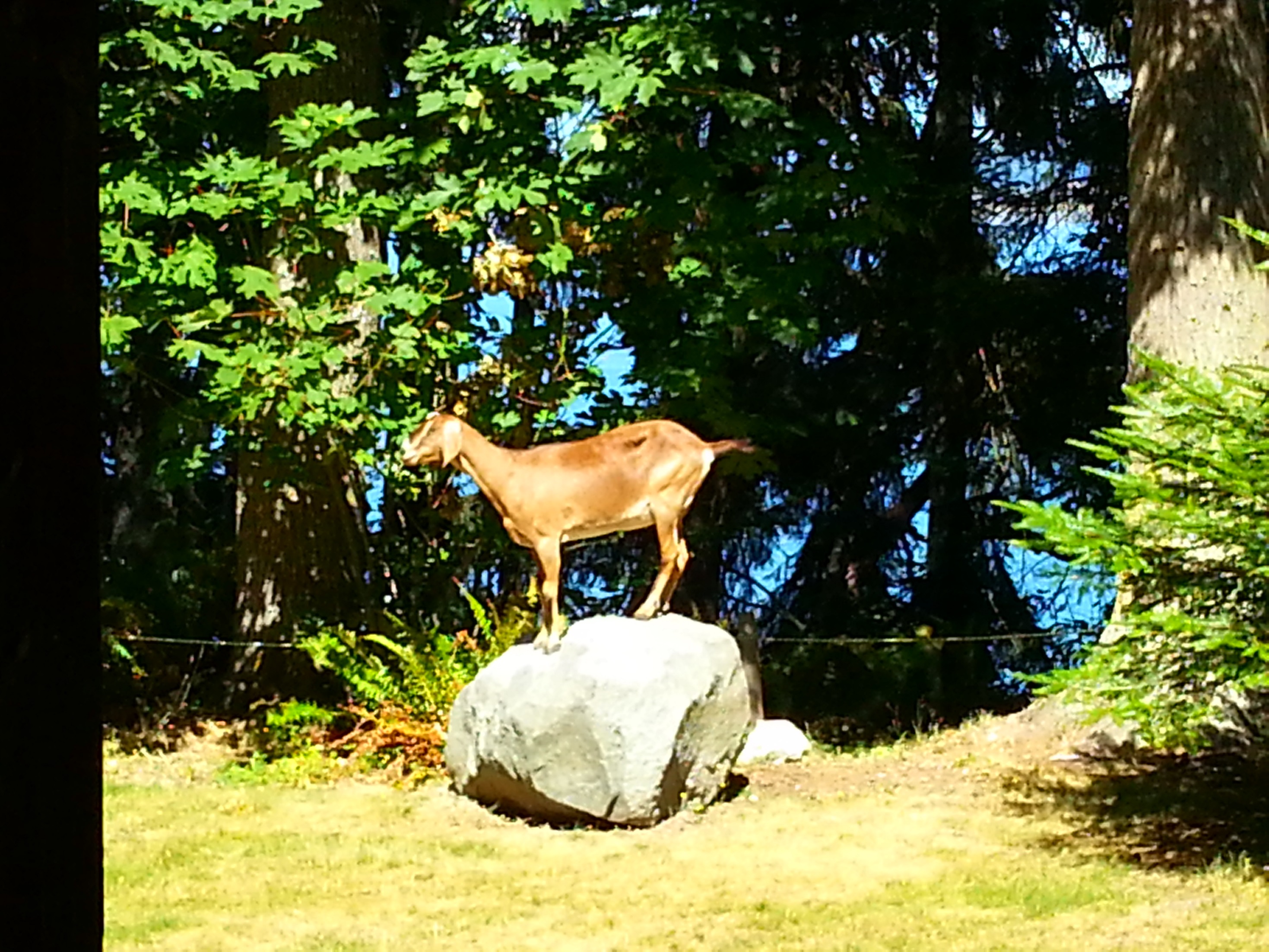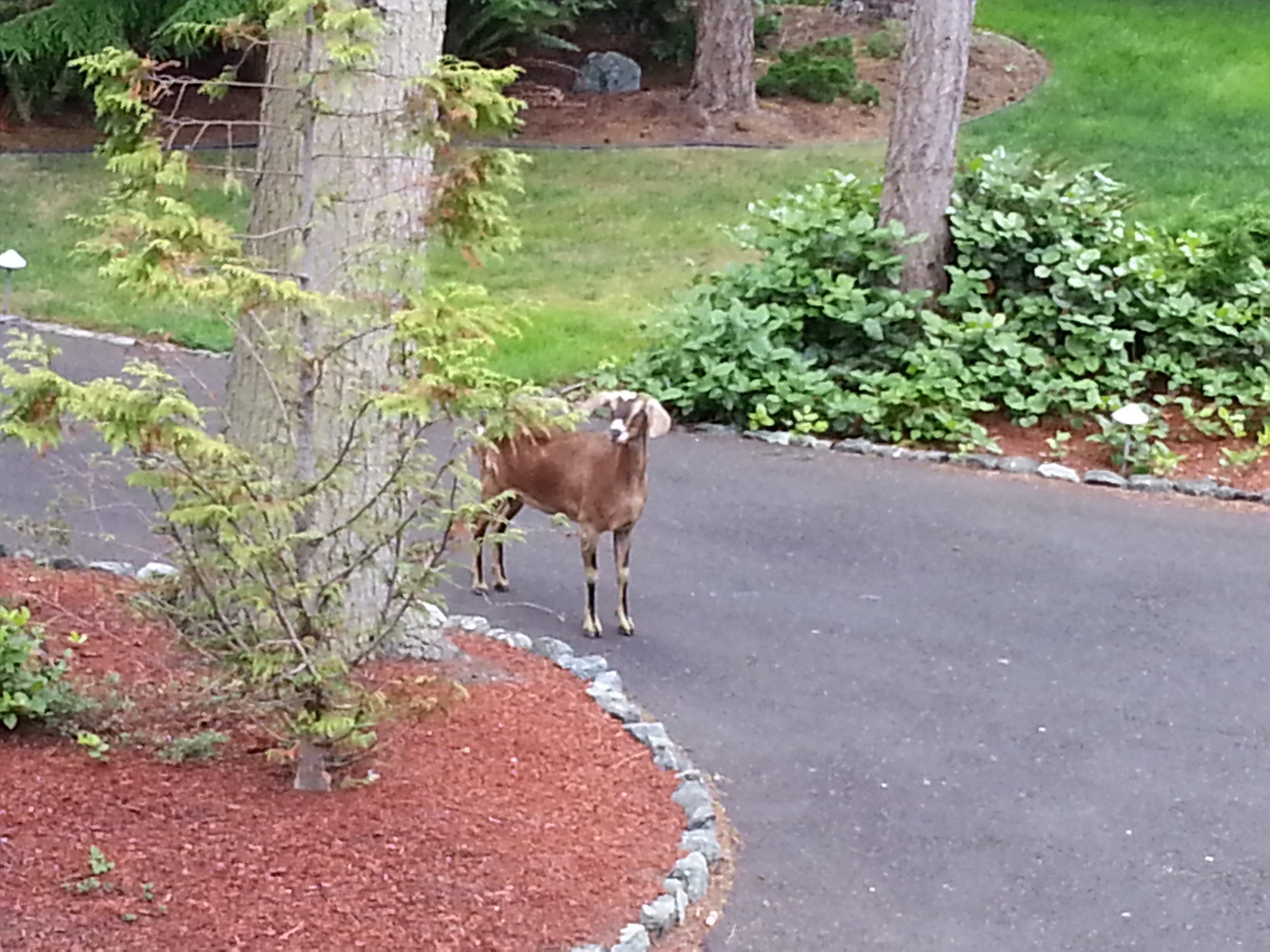 See yesterday's Links and Antidote du Jour here.