Toronto: 150 crocodiles and alligators rescued from man's home International Business Times. They were all in good shape.
Humanity exceeds nature's budget for 2015 PhysOrg (Chuck L)
New Study Finds That Having Your First Child Makes You Miserable Alternet
By 2100, Earth Will Have an Entirely Different Ocean Motherboard. Translation: the jackpot is coming sooner than you think.
Amazon slowly eaten away by gold rush's illegal mines PhysOrg (Chuck L) :-(
MIT Has Plans for a Real ARC Fusion Reactor IEEE Spectrum. Chuck L: "Fusion power. Again. On this issue I'm an adopted son of Missouri."
Clinical trials begin for Russia's first medical exoskeleton Robohub. Chuck L: "Watch the video."
China Currency Whackage
China Seeks to Calm Markets as It Devalues Currency for 3rd Consecutive Day New York Times

Reading the renminbi runes John Authers, Financial Times

China denies currency war as global steel industry cries foul Ambrose Evans-Pritchard, Telegraph
Volatility Saps Momentum for China's Market Reform Wall Street Journal
Study Links Polluted Air in China to 1.6 Million Deaths a Year New York Times
Tainjin Explosion
Back to Fundamentals in Emerging Markets Dani Rodrik, Project Syndicate (David L). This part has implications for Greece, which is much more like a developing economy than an advanced economy:
For developing economies, the three key growth fundamentals are acquisition of skills and education by the workforce; improvement of institutions and governance; and structural transformation from low-productivity to high-productivity activities (as typified by industrialization…

Unlike East Asian economies, today's emerging markets cannot rely on export surpluses in manufactures as their engine of structural transformation and growth. So they are forced to rely more on the longer-term fundamentals of education and institutions. These do generate growth – and indeed are ultimately indispensable to it. But they generate 2-3% annual growth at best, not East Asia's 7-8% rates.
TTIP: The View from the Other CEPR CEPR. From the press release:
A new issue brief from the Center for Economic and Policy Research (CEPR) examines widely cited studies on the potential gains from the Trans-Atlantic Trade and Investment Partnership (TTIP) and finds that they would deliver just 40 cents per person per day in the U.S., and 0.2 euros per person per day in the EU. Supporters of the deal between the U.S. and EU have touted the supposed gains, but the CEPR brief notes that these gains would easily be dwarfed by losses the great majority of workers would experience due to increased inequality, and also that the original studies did not examine the costs from protections for pharmaceuticals and other non-tariff barriers (NTB).
Rumours of the euro's likely demise are greatly exaggerated EUROPP
Jeremy Corbyn, the socialist who's tearing Britain's Labour Party apart, explained Vox
Grexit?
IMF: Lagarde eyes new act in Greek drama Financial Times
Syraqistan
Dubai is the most decadent place on earth Business Insider

The messy US 'strategy' in Syria RT (resilc)
Big Brother is Watching You Watch
Chelsea Manning 'could face indefinite solitary confinement' BBC
Imperial Collapse Watch
Meet Erik Munday, New Jersey Skateboarder Turned Mercenary Vice (resilc)
Hillary Clinton turns in 'blank' email server to investigators New York Post
Released Hillary Clinton Emails Reveal…She Was Reading a Book on How to Delete Emails Michael Krieger
Jeb Bush's Appalling Idea of a "Good Deal" American Conservative. Resilc: "He makes Rick Perry seem like an MIT grad."
Election 2016: Jeb Bush Leveraged Political Connections For Clients And Allies After Leaving Florida Governorship, Emails Show International Business Times. Important.
WATCH: Black Lives Matter Disrupts Jeb Bush Rally In Nevada—His Supporters Chant 'White Lives Matter' Alternet
An alpha-male fantasy that trumps reality Financial Times
Abraham Trump's Gettysburg Address from longbrothers and … FunnyorDie
Black Injustice Tipping Point
Officials extend state of emergency in Ferguson for another 24 hours Raw Story

Black Labor Organizers Urge AFL-CIO to Reexamine Its Ties to the Police Truthout

Mentally-Ill Black Women Suffer Horrific Abuses In LA Jails ShadowProof. Resilc: "Where are the Black Congressionals on this outrage? Too busy cashing in with the white guys in Congress?
The Bail Trap New York Times and A Night in Brooklyn Criminal Court New York Times (resilc)
The junk bond market 'is having a coronary': David Rosenberg CNBC
SEC Admits It's Not Monitoring Stock Buybacks to Prevent Market Manipulation Dave Dayen, Intercept (Glenn F)
Bernanke, Paulson and Geithner Join Yale Effort to Update Crisis-Response Playbook Wall Street Journal (Chuck L). Bernanke advises Citadel and Geithner is the head of Warburg Pincus. This stinks, even before we get to the "Why should we listen to their advice" problem…
Class Warfare
Food Banks Struggle to Meet Surprising Demand Associated Press (resilc) That word "surprising" is increasingly serving as a marker to Bad Thing Happening for which TPTB disavow all responsibility.

The Outrageous Ascent of CEO Pay Bill Moyers

The Economic Inequality in Academia Counterpunch
The Fight Over Transparency: Round Two PLOS (Chuck L). Has implications well beyond the corruption of health care research.
Antidote du jour. Since we've been neglecting octopus and they are now in the news, we are making up for lost opportunities. @_bmturner_ via Richard Smith: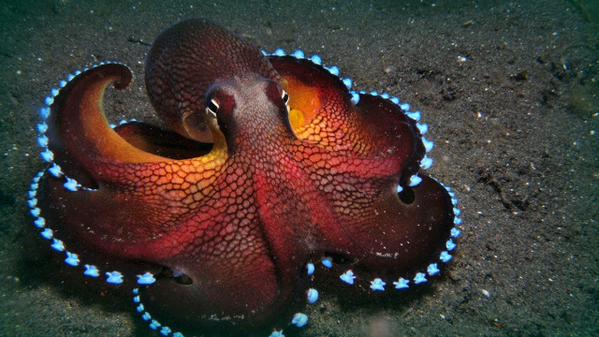 See yesterday's Links and Antidote du Jour here.