The Story of the Butterfly That Got Adopted by A Red Ant Smithsonian
Life lessons from villains, crooks and gangsters BBC
Professional services: Accounting for change FT. "[S]ome fear audit quality is at risk amid potential conflicts of interest."
GDP Numbers Reveal Underlying Momentum, Possible Headwinds for U.S. Economy WSJ
Port of New York and New Jersey Saw Record Container Traffic in July WSJ
One of the Most Popular Doom Scenarios for the U.S. Economy Is Fizzling Out Joe Weisenthal, Bloomberg
The Upside of a Downturn in Silicon Valley NYT
Is the unthinkable becoming routine? Bank for International Settlements (June 2015). When you've lost the Bank for International Settlements… 
Mr. Market
Welcome to a wild world of robot investing Gillian Tett, FT. Finally, somebody mentions algos and HST!

Stocks Crashed the Last Two Times This Happened Wolf Street

Oil markets catch breath after biggest gains in six years Reuters
China?
Asia extends global stocks rally as upbeat U.S. GDP soothes sentiment Reuters
The unfortunate case of Malaysia's prime minister Asian Correspondent
10 excuses for being absent from Bersih – Edward Beruang Malaysian. Big demo against President Najib, the guy with the mysterious $700 million in his personal bank account. Note that a Najib government would have had to sign TPP.
Grexit?
Update Coeure: EZ Needs Reforms to Affirm Euro Is Irreversible Market News. If you have to say it.. 
America's Dangerous Bargain With Turkey NYT
Ukraine and Top Creditors Agree to Restructure $18 Billion in Foreign Debt NYT (William)
"If the agreement goes into effect, it would write off 20 percent of the country's foreign debt and go far to help Ukraine avoid a drawn-out, Greek-style negotiation with large bondholders… bondholders including the giant California-based Franklin Templeton fund – Ukraine's largest lender – would accept an immediate loss on the principal."
William: "Those in a position to open up new markets for the atlantic ruling class get special treatment…"
2016
Insurers Win Big Health-Rate Increases Wall Street Journal
Gun violence in America, in 17 maps and charts Vox
The Case Against Cash Bail The New Yorker
Police State
Officers remove activists' tent after clash at Denver courthouse Denver Post. "[Civil rights attorney David Lane's] motion accused Denver police of confiscating 1,000 jury-nullification pamphlets that the federal judge had approved in his injunction. Police also took a shade tent, a table, four chairs, buckets, a cooler, signs and other items, the motion said."

Ex-Cop Who Killed Six People Now Teaches Other Officers When to Use Their Guns Gawker. Well, he's the expert!
Katrina Anniversary
New Orleans After Katrina: Inequality Soars as Poor Continue to Be Left Behind in City's "Recovery" Democracy Now

Democrat Donna Brazile says Bush got Katrina right NOLA

After Katrina, FBI prioritized cellphone surveillance Boing Boing
Class Warfare
Tipping, power, and the gig economy mathbabe

What Amazon Didn't Understand About Overwork The Nation

In landmark case, labor board will let more workers bargain with their employer's employer WaPo
Civil unrest is already happening in America and it could get a lot worse in 2016 Business Insider
George A. Akerlof – Phishing for Phools Chronicle of Higher Education
Tech nerds are smart. But they can't seem to get their heads around politics. Vox
Who Hacked Ashley Madison? Krebs on Security
Estimating the reproducibility of psychological science Science (Allan).
Retrotopia: Dawn Train from Pittsburgh The Archdruid
Exclusive: Read Julian Assange's Introduction to The Wikileaks Files Gizmodo
The day macroeconomics changed Mainly Macro. "[I]f I cannot understand something, it is best to assume it does not exist. [Not.]"
Antidote du jour (via Jason Gordon):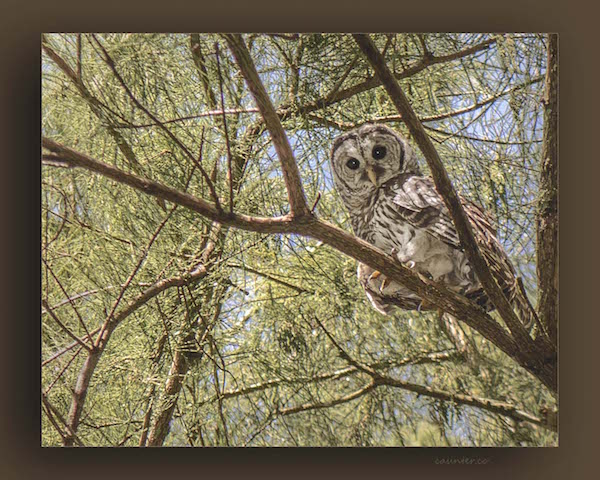 Jason writes:
I was at the UCF campus in Orlando, Florida a couple of days ago and I saw this owl sitting far up in the tree, looking down on the students walking under it. Of course I'm the only one weird enough to walk around campus looking straight up, so no one else saw it.
See yesterday's Links and Antidote du Jour here.