By Lambert Strether of Corrente.
2016
Policy
"Again and again, Clinton pointed to instances overseas where she would have taken a tougher stance than Obama, from arming Syrian rebels to confronting an expansionist Russia. In some cases, she was talking about policy debates she lost while serving as Obama's first-term secretary of state, or about advice she suggested was not heeded" [WaPo].

Bush on taxes: "We need to let the big dog eat." [WaPo]. "But a very large and very regressive tax cut is exactly what Bush has described" [New York Magazine].

Let the Trump oppo begin: "1927 news report: Donald Trump's dad arrested in KKK brawl with cops"[Boing Boing (!)]. And they've got the goods. That said, here's the paragraph that will be lost in the moral panic about Trump, the man, which will explain why I filed this under Policy:

A 1979 article, published by Village Voice, reported on a civil rights suit that alleged that the Trumps refused to rent to black home-seekers, and quotes a rental agent who said Fred Trump instructed him not to rent to blacks and to encourage existing black tenants to leave. The case was settled in a 1975 consent degree described as "one of the most far-reaching ever negotiated," but the Justice Department subsequently complained that continuing "racially discriminatory conduct by Trump agents has occurred with such frequency that it has created a substantial impediment to the full enjoyment of equal opportunity."

That there is what they call "systemic racism," and the Trump dynasty did their little bit to build it, along with whoever built the suburbs of St Louis (including Ferguson) and on and on and on. And that's a policy issue. it would also be nice to hear the Donald make amends. Eh?
Money
"David Barton, an influential Christian author and activist, is taking charge of the leading super-PAC supporting Ted Cruz" [Bloomberg]. We handed the government to these guys in 2000 and got Iraq. And yet, here they still are. (To be fair, the Democrats helped.)
The Trail
"Hillary Clinton Loses Lead Over Bernie Sanders In New Iowa Poll" [HuffPo].

"Unless Hillary really has difficulty, I don't think that [Biden] will run," says Bill Nelson of Florida [CNN]. I don't get it. What kind of "difficulty" could Clinton possibly have?

Dean on Sanders v. Clinton: " There's certainly an insurgency. An attractive candidate is basically calling out the Democrats, much the way I did in 2004. Bernie is a real phenomenon, not just a quirk of the polls. On the other hand, Hillary's a pretty formidable candidate…. I suspect Hillary is going to win this. She's well qualified, she's tough, and she's been through all of this before. At the end of the day voters will choose a president who is basically ready for the job. I think that puts Hillary head and shoulders above everybody else in the race" [WaPo]. For some definition of "ready for the job."

"At the events in Iowa, Fior­ina's cam­paign had no vis­ible ad­vance pres­ence. There was, however, a well-or­gan­ized ad­vance team await­ing Fior­ina's cam­paign at every stop, cour­tesy of a su­per PAC called Con­ser­vat­ive, Au­then­t­ic, Re­spons­ive Lead­er­ship For You and For Amer­ica—bet­ter known as CARLY For Amer­ica" [National Journal].

Trump on "faith": "I'm a believer, big league, in God and the Bible" [CNN]. In the big inning, God created…

"Scott Walker: What Went Wrong?" [National Review]. "No one would have guessed that the candidate who talks of buying affordable shirts at Kohl's and campaigns at Harley-Davidson outlets would get shoved aside in Iowa by a loudmouthed billionaire who brags about his incredible wealth and woos voters by taking their children for rides in his helicopter." This is, I think, one case where "nobody could have predicted…." is true!
The Hill
"Republicans in the US House of Representatives have standing to proceed with a lawsuit against US President Barack Obama's administration over his signature healthcare law, a federal judge said Wednesday" [The Hill].
Stats Watch
Jobless Claims, week of September 5, 2015:  Down week-to-week and in consensus, trending up month-to-month [Econoday]. "There are no special factors in this report where levels of claims remain unusually low – though not quite as low as before." And: "Insignificantly worse" [Econintersect]. And: "More openings, same quits, fewer hires. Whatever all that means…." [Mosler Economics].
"Retailers are already planning for the busy holiday shopping season and there could be a complication this year. As the unemployment rate drops, stores are having a hard time finding workers for their warehouses" [Marketplace]. If only there were some sort of automagic mechanism to adjust the supply of workers to the demand for them!
Wholesale Trade July 2015: "Factory inventories held stable in July as did wholesale inventories" [Econoday]. "The nation's inventories are heavier than they were last year which may limit future production and hiring." But: "As economic indicators go, wholesale sales and inventories are poor at spotting economic problems. Wholesale data did not start contracting during the Great Recession until October 2008. The only portion of wholesale trade data which seems to correspond to general economic conditions is wholesale trade employment" [Econintersect].
Import and Export Prices, August 2015: "Significant declines sweep nearly all categories of the import & export price report pointing squarely to a deepening of cross-border deflationary pressures. Import prices fell 1.8 percent in August, slightly more than expected, while export prices fell 1.4 percent which is substantially more than expected" [Econoday]. "This report highlights the risk that inflation may not be moving to the Fed's 2 percent target any time soon which is a major argument on the side of the doves at next week's FOMC meeting." And: "Coming at a time when the Fed is contemplating a liftoff in rates, the weak tone of this report should come as a key reminder to the Fed that the dis-inflationary impulse is re-emerging" [Across the Curve].
Bloomberg Consumer Comfort Index, week of September 6, 2015: "Amid market turbulence, consumer spirits are stable" [Econoday].
"There has been significant issuance of corporate debt in the first days of this week. I spoke with a syndicate desk veteran about the reception of that paper. Most of the new issues have priced at a discount to outstanding paper and most have traded quite well after they have been freed" [Across the Curve].
The Fed: "[T]he greatest negative impact [of monetary tightening] will be on countries such as Canada and Mexico, which have close trade links with the US economy or those, like Germany, Japan, and Singapore, that are deeply integrated into the global economy" [Project Syndicate].
The Fed: "The Fed is trying to convey a message more subtle than the markets, the press and the politicians can absorb: If the economy evolves as we expect, we're going to raise interest rates soon. But that prediction depends on how the economy evolves; if the economy surprises us and our outlook for unemployment and inflation changes, then don't complain if we don't raise rates as soon as you expected" [Brookings, "What the Fed Really Means When It Says Interest Rate Raises are Data Dependent"].
Fear & Greed Index, September 10, 2015: 14 (-1); "Extreme Fear" [CNN].
Mr. Market
"Apple's iPhone Keeps Going Its Own Way" [New York Times]. Android commodified Samsung, leaving Apple at the top of the hill as a Veblen good.
Police State
"Walking the Beat With Copwatch, the People Who Police the Police" [VICE].
"Is there really a 'war on cops'? The data show that 2015 will likely be one of the safest years in history for police" [AEI (!)]. Call the wh-a-a-a-m-bulance….
Jails reviewed on Yelp [The Marshall Project].
Black Injustice Tipping Point
Misconceptions about #BlackLivesMatter [Cosmopolitan]. Worth a read, and amazing it's in Cosmo.
"Retired black tennis star James Blake, in an NYPD double-fault, was slammed to a Manhattan sidewalk and handcuffed by a white cop in a brutal case of mistaken identity" [New York Daily News].
"Michael Slager, Cop Who Killed Walter Scott, Says He Felt Threatened" [NBC]. If running away is threatening….
Corruption
"Justice Department Sets Sights on Wall Street Executives" [New York Times]. In 2015. When Obama's a lame duck [smothered, cynical laughter]. I mean, come on.
"Challenges Remain for Justice Dept. in Prosecuting Executives" [Dealb%k, New York Times]. Stop it, you're killing me!
"State Department spokesman John Kirby said Wednesday that there is 'no conflict of interest' in the naming a donor to Hillary Clinton's presidential campaign as a transparency coordinator overseeing the review of Clinton's emails" [CBS]. Oh. OK.
"Questions Surround Drug Testing for Mayweather-Pacquiao and Other Bouts" [Thomas Hauser, SB Nation]. World Anti-Doping Agency: "The real problems are the human and political factors. There is no general appetite to undertake the effort and expense of a successful effort to deliver doping-free sport."
Gaia
"Climate Change Means One World's Death and Another's Birth" [Wired].
"National Geographic sold to Rupert Murdoch" [Boing Boing]. I'm sure Murdoch's climate denialism will in no way affect the National Geographic's coverage.
Imperial Collapse Watch
"Continuation of the National Emergency Notice" [The White House]. This emergency has been going on 14 years. That somebody's rice bowl gets broken if it stops is not an emergency.
Class Warfare
"Personal Data: The Emergence of a New Asset Class" [World Economic Forum]. Yikes!
"When, oh when, might we finally get to full employment?" [Jared Bernstein, On the Economy]. On the 1st of Never?
"While the massive Bakken oil boom drew hordes of job seekers and international attention to the remote prairies of North Dakota and Montana in recent years, it's turned into a money loser for most cities and counties in the region"" [McClatchy].
"[E]ntrepreneurship is becoming a much more selective club that favors the affluent and excludes average Americans" [The Atlantic].
News of the Wired
"New human-like species discovered in S Africa" [BBC]. "The studies which have been published in the journal Elife also indicate that these individuals were capable of ritual behaviour."
"[R]esearchers at MIT and Pierre et Marie Curie University in Paris have analyzed the mechanical forces underpinning simple knots, and come up with a theory that describes how a knot's topology determines its mechanical forces" [MIT Press]. So now, what other structures are like knots…..
"Tired of memorizing passwords? A Turing Award winner came up with this algorithmic trick" [Network World].
* * *
Readers, feel free to contact me with (a) links, and even better (b) sources I should curate regularly, and (c) to find out how to send me images of plants. Vegetables are fine! Fungi are deemed to be honorary plants! See the previous Water Cooler (with plant) here. And here's today's plant: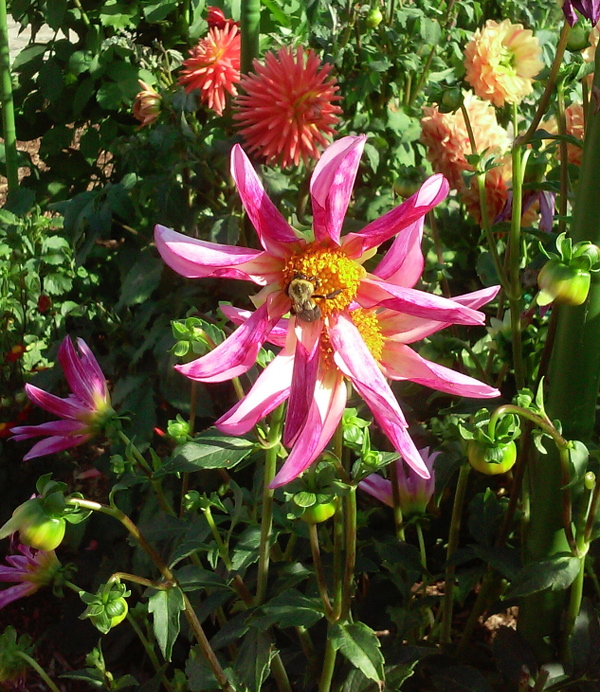 Dahlia with pollinator!
If you enjoy Water Cooler, please consider tipping and click the hat. Winter is coming, and I need to keep my server up, too.