By Lambert Strether of Corrente.
2016
The Voters
"Dear Democrats: Populism Will Not Save You" [National Journal]. A Third Way critique of identity politics.

"The state of grassroots social movements in Syracuse" [ABC].
Money
"Republican presidential candidate Donald Trump's squabble with the conservative Club for Growth advocacy group escalated on Sunday when he produced a letter purportedly showing the organization asking him for a $1 million donation" [Raw Story].
Policy
"Trump Is Right on Economics" [Paul Krugman, New York Times]. Maybe I missed the Krugman column where he says Sanders is right on economics?

Bush to unveil tax plan [Bloomberg].
The Trail
"Hillary Clinton to Show More Humor and Heart, Aides Say" [New York Times]. If you've got to say it…

"Trumpfellas" [Mark Ames, Pando]. Unlocked!

Trump gets a big boost from his own air fleet [Wall Street Journal].

Ex-Trump University student sues [Daily Mail].
The Hill
Ted Cruz is planning to shut down the government again over Planned Parenthood [Bloomberg]. McConnell: "We just don't have the votes to get the outcome that we'd like." Kayfabe, then, except for the government shutdown part, which makes me feel like we're living in a Third World country.
"President Obama has clinched the 41 votes he needs to block a resolution disapproving of the Iran nuclear deal, sealing an important political victory over Republicans" [The Hill]. Bibi's not gonna be happy. Maybe Boehner should invite him back so he can explain to us what our foreign policy should be again?
The usual talk of Boehner's demise [Politico]. Boehner's personal network "uniformly sympathized with his plight." If you want a friend in Washington… ….
Stats Watch
NFIB Small Business Optimism Index, August 2015: Rose modestly, unaffected by global markets [Reuters]. "Pessimistic about business conditions over the next six months and were noncommittal regarding capital and inventory investment." And: "Three percent of owners reported that all their borrowing needs were not satisfied, historically low. Thirty-three percent reported all credit needs met, and 49 percent explicitly said they did not want a loan. For most of the recovery, record numbers of firms have been on the "credit sidelines", seeing no good reason to borrow" [Econintersect]. For these guys, then, QE is pushing on a string. And: "A whopping 48% found few or no qualified applicants for job openings, unchanged from July but the high for the cycle. Notwithstanding the smaller payroll gain in August, it is increasingly evident that labor markets are getting tight" [Across the Curve].
Gallup US Consumer Spending Measure, August 2015: "Little movement" [Gallup]. "Regular declines in spending from August to September are understandable given the end of the vacation season and the end of back-to-school shopping, one of the busiest times of the year for retailers."
"August 2015 Conference Board Employment Index Suggests Improving Jobs Growth In the Future" [Econintersect].
The Fed: In an interview, San Francisco Fed President "Williams refused to give any indication of which way he leans heading into next week's meeting. In fact, he was so insistent about not giving any signal that I am left to wonder if either he does not know which way Chair Yellen is likely to come down and he is very afraid of crossing her or that an edict came down from Washington to Yellen's more loyal disciples on the FOMC (of which, Williams is certainly one) to avoid sending an explicit signal" [Across the Curve].
The Fed: "Fed officials in the past have tried to prepare investors for impending actions by telegraphing moves. Right now, they are simply trying to keep their options open. The result is that investors aren't expecting a move" [Jon Hilsenrath, WSJ]. "The act of sending no signal, Wall Street is concluding, is a signal in itself of no action."
"Not Everyone Is Buying 3.7% U.S. GDP in 2Q; 'Only the Chinese Numbers Are More Suspect'" [Wall Street on Parade].
Mr. Market
"Something strange happened last month as stocks around the world went haywire: the $8 trillion U.S. corporate-bond market worked just fine" [Bloomberg]. "Company bonds are governed by thousands of deal documents and traded in phone calls and emails. Some trade rarely; others not at all. That's not an easy recipe for high-frequency trading. So the nanosecond set doesn't really bother with this market, allowing it to retain its oh-so-human inefficiency. … In another bout of topsy-turvy trading, investors would be wise to check out credit markets. They're more likely to offer a valid assessment of investor sentiment, not just a reflection of computers gone wild." Gentlemen prefer bonds.
"Growth is set to slow across a number of the world's largest economies, including China, the U.S. and the U.K., according to leading indicators released Tuesday by the Organization for Economic Cooperation and Development" [Wall Street Journal, "OECD Leading Indicators Point to Further Slowdowns"]. Also too, Canada, Russia, and Brazil.
"Chinese imports from the rest of the world fell nearly 14 percent in August, compared to a year ago" [Reuters].
"China logged its biggest-ever fall in foreign exchange reserves in August, down $93.9 billion last month to $3.557 trillion as it battled a slide in the yuan prompted by capital flight, People's Bank of China data showed on Monday" [Reuters]. I guess it's time for me to put that Picasso on the market….
Black Injustice Tipping Point
"Baltimore reaches $6.4 million settlement with Freddie Gray family" [WaPo].
Juan Williams: "#BlackLivesMatter is fast becoming its own worst enemy. It lacks an agenda" [The Hill]. Williams is either ignorant or lying. Campaign Zero is a perfectly reasonable, well-thought-out agenda for minimizing police violence, and mainstream enough to be supported by Donna Brazile, Democrat insider's insider.
Ta-Nehesi Coates: "[I]n my stripe of atheism, it's very hard to see beyond the body. There is a tendency to adopt euphemism when confronted with the very real violence that comes with having a foot on your neck" [Interview with Roxane Guy, Barnes & Noble].
"Economic isolation is actually growing worse across the country, as more and more minority families find themselves trapped in high-poverty neighborhoods without decent housing, schools or jobs, and with few avenues of escape" [New York Times]. "This did not happen by accident. It is a direct consequence of federal, state and local housing policies that encourage — indeed, subsidize — racial and economic segregation."
"Burning Man founder: 'Black folks don't like to camp as much as white folks'" [Guardian].
You shoulda seen #BlackLivesMatter at #burningman2015 @deray @Nettaaaaaaaa w Black Rock Roller Disco pic.twitter.com/PEBPPyUrrn

— Steven Thrasher (@thrasherxy) September 8, 2015
Police State
"Police officers in Clatskanie, Oregon, have filed a lawsuit against their (now former) chief, Marvin Hoover, saying he discriminated against an Afro-American woman who had been arrested earlier. The incident happened in August, but the details were leaked to the press on Sunday" [RT]. So there are good cops.
Corruption
"Spygate to Deflategate: Inside what split the NFL and Patriots apart" [ESPN]. ESPN does solid reporting here. On a postcard, "Deflategate" was a "make good" call for "Spygate," about which the NFL was still internally seething, after many years. However, this is an important article if you view it as epitomizing elite behavior generally, from the owners all the way down to ball boys like Goodell. I'm reminded of Harry Frankfurt's distinction in On Bullshit; the liar knows what the truth is, but the bullshit artist doesn't even care. I would like to make a similar distinction between criminals, who know what the law is, and _____s — I don't have the word, here — who don't even care (with, at least according the story, the ironically named Patriot management team falling into this category. The various glibertarian enterprises in the "sharing economy" would fall under the _____ heading, too).
"St. Louis cops seized 2006 World Series tickets from scalpers and then used them to go to games" [NBC].
"New York Gov. Cuomo Silent On Effort To Force General Electric To Clean Up Its Pollution From Hudson" [International Business Times].
"Rebekah Brooks' ex-security boss vows to 'blow whistle'" [Guardian (RS)]. Pass the popcorn.
"Publicly-filed campaign disclosure forms show that Sheriff Greg Ahern, whose office is directly responsible for administering Corizon Correctional Health's contract and overseeing its performance, has accepted more than $110,000 from the private company for his political campaigns" [KTVU].
Wretched Excess
"[Christy Wyatt] Wyatt made one big concession to her business life. She took a scant 10 days off on maternity leave and then headed to the office with baby and nanny in tow" [Business Insider]. Isn't that sweet? Take your servant to work day! "And everybody knew him as a baby in the hallways." Mandatory cooing a part of the job description, I guess.
Class Warfare
"With Dem. Defections, Billionaire IL Gov. Bruce Rauner Wins Key Vote Against Unionized State Workers" [In These Times]. Democratic betrayal. Now that's a shocker.
Hagiography servicing Travis Kalanick, interesting primarily for the intersection of the political economy of startups and brogrammer culture. [Fast Company]. Kalanick: "I didn't even know what a libertarian was." And now we all know!
A majority of millenials don't think they are millenials [WaPo]. So we need more stories convincing them they are, obviously.
News of the Wired
"Why Security Experts Are Using an Ancient Email Format in 2015" [Motherboard]. Mutt, out of elm, out of pine. I loved pine!
"Number of US babies being named after guns on the increase" [Independent]. "Also on the rise in the US for baby boys are Trigger, Shooter, Caliber, Magnum and Pistol. There has also been a rise in the use of gun manufacturers such as Barrett, Remington, Kimber, Ruger, Wesson, Browning, Benelli and Beretta." A small price to pay for the exercise of your Second Amendment rights!
"Arizona Man Shoots Himself in the Head While Trying to Demonstrate Gun Safety Feature" [Phoenix New Times].
"Doctor's attempt to bring lower-price diabetes drug to market thwarted" [Los Angeles Times].
"Cave DNA unravels riddle of the Basque people" [Telegraph].
"Clash of the Titans: Noam Chomsky & Michel Foucault Debate Human Nature & Power on Dutch TV, 1971" [Open Culture]. And what came of it all…
"How to Make Yogurt in Manila" [The Toast]. The real topic: Expatriation.
* * *
Readers, feel free to contact me with (a) links, and even better (b) sources I should curate regularly, and (c) to find out how to send me images of plants. Vegetables are fine! Fungi are deemed to be honorary plants! See the previous Water Cooler (with plant) here. And here's today's plant (Kurt):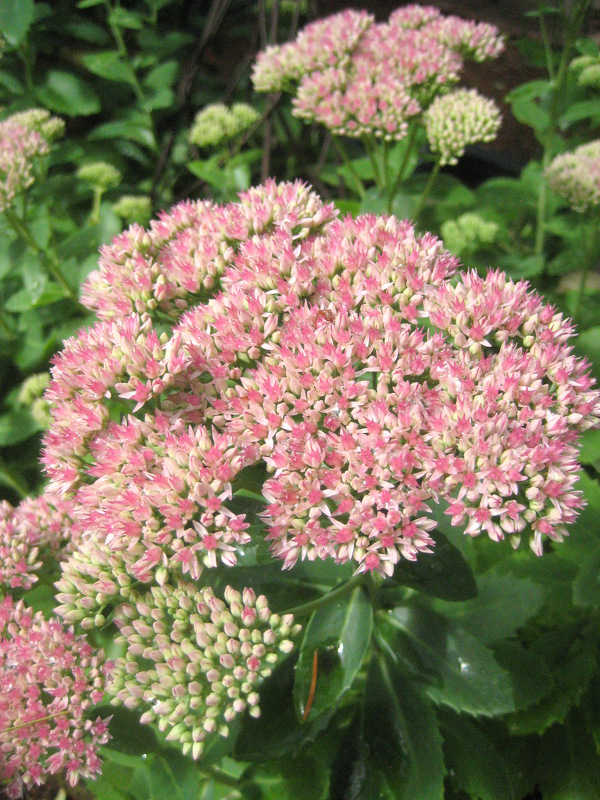 Sedum!
If you enjoy Water Cooler, please consider tipping and click the hat. This is turning into a tough month, and I need to keep my server up!