By Lambert Strether of Corrente.
2016
Policy
Trump's Wall: "'You can't build a wall from sea to shining sea,' Rep. Will Hurd (R-Texas) said. 'It just doesn't work'" [The Hill]. But that was last week. We've all moved on!

Clinton "thinking about" reclassifying marijuana, says potential donor [Bloomberg].

Sanders: "It is not acceptable that many young people have criminal records for smoking marijuana, while the CEOs of banks whose illegal behavior helped destroy our economy do not" [HuffPo].
The Voters
From the Quinnipiac poll:

In Iowa—like NH—Sanders is the choice of working class voters, while Clinton leads among college grads & the wealthy pic.twitter.com/G6cW1zvciQ

— Matt Karp (@karpmj) September 10, 2015
Money
"Hillary Clinton's plan to "curb the outsized influence of big money in American politics" is being championed by an unlikely source: [Correct The Record,] a political committee that says it can accept unlimited money and coordinate directly with the Democratic front-runner's presidential campaign" [International Business Times]. The bar for the "unlikely" has been lowered this year, however.

"Daniel Craig, the actor famous for portraying the British spy, confirmed to the Center for Public Integrity that he donated nearly $50,000 this summer to Americans Socially United, an organization to support Sanders' upstart presidential campaign" [Public Integrity]. "Sanders, who is unflinching in his advocacy for campaign finance reform, has asked Americans Socially United to stop campaigning on his behalf. His campaign sent the PAC a cease and desist letter (!) in June" [The Hill]. Roger Stone? Is that you?
The Trail
"'The [Iowa] field has become a two-tiered contest—Donald Trump and Ben Carson ahead, and everyone else far behind,' Peter A. Brown, assistant director of the poll, said" [Bloomberg].

"If Donald Trump can win the nomination, Ben Carson could too" [FiveThirtyEight].

Biden still milking it. Never believe a headline with the word "emotional" in it [Reuters]. Or "opens up" [NBC].

"Sen. Bernie Sanders (I-Vt.) met with members of the Congressional Black Caucus (CBC) on Thursday as he seeks to court African-American support for his insurgent presidential campaign" [The Hill]. "'We know Sanders gets it,' the [senior] aide said. 'We know he understands the pressing issues facing African-Americans nationwide, but we needed to hear it from him directly.'" Remember when Obama whipped the CBC for TARP? Good times. The Black Misleadership Class; if they aren't trying to backstab Sanders, that's a win.

Ellen DeGeneres on Clinton: "You are the smartest and most qualified person for the job. If I want to hire a plumber, I want someone who has snaked a drain before" [New York Times]. Or drained a snake, if we're talking about Wall Street, which Clinton doesn't, much.
The Hill
Best headline ever: "US Debt Limit Watch: Sep-Dec an Unscripted Magical Mystery Tour" [Market News].
Stats Watch
Producer's Price Index, August 2015: "Unchanged in August vs expectations for a 0.2 percent decline" [Econoday]. "Though still low, the direction of this report does support the hawks, at least to a degree, at next week's FOMC." And: "Those figures are far from the Fed's 2 percent target, a gap that could cause Fed policymakers to delay a rate hike when it meets next week" [Los Angeles Times].
Consumer Sentiment, September 2015: "Just when you think you've gotten through the week, consumer sentiment dives and, perhaps, tips the balance against a rate hike. Weakness is centered in the expectations component which is down more than 7 points to 76.4, also the lowest reading since last September. Weakness in this component points to a downgrade for the outlook on jobs and income" [Econoday]. "New York Fed President William Dudley himself has said he is focused on this report as an early indication of how U.S. consumers are responding to Chinese-based market turbulence. These results offer a rallying cry for the doves at next week's FOMC meeting."
Wholesale Trade: "The nation's inventories are heavier than they were last year which may limit future production and hiring" [Mosler Economics]. Mosler confirms my Maine Bear priors: "This chart is now looking a lot like prior recessions." ("Inventory data provide a valuable forward-looking tool for tracking the economy") [Econoday].
"[Via Merrill Lynch Research:] Based on the BAC internal data, which tracks aggregate spending on credit and debit cards, consumers reduced spending in August" [Across the Curve]. "[P]aints a sluggish picture of the consumer in August, suggesting caution for the Census Bureau report."
The Fed: "At the simplest level of analysis, there is a 60/40 case in favor of a decision to begin the interest rate normalization process at the Fed's Sept. 16-17 Open Market Committee meeting" [Mohamed A. El-Erian, Bloomberg]. Yeah, but what if the coin lands on its edge?
The Fed: "A week before the Federal Reserve's most critical policy decision in years, Wall Street opinion makers can't agree on anything" [Market Pulse].
Fear and Greed Index, September 11, 2015: 15 (+2); "Extreme Fear" [CNN].
Mosler to present on The Seven Deadly Innocent Frauds of Economic Policy to a newly formed MMT group in Spain, September 14-17 [Asociación para el Pleno Empleo y la Estabilidad de Precios].
TTP/TTiP/TISA
"[N]egotiations are under way in Washington this week to resolve a deadlock between Canada, Japan and Mexico over how a deal would treat vehicle imports" [Globe and Mail]. "Japan has proposed – and the United States has provisionally agreed – that the rule for Trans-Pacific partner countries in a proposed TPP trade zone should be that a car with as little as 45-per-cent domestic content can be sold without tariffs… But auto parts makers from Canada, the United States and Mexico are calling for TPP auto content rules of 50-per-cent domestic content."
Dear Old Blighty
"Britain's opposition Labour Party will announce the result of its leadership election on September 12th. Both the polls and the betting odds suggest that Jeremy Corbyn, a veteran of Labour's far left and a record-breaking opponent of his own party in parliament, will win" [The Economist].
"Jeremy Corbyn set to beat 100-1 odds to become leader of UK's Labour party" [Guardian]. I hope the ballots are counted in public; the way the Labour regulars were purging the voter rolls reminded me of Florida 2000.
"A number of backroom staff in the Labour party have been in touch today to say goodbye ahead of an exodus of frontbenchers and staffers who disagree with Jeremy Corbyn" [Spectator]. Rat, ship. If the UK is like the States, they'll all end up on cable or the UK's equivalent of K Street anyhow. I just hope Corbyn has a Karl Rove of his own. He'll need one.
"In keeping with his left-field stance, Corbyn steadfastly refuses to don the kind of polished suiting that's become the rather bland mainstay of his opponents" [Telegraph]. "[L]eave the suiting to the bankers."
"NHS workplace stress could push 80% of senior doctors to early retirement" [Guardian] Neo-liberal scheme to gut the NHS continues.
Police State
"These new [Department of Justice] rules [requiring a warrant for Stingray surveillance] don't apply to state or local law enforcement. That's a big deal. The American Civil Liberties Union believes that agencies in at least 21 states have access to Stingrays, including city police departments in California, Texas, Florida, New York, and Illinois. And last month, USA Today revealed that municipal use of Stingrays in cities like Baltimore was much more common than previously believed" [The Atlantic]. And there are now cheaper mini-Stingrays, called "Wolfhound" and "Jugular."
"An Oregon police officer who reported his chief for allegedly comparing African-Americans to monkeys says he has been harassed by community members, even enduring death threats" [CBS].
Black Injustice Tipping Point
"The Negro Motorist Green Book, popularly known as the Green Book, was a travel guide intended to help African American motorists avoid social obstacles prevalent during the period of racial segregation, commonly referred to as Jim Crow.  The Green Book listed businesses that would accept African American customers" [Black Past].
Corruption
"Food Industry Enlisted Academics in G.M.O. Lobbying War, Emails Show" [New York Times].
"A private parking firm whose staff were caught doctoring photo times to issue overstay [parking] tickets has finally apologised and offered full refunds to customers after being exposed by MailOnline" [Daily Mail]. Not that this could ever happen in, say, Chicago. Or with any other digital device generating income via a fine.
Gaia
"The outlook is grim. The National Research Council estimates that the amount of land burned in western North America could quadruple with every degree of warming" [The Economist, "America in flames"]. "In 1995, the forest service spent 16% of its budget on fire suppression, and the rest on other important activities, including clearing brush and managing watersheds. This year the agency will spend a little over half its budget on firefighting, and by 2025, it predicts, that could rise to around 67%. This, says the agriculture secretary, Tom Vilsack, who oversees the USFS, will leave "much fewer resources for the very restoration projects that have been proven to reduce the risk of wildfire." It's a self-licking ice cream cone!
"U.K. law prohibits introduction into the wild of any animal that doesn't already live there, even if it once did. Yet the Otter's beavers are multiplying, and the mystery of how the rotund rodents came to Coleridge's "wild streamlet of the West" has fanned the flames of a national beaver conflict" [WSJ, "British Beavers Gnaw Their Way Back, but Are They Worth a Dam?"]. How many? 212.
"An appeals court Thursday overturned federal approval of an insecticide used on a variety of crops, ruling that it could hasten an already "alarming" decline in bees" [Los Angeles Times]. "The U.S. 9th Circuit Court of Appeals said the federal Environmental Protection Agency approved the insecticide, sulfoxaflor, based on flawed and limited information. Initial studies showed the insecticide was highly toxic to honey bees."
Our Famously Free Press
"Sy Hersh, secrecy, and paranoia" [N+1].
In its unending accumulation of detail after disastrous detail, Hersh's reporting often has the screwball plotting of a Pynchon novel. If the subject matter weren't so upsetting, his reports would be funny.

Hersh's stories break down complex events into chains of isolated, largely reactive individual decisions. His reporting never points back, as Pynchon's novels do, to shadowy conspiracies; there is no titanic clash between impersonal forces, no central organizing principle, only human action churning away. Near the beginning of Hersh's book on the Iraq war, an intelligence official complaining about the 'enhanced interrogation' tactics at Guantánamo says, 'It was wrong and also dysfunctional.' A few pages later, this refrain is repeated by another source: 'It's evil, but it's also stupid.'
Seems a fitting reminder for today's anniversary. There's a lot of that going around.
"Beacon finds partnerships and matching donations work better than subscriptions and paywalls" [Neiman Labs].
Class Warfare
"The University of Toronto warned its students, faculty and staff about the threats on Thursday and said it's working with the Toronto Police Service and Peel Regional Police to find out who is behind the anonymous threats, made by someone using the screen name "KillFeminists." Meanwhile, campus enforcement have increased their patrols, the university said" [HuffPo]. Quite sensible, after the Université de Montréal massacre, which had precisely the same object.
"[N]ew research out from Yale University suggests that it's not the presence of inequality that causes problems, but rather the visibility of that inequality" [The Atlantic]. "When wealthy people find out that their neighbors don't have the resources they do, researchers find, they're less likely to help them, or anyone else."
"The Seattle Office for Civil Rights is studying whether waiving fees or cutting costs for workers of certain select companies, such as Amazon, Microsoft and Boeing, potentially violates anti-discrimination rules" [Seattle Times].
"How Pope Francis Is Reviving Radical Catholic Economics" [The Nation].
"At WeWork, an Idealistic Start-Up Clashes With Its Cleaners" [New York Times]. Remind me never to use the words "start-up" and "valued at" in the same sentence, paragraph, or story as "idealistic."
News of the Wired
"Why the high-tech smart home is still years away" [Telegraph]. Thank heavens!
Bill Atkinson's notebook as he developed the Lisa interface that evolved into the Mac interface [Folklore].
"Using acoustics software to identify individual tigers by their calls" [Wildtech].
"The British Library Puts Over 1,000,000 Images in the Public Domain: A Deeper Dive Into the Collection" [Open Culture].
"The Creative Reuse Potential of Collections" [MuseumID].
"A giant slab of ice as big as California and Texas combined lurks just beneath the surface of Mars between its equator and north pole, researchers say" [Space]. So I guess Musk won't have to pack an ice-cube maker.
"The Most Misread Poem in America" [The Paris Review]. "The Road Not Taken."
* * *
Readers, feel free to contact me with (a) links, and even better (b) sources I should curate regularly, and (c) to find out how to send me images of plants. Vegetables are fine! Fungi are deemed to be honorary plants! See the previous Water Cooler (with plant) here. And here's today's plant (Bob Hall):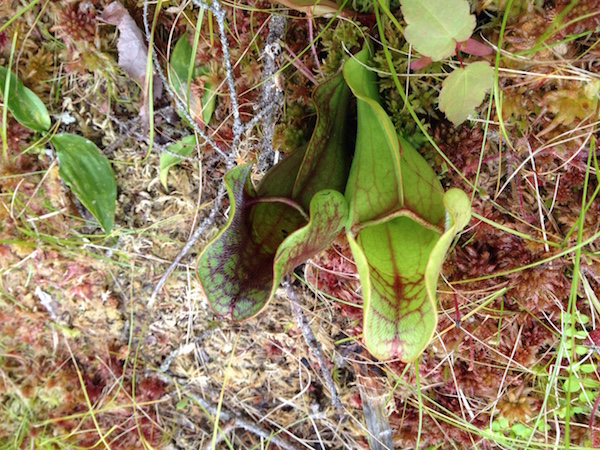 A pitcher plant, Otter Pond, Vinalhaven, ME.
If you enjoy Water Cooler, please consider tipping and click the hat. Winter is coming, I want to buy a few books, and I need to keep my server up, too.