Readers, thanks for your patience as I grumbled yesterday. Today, I'm on my backup laptop running Windows Vista, so all is well [snort]. Please forgive the missing links between []s; I made the foolish assumption that the outliner I was working in would export its HTML as text and not as graphics [snarl]. I'll start putting the links in now, working from the top; I figured it was better to hit the 2:00PM mark then wait. So thanks for your patience again!
By Lambert Strether of Corrente.
2016
The Voters
Why Presidental primaries are harder to call than elections: "Presidential nominations are not single-day contests with two candidates from clearly defined parties competing to get the plurality of the vote in enough states to garner 270 Electoral College votes. They are dynamic multi-month, multi-candidate contests between rivals who often differ little on the issues and compete to win delegates in states, which often have different sets of rules. They are a process in which, as scholars like Vanderbilt University's Larry Bartels have shown, previous primary performances and expectations can influence subsequent contests. In short, while it may prove to be short-lived, momentum matters" [Bloomberg]. Take that, Nate Silver!

"Obama hits 'coddled' liberal college students" [The Hill]. Translation: "Obama to demographic he conned with 'Hope and Change in 2008: 'Let them eat pound cake.'" Unbelievable, even for Obama.
The Trail
"After delivering a 13-minute 'foreign policy' speech in which he touched only briefly on anything approaching foreign policy, Donald Trump began to throw his signature — and highly sought after —'Make America Great Again' hats into the California crowd" [WaPo]. And why not? Because the Beltway brings such dignity to the process?

Clinton slowly tanking: "But over the last two months, the steady and expected erosion of her ratings has surprisingly accelerated. Her ratings are now lower than they were in 2007 or 2008, or at any point in her political career" [Nate Cohn, New York Times]. And the insiders know it (and, being insiders, may know more than we know). There's an old saying in marketing (and it pains me, except not, to quote Joan Walsh in this context): "The dogs won't eat the dog food." In other words, I don't think there's an issue with the Clinton campaign; and in any case nothing like the pre-caucus 2008 campaign; the problem is the product candidate.

Sanders to meet the #BlackLivesMatter activist @deray today [Mashable]. Skeptical of strong BLM/TFA connection, but life is almost never simple…

"Remarks at the Liberty University Convocation" [Bernie Sanders]. Ironically, the Confederacy considered the right to purchase black human beings the "very definition" of liberty; and the consequences are still playing out today.

"[Biden's] discussion of his own grief over his son Beau's death was beautiful and genuine and revealed the golden heart that everybody knows is at the core of the man. [David Brooks, New York Times, "The Biden Formation Story"]. Gag. Spew. For those who came in late, Brooks liked Obama a lot in 2008. And never mind how Biden serviced MBNA — "golden," indeed! — by making student loans non-dischargeable in bankruptcy; check this out: The Many Occasions Joe Biden Took Credit For Writing The Patriot Act. No wonder Brooks likes him.
The Hill
"The mystery of Pelosi's con­tinu­ing en­thu­si­asm for her job is deepened by the fact that, real­ist­ic­ally, she stands prac­tic­ally zero chance of ever be­com­ing House speak­er again" [National Journal]. Hey, remember when the Democrats won back the House in 2006 and Pelosi took impeachment off the table and deep-sixed the Mark "Can you measure for me?" Foley scandal with the House pages? Good times. They seem so long ago.
Stats
The Fed: FOMC two-day meeting starts today ZOMG!!! "[T]he majority of the FOMC believes that the economy has now largely "normalised", while the level of rates remains far from normal" [Financial Times, "Janet Yellen's fateful decision"]. "This can be translated into a Taylor Rule framework, which shows fairly clearly that a rate rise will be overdue by the end of 2015. Ms Yellen, based on her past statements, seems to accept this broad framework."
The Fed: "Since World War II, the median rate of growth in profits has decreased markedly when the Fed raised rates, falling by roughly half in the year after an increase, data from Ned Davis Research Group show" [Bloomberg].
The Fed: "Technological advances such as hydraulic fracturing in oil fields, online commerce and mobile phone applications have created a stubbornly low price environment, even with policy makers juicing economic growth through near-zero interest rates. That's why Fed officials should consider lowering their inflation target" [Bloomberg].
The Fed: "Given the emphasis the Fed has placed on their expectation that inflation will return to trend, a pass tomorrow reflects a lack of confidence in this forecast. By extension, it means an increased risk of an eventual inflation overshoot as they seeminly wait until inflation is clear and present to move into traditional hiking mode. This should give owners of nominal securities pause and push them toward the security of real rates" [Across the Curve].
Consumer Price Index, August 2015: "Consumer prices came in soft in August and will not be turning up the heat on the doves at the FOMC" [Econoday].
MBA Mortgage Applications, week of September 11, 2015: "The purchase index fell 4.0 percent in the holiday shortened September 11 week. The refinance index, which has been swinging wildly the last several weeks, fell 9.0 percent" [Econoday].
Housing Market Index, September 2015: "Optimism among the nation's home builders continues to build. The housing market index is up another point this month" [Econoday].
"For the third year in a row, the rate of growth in global trade is set to trail the already sluggish expansion of the world economy, according to data from the World Trade Organization and projections from leading economists" [Wall Street Journal, 'Worries Rise Over Global Trade Slump"]. " Before the recent slump, the last time trade growth underperformed the rate of an economic expansion was 1985.
"Buried in the Senate-passed version of the big highway bill is a provision that would require the Treasury secretary to use private debt collectors to collect unpaid back taxes" [New York Times]. Well, that worked out great for the Bourbons…
"[Philadelphia] Manufacturing activity posted another modest gain in September as rising orders from a range of industries was offset by the lingering effects of a series of shutdowns by three major companies over the summer" [Market News]. "In all three cases, we are talking about large national corporations that have purchased what were locally owned businesses and have consolidated them,' [the Philly Fed's Mike] Cooper said. 'In some cases those activities are now being offshored and we're left with holes in our employment and real estate markets.'" So it's sort of like we're the farm team, isn't it?
Police State
Irving ISD is sending a letter to all parents about Ahmed and how it's his fault. Here's the letter [Irving Independent School District]. One of the many problems with the national security class is that it places bedwetters and morons in positions of authority. And very well-fed ones at that.
"A retired Chicago police officer is charged with threatening to harm a coroner and other officials who are investigating the fatal shooting of a northern Illinois officer unless they categorized that death a suicide, authorities said Sunday" [St Louis Today].
" Miami Herald investigation: Young inmates beaten and raped in prison broomstick ritual" [Miami Herald]. Called "a test of heart." And of course the Department of Corrections is involved to, not only by condoning violence, but participating in it.
Our Famously Free Press
"The unfortunate truth about the podcasting industry" [Kernel Magazine]. "With the rise of podcasting conventions, endless hosting services, and services so useless that their utility needs to be explained by a sales rep multiple times, a new industry is forming below the actual podcasting one: It's a predatory industry, and it operates on the principle that, if you charge people a lot of money for something, they'll think it's necessary to cement their commitment to a craft that, odds-wise, they'll most likely never get anywhere with." It's like being a small publisher. There's an immense amount of sheerly bad writing in the world, sadly.
Dear Old Blighty
Wins the Internet for Corbynsteria today:
Chairman Mao style bicycle. pic.twitter.com/nEgJtwmGyt

— lastwheel (@lstwhl) September 14, 2015
News of the Wired
"20 Things You'll Only Understand If You Owned A Nokia 3310" [Short List]. Pure clickbait (sorry), but I can't resist putting in a plug for the "dumb phone."
"Sound waves used to activate brain cells in a worm" [BBC].
"The Art of 'Farecasting' the Lowest Airfare" [New York Times].
"How Ashley Madison Hid Its Fembot Con From Users and Investigators" [Gizmodo]. A fading story, but lots of technical detail. Working on the theory that the sex industry is the pioneer of all new media, I don't see why we don't see the adoption of the Ashley Madison's technology for, say, customer support. Or interactions with government officials, or quasi-government officials, like ObamaCare Navigators. After all, the question isn't whether the Fembots were terrible — they were, and people complained — but whether Ashley Madison got away with it; that is, of the power relations. And they did, until the hack. So expect more exploitation of this fruitful method of crapification. And speaking of Mark Zuckerberg:
"Facebook CEO Mark Zuckerberg has long disliked the idea of a dislike button, but he said today that Facebook will soon be testing an alternative to the Like button, another way for people to express shorthand emotions within the social network [Marketing Land]."[T]he idea is to give people a way to express empathy." Zuckerberg: "It's surprisingly complicated [!] to make an interaction that you want to be that simple." Squillionaire sociopaths defining the range of emotions that can be quickly expressed online by billions of people. What could go wrong?
* * *
Readers, feel free to contact me with (a) links, and even better (b) sources I should curate regularly, and (c) to find out how to send me images of plants. Vegetables are fine! Fungi are deemed to be honorary plants! See the previous Water Cooler (with plant) here. And here's today's plant (Dimitri):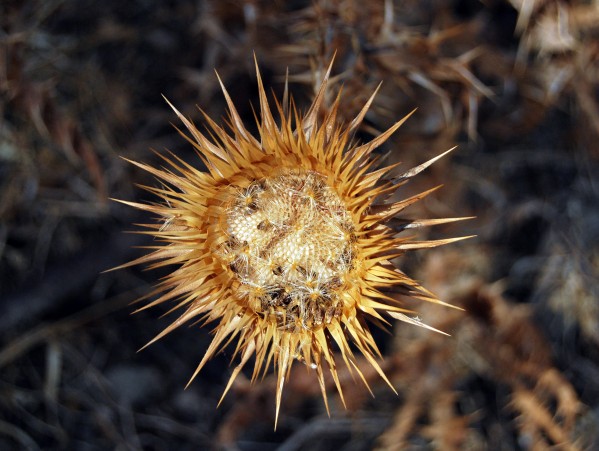 Greek summer flower….
If you enjoy Water Cooler, please consider tipping and click the hat. Winter is coming, I want to buy a few books, and I need to keep my server up, too.