By Lambert Strether of Corrente.
TTP/TTIP/TISA
Readers will remember that yesterday I lamented that I couldn't find a copy of Sandor Levin's memo listing "a dozen major unresolved issues" in TPP, prepared in advance of the TPP meeting in Atlanta. Well, alert reader No One threw a scan of it over the transom; here's a link to it, and I've embedded a copy of it below. I urge you to read the whole thing and distribute it widely.
So, since nobody else seems to have this, I'm going to type in and excerpt some of the high points here, both to make discussion easier and so that this material shows up in Google. (I apologize for any typos, and the fact that the rest of Water Cooler will be attenuated.) So herewith:

To: Democratic Members of the House Advisory Group on Negotiations
From: Sander M. Levin, Ranking Member, Committee on Ways and Means
Date: September 24, 2015
Re: Meeting with USTR Michael Froman on the TPP

You will be joining USTR Michael Froman as part of the House Advisory Group on Negotiations (HAG) on Friday, September 25 at 7:45am to discuss the resolution of outstanding issues in the Trans-Pacific Partnership Agreement (TPP), which the Administration is seeking to conclude in principle as soon as possible — and as early as next week.
Readers will recall that yesterday I flagged my concern at the weasel wording "in principle," and noted that, on TPP, the only good progress is no progress; not even a fig leaf like "agreement in principle." (Perhaps another alert reader, more adept than I am with the Google, could list the names and numbers of the HAG; it would be good if they were fully aware of the public's views).
Levin's memo summarizes twelve outstanding issues, and gives the status for each. I'm going to focus primarily on the status, unless his discussion of each issue presents material with which readers are unfamiliar. We see right away that the issues outstanding are — hold on to your hats, folks — far more numerous and complex and press coverage would suggest.
1. Currency Manipulation

…. The Treasury Department has been engaging in conversations with TPP countries about currency manipulation and hopes to reach a final agreement in the coming days. The text has not been available for Members to review in the secure reading room. It will not be enforceable and will be a side agreement, not a part of the TPP agreement itself.
An unforceable side agreement on currency manipulation? I can imagine that won't be greeted with universal applause.
2. Labor Rights

…. The TPP is expected to include the May 10 labor obligation with enforceability through the basic dispute settlement structure [i.e., ISDS] in TPP. However, the TPP does not yet have a mechanism to ensure that certain TPP parties that have labor laws and practices that fall far short of international standards will actually live up to the promises contained in the "May 10th Agreement."
So here we have enforceability, but nothing to enforce. Alrighty, then. Levin lists Vietnam, Peru, and Mexico as countries falling short. And Malaysia:
In Malaysia, human trafficking is a major concern. This remains true even and especially as the 2015 U.S. Trafficking in Persons (TIP) Report issued by the State Department at the end of July upgraded Malaysia from Tier 2, the ranking reserved for countries with the worst record on human trafficking, a decision that has been widely criticized and scrutinized in Congress.

Malaysia's human trafficking problem — which is a forced labor problem — puts it in violation of the ILO's basic standards and the TPP agreement.

Any 'consistency plans' (i.e., agreement on how the labor obligations will be implemented) for these and other TPP countries are not available for Members to review in the secure reading room.
(See NC commentary on Malaysia, slavery, and the TPP.) It's worth noting that any agreement in principle, at this point, also accepts the practice of slavery, in principle.
3. Environment

…. The TPP environment will look very different from the May 10 Agreement. The environment chapter covers a broad range of subjects, ranging from shark finning, to fish subsidies, to trade in illegally harvested plants and animals. But the obligations themselves — the 'verbs' used — are weak.
4. Invester and Investor-State Dispute Settlement (ISDS)

….… [O]ther serious shortcomings remain. For example, any action that an ISDS tribunal may consider "arbitary" could still be found to constitute a breach of the MST [Minimum Standard of Treatment] obligation. Further, the TPP text does not contain a diplomatic screening mechanism of any sort, nor the preambular language on investment agreed to as part of the May 10th Agreement.
(Do any readers know of preambular language is normative?) I'm sure the irony of the completely unaccountable, and deeply conflicted, ISDS tribunals issuing rulings on what is or is not "arbitrary" is not lost on readers.
5. Access to Medicines

…. Absent some change of course, the final text is likely to provide less access to affordable medicines than than provided under the May 10 Agreement. For example, developing countries will likely be required to 'graduate' to more restrictive intellectual property rights standards before they become developed — a clear inconsistency with May 10. There are also a number of concerns that the TPP agreement will restrict access to medicines in other developed countries (e.g., by having long periods of data exclusivity for biologic medicines,) and that these disciplines, even if they are consistent with current U.S. law, could make changing U.S. law in the future more of a challenge.
Note that the "challenge" would not exist were not U.S. sovereignty to change U.S. law at least partially surrendered. (I'm guessing that "challenge," like "concern," is a Beltway word that translates, operationally, to "hair on fire.")
6. Automotive Market Access

…. The Administration has not stated a specific period of time for when the phase-out in U.S. tariffs for autos, trucks, and auto parts would begin, and there is no text available for Members of Congress to review on this issue.
Sausage still being made on auto!
7. Rules of Origin (ROOs)

…. There are a number of rules of origin being negotiated in the TPP for different products, including in the sensitive textile and apparel, agricultural, and automotive sectors. Some of the rules are largely settled while others — including the rules for automotive products — remain open and controversial. These rules have not been included in the documents available for Members to review in the secure facility. … [T]he automotivec rules of origin remain one of the most difficult outstanding issues coming out of the meeting of TPP Ministers that took place in Maui at the end of July.
No unmade sausage in the secure facility!
8. Tobacco Controls

…. … While the USTR hopes to reach an agreement in principle as early as next week, USTR staff has informed us that the USTR does not have a position on this particular issue. In any event, USTR has not shared its bottom line, or even its next move, with Members of Congress or cleared advisors.
Really? Mitch McConnell is from a tobacco-growing state, right?
9. State-Owned Enterprises (SOEs)

…. The extent to which an SOE provision will help level the playing field, will be determined by the degree to which parties seek very broad country-specific carve-outs for particular SOEs and how SOEs are defined. … While significant [emphasis mine] remain with a handful of countries, progress with Malaysia appears to be particularly slow and difficult. It is difficult to assess the status of these carve-outs, however. Members of Congress do not currently have access to these draft schedules.

Also is the fact hat the defintion of SOEs (considered by the negotiators to be a closed issue) is very narrow, allowing enterprises that are effectively controlled by foreign governments (but where the government owns less than a majority of shares) to circumvent the obligations.
This all seems tuned to enable Malaysia, whose political economy ("bumiputra preferences") is heavily based on SOEs, and ethhically based ones, at that, to slide by on SOEs much as they did on slavery, because Straits of Malacca. One wonders what Vietnam, Mexico, and even Canada (CBC, Canada Post) think of this double standard, and whether domestic pressures mean they'll try to retrade this "closed issue."
10. Agricultural Market Access

…. In my [Levin's] view, the TPP needs to either virtually eliminate tariffs on virtually all products or, in the exceptional circumstances where a product is not subject to full tariff elimination, TPP needs to obtain signigicant new market access opportunities, substantially equivalent to the opportunities afforded TPP party exporters to the U.S. market.
Flinging down the gauntlet? (I extracted issues, and not Status which, boiled down, seems to imply that some sausage, at least, will be successfully made on dairy.)
11. Food Safety Measures

…. We have asked the Administration to confirm that existing U.S. laws, regulations, and practices will not be impacted by these obligations. There is also a that we do not have adequate resources to monitor the safety of food imports.
'Tis a confirmation devoutly to be wished….
12. Copyright

…. The status is unclear. Although discussions occurred in Maui, USTR has indicated that the TPP parties have had no follow up discussions since Maui. While USTR hopes to conclude the negotitiations as soon as next week, it does not yet have a position on the issue.
There's more, much more. Again, I urge readers to read the whole thing, and especially the concluding section on the timeline.
I'd sum up my concerns this way: It looks to me like the USTR is trying to package up a victory with sausage-making deals on dairy and maybe auto, and an agreement "in principle." We'll then hear lots of loose talk about "momentum." And our famously free press — at least the part of it accessible to me — has helped this process along by focusing mostly on those deals, and not on the larger issues of betrayal of national sovereignty.
It's also noteworthy that although Levin (rightly) complains about material not available to Members in the Double Top Sekrit Reading Room, that material mostly pertains to sausage-making, and not sovereignty. The sovereignty issues, like ISDS, are right out in plain sight (or, alternatively, are covered in side deals that never appear in the Reading Room at all). And I'm not sure exactly how to kill a zombie, but I'm sure that letting it "agree" to anything is at best a failure in technique. Hopefully, Atlanta ends in acrimony, with no agreement on anything.
2016
Policy
Currently, 60% say that any budget deal must maintain funding for the organization, while 32% say that any agreement must eliminate its funding [Pew Research].
Money
Campaigns and super-PACs aren't supposed to coordinate, but the line between them at Fiorina's events is extremely blurry, with the casual attendee not able to notice any gap between the two" [Bloomberg].
The Voters
"Why intersectionality can't wait" [Kimberlé Crenshaw, WaPo]. Considering intersectionality solely as a data structure, I agree.
The Trail
"CNN confirmed that any candidate who has averaged 1 percent in at least three credible polls would be able to participate in the debate. Since most recent polls have tested Biden and found he would have double-digit support, he meets the threshold easily" [The Hill. "With that main hurdle past, Biden wouldn't even have to file official paperwork by the debate — the criteria says that a simple public declaration will suffice."

"CNN Begs Joe Biden To Run For President, Promises Debate Spot And Puppy" [Gawker]. "There is no chance at all that CNN is only doing this to fluff its own ratings, or to try to influence Biden's decision-making process. The network is simply letting the vice president know it will hold a lectern for him at the Wynn Las Vegas, and all the other kids will be there, and there'll be popcorn and games and a Spin Room." Indeed. The Beltway l-o-o-o-v-es them some Joe Biden, even though — by which I mean because — his legislative record is far uglier and more pernicious than Clinton's.
The Hill
UPDATE "[T]he same right-wingers animated by Boehner's perceived slights are also animated against TPP" [David Dayen, Salon]. "What House Republican will vote to give Obama a long-sought victory [on TPP], after seeing the outcome of the House speaker who committed the offense of merely not wanting to embark on a futile fight over defunding Planned Parenthood?" It's an ill wind….
House Majority Leader Kevin McCarthy, who "appears likely to succeed outgoing House Speaker John Boehner is a vocal proponent of abolishing the 60-vote threshold in the Senate in order to pass Republican-sponsored bills" [Bloomberg]. Of course, the House is not the Senate. That said, how much you wanna bet that the Republicans do what the Democrats did not do, when they had the power to do it, in 2009? That is, abolish the filibuster and ram their bills through?
"Now that House Speaker John Boehner has decided to quit Congress, Senate Majority Leader Mitch McConnell has become the new Public Enemy No. 1 of dissatisfied conservatives" [McClatchy]. Speaking of the Senate…
Trey Gowdy (probably) won't run for speaker [Politico]. Too bad. The guy has a great profile and good hair, but hasn't been able to make Benghazi into anything other than the hairball it is.
Stats Watch
S&P Case-Shiller HPI, July 2015: "Case-Shiller is reporting what is becoming striking weakness in home prices" [Econoday]. "This report is very closely watched and offsets last week's gain for FHFA prices which are trending slightly higher than Case-Shiller." Crazy talk. This is best recovery ever.
Consumer Confidence, September 2015: "Consumer confidence was supposed to have fallen back this month as stock market losses took their effect. But instead confidence is inexplicably rising" [Econoday]. "The gain is centered in the present situation component which hints at ongoing strength in the labor market and immediate strength in consumer spending."
State Street Investor Confidence Index, September 2015: "Volatility may be out of control in the financial markets but investor sentiment is very strong" [Econoday]. "The report attributes the month's strength to September's FOMC decision and indications that the Fed is set for a more shallow rate hike cycle than previously expected." More free money (for those who already have lots of it).
Police State
"Map: 16 states have more people in prisons and jails than in college housing" [Vox]. Priorities!
Health Care
"33 Million Americans Still Don't Have Health Insurance" [FiveThirtyEight]. "It's hard to say why these [remaining] 14 million people weren't insured, but the administration will have to figure that out if it wants to come close to the universal coverage the law intended." I know why, even if the wonks at FiveThirtyEight don't. The Democrats didn't pass single payer when they had the chance.
Gaia
"Bee tongues tell a tale of climate change" [Nature].
Class Warfare
"On the bleeding edge of Center City, young, privileged, and plugged-in New Philadelphians have grown tired of apologizing for their presence." As [Philadelphia Magazine] sucks up to its newest subscribers…
"Medium, the publishing platform started by one of Twitter's cofounders 3 years ago, has 25 million users and is worth $400 million" [Medium]. More "sharing." Of that $400 million, how much do the authors get?
"Unrealistic retirement expectations exist among millennials. The study found that 15 percent of millennials believe that winning the lottery is a viable retirement strategy" [CNBC]. Leaving aside the classification issues surrounding the concept "millenials," has CNBC no concept of irony?
News of the Wired
"The definitive guide to YouTube's 9 global production spaces"[Daily Dot]. Neat!
"We Emit Clouds of Microbes Wherever We Go" [Scientic American]. "Those microbe-laced clouds are sometimes unique enough to identify the person producing them." Uh oh.
* * *
Readers, feel free to contact me with (a) links, and even better (b) sources I should curate regularly, and (c) to find out how to send me images of plants. Vegetables are fine! Fungi are deemed to be honorary plants! See the previous Water Cooler (with plant) here. And here's today's plant (Mike):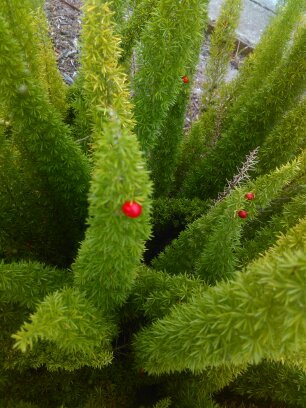 Mike writes that this is a foxtail fern from Burnt Store Marina, between Ft. Myers and Punta Gorda, FL. "I particularly like* the red berries on the foxtail fern."
* So do I, even if the photo is a bit small; I prefer 600px.
Readers, I'd also be interested in any projects you did this summer (now that the time to put the garden to bed is approaching)….
If you enjoy Water Cooler, please consider tipping and click the hat. Winter is coming, I need to fix my laptop, and I need to keep my server up, too.
memo_fr_Levin_re_TPP