By Lambert Strether of Corrente.
TTP/TTIP/TISA
I've got to say, things seem even murkier than they were before Maui. I remain concerned about a baseline outcome of "agreement in principle," and I think that's bad, since anything that moves TPP forward is bad.
"TPP like a zombie that won't die" [Macrobusiness]. "I was convinced that the TPP was dead and buried, given Canada heads to the polls next month and the ramp up of the US presidential election campaign. It appears I was premature." No question Atlanta is what the Beltway calls a "heavy lift." But as I keep saying, the TPP campaign is part of a war: gutting national sovereignty. The setback in Maui was a just a battle.
"Chief negotiators from the 12 countries, which have a combined population of 800 million people, will hold sessions through to Tuesday. And those meetings will set the stage for further talks involving TPP trade ministers on Wednesday, Sept., 29 and Thursday, Oct., 30" [HuffPo Canada].
"[I]n a memo last week to other House members, Michigan Rep. Sander Levin listed a dozen major unresolved issues in areas ranging from labor and the environment to currency and state-owned enterprises. Public Citizen put out its own exhaustive list ahead of what it called the 'latest' final TPP meeting" [Politico].
"Several TPP chapters still have unresolved provisions relating to access to affordable medicines, investor-state dispute settlement, capital controls and other macro-prudential financial regulations, labor compliance and more. Plus, exceptions for tobacco and other sectors remain contested [Public Citizen]. (This is the Public Citizen's list mentioned above; I can't find Levin's memo.)
Australia: "Notwithstanding, a conclusion remains within imminent reach," [Trade Minister Andrew Robb] said. "There are unresolved issues, but hopefully these aren't intractable" [The Land]. "'We have taken provisional decisions on perhaps 90 per cent of issues and as a result of these alone Australia would see some most material benefits,' he said." That's not actually very tractable, "perhaps 90 percent." Always do the easy part first…
New Zealand: "The Crown Law Office faced questions in the Wellington High Court from a judge keen to understand why Trade Minister Tim Groser dismissed an Official Information Act request for the confidential texts of Trans-Pacific Partnership trade and investment pact negotiations, without closely investigating the documents" [Scoop]. To kick the can down the road past the Atlanta meeting, for starters.
Copyright: " Ways and Means ranking member Sandy Levin fired off a memo on outstanding Trans-Pacific Partnership issues to his fellow Democrats Friday afternoon, saying copyright and fair use language is among the unresolved topics — even though, he argues, those provisions were supposedly all taken care of. "Some Internet groups," Levin writes, want to strengthen the fair use provisions late in the process, and "there was concern" at the last TPP talks in Maui that the copyright text be reopened. For now, the status of things is unclear, and nothing's changed since Maui, Levin added" [Politico].
Auto: "The US and Japan can force a deal on auto trade at Atlanta on their terms. The automotive package is part of the US-Japan market access agreement. This is a bilateral package within the TPP. There are 132 of them, 11 for each of the 12 participants. The US has more things that it wants from Japan than Japan wants from the US. There is really only one important issue for Japan – access to the US automotive market. This leaves little room for re-negotiation of what Prime Minster Abe thought was a done deal…. Does it make sense for Japan to enjoy better than NAFTA access to the USA, while Canada and Mexico are subject to less favourable access? The concern is about access to the US market. Canada and Mexico are backed into a position where resistance cannot overcome reality. Neither will cut off its nose to spite its face" [iPolitics].
Dairy: "Canada is preparing to open the border to more American milk, without getting reciprocal access for Canadian dairy farmers in the United States, CBC News has learned" [CBC].
Dairy: "A demand by American negotiators for 10 per cent access to Canada's dairy markets under the TPP was rejected by Canadian negotiators in Hawaii in July and discussions around dairy access continue, sources close to the negotiations told iPolitics Saturday" [iPolitics].
Dairy: [New Zealand Trade Minister Tim Groser] said almost a week ago that there was still no adequate offer from the key TPP dairy-producing countries – the US, Canada and Japan. [Scoop]. "Reports over the weekend suggest that the US and Canada are both preparing to move on their highly protected markets, despite protests from the dairy sector in both countries and silence on the prospect of improved access to the Japanese dairy market." Asia hands will correct me, but I don't think silence from Japan means "yes."
2016
Policy
Trump on health care: "Scott Pelley: Universal health care. Donald Trump: I am going to take care of everybody. I don't care if it costs me votes or not. Everybody's going to be taken care of much better than they're taken care of now" [CBS (60 minutes)]. Despite the Trumpese, it's worth noting that in 2008, Obama never commmitted to universal heatlh care — he didn't even support the mandate — and that in 2015, ObamaCare is not, in fact, universal.

UPDATE "Senator Elizabeth Warren's speech on racial inequality in full" [Guardian].

I have often spoken about how America built a great middle class. Coming out of the Great Depression, from the 1930s to the late 1970s, as GDP went up, wages went up for most Americans. But there's a dark underbelly to that story. While median family income in America was growing – for both white and African-American families – African-American incomes were only a fraction of white incomes. In the mid-1950s, the median income for African-American families was just a little more than half the income of white families.

And the problem went beyond just income. Look at housing: For most middle class families in America, buying a home is the number one way to build wealth. It's a retirement plan-pay off the house and live on Social Security. An investment option-mortgage the house to start a business. It's a way to help the kids get through college, a safety net if someone gets really sick, and, if all goes well and Grandma and Grandpa can hang on to the house until they die, it's a way to give the next generation a boost-extra money to move the family up the ladder.
Advertisement

For much of the 20th Century, that's how it worked for generation after generation of white Americans – but not black Americans. Entire legal structures were created to prevent African Americans from building economic security through home ownership. Legally-enforced segregation. Restrictive deeds. Redlining. Land contracts. Coming out of the Great Depression, America built a middle class, but systematic discrimination kept most African-American families from being part of it.
The Voters
"The Party Decides" model no longer valid? [Ezra Klein, Vox]. "Voters have more information than ever before, and they are able to shape and choose the information they get in unprecedented ways." Maybe.

"It's not clear that the broad public is eager to relive the battles dating back to Bill Clinton's presidency. But for the Clintons and close allies, the old fights are something they're not letting rest. Again and again, voters hear them re-airing grievances that are receding in the nation's collective memory" [Wall Street Journal, "Will Re-Airing 'Right-Wing Conspiracies' Help Hillary Clinton?"]. Receding? Or being erased by the press that played such a discreditable part in "the old fights"?
The Trail
Interview with Green Party presidential candidate Jill Stein [PBS].

UPDATE "[Sanders] said Hyde Park was the first place where he met people who had devoted their lives to social justice and civil rights issues" [DNAinfo]. Speech at University of Chicago to a crowd of 1200:

He said few people during his graduation ceremony in June 1964 would have believed the progress made on many issues or the election of Barack Obama.

"No one in that room in 1964 would have thought it was possible, but it happened and we should be proud of it," Sanders said of Obama, whose home is mere blocks from where Sanders spoke Monday. "It is not Barack Obama, it is the American people reached the maturity that they would vote for the best candidate not just the white candidate."

Lines were around the block for the sold-out event the the candidate for Democratic presidential nomination as a self-identified socialist.

"I learned here about Democratic socialism," Sanders said.

Hmm.

UPDATE "'I am not going to start to take shots at Bernie Sanders,' Clinton said, according to a person familiar with the exchange" between Clinton and "a longtime supporter and donor" [WaPo]. Meaning surrogates will? Here's a beaut:

With the first Democratic debate slightly more than two weeks away, Clinton is batting away suggestions from antsy supporters that she take on Sanders and his unabashedly far-left views.

"Far left" if you live in the Beltway, maybe. Reminds me of Corbynsteria, where newspapers across the entire ideological spectrum, such as it is, combined to paint Corbyn as a combination of Josef Stalin and the the Beast with seven heads and ten horns that came out of the sea, and the Guardian read just like the Daily Mail.

Madeline Albright throws Clinton under the bus on email [CNN, "Albright would not have approved private email server like Clinton"]. Accidentally, or on purpose? Later, Albright tries to put the toothpaste back in the tube: "Your question was whether I would approve it now. After all of this controversy – of course not." Nobody could have predicted there'd be controversy after Clinton privatized her email server and then had her lawyers and staff dole out what was on it? WTF?

"The campaign confirmed on Sunday that Clinton began using a personal email account in January 2009 — two months earlier than previously stated. Her records begin that March, an official said, when the account was moved to her home server" [Buzzfeed]. Drip, drip, drip, as Clinton says. Well, who's controlling the faucet?

UPDATE Fiorina comes out in favor of waterboarding [Yahoo].

UPDATE Fiorina lies about her career [WaPo. As NC readers already know.

Fiorina lies about Planned Parenthood [Wapo]. Ditto.

"Jeb Bush is entering a critical phase of his Republican presidential campaign, with top donors warning that the former Florida governor needs to demonstrate growth in the polls over the next month or face serious defections among supporters" [WaPo]. Jebbie's not exactly dumb, in the sense that he managed to pick $150 million from some squillionaire's pockets based on his name. But the guy does want to put Maggie Thatcher on our three ten dollar bill.

"A key operative behind the effort to convince Vice President Joe Biden to run for president is asking friends and al­lies to submit résumés if they're interested in jobs in a potential Biden campaign [National Journal].

UDPATE "'Duck Dynasty' star, once a Bobby Jindal supporter, now says 'I like Trump'" [NOLA].
The Hill
"Maybe we need a government shutdown" [Larry Kudlow, CNBC]. If I believed what the people who defenestrated Boehner believe, I'd believe this too.
"On Capitol Hill, tension is mounting between Republicans hoping to notch incremental progress in dealing with a Democratic president and hard-liners who say they would be willing to shutter the government. That struggle will play out both in House GOP leadership elections over the next few weeks and as lawmakers tackle several deadline-driven issues this winter, including a longer-term budget deal and the need to raise the federal borrowing limit, known as the debt ceiling" [Wall Street Journal, "GOP Discontent That Helped Sink John Boehner Isn't Easing Up"]. Rule or ruin.
UPDATE "House Speaker John Boehner's resignation under duress—a move that was both a shock and years in the making at the same time—means tea-party-styled forces have further ratcheted up their power within the party. With each such move, the grip of what people think of as the Republican party establishment—big business donors, official party leaders, congressional leaders whose tenure dates back more than a decade or so—is loosened a bit more"[Wall Street Journal, "Boehner's Exit Leaves GOP Establishment Shaking"]. In favor of….
Stats Watch
Personal Income and Outlays, August 2015: "The consumer is making money and spending money at the same time that inflation is very quiet" [Econoday]. "Personal income rose 0.3 percent in August which is on the low side of expectations but July is now revised 1 tenth higher to a very solid 0.5 percent."
Pending Home Sales Index, August 2015: "The existing home sales market looks to remain flat in the coming months based on the pending home sales index which fell a disappointing 1.4 percent in August" [Econoday]. Existing home sales are being limited by lack of homes on the market which itself, however, reflects softness in home prices and general demand.
Dallas Fed Mfg Survey, September 2015: "The Dallas Fed rounds out a full run of negative indications on the September factory sector with the general activity index remaining in deeply negative ground at minus 9.5. New orders are at minus 4.6 which, however, is an 8 point improvement from August. Production is actually in positive ground at 0.9" [Econoday]. But: "Of the five Federal Reserve districts which have released their September manufacturing surveys – all are in contraction except the Dallas Manufacturinng Outlook which is weakly in expansion" [Econintersect].
"More than half of corporate cash is invested in investment-grade corporate bonds" [Wall Street Journal, "The New Bond Market: Big Buyers of Corporate Debt Are Other Corporations"]. That seems a little meta to me….
Catalan elections: "I follow the spread versus Treasuries and that spread which was 14 through on Friday AM is now 20 rich to US in the 10 year sector" [Across the Curve]
"Kenyans will soon be able to buy fixed-income government bonds from their mobile phones, a move that will deepen access to financial services in east Africa's biggest economy while also giving Treasury a cheaper source of funding" [Bloomberg].
"[Walmart] is plagued by negative customer feedback "due to lack of convenience in shopping Supercenter formats, below-average customer service, and below-average quality, freshness, and breadth of produce," Wayne Hood, an analyst at BMO Capital Markets, wrote in a recent research note" [Business Insider]
"While trying to figure out what happened last October [in the "flash crash"], government investigators were surprised to learn, the Wall Street Journal says, how dominant the high speed algorithm driven firms had become. As a result, investigators could not easily and efficiently access or analyze the trading records that reflect sometimes microsecond differences between buy and sell orders that are now standard for the equity and futures market" [Francine McKenna, Market Watch]. Ooooh, an opaque market totally controlled by software. What could go wrong *** cough *** Volkswagen *** cough *** ?
Black Injustice Tipping Point
"The Black Activists Who Helped Launch the Drug War" [New York Magazine]
Police State
Review of Washington state's good faith and malice language on police killings [Seattle Times]. "Jeff Robinson, a longtime Seattle defense attorney who directs The Center for Justice of the national American Civil Liberties Union, wants the law changed. Putting himself in the mind of the police officer, he explained: "Unless you can demonstrate that I have this evil motive, I'm not guilty.'"
Imperial Collapse Watch
"Pentagon Requests 500 Gold-Plated F-35s" [Duffel Blog].
"U.S. Air Force instructs airmen on exactly how to praise the F-35" [Fortune]
Dear Old Blighty
Best headline ever: "David Cameron publicly denies Lord Ashcroft pig allegation for first time" [Guardian. Best subhead ever: "Prime minister confirms he is disputing specific claim in Call Me Dave book that he put private part of his anatomy in dead pig's mouth." Cameron: "As for the specific issue raised, a very specific denial was made a week ago and I've nothing to add to that." Hmm. "Specific," twice. Sounds lawyerly, to me. (A handy round-up of the legalities (with bonus Animal Farm quote). For those who came in late:
This story may or may not be true, but legend has it that during one of Lyndon Johnson's congressional campaigns he decided to spread a rumor that his opponent was a pig-fucker. LBJ's campaign manager said, "Lyndon, you know he doesn't do that!" Johnson replied, "I know. I just want to make him deny it."
"'He denies it,' the King said. 'Leave out that part.'"
"Cameron rubbishes piggate claims, says he is 'too busy' to sue" [Irish Times]. With the UK's libel laws being what they are? Not even reserving the right to pursue the matter as a(nother) hobby in retirement?
Class Warfare
"Cash checking fees, prepaid card fees, money transfer fees, cashier's check fees — all together, the unbanked pay up to 10% of their income simply to use their own money" [Credit Slips]. You say that like it's a bad thing!
"[A]ccording to Charles Goodhart, professor at the London School of Economics and senior economic consultant to Morgan Stanley, demographics explain the vast majority of three major trends that have shaped the socioeconomic and political environments across advanced economies over the past few decades. Those three would be declining real interest rates, shrinking real wages, and increasing inequality.[Bloomberg]. But: "The conditions that fostered these three intertwined major developments are nearly obsolete." Move along, people, move along, the story's over there.
"Surely one reason so many Americans lack writing skills is that, for decades, most U.S. schools haven't taught them. In 2011, a nationwide test found that only 24 percent of students in eighth and 12th grades were proficient in writing, and just 3 percent were advanced" [WaPo]. But you can bet the students at, say, the Sidwell Friends, are being taught to write. After all, they won't be able to run the country without basic skills.
"Toile Chic" [The Awl]. "A history of capital using labor for decoration."
"Millennials are not who you think they are" [WaPo]. "Often in the media (and I'll raise my hand here), we evoke the word "millennial" to describe a subset of people born after 1980 who hold college degrees and live in cities. We're not talking about 20-year-old single moms in small towns, or fast-food workers in the suburbs trying to get by on only a high school diploma." Whaddaya know.
"Fox guest proposes welfare reform: People earning minimum wage 'shouldn't be having children'" [FOX].
News of the Wired
"NASA Discovers Evidence for Liquid Water on Mars" [Wired]. "[Lujendra] Ojha and his colleagues present 'smoking gun validation' that it was liquid water flowing on Mars' surface that formed" "patches of precipitated salt that appear to dribble down Mars' steep slopes" (original at Nature, paywalled: "Spectral evidence for hydrated salts in recurring slope lineae on Mars").
"A visual guide to water on Mars" [Guardian].
"After three decades, has the brother of a victim of the Lockerbie bombing solved the case?" [New Yorker]. Sadly, Betteridge's Law applies.
* * *
Readers, feel free to contact me with (a) links, and even better (b) sources I should curate regularly, and (c) to find out how to send me images of plants. Vegetables are fine! Fungi are deemed to be honorary plants! See the previous Water Cooler (with plant) here. And here's today's plant (Pat):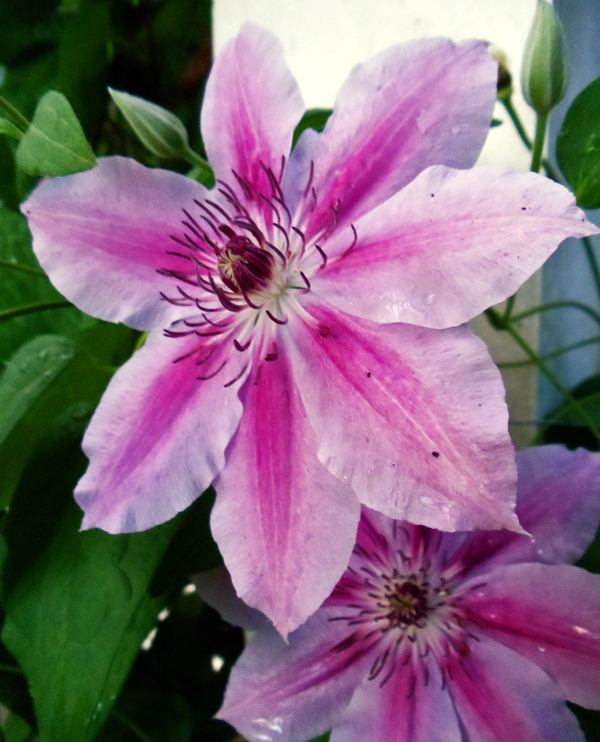 Readers, I'd also be interested in any projects you did this summer (now that the time to put the garden to bed is approaching)….
If you enjoy Water Cooler, please consider tipping and click the hat. Winter is coming, I need to fix my laptop, and I need to keep my server up, too.