By Lambert Strether of Corrente.
2016
The Voters
"Trump is going directly after those Republican voters who seek to protect what some scholars call 'compositional amenities' – the comfort of a common religion and language, mutually shared traditions, and the minimization of cultural conflict" [Op-Ed, New York Times]. "Compositional amenities…"
Policy
"Senator Marco Rubio of Florida said on Wednesday that the government should respect the beliefs of the Kentucky county clerk who has denied marriage licenses to same-sex couples, arguing that society needs to accommodate public officials who object to carrying out duties they say violate their religious beliefs" [New York Times]. Funny how those beliefs never include, say, "Thou Shalt Not Kill."
The Trail
"[Brian Pagliano,] a former State Department employee who helped Hillary Rodham Clinton set up her private email server said he will assert his Fifth Amendment right not to testify before the House committee on Benghazi" [HuffPo]. Hmm.

"Republican presidential front-runner Donald Trump will sign a pledge Thursday to support the GOP nominee in next year's general election, effectively ruling out a third-party or independent run, according to two Republicans familiar with the move" [WaPo]. Roger Stone, who isn't working for Trump now, really: "The truth is, Trump got what he wants, he's given up nothing and he's a strong front-runner for the Republican nomination. I expect that he will sign the pledge today" [The Hill].

"What Hillary's sinking poll numbers really mean, in one chart" [Greg Sargent, WaPo]. Sargent argues that Clinton's popularity, historically, drops when she changes from being a public figure to being a candidate, which is what it's doing now. So, move along, people, move along, there's no story here. On the other hand, if "America is in play," as Nooners puts it, then the usual drop could be happening, but for reasons that are not usual. Time will tell.

Pennsylvania's regular Democrats hate Joe Sestak (that's a plus, in my book) and so they are preparing a fraticidal primary to take him down. [Wall Street Journal, "Vigorous Senate Race Unfolds in Keystone State"].

"John Kasich, killing time between media interviews on the campaign trail Wednesday, threw a bad game of darts. But once he focused, he threw two bull's-eyes in a row" [Wall Street Journal, "For Kasich, New Hampshire Presence Is Paying Off"]. Anecdote: When I was down in DC recently, I had a conversation about politics with two Nigerians in a Chinese restaurant. They had watched the Republican debates, taken them seriously, and wanted to know about Kasich. Tell me it's not a great country!
Stats Watch
Chain Store Sales, August 2015: "August will be a 4th straight gain for core retail sales" [Bloomberg]. More impressive since late Labor Day pulls August sales into September.
Challenger Job-Cut Report, August 2015: "Moderate in August and far lower than July which was skewed higher by a massive Army cutback" [Bloomberg]. "August layoffs were led by the retail sector reflecting the bankruptcy of the A&P supermarket chain."
International Trade, July 2015: "narrowed nearly as expected" [Bloomberg]. "[W]ill lift early third-quarter GDP estimates."
Jobless Claims, week of August 29: "Initial jobless claims moved up but are still in their range and historically at rock bottom levels" [Bloomberg]. But: "Initial Unemployment Claims Rolling Average Again Degrades Marginally" [Econintersect]. 
Gallup US Payroll to Population, August 2015: "[E]ven with the rate measured in August 2012, the highest Gallup has measured for any August since tracking began in 2010"  [Bloomberg].
PMI Services Index, August 2015: "showing no significant effect" from global turbulence [Bloomberg]. "New orders have been strong in this report and hiring has been described as robust, a reminder that the domestic economy, apart from global troubles, remains solid."
Bloomberg Consumer Comfort Index, week of August 30, 2015: "Uncertainty over the economic impact of market turbulence is nearly as strong as the turbulence itself" [Bloomberg].
ISM Non-Mfg Index, August 2015: "What global turbulence? The ISM non-manufacturing index held on to the great bulk of its historic July surge" [Bloomberg]. And: "There are two sub-indexes in the NMI which have good correlations to the economy – the Business Activity Index and the New Orders Index – both have good track records in spotting an incipient recession – both remaining in territories associated with expansion" [Econintersect].
"This month's employment proxies are mixed and lightly skewed lower with 7 negative vs. 6 positive" [Across the Curve].
"Reality Check: U.S. Subprime Credit Grows but From a Low Base" [Market News]. " Dennis Carlson, deputy chief economist at Equifax, said the rise in different types of lending to subprime borrowers should be watched but is not an immediate cause for concern because the increases are from the very low levels that resulted from a sharp contraction of credit availability since the last recession."
Police State
"Shooting deaths of officers are actually down 13 percent compared with the same January-to-September period in 2014. There were 30 shootings last year and 26 this year" [Associated Press].
"California Agrees To Restrict Use of Long-Term Solitary Confinement" [Shadowproof]. Several years after a hunger strike by thousands of prisoners. 
"Problem: Male Operators Use Surveillance Cameras For Ogling Women; Mayor's Solution: Employ Only Female Operators" [Tech Dirt]. In Chile.
Dear Old Blighty
When I wrote "If you want to see an example of an entire press corps and most of the political class clutching their pearls and heading for the fainting couch, search on "Corbyn" in Google News," readers, you may have thought I was exaggerating. If anything, I was too mild [@jpublik].
How Jeremy Corbyn is being misquoted by the Tory press #PrivateEye pic.twitter.com/NVfG4HF4lc

— Joe Public (@jpublik) September 1, 2015
Gaia
Obama on climate: "On this issue, of all issues, there is such a thing as being too late. That moment is almost upon us" [Salon].
"The key to meaningful climate action is not to haphazardly reject oil projects in the vain hope that people elsewhere will decline to produce oil, too. It is to reduce demand for fossil fuels" [WaPo]. So drill, baby, drill?
"Warm Arctic Brews Severe Winters From U.S. to Asia, Study Says" [Bloomberg]. Oh well. At least the winters improve our soil.
"What Happened to a Govt Scientist Whose Findings Stood in the Way of Big Oil's Plans for Arctic Drilling" [Alternet].
"The paradox of soil" [The Economist, "Land, the centre of the pre-industrial economy, has returned as a constraint on growth"]. So maybe this permaculture stuff isn't so nutty after all?
"How Giving Up Refined Sugar Changed My Brain" [Fast Company].
Our Famously Free Press
"[I]f we start with huge profits and 'scale' not being the goal in the first place, the conversation about local news starts to take an optimistic turn" [Medium]. For example: "Instead of having an audience furious about paywalls, popup ads and subscription rate increases, Berkeleyside is getting 20 percent of its revenue from readers who are voluntarily donating money because they appreciate the site's journalism that much. And Berkeleyside, mind you, is a for-profit news site."
"Former Arizona Gov. Jan Brewer calls beauty makeover ads with her photo 'hurtful,' 'wrong'" [Arizona Republic].
Corruption
"And Now I Have to Say Something About Kim Davis" [The Stranger]. All an audition for the Christianist medicine show circuit. Ka-ching.
Rahmn chased off the stage by school closing protesters at a budget hearing [Chicago Reader]. Then again, the hearing was going to be about how Rahm plans to "jack up up property taxes by about $500 million to deal with the debt and obligations he'd ignored in his first four years in office," so maybe the protesters did him a favor. 
"Former Silk Road Task Force member pleads guilty to stealing "$820,000 worth of digital currency" while a USSS agent" [@chrisgeidner]. Prosecution futures. For everybody!
Class Warfare
"Here are 11 mindsets of the wealthy you could adopt today" [Business Insider]. "Hey, if you think really hard, maybe we can stop this rain!" –Wavy Gravy, Woodstock
"In Hewlett-Packard's latest round of layoffs, some employees have been given a layoff ultimatum: Take a new job at another company where HP has a contract-work agreement, or be fired with no layoff package severance" [Business Insider]. Stay classy, HP!
"Transportation costs and commute times have become an important factor in how income inequality plays out around the Puget Sound region, as those priced out of living close to job centers in Seattle and the Eastside pay, instead, with their time" [Seattle Times].
News of the Wired
Design experts debate new Google logo [Think Progress]. And now that they're done tinkering, maybe they can make search work again.
"NASA Deploys Congressional Rover To Search For Funding" [The Onion]. If NASA were seeking to fund a program for, say, personal fry cooks to come to your door, Silicon Valley would toss 'em a squillion, no questions asked.
"The mysterious origins of punctuation" [BBC]. Silly Beeb. Punctuation was invented by Tim Berners-Lee when he was at CERN.
"Free & Interactive Online Introduction to LaTeX" [Overleaf]. With online previewer!
"UK sperm bank has just nine registered donors, boss reveals" [Guardian].
"NFL plans to appeal judge's decision to lift Tom Brady's 'Deflategate' suspension" [Los Angeles Times].
"Lawmakers deny park ranger's 'making out' report" [KARE]. Republican get to have the thrill of the forbidden so much more than Democrats, precisely because so many more thrilling things are forbidden to them ….
"French prosecutors have said they believe 'with certainty' that a wing part found on Reunion Island in July came from missing flight MH370." [BBC].
* * *
Readers, feel free to contact me with (a) links, and even better (b) sources I should curate regularly, and (c) to find out how to send me images of plants. Vegetables are fine! Fungi are deemed to be honorary plants! See the previous Water Cooler (with plant) here. And here's today's plant: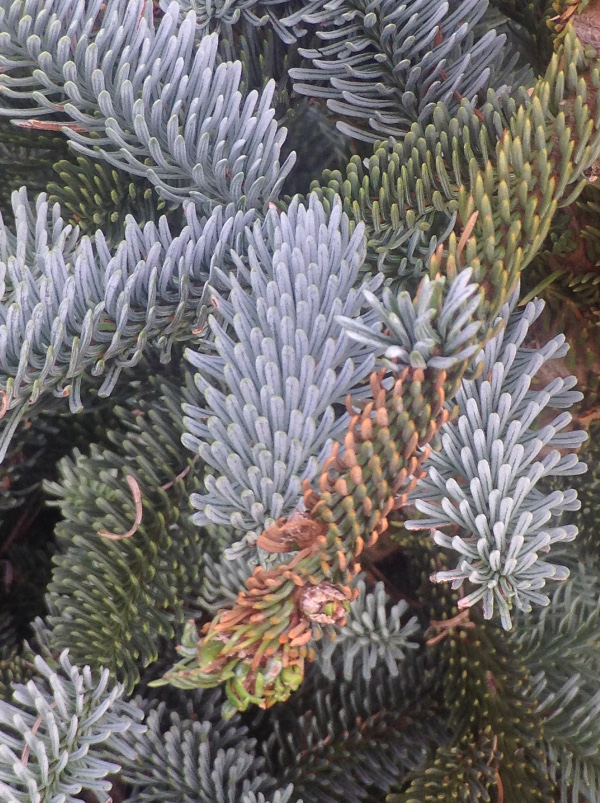 Abies procrera "Glauca Prostrata" Prostrate Noble fir, Coastal Maine Botanical Gardens. Such attention to color and texture…
If you enjoy Water Cooler, please consider tipping and click the hat. This is turning into a tough month, and I need to keep my server up!