By Lambert Strether of Corrente.
Readers, in the server hoopla today, WordPress informs me that Water Cooler "Missed Schedule," and I was on the road. Here it is. –Lambert
2016
The Voters
Quinnipiac: "A total of 71 percent of American voters are "dissatisfied" with the way things are going in the nation today, including 41 percent who are "very dissatisfied," according to a Quinnipiac University National poll released today. Only 2 percent are "very satisfied," with 26 percent "somewhat satisfied" [Quinnipiac].

"But what really fuels the turbulent nature of early primaries is the fact that the majority of Americans are simply not yet paying any attention to the race. When only the hardest of the hard-core partisans are engaged, political actors outside of the mainstream can easily grab the spotlight. They face far less sophisticated challengers than they will later in the campaign" [Daily Dot].

Iowa Republicans: "Combine Trump, Carson and Fiorina — three candidates who have never been elected to any public office — and their support accounts for 46 percent of the vote" [Des Moines Register]. "Part of what's driving their ballot share is a 'mad as hell' contingent. They're not just mad at Democrats: Three-fourths are frustrated with Republicans in Congress, with 54 percent unsatisfied and 21 percent mad as hell." Not The Onion!

"[I]f you are seeking precedents for this cycle, [1968]'s momentous presidential election is a good place to look." [Wall Street Journal, "Sanders, Trump et al: Partying Like It's 1968"].

"During the last three presidential cycles (2004, 2008, 2012), the winners of August didn't go on to capture the presidential nomination" [NBC News].
Policy
Headline: "Campaign Says Scott Walker Not Advocating Canada Border Wall" [Wall Street Journal]. Snicker. That's the sort of headline a campaign never likes to see…

Sanders: "I have, as I understand it, a lifetime voting record from the NRA of D-minus" [Alternet]. I'd prefer F….

"Though Biden has reportedly sought her favor, Warren has historically disdained, charging him with acting as a tool of the credit card industry by limiting debt relief for people grappling with financial troubles" [International Business Times]. And Warren is right. "As a Harvard law professor in 2002, Warren published a journal article excoriating Biden for playing a leading role in delivering legislation that made it more difficult for Americans to reduce debts through bankruptcy filings."
The Trail
O'Malley press release on the Democratic debates: "The first section presses his case against the 'unprecedented,' 'rigged process' for allowing only six presidential candidate debates. O'Malley noted that just four debates are scheduled before the early caucuses and primaries, and 'the New Hampshire debate is cynically wedged into the high point of the holiday shopping season so as few people watch it as possible' [Bleeding Heartland]. Why don't Sanders, O'Malley, and Chaffee ask the League of Women Voters to sponsor some Presidential debates again, and then ask Clinton and Biden to join the fun? This is shamelessly corrupt and manipulative, even by DNC standards.

Pat Kennedy as Clinton fixer of last resort [The Ghost of Tom Joad].

"[T]he new doc­u­ments [in the latest Clinton email dump] show that the power­ful suf­fer from the same an­noy­ances and con­fu­sion as every­one else" [National Journal]. Human, all too human…

"Amid the continuing toll of his son Beau's untimely death, hurling himself into a campaign promises more trouble and hurt. But saying 'no' would entail its own grieving process, as the lifelong pol closed the door for good on his political career, without having achieved his life's goal" [The Atlantic]. Oh puh-leeze.

Trump releases video (not a TV ad, mind you): "In the video, Bush is shown saying in a 2014 interview that illegal immigration is 'not a felony' but rather an 'act of love'" [AP]. "The Trump campaign's short video, posted on Instagram, concludes with block letters on a black screen saying: 'Forget love. It's time to get tough.'" Ouch.

"Trump has never filed for personal bankruptcy. But he has filed four business bankruptcies, which Bankruptcy.com says makes Trump the top filer in recent decades. All of them were centered around casinos he used to own in Atlantic City. They were all Chapter 11 restructurings, which lets a company stay in business while shedding debt it owes to banks, employees and suppliers" [CNN]. Which students, the poor schlubs, can't do…

"What's happening with Trump in the polls is unusual by recent standards. No one who wasn't leading earlier in the year has gained and sustained a lead for this long — at least since 2008, which isn't a lot of data to work with" [WaPo].

"A small Mon­mouth Uni­versity poll Monday showed Car­son tied with Trump among likely Iowa caucus­go­ers, and his fa­vor­ab­il­ity has soared to 81 per­cent com­pared to Trump, who sits at 52 per­cent. A Bloomberg Polit­ics/Des Moines Re­gister poll showed a sim­il­ar trend over the week­end, with Car­son trail­ing Trump by just 5 points. It's a sub­stan­tial rise for the neur­o­lo­gist, who was in third place in Iowa just weeks be­fore the first Re­pub­lic­an de­bate" [National Journal].
Stats Watch
Readers, I am traveling today, and so there will not be summaries of Motor Vehicle Sales, Gallup US ECI, PMI Manufacturing Index, or ISM Manufacturing Index, since I am hitting the road before they come out. Talk amongst yourselves!
"In the decade to 2010, a growing share of U.S. exports went to China, from less than 2% to more than 7%. Then the trend stalled. The share climbed again in 2014 and has since declined" [Wall Street Journal, "Warning Signs in U.S. Presaged China's Stock-Market Plunge "]. "Goods produced in the U.S. that are popular with the Chinese middle class, such as almonds or California wines, weren't posting the surging increases [Jock O'Connell, a trade adviser in California,] expected. Warning signals on the ground, however, weren't easy to spot. The ports on the U.S. West Coast had been choked with congestion because of logistical tangles in the shipping industry and labor unrest. When those issues were resolved this spring, trade didn't bounce back."
"Citigroup plans to rebuild its long-neglected equities franchise seeking to capitalize on a retrenchment by rivals in the face of new rules designed to make the financial system less risky, according to people familiar with the bank's plans" [Reuters].
Mr. Market
"Wang Xiaolu of Caijing magazine was seen asking for leniency on state broadcaster CCTV on Monday as he "confessed" to writing an "irresponsible" report about the government's possible withdrawal of market saving funds last month" [Hong Kong Free Press].
"[M]arket moves need to be severe and long-lasting to make a real difference. The 1987 crash, for instance, saw stocks drop more than twenty-two per cent in a single day. Yet it had no measurable impact on corporate investment, and only a short-lived effect on consumer spending" [The New Yorker].
Black Injustice Tipping Point
"Early Monday, a Black Lives Matter spokesperson sent a statement to reporters about the carefully worded DNC resolution: While the organization applauded 'political change towards making the world safer' for blacks in America, that the organization's only endorsement 'goes to the protest movement we've built together with Black people nationwide — not the self-interested candidates, parties, or political machine seeking our vote'" [Buzzfeed]. Headline: "Sources: Democrats Blindsided By #BlackLivesMatter Statement Knocking Resolution." Why, the ingratitude. After all that Obama did… After all that Obama… After Obama…
Important article from Adolph Reed Jr*., Michael Francis, Steve Striffler: "What separates New Orleans from other cities is that the attack on public investment, and the promotion of an unregulated private sector, contributed to the greatest disaster in US history. Calls to fix the levees and invest in infrastructure prior to Katrina went unheeded, as did warnings from scientists that climate change would lead to larger storms, and that the destruction of Louisiana wetlands had weakened the region's natural defenses. What was needed was precisely what powerful interests would not allow: adequate public investment in the levee system; state regulations to protect our wetlands; and a public commitment to housing, healthcare, education and the economy that would have left more of us prepared for a disaster in the first place" [Common Dreams]. "And yet, if Hurricane Katrina delivered a hard lesson about the consequences of gutting public investment, we certainly did not apply this wisdom to the recovery. Instead, we doubled down." Making it all the more remarkable, or not, that on Katrina, DNC uber-insider and Obama apparatchik Donna Brazile says Bush "got it right."
* The great Adolph Reed Jr., whose call on Obama was one of the earliest.
"Black man pulled over for making 'direct eye contact' with Ohio police officer [New York Daily News] "The two agree to 'a conversation' after controversy (WARNING: GRAPHIC LANGUAGE)." Don't make eye contact, don't ask for help, never, ever call 911…
Corruption
"[California Public Employees' Retirement System and California State Teachers' Retirement System] joined the drive for Bank of America Corp. shareholders to oppose a corporate bylaw change that would let Brian Moynihan serve as both chief executive and chairman" [Wall Street Journal, "Calpers, Calstrs Want Bank of America to Separate Roles of Chairman, CEO"]. CalPERS needs to buff its halo a lot more than that.
"The city of Chicago has joined a lawsuit against Redflex, an Australian company that sold the city red light cameras starting in 2003" [Ars Technica]. "The suit alleges (PDF) that Redflex bribed a former Department of Transportation manager, John Bills, with $2 million in kickbacks to secure contracts with the city. The debacle has already resulted in corruption convictions, and the company's CEO, Karen Finley, pleaded guilty to bribery earlier this year." I really like the idea of Chicago suing somebody for corrupting them.
Dear Old Blighty
If you want to see an example of an entire press corps and most of the political class clutching their pearls and heading for the fainting couch, search on "Corbyn" in Google News. Astonishing. Here are some links that don't seem utterly contaminated.
Corbyn at the Notting Hill carnival (pictures) [Metro]. I'm not seeing any fangs….
"In a fortnight's time, if opinion polls and most other available evidence are to be believed, Jeremy Corbyn will be elected leader of the Labour party" [Guardian]. "Beyond that, however, Corbyn faces a huge organisational challenge when he has to assemble a coherent leadership team that can harness the unstructured popular movement that has formed around him, outside Westminster." Read the whole article, which is reasonably non-screechy. Like Tsipras, Corbyn saw power lying in the street and picked it up; kudos! But how will Corbyn exercise power, if and when he wins the leadership contest?
"George Osborne has announced more than £500m of funding for the Royal Navy's submarine base at Faslane [in Scotland], the home of Britain's Trident nuclear deterrent" [Guardian]. "The chancellor said the move would create thousands of jobs, and claimed that a Labour party led by Jeremy Corbyn would pose a threat to national security by undermining the future of Trident." I'm sure that using defense policy to intervene in a Labour leadership contest will greatly enhance Tory credibility on national security. And that's what they're doing when Corbyn is running. What will they do if he wins? Fire off a few missiles, Kim Jong-un-style?
"Jeremy Corbyn is under fire for describing Bin Laden's death as a "tragedy" in the Sun, but what did the Labour leadership frontrunner really say?" [Spectator]. "This was an assassination attempt, and is yet another tragedy, upon a tragedy, upon a tragedy. The World Trade Center was a tragedy, the attack on Afghanistan was a tragedy, the war in Iraq was a tragedy. Tens of thousands of people have died." He also added that it was his preference that Osama Bin Laden be put on trial, a view shared by, among other people, Barack Obama and Boris Johnson.
"Former Lib Dem leader said the same thing as Jeremy Corbyn about Bin Laden's killing" [Independent].
"The ranks of the East Devon's Labour Party have swelled by almost 200 per cent in just ten days. And it is all down to the popularity of leadership candidate, Jeremy Corbyn, according to constituency secretary Ray Davison" [Exmouth Journal]. "Mr Davison added: "I would very much support the public ownership of the utilities and the railways and an end to NHS privatisation and I think that would be very popular indeed."
"The collective memory in UK politics is lengthy, extending back over two generations and the best evidence for this is the rare incidence of radical change" [International Business Times]. "The reasons for this two generation gap could include risk aversion: the population as a whole could be much more risk averse than – to take the best parallel example – the financial markets, where the collective memory appears to be around seven years, which is the standard length of the boom to bust cycle."
Our Famously Free Press
"Tampa Bay Times' investigation is a model for how to report on school resegregation" [Columbia Journalism Review].
Police State
"Government officials in Amherst County, Virginia can now require employers to fire any ex-con" [WaPo].
"A former Union City police officer, twice cleared of shooting and killing an unarmed teen, is now under investigation once again, after another department fired him for lying" [WSB, Atlanta].
Imperial Collapse Watch
"Petraeus: Use Al Qaeda Fighters to Beat ISIS" [Daily Beast]. Oh no. You dinnint.
"[Autonomous Vehicles] are the greatest force multiplier to emerge in decades for criminals and terrorists" [Medium]. "A future Timothy McVeigh will not need to drive a truck full of fertilizer to the place he intends to detonate it. A burner email account, a prepaid debit card purchased with cash, and an account, tied to that burner email, with an AV car service will get him a long way to being able to place explosives near crowds, without ever being there himself. How will law enforcement solve physical, violent crimes committed by people who were never at the scene of the crime?" Now there's a happy thought!
Wretched Excess
"Then when my own kids were 8 and 10 I realized I was still cutting their meat" [NPR]. Somehow I don't think poor kids have problems with overparenting.
Class Warfare
"Wal-Mart's low-income shoppers are still struggling as the U.S. economy goes through a sluggish recovery, though lower gas prices are helping somewhat. The company also faces increasing competition from online king Amazon.com and from dollar stores, which are pulling in shoppers seeking low prices and convenience" [AP]. This is the greatest recovery ever. What's wrong with AP?
"Large-scale social movements need ways to convey their 'value' and 'meaning' through images which reflect the scale and message of the event, to be distributed via social media platforms" [Asia Pacific]. Hence, the panoramic crowd shot from a drone high in the air. "As you can see, when done well, filling the image is the key, conveying a protest bursting at the seams; as is colour, showing a crowd united in the common cause. It perhaps gives some idea as to why the Malaysian government banned the Bersih yellow t-shirt."
News of the Wired
Lifesaving scientists [Science Heroes]. Number one lifesaver: Fritz Haber (synthetic fertilizer). Hmm….
"Human error is behind many avalanche deaths" [Nature]. "[I]mproper camp placement in high-risk areas and lack of good avalanche forecasting explained about 75% of the deaths."
"Who Won Science Fiction's Hugo Awards, and Why It Matters" [Wired]. George R.R. Martin: "The reward for popularity is popularity! It's truckloads of money! Do you need the trophy, too?"
"Companies are in no rush to untangle themselves from six decades of Cobol programming" [Telegraph].
BMW "is looking to go all-electric over the next 10 years due to the upcoming stricter carbon emission laws. Virtually every BMW model would be converted to electric drivetrains, including range-extending engines and plug-in hybrids" [NASDAQ].
"Carbon dating of a fragment from a Koran stored at a Birmingham library suggests that the book was produced between 568 and 645 A.D., said scientists at the University of Oxford, but Islamic scholars generally believe Muhammad lived between 570 and 632 A.D." [Raw Story].
"Otaku have been fond of body pillows for quite some time, as printed pillowcases allow them to literally sleep with their favorite character. But Koichi is taking the craze a step further. His product, Itaspo, uses sophisticated sensors that – when touched – allow the pillow to talk" [Tech in Asia].
"Regardless of how complex our self feels to us – with its conceptual and autobiographical aspects – autoscopic phenomena are showing us that it all begins with the body" [BBC]. And that, my friends, is why concrete material benefits are important in politics. Or deprivations.
* * *
Readers, feel free to contact me with (a) links, and even better (b) sources I should curate regularly, and (c) to find out how to send me images of plants. Vegetables are fine! Fungi are deemed to be honorary plants! See the previous Water Cooler (with plant) here. And here's today's plant: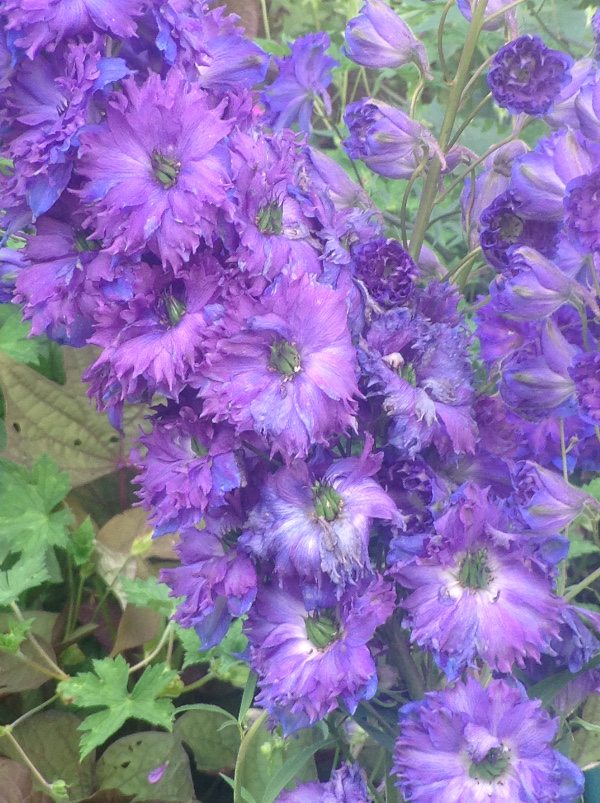 Delphiniums, Coastal Maine Botantical Gardens.
If you enjoy Water Cooler, please consider tipping and click the hat. This is turning into a tough month, and I need to keep my server up!