By Lambert Strether of Corrente.
2016
The Voters
"Clinton's trip [to Puerto Rico] is designed to project the sense to this politically potent group that Clinton takes the territory's troubles seriously. She has already called for the federal government to take steps to ease Puerto Rico's debt crisis, and on Friday she will sit with local residents to hear about the island's healthcare problems amid its economic downturn" [Politico].
Policy
"Sen. Rand Paul (R-Ky.) said Thursday that it is 'absurd to put someone in jail for exercising their religious liberties.' Sen. Ted Cruz (R-Tex.) called on 'every lover of liberty to stand with Kim Davis.' Former Arkansas governor Mike Huckabee (R) was equally effusive" [WaPo]. Cf. Matt 23:13-14.

Paul: "A lot of people have talked about this for years — why not just privatize marriage? Have it in the churches, and people will just go to definition they agree with" [Raw Story]. Actually, I agree (as long as any tax implications or public services are driven by a license from the State, as opposed to whatever The God(ess)(e)(s) Of Your Choice, If Any, think marriage is.
The Trail
Clinton on email in Andrea Mitchell interview: "At the end of the day, I am sorry that this has been confusing to people and has raised a lot of questions, but there are answers to all these questions" [CNN]. "And I take responsibility and it wasn't the best choice." Yeah, the best choice is not for a public official to privatize their email, since mixing of public means and private ends is the very definition of corruption. And then there's this:

CLINTON: I started out listening because I think you can come with your own ideas and you can wave your arms and give a speech, but at the end of the day, are you connecting with and really hearing?

That's not even grammatical. Connecting with whom, and hearing what, from whom? Not to mention an existential issue for Democrats.

Trump oppo: "Donald Trump's oppo file is going to be the most magnificent document in history" [CNN]. From a colorful character, disciple of Lee Atwater…

Trump: "New Gallup data released Friday shows that Trump's net favorability rating — the difference between the percentage of people who view him favorably vs. unfavorably — jumped 16 points in just the past couple of weeks" [Business Insider].

Trump: "I will be so good at the military, your head will spin" [New York Times]. Cancel the F-35?

"GOP presidential front-runner Donald Trump will deliver an address on national security and veterans' issues from the USS Iowa, a retired battleship, on Sept. 15" (picture) [The Hill]. I still don't get what's with the white shoes. I'm not seeing golf cleats, and Trump's not a nurse, so WTF?

"Hillary Clinton's presidential campaign plans to spend more than $4 million reserving ad time in Iowa and New Hampshire throughout September and October, aides said Thursday" [CNN]. Christmas comes early for Big Media…
Stats Watch
Employment Situation, August 2015: "The unemployment rate fell 2 tenths to 5.1 percent which is below the low end estimate and the lowest of the recovery, since April 2008. And wages are strong. Debate will definitely be lively at the September 17 FOMC!" [Bloomberg]. "The participation rate remains low, unchanged at 62.6 percent." "Seasonality, especially the timing of the beginning of the school year, always plays an outsized role in August employment data which are often revised higher. Policy makers are certain to take this into consideration at this month's FOMC. There's something for everybody in this report which won't likely settle expectations whether the Fed lifts off or not this month."
But: "The unadjusted jobs added month-over-month was well below normal for times of economic expansion – and the worst since the end of the Great Recession. Hey, if the kids were not going back to school (teachers being hired) – this report would have been a disaster" [Econintersect].And: "Job growth came in below expectations" [Jared Bernstein].
Then again: "This was a decent employment report with 173,000 jobs added, and employment gains for June and July were revised up" [Calculated Risk].
"While the drop in unemployment in the August report is encouraging, the overall report is not especially positive. There is no evidence that wage growth is accelerating and there is a real risk that employment growth is slowing. The big question is whether the 140,000 private sector job growth in August is the new trend or whether it was weakened by the strong growth in prior months" [CEPR].
The Fed: "The data offers a mixed bag for Federal Reserve officials as they contemplate raising interest rates for the first time since 2006" [Wall Street Journal, "Economists React to the August Jobs Report: 'A September Rate Hike Is Basically a Coin Flip'"].
The Fed: "If markets continue to oscillate — as they did Friday and in recent weeks — the Fed will be forced to delay a rate hike, unless it wishes to test the robustness of the global financial system and risk damaging fragile and tentative real global economic activity" [Mohammed El-Erian, Bloomberg].
The Fed: "**Lacker [here], Unlikely Any 'One-Month Blip' In August Jobs Report To 'Materially Alter' Labor Market Picture, Monetary Policy <<Across the Curve].
The Fed: "Thus, for the closely watched Fed decision as to whether they will begin their rate-raising campaign later this month, today's report poses a bit of a dilemma. The unemployment rate says 'raise!' The payroll number says 'hold!' What's the Fed to do?" [Jared Bernstein]. "We're clearly not at full employment so, especially given the absence of price and wage pressures, the correct answer is to hold for now. … Either way, for a data-driven Fed, it's the same answer. For a Fed driven by other stuff—emotions, ennui, nervousness ("let's just raise the damn thing already and break the suspense!"), nightmares from the late 1970s, or whatever…well, that's a different story."
The Fed: "Central bankers from around the world are telling their American counterparts that they are ready for a U.S. interest rate hike and would prefer that the Federal Reserve make the move without further ado" [Guardian].
Black Injustice Tipping Point
"After Katrina, the second line became a symbol of New Orleans' resilience. But the survival of the parades—and the neighborhoods the revelers called home—is far from assured" [Slate]. It's like the people "rebuilding" New Orleans want to destroy everything that makes New Orleans New Orleans.
"An SPLC lawsuit in Montgomery, Ala., has stopped the jailing of indigent people who can't pay traffic fines – a modern-day version of debtors' prison that is finding new life across America" [Southern Poverty Law Center].
"Police in Texas Hospital Shoot Patient in the Chest" [Truthout].
How the new Texas public school textbooks write about slavery and race [Jezebel].
"I'm a black activist. Here's what people get wrong about Black Lives Matter" [Vox]. "When we try to make sense of history, especially the history of capital-M Movements, we tend to mythologize a single-minded march toward justice. But the civil rights movement was diverse. There was a dominant theme, but there was dissonance, too. There was competition. There was strife."
"Why Miley Cyrus shouldn't tell Nicki Minaj how to talk about race" [Daily Dot]. Sure, entertainment, but aren't a lot of these issues fought ought in that arena?
"In Praise of the Radical and Unapologetic Nicki Minaj" [Elle].
Police State
"[LA's body cam] policy — approved by the Police Commission's 3-1 vote in April — allows officers to review the footage before writing reports or giving statements to internal investigators" [Los Angeles Times].
"Police beat Washington Heights basketball player on crutches, severely injuring his Achilles tendon: suit (VIDEO)" [New York Daily News]. And: "3 California deputies charged in beating of man after horseback pursuit" [New York Daily News].
A police officer accused of shooting his own car 'to concoct a story that he was fired upon' may face charges" [Business Insider].
Canada
"Canada in recession a field day for opposition" [Toronto Star].
"Liberals and NDP promise marijuana reform but pot crimes could still haunt Canadians for decades" [The Straight].
Gaia
"Earlier this week, the California State Assembly approved a bill that would order the state's employee pension funds to eliminate investments in companies that make the majority of their revenue from coal. The bill has already passed the State Senate, and if signed by Governor Jerry Brown, it will make California the first state to take this step" [Ars Technica].
"A key instrument on a $1 billion NASA satellite has failed, reducing scientists' ability to capture data to measure the moisture in Earth's soil in order to improve flood forecasting and monitor climate change, officials said on Thursday" [Reuters].
"'Organic' has essentially become another way of saying 'luxury'" [Quartz].
As a study in the Proceedings of the National Academy of Sciences found, the "premium" markup on organic food is 29-32%, when only a 5-7% markup would be needed to break even—making organic farms more profitable than conventional ones.
TTP/TTiP/TISA
"In the case of TTIP, the Faculty of Public Health (FPH) has identified numerous risks to public health and potential conflicts with the policies called for in its recent manifesto" [Journal of Public Health]. "The 1995 Sanitary and Phytosanitary Standards (SPS) Agreement, a key element of the WTO regime, has already been used to challenge European health and safety regulations, notably in the area of hormone-treated meat for human consumption. The European Commission, which negotiates TTIP on behalf of EU member countries, is promoting 'SPS-plus' provisions that go far beyond those in the 1995 agreement."
"[T]he corporate transparency nerds of Corporate Europe Observatory finally received documents on exchanges between the tobacco lobby and the Brussels institution concerning TTIP and the EU-Japan trade talks. The punchline of the story? Most of the documents were redacted" [Guardian].
Corruption
"New York Gov. Cuomo Silent On Effort To Force General Electric To Clean Up Its Pollution From Hudson" [International Business Times].
Wretched Excess
"Eyewitnesses at [the Four Seasons] have seen crates of gilded furniture and accessories being wheeled into the posh hotel over the past several days, culminating in a home-away-from-home fit for the billionaire Saudi monarch," King Salman bin Abdulaziz of Saudi Arabia [Politico].
"UW, Alaska Airlines agree to naming-rights deal for Husky Stadium's field" [Seattle Times]. Another football program with a college attached…
Class Warfare
"In Search of Our First Trillionaire" [Too Much Online]. Interesting discussion of the power curve in wealth distribution.
"On July 22nd, Facebook filed a new patent for a product the company could sell to creditors to analyze someone's creditworthiness based on their social network" [Shadowproof]. "It is also worth noting that the methodology for this product is most useful if social networks are highly class stratified. Indeed, Facebook and its potential enterprise customers are literally banking on someone's social media network accurately reflecting their economic status — that those of high creditworthiness primarily associate with others of high creditworthiness and that those of low creditworthiness primarily associate with others of low creditworthiness."
"Federal workers launch White House petition for a 'meaningful pay raise' above 1.3 percent Obama is giving" [WaPo].
"Of all the incidents in which someone died at work in 2013, 9 percent were due to homicides, according to the Bureau of Labor Statistics' most recent data. In total, 397 people were murdered while at work. That's more than were killed by fires and explosions, getting caught in equipment or machinery, and exposure to harmful substances combined" [Think Progress].
News of the Wired
"Mountain Jane Doe and more than 10,000 others like her make up a bleak national list of people found deceased without an identity. The FBI estimates there are some 80,000 people missing on any given day" [Reveal].
"Survey: More than 1,050 University of Kentucky students sexually assaulted in one year" [Lexington Herald-Leader].
"Britain's Atlantis: Scientific study beneath North Sea could revolutionise how we see the past" [Independent].
"Scientists discover that the world contains dramatically more trees than previously thought" [WaPo].
"An Interactive Guide to Ambiguous Grammar" [McSweeney's]. When reading the news, always look for lack of agency!
* * *
Readers, feel free to contact me with (a) links, and even better (b) sources I should curate regularly, and (c) to find out how to send me images of plants. Vegetables are fine! Fungi are deemed to be honorary plants! See the previous Water Cooler (with plant) here. And here's today's plant: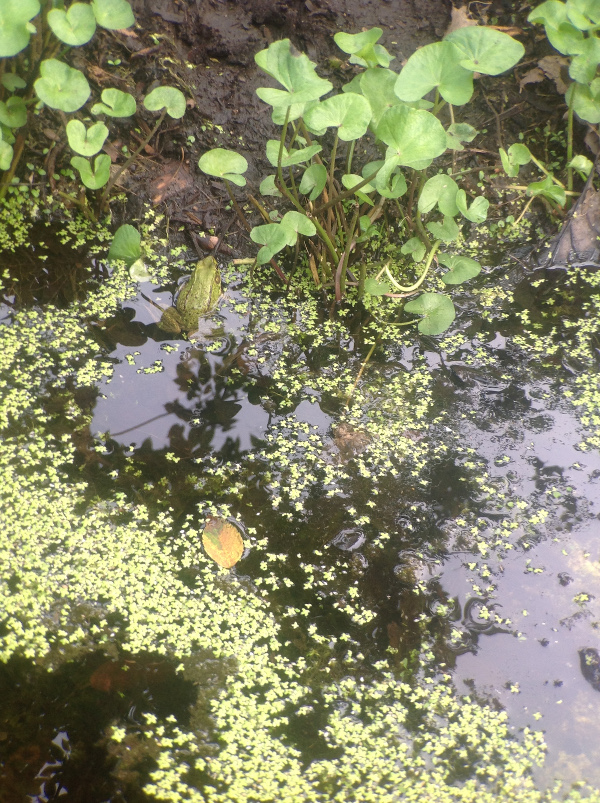 It's easy being green… If you're a plant! From the Coastal Maine Botanical Gardens.
If you enjoy Water Cooler, please consider tipping and click the hat. This is turning into a tough month, and I need to keep my server up!