Readers: I'm sorry that a version of this post appeared prematurely. My router problems have intensified.
By Lambert Strether of Corrente.
British politics is to American politics as cricket is to baseball. At least to me, since I know a little about the former, and almost nothing about the latter! But that won't stop me from projecting my American rooting interests onto the British game, since who, after alll, does not rejoice in the humiliation of Tony Blair? However, since I have little deep analytically to add, I'm going to do a big round-up, and hopefully readers who know more will speak up in commments.
From the 30,000-foot level, however, where baseball and cricket are both games played (properly) on grass with people pitching, batting, catching, running about, and scoring, I think Senator and Presidential candidate Bernie Sanders is spot on. Sanders:
"I am delighted to see that the British Labour Party has elected Jeremy Corbyn as its new leader. We need leadership in every country in the world which ."
Ding ding ding ding ding! We have a winner. And from the other side of the pond, and a lot of other sides, too, squillionaire servant Marc Andreesson gets the same message Sanders does:
Interesting background color choice. ? pic.twitter.com/uSteFwfrCU

— Marc Andreessen (@pmarca) September 12, 2015
With prize for best smiley-not-smiley ever. So that's the story. Now to the detail.
Corbyn's Victory Speech
Here's a video of Corbyn's victory speech:
And here's the transcript. I made a word cloud from the text: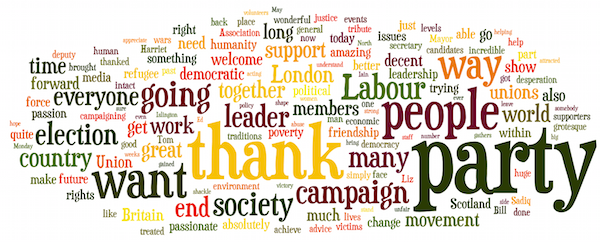 The word cloud shows what a reading of the transcript will confirm: Lots of "thank you," lots of "party," lots of what "Labour" "people" "want." As a speaker, Corbyn does not enthrall, and this is not a policy stemwinder. But I like the conclusion:
It doesn't have to be unfair, poverty isn't inevitable, things can, and they will, change.
For 60% of Labour voters, this message struck the right note:
With 554,272 eligible voters and 422,664 votes cast, Corbyn won 251,417, or 59.5%. He received the votes of 121,751 members, 88,449 registered supporters and 41,217 affiliated supporters. Nearly 87% of the new £3 registered supporters voted for Corbyn and just under 50% of all party members.
And now there are more Labour voters than ever:
More than 15,000 people have joined Labour in the 24 hours since Jeremy Corbyn was elected leader, the party said.
So much for Blairism and the Blairites. At least for now.
The Press Goes Bonkers
To me the single most amazing feature of the Corbyn victory — other than the victory itself — was watching the press, on both sides of the pond, go utterly bonkers. Or rather, rip off the mask. Let's not forget that they are always this bonkers, at least when united by the fear of a common enemy. Here's a compendium of totally over-the-top headlines with some commentary on each:
Labour's disastrous choice Financial Times. Translated to American: The Democrats' disastrous choice Investor's Daily. Thanks for the disinterested, well-meant, humble advice!
Divisive Far-Leftist Corbyn Elected Leader of Britain's Labour Party in Landslide Slate. Wait, I thought being "divisive" was the whole point of having political parties in a "first past the post" system?
Divisive far-left lawmaker Jeremy Corbyn wins U.K.'s Labor Party election Los Angeles Times. Continuing the "divisive" theme. (Interestingly, some saner Times editor has now changed the headline to "Left-winger Jeremy Corbyn Swept in as Britain's Labor Party Leader," although the URL remains "la-fg-divisive-far-left-lawmaker-wins-uk-s-labour-leadership-race-20150912-story.html.")
Britain's newly-elected Labour leader Jeremy Corbyn divides partyroom, nation's press ABC Australia. Murdoch amplifies "divisive."
Marx admirer Corbyn elected UK opposition Labour leader Reuters. Translated to American, except not: Hayek admirer elected US opposition Republican leader UPI).
Great Britain's New Labour Party Leader Loves Karl Marx, Likes Hamas, and Hates Austerity The Atlantic. Who doesn't love them some austerity? For the Hamas theme, see below.
Labour Elects Far-Left Leader in British Politics Shake-Up NYT. Not "far" with respect to 60% of Labour voters, apparently.
Jez We Can: Far-left lawmaker Corbyn earns landslide victory in UK's Labour leadership race, calls for 'better society' in UK South China Morning Post. Continuing "far left." And a "better society." The nerve!
Corbyn's victory reveals Labour's revulsion with real voters Telegraph. Apparently, Corbyn's landslide was achieved with unreal voters. Odd.
Jeremy Corbyn Is Labour's 'Scorched Earth Policy' Time (!).
The Labour Party's Two Word Suicide Note Daily Beast (I!).
Anti-monarchy, anti-austerity and a defender of Putin, ISIS and Palestinian terrorists: The extraordinary socialist views of Britain's VERY radical new Labour Party leader Daily Mail. Reread the headlines that precede this one. Does the "respectable" press in seem all that different from the Daily Mail?
Jeremy Corbyn, the UK Labour Party's radical new leader, explained Vox. And the subhead:
Why are people so freaked out about Corbyn?
People? Which "people" are you talking about, Vox? And the explainer begins:
Saturday morning, some stunning news was announced: Jeremy Corbyn, a British MP from Islington North, won the election to be the next leader of the UK Labour Party.

This is an absolutely [sic] shock, even though recent polls had shown a Corbyn victory was likely: just a few months ago, oddsmakers gave Corbyn a 100:1 shot at winning control of Britain's left-wing opposition party.
So "stunning," apparently — despite the polls and a mountain of pre-election coverage that Corbyn had a comfortable lead — that Vox had to rush out its hot take without proper copy editing ("an absolutely shock").
Israel critic Corbyn wins UK Labor party race Jerusalem Post. It's worth expanding on this topic a little, given that "Hamas ZOMG!!!!" and "ISIS ZOMG!!!!!!!" will ooze across the Pond from Fleet Street up the Potomac and the Hudson soon enough: Our famously free press isn't giving Corbyn the same license to do a grip-and-grin with this or that foreign dignitary or potentate that all other political figures get, as The Intercept points out, drawing this contrast:
In any rational world, it would be far more scandalous for any politician to cross paths with George W. Bush than the mostly powerless figures with whom Corbyn's shared a stage. Bush, after all, committed the "supreme international crime" of "initiating a war of aggression" and instituted a worldwide torture regime.

Yet Tony Blair traveled to Dallas in 2013 to celebrate the opening of the George W. Bush Library with Bush's fellow war criminals. And here's Bill Clinton in 2014 yukking it up with Bush – who's now so close to Clinton that Bush calls him his "brother from another mother."
And since AIPAC doubtless needs a new round of funding after its humiliation over the Iran treaty — but don't they always? — expect the "Corbyn is an anti-semite" smear to be deployed quite soon.
The Corbyn Victory and the Overton Window
We might look at the universal press reaction to Corbyn's victory as a struggle for control over the Overton Window; that is, over the bounds of permissible, "main stream," "serious" discourse and hence, who defines the bounds of political possibility. As readers surely know, the Overton Window has been dragged steadily right since the neo-liberal dispensation began in the mid-70s, and some are now trying to drag it to the left (among them, Sanders).
For example, Corbyn wants to renationalize the railways; this is is portrayed as crazy pants stuff. In fact, as any British railway buff will tell you, there's been very substantial State involvement in the British rail system for more than a century, until the system was gutted by Dr. Beeching in the early 60s and then privatized thanks to Thatcherism. Not only that, the privatized system is expensive and sucky (though granted, an American accustomed to taking the Acela would see it as an improvement). All of which would explain why a majority of voters want what Corbyn wants:
The latest two YouGov Surveys indicate majority support for taking rail back into public ownership. Opposition to the idea has fallen from March to August.

The overwhelming reason for this is a belief that rail fares would go down as a result. For example a YouGov Survey of 2014 found the top three reasons for re-nationalising the railways were that:

Railways would be accountable to the taxpayer rather than shareholders;
Rail fares would go down;
It would be more cost effective overall.
So, renationalizing the railways isn't a "radical idea" (FT, "Renationalising Britain's railways would be folly"). It just isn't. It's a "serious" political possibility with a long history and supported by the majority of voters, even not by thought leaders at the FT[snarl] "Peasants!.
And if the Overton Window is defined by voters, then clearly Corbyn is smack dab in the middle of the "main stream," not only on rail but generally: He got a landslide 60% of the voter in a leadership contest for the main opposition party! However, if the Overton Window is defined by the press, the results are as you see: The press (to shift metaphors from baseball to football) has "thrown a flag"[1] and ruled Corbyn, his voters, and his policy proposal "out of bounds."
Partly this is because today's journalists — with honorable exceptions — view themselves as professionals, not working stiffs, and so they, courtier-like, will tend to suck up and kick down, Corbyn voters being very much down. Partly, however, any working journalist has a portfolio of narratives and received ideas to deploy, and it's always easier to rework on existing narrative than it is to create a new one. (They've got deadlines!) And when the Overton Window moves, and especially when it moves left, portfolios must change — or new journalists must be brought on. So careers– and, to be fair, hostages to fortune — are at stake. Hence the panic. What if my slot on [insert cable show here] disappears?
Whinging Blairites Flounce Off
Good riddance, say I. The Guardian:
Yvette Cooper led the group of shadow cabinet members declaring they could not serve under [Corbyn']s leadership [within two hours] after it emerged that the MP for Islington North had won 60% of the vote in the first round, winning in every part of the electoral college including among party members.
Fortunately, nobody is irreplaceable, at least according to Corbyn's deputy leader:
"What I do know from my own experience is that there's always someone else who can do a frontbench job.There's plenty of ambitious and talented people in the parliamentary Labour party."
The Torygraph Telegraph, in its post-election live blog, has a handy chart ("Who could be in Jeremy Corbyn's shadow cabinet?") of who has "refused to serve," and who is "tipped to remain."
All this said, and delicious schadenfreude at Blairite discomfort aside, we may be looking at Corbyn's first real test at exercising power after taking it; being able to fill a cabinet is surely an excellent initial test of organizational capability[2]. (Expect the press to go bonkers no matter who is chosen, of course.) And I hope Corbyn has his own Karl Rove (or, to put this another way, the kind of leadership team McGovern never had). He'll need not only to watch his back, but have people who can wield the knife themselves.
Curiosities of Party Mechanics
There are at least two curious institutional facts about Corbyn's victory. To begin, the Labour Party, as its name suggests, has always had an intensely symbiotic relationship with the British labor unions. And yet look at how party composition changed:
Only 71,000 affiliated union supporters voted in the leadership contest, the lowest number in the party's history and a decline that will be exploited by the government as it seeks to sever the party's financial links with the union movement with its forthcoming trade union bill.
Further, Corbyn's victory was enabled by Labour apparatchiks, and in two ways: First, a reform made it easy for anyone to join the party, people could pay £3 and vote in the leadership contest. Despite press panic about Tory and left-wing infiltration, and a smallish voter list purge, many thousands of new voters did pay up and did vote. Second,Labour leadership contests require a candidate to collect 35 votes from Labour MPs to get on the ballot; half of Corbyn's 36 votes came from MPs who didn't support his policies, but "wanted a more lively 'conversation' in the party." It looks like these MPs got more than they bargained for, and Corbyn's first test was that he saw power lying in the street and picked it up.
However, I would be remiss if I did not point out that on the fringes of the Twitter, there's a theory that Corbyn is a sheepdog, and that the fact that the Labour Party apparatus — as distinct from the Blairite frontbenchers –make his victory possible is adduced in support of it. To me, this seems like a theory that can't be disproved, and hence is not a theory. Parties must display adaptabity to survive — as America's Whigs did not, before the Civil War, and whose Democrats did, in the Great Depression, and whose Republicans did, under Nixon — and perhaps that is what Labour has done, with Corbyn.
Corbyn Biography
Here is Corbyn's biography at the BBC; and at the Torygraph. (Unmentioned: Corbyn is a huge Arsenal fan.)
For those looking to do a spot of oppo, or make calls on what the press will panic about next, our own Richard Smith has provided Google links on homeopathy, antisemitism (see above), Putin, and econmics.
Conclusion
It will be interesting to see if Corbyn's leadership victory in the UK presages a Sanders victory in our own 2016 Presidential primary. Despite projecting American politics onto British politics throughout this piece, I have no idea! Working in favor of this view: Political structures where tiny oligarchies rule, and voters matter only when they want what oligarchs want, seems almost universal world-wide. So, if you want a majority of the votes, run against the oligarchy, and if you want to split or tame the oligarchy, make that majority a super-majority, with cadres ready to do more than vote. Sanders seems to take this view, as does Corbyn. How that will play out globally, nation by nation, state by state, and precinct by precinct, I have no idea, and a Trump can tap into class resentment just as well as a Sanders.[3] We live in interesting times.
NOTES
[1] In fact, they've done more than "thrown a flag." They've shaken their tiny fists, stamped their feet, and thrown themselves on the ground, screaming.
[2] The charismatic, mediagenic, opportunistic, and duplicitous Yanis Varoufakis may join Corbyn in a rally tomorrow. Some staffer should warn Corbyn about that dude.
[3] Note that Syriza, despite some posturing, never framed its battle in class terms, as Sanders did.