Highlights Of Pope Francis' Speech To Congress Onion (David L)
Pig and Dog Best Friends Have Been Roaming the Florida Wilderness Together Gawker
When and Where to Watch This Weekend's Total Lunar Eclipse Wired
Kids Who Use Computers Heavily in School Have Lower Test Scores, Major Worldwide Study Finds Hechinger Report. We linked to an earlier report about this study, but this headline is clearer about the main finding.
The big step climate scientists can make to restart the climate change debate & win Fabius Maximus (resilc)
The Fake Traffic Schemes That Are Rotting the Internet Bloomberg (resilc)
Conservatives swing into lead, close in on majority government, new poll suggests Toronto Star
Oh Canada! Four in 10 Americans Want Wall on Northern Border Bloomberg (resilc). Huh?
China?
Macron calls for radical reform to save euro Financial Times
France signals EU treaty change to avert Brexit, warns on euro survival Ambrose Evans-Pritchard, Telegraph
Grexit?
Die Linke's Sarah Vagkenknecht: "I find it hard to congratulate SYRIZA" iskra, original Greek version here (Sid S)

Greek Police Are Under Investigation for Alledgedly 'Torturing' Teens Last Week VICE
Syraquistan
ISIS' cash-flow problem Business Insider (resilc)

Iran's Parchin nuclear myth begins to unravel Middle East Eye
Big Brother is Watching You Watch
NSA Director Admits that Letting Government Have Encryption Keys Leaves Us Vulnerable to Bad Guys George Washington

Homeland Security to create self-destructing 'brain chip' with Boeing and Android Daily Mail

"Snowden Treaty" Calls for End to Mass Surveillance, Protections for Whistleblowers Intercept
Imperial Collapse Watch
Shuttering the government actually costs more than keeping it open — more than $2 billion last time Washington Post
HealthCare.gov faulted for weak cybersecurity The Hill
U.S. Senate blocks Republican bill denying Planned Parenthood funds Reuters
The Vatican and the GOP: What Republican Casuistry Says About Pope Francis Pacific Standard
Daily Fantasy Sports and the Hidden Cost of America's Weird Gambling Laws New York Times
2016
Hillary Clinton Wants Poor Students to 'Work' for Tuition—Though Her Dad Paid Hers Alternet

Ex-HP CEO Fiorina used job-creating tax breaks to buy back stock — then fired thousands of workers Raw Story
Volkswagen
Kentucky Republican state Senator: the First Amendment protects my right to receive bribes Boing Boing (resilc)
Investors Are Mining for Water, the Next Hot Commodity New York Times. I had a friend who was a partner in a project in Southern Colorado in the late 1980s-1990s in which they bought the land over the second largest aquifer in the US, the Baca ranch, meaning they were decades ahead of their time. They should have made billions. Unfortunately, they hired the "best" law firm for perfecting their water rights. That firm represented municipalities, which meant when it showed up, the local farmers saw the developers as the bad guys, and mounted a successful fight to hold them off (this despite the developers having studies, which might actually have been genuine, showing that the amount of acre-feet they planned to lift annually would not deplete the water table. The aquifer was so large that it might have been possible to develop it "responsibly"). The net result was that my buddy had a negative net worth of $3 million at the age of 30. He was the sort that was able to earn his way out of his hole without declaring bankruptcy (although he also did stuff in his lean years like buying food stamps from winos at cents on the dollar).
High-Frequency Firms Dominate Treasury Trading in Near Secret Bloomberg
Yellen reiterates case for 2015 rate rise Financial Times
Durable Goods Orders Decline 2%, Led by Transportation; QE Bounce Effect is Over; Recession on the Way? Michael Shedlock
Surprising Data on Who Owns U.S. Firms and How Much They Pay in Taxes Wall Street Journal
The importance of global health investment Larry Summers, Financial Times
Class Warfare
The sharing economy is now a playground for Wall Street Gillian Tett, Financial Times

Maine Republican Demands Bill To Post Welfare Recipients' Addresses Online Gawker
Antidote du jour. We got a very nice note along with this image from reader Sam B. earlier in the week:
Naked Capitalism is the first place I go after pouring a cup of coffee in the morning and where I go in the evening after pouring a glass of wine. Attached is a picture of a tree frog at our winery yesterday, Beaton Farm, in Oregon.

Thank you very much for your effort.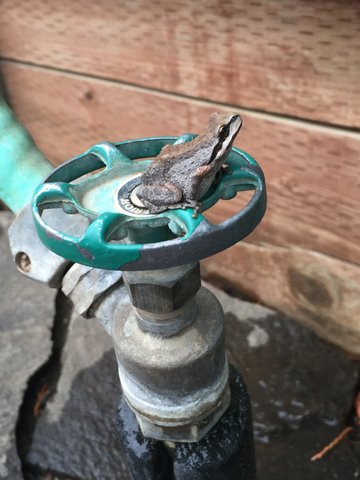 See yesterday's Links and Antidote du Jour here.