Yves here. As John Gapper describes in today's Financial Times, diesel engine manufacturers routinely gamed emissions tests, but Volkswagen was apparently the most extreme. From his article:
It has become so common to game European fuel efficiency tests with tricks such as taping up doors and overinflating tyres to curb drag that most diesel cars are less fuel-efficient and environmentally friendly than claimed. In the US, Ford was found to have fitted an illegal "defeat device" — the charge facing VW — to vans in 1997, and Hyundai and Kia were fined $100m last year for fixing their tests.
By Tom Kool, Deputy News Editor, OilPrice. Originally published at OilPrice
The outlook for diesel looks grim after U.S regulators found that the world's second biggest car manufacturer cheated on its emission tests.
Last Friday, the U.S. Environmental Protection Agency reported that Volkswagen violated the U.S Clean Air Act. The German auto maker deliberately rigged the so called emission control systems in several models of their cars in order to reduce nitrogen-oxide emissions when tested in the lab.
However, when tested on the road, the size of the 'diesel deception' proved to be bigger than many could have imagined. Bloomberg reported on September 22 that on an open road test both the 'Jetta' and 'Passat' models exceeded U.S nitrogen-oxide emissions standards by up to 35 times.
It was Volkswagen CEO Martin Winterkorn who admitted that the company 'betrayed the trust' of millions of people in a mea culpa on September 21. He announced his decision to resign two days later.
Winterkorn must have known his position was untenable after Volkswagen's stock lost around a third of its value in two days. According to Bloomberg, even the German government pressed for 'quick action.'
The company has already announced it will allocate $7.3 billion to deal with the costs of the emissions scandal. Whether this will be prove to be sufficient to pay for all the consequences remains to be seen. It is clear, however, that Volkswagen's reputation as a manufacturer of 'clean diesel' vehicles has taken a devastating hit.
Damage Report – Diesel Vehicles Could Result in Lower Demand for Diesel
The Volkswagen scandal is not just likely to cause damage upon the company itself, it might also cause damage to the rest of the industry, including parts manufacturers, and other car makers.
There is also the possibility that other car builders may have also manipulated tests.
Maybe even more important is the damage done to the image of diesel as a 'cleaner' fuel.
This image was shaped back in the 1990's as Volkswagen, along with other European car makers, started to pursue diesel innovations as the EU pressed to reduce CO2 emissions. It appears that regulators have opened their eyes to the fact that diesel is still not as clean as unleaded gasoline.
It is too early to predict exactly what the fallout will be for the automotive industry, but with the clean air debate intensifying globally, U.S and E.U regulators will now seek to impose stricter emission test guidelines.
Now that diesel is not as clean as it appeared and stricter emissions tests and perhaps even stricter regulation can be expected, one has to ask; does this mean the end of diesel for light vehicles?
"Yes, it probably does," Max Warburton, senior automotive industry analyst at Bernstein Research, said in an interview with the Wall Street Journal.
This is not just alarming for the automotive industry, but could also lead to a structural demand shift in fuel products.
That shift could not have come at a worse time for diesel.
As can be seen in the below chart, fuel stockpiles are building worldwide and ultralow-sulfur diesel futures are sinking back to yearly lows. In addition, the sales of light vehicles run on diesel is also tapering off in the U.S.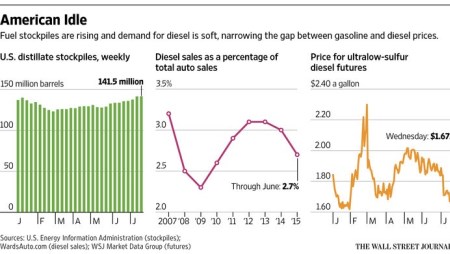 (Click to enlarge)
This second chart indicates that the US diesel retail price is also approaching its six year low.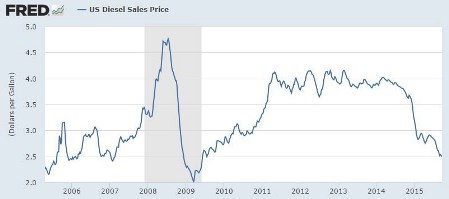 (Click to enlarge)
As can be seen from chart 1, diesel vehicle sales in the U.S only amount to 2.7 percent of total U.S auto sales. Diesel has had trouble penetrating the U.S. market. The VW scandal will ensure that it won't.
Diesel has Become Vulnerable
In Europe however, diesel forms a much bigger part of the total amount of fuels sold. Roughly half of all European demand for refined products consists of diesel. Mainly caused by a favorable tax regime in many European countries, diesel has gradually replaced gasoline as the major road fuel, as can be seen in chart 3 below.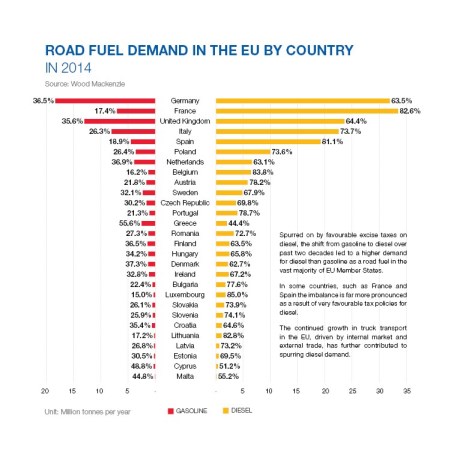 (Click to enlarge)
Needless to say, a change in tax policies, more stringent emissions tests and/or legislation will rapidly lead to a slowdown in new diesel vehicles sold.
And decision makers are in fact becoming more aware of hazardous emissions from diesel engines.
According to Viren Doshi, a senior partner in Strategy&, "There is increasing concern from the regulators around health issues linked to particulates in the air."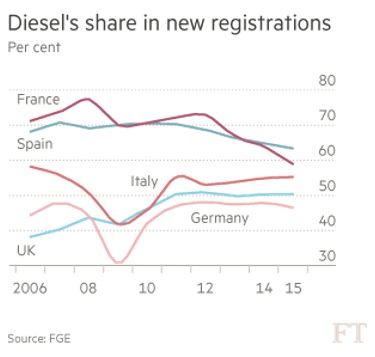 Already, diesel's share in new car registrations is falling in Europe's top 5 diesel consuming countries like France, Spain and Germany as can be seen in chart 4.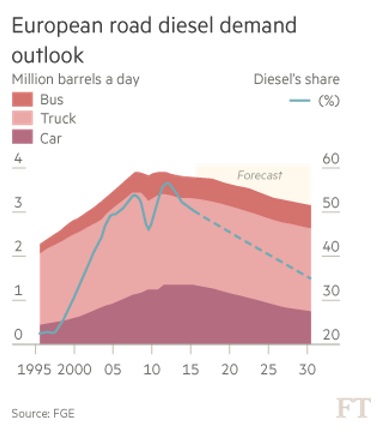 Chart 5  indicates that diesel is losing the battle against gasoline.
The explanation for the switch back to gasoline can be attributed to better fuel economy of gasoline run cars and the ongoing crude oil price slump which has increased the supply of unleaded gasoline.
Oliver Jakob, from oil consultancy Petromatrix merely sees the scandal at Volkswagen as a ''potential accelerator'' of a trend that has already started.
Not Just Volkswagen, but the Downstream Sector Could Also Lose
Even though a complete collapse of global diesel demand is unexpected, European diesel demand is bound to slow down in the coming years. The negative consequences of this transition in demand will mostly be felt by the downstream sector. In recent years, new refineries in Asia, the Middle East and Europe have invested significantly in converting heavier crudes into diesel. The global supply of diesel has turned into a glut. Over the past year, refiners have done well because of the improved margins due to cheap oil. However, refiners churning out diesel could find the market increasingly hostile as their product becomes subject to heightened scrutiny.