By Lambert Strether of Corrente.
2016
[Readers, I'll beef up this section a bit shortly! –lambert]
Policy
Sanders on Pope Francis: "I think the fundamental critique he is making of the hyper-capitalist society that we are seeing globally is something that is striking a strong resonance in the hearts of many of the progressive members of the Congress, and we applaud him very much" [Raw Story].

Trump on God: [Christian Broadcasting Network], and no, I'm not making this up:

Well I say God is the ultimate. You know you look at this? Here we are on the Pacific Ocean. How did I ever own this? I bought it fifteen years ago. I made one of the great deals they say ever. I have no more mortgage on it as I will certify and represent to you. And I was able to buy this and make a great deal. That's what I want to do for the country. Make great deals. We have to, we have to bring it back, but God is the ultimate. I mean God created this (points to his golf course and nature surrounding it), and here's the Pacific Ocean right behind us. So nobody, no thing, no there's nothing like God.

Frankly, I prefer this answer to what I'd get from Huckabee, Kasich, Cruz, etc. Or Clinton. Or Biden, if I may intrude on his very personal grief-milking process for a moment.

UPDATE "Jeb Bush pledged Tuesday to get rid of the FCC's net neutrality rules if he were elected president." [Daily Dot].

Clinton finally opposes Keystone Pipeline [Reuters].

UPDATE Abortion: "Analyses of baseline data from the current study illustrated the importance of differentiating negative emotions from decision regret. Although one-quarter of women experienced primarily negative emotions over one week post-abortion, 95% still felt that the abortion was the right decision" [PLOS One].
The Voters
CNN poll: "Female voters' support for the first-time candidate dropped 12 percentage points among likely GOP voters after last week's CNN debate, according to a CNN/ORC poll conducted Sept. 17-19. The poll has a margin of error of plus or minus 3%" [Wall Street Journal, "Many Republican Women Have Second Thoughts About Donald Trump"].
The Trail
"On Stephen Colbert's new "Late Show," Sanders willingly participated in a lightning-round Q&A on the issues, like Africa (he's for it) and kissing on a first date (sometimes). The skit was hilarious thanks to Sanders's dry delivery and stern face" [WaPo].

Sanders on his persona: "Me, grouchy?" [AP].

Bloomberg poll: "Clinton, once the prohibitive front-runner, is now the top choice of 33 percent of registered Democrats and those who lean Democrat, the poll shows. Biden places second with 25 percent and Vermont Senator Bernie Sanders is at 24 percent" [Bloomberg]. Still waiting for an answer on why Biden should run, other than the old punchline "Because he can." Where's Roger Mudd when we need him?

UPDATE Bloomberg poll: "It's like a meditative chant: 'Early polls are not predictive. Early polls are not predictive. Early polls are not predictive.' [WaPo]. But: "Or so harried Clinton staffers assure their Brooklyn Starbucks baristas. 'Just an early poll,' they say, peeking under the lid to ensure that they received the right amount of soy milk. But those assurances are really meant for themselves." Ouch!

UPDATE Nobody in Clinton's inner circle knew how to properly erase data from a computer? [New York Times, "Investigators Find Emails Hillary Clinton Said Were Erased"]. "F.B.I. investigators have recovered work-related and personal emails that Hillary Rodham Clinton said had been deleted from the server that housed the personal account she used exclusively when she was secretary of state, according to two government officials." No worries. I'm sure there's nothing about money laundering through the Clinton Foundation in there, and if there were, the Benghazi-addled Republicans wouldn't look for it, and if they found it, they couldn't explain it. Oh, for the days of Karl Rove, when the Republicans knew how to do more than hyperventilate, and could really gin up a scandal!

Walker debacle: [Former staffer Liz Mair] laid the majority of the blame on poor advice from campaign advisers who didn't know Walker well and didn't help him play to his political strengths" [Yahoo News]. Entertaining tweetstorm!

Trump's cease and desist letter to Club for Growth (!), annotated [WaPo].

UPDATE Fiorina on Clinton: "And so I never make a personal comment about Hillary Clinton — my criticism of her is fact-based, based on her actions and track record. And that is fair game" [The Hill]. Putting "Fact-based" aside, I'm glad to see that Fiorina understands that personal criticisms should be deployed by campaign surrogates, and not by candidates themselves.

UPDATE Fiorina will fade as she faces scrutiny, i.e. oppo [Slate]. "Already, BuzzFeed reports she was paid $48,000 for a speech to a bank that violated U.S. sanctions on Iran, and Bloomberg View reports that Fiorina's HP sold 'hundreds of millions of dollars' worth of products to Iran through a foreign subsidiary, despite strict U.S. export sanctions.'"
Stats
MBA Mortgage Applications, week of September 18, 2015: "Rate declines tied to last week's post-FOMC surge into the Treasury market likely drove prospective home buyers and existing home borrowers into the mortgage market" [Econoday]. "Today's report is pointing to a pickup for housing sales and is especially notable for how closely borrowers are reacting to FOMC activity." Hmm. "How closely borrowers are reacting." I wonder if there's a more vivid turn of phrase for that.
PMI Manufacturing Index Flash, September 2015: "Growth in Markit's manufacturing sample remains as slow as it's been since October 2013" [Econoday]. "Growth in new orders is the slowest since January with businesses citing caution among customers and subdued business conditions."
"The Federal Reserve Wednesday cleared the way for all banks to offer same-day transaction settlement a year from now but decided against forcing banks to provide less expensive immediacy which will remain the domain of credit card firms. [Market News].
Gaia
"What Should a Journalist Call Someone Who Doesn't Think Climate Change Is Real?" [National Journal]. Dicussion of changes to the AP Style Guide. Looks like a classic case of working the refs, to me.
Water
Ray's and Stark Bar, "a small upscale restaurant in the courtyard of the Los Angeles County Museum of Art (LACMA)," recently introduced "a sleek, 40-page water menu" (pdf) [Nautilus]. In the midst of a massive drought. Maybe I should have filed this under guillotine watch.
Unintended consequences of California water conservation: "Sanitation districts are yanking tree roots out of manholes and stepping up maintenance on their pipes to prevent corrosion and the spread of odors. And when people use less potable water, officials say, there's less wastewater available to recycle" [Los Angeles Times]. "Water suppliers, meanwhile, say the dramatic decrease in consumption has created multimillion-dollar revenue shortfalls."
"The Metropolitan Water District of Southern California is in talks with Los Angeles County sanitation districts about developing what could be one of the largest recycled water programs in the world" [Los Angeles Times].
"[T]he driest places on earth may be hiding massive water reserves which serve as enormous liquid carbon sinks" [Inhabitat]. "[D]eep beneath [Taklimakan, China's biggest desert,] lies a hidden 'ocean' that is thought to contain up to ten times more water than all the Great Lakes combined, storing more carbon than all the plants on the planet put together." What could go wrong?
Black Injustice Tipping Point
Post-#Ferguson reform push turns into ka-ching for body cams. [Reveal, back in May]. And taser data in the cloud!
Health Care
"Employers Cutting Health Benefits in Preparation for Obamacare's 'Cadillac' Tax" [National Journal]. NC readers knew this was coming.
"Third ACA sign-up period to focus on 10.5 million uninsured Americans" [WaPo]. What a record of failure, when Medicare was rolled out in a year, back in the days of punchcards, when computers were steam-driven, and programmers used crude stone tools. It would be a farce if people weren't suffering and dying because of it.
Corruption
Travis Kalanick: Glibertarian rent boy [Fast Company]. A very ugly story that shows how venture capital in the Valley really works. Trav should get together with Dave.
"Volkswagen's intentional fraud resulted in an extra 1,000,000 metric tons of air pollution being spewed into the skies over America; if they'd extended the con to Europe (where there are far more diesels), it would have been orders of magnitude worse" [Boing Boing]. " It's an almost unimaginably depraved act, and it's hard to believe that VW is the only company that tried this tactic — after all, it produced some pretty sweet profits." And:
There's only one remedy: after the C-suite has been led away in handcuffs, after the fines have been paid, kill the company. Don't let "too big to fail" be a license to destroy the planet. Break up its assets, have a receiver or special master apportion them to firms that are obligated to keep the maintenance and parts stream going, and wipe out the shareholders.

Do that and the next day, every institutional shareholder in every car company in the world will order fine-toothed audits of all manufacturing and firmware practices, with disclosure and remediation, along with termination for any exec complicit in similar cons.
Yes, I support the corporate death penalty. I finally decided to file this under Corruption, but in a neat illustration of how categories overlap, I could well have filed it under Gaia, or (because of how the deaths are, no doubt, distributed) under Class Warfare.
"[T]he White House now faces a first test of its recent directive instructing prosecutors to not merely target whole companies suspected of wrongdoing but to also focus their sights on individual executives at those firms. That shift — enshrined in a Justice Department memo — was issued only days before the EPA said Volkswagen violated federal environmental laws." [International Business Times]. "Enshrined." Pass the popcorn.
"The inquiry [into Malaysia's Prime Minister Najib], being run by a unit of the Justice Department that investigates international corruption, is focused on properties in the United States that were purchased in recent years by shell companies that belong to the prime minister's stepson as well as other real estate connected to a close family friend" [New York Times]. Hardly credible. I mean, that would imply that New York real estate is being used for money laundering by a class of post- and transnational squillionaire crooks. Garcon, more popcorn!
Class Warfare
"Wealth inequality has widened along racial, ethnic lines since end of Great Recession" [Pew Research].
News of the Wired
"Baseball, Linguistics Legend Yogi Berra Dies at Age 90" [Slate]. Not really "linguistics," Slate. Sheesh.
"The Real Roots of Those Famous Yogi Berra Quotes" [New York Times].
"5.6 Million Fingerprints Stolen in OPM Breach" [National Journal]. Well, so much for biometric data as a personal identifier.
Handedness is not random, geographically [WaPo]. And Maine is super left-handed, for some reason.
A look at NeoKylin, the OS the Chinese government wants to replace Windows ([sob. If only we could!] [Quartz]. It looks a lot like Windows, but "offers a Unix terminal, a telltale feature of a Linux system."
"Despite the hype, DNA testing may not reveal as much about yourself as you would hope" [Long and Short]. I'm not requesting that Jean-Baptiste Lamarck pick up the courtesy phone. At the same time, it seems reasonable that there are more ways for organisms to display and transmit adaptability across generations than DNA.
"Exclusive: Uber shakes up real estate market with massive purchase of Oakland's former Sears building" [San Francisco Business Journal].
"Meanwhile, the city has had some of the fastest-rising residential rents in the country with paltry construction of market-rate housing. Major residential and hotel projects still sit in the city's pipeline, and real estate insiders have reported that investors are still lukewarm about committing equity to Oakland projects. The presence of a globally known technology company will change that, Todd Vitzthum, a broker for Cushman & Wakefield, said last week.
So it will be interesting to see what non-gentrified Oakland thinks of all this.
"The rise, and rise, of literary annotation" [The New Republic]. As readers know, I'm a huge fan of annotation. The annotation business model would be: (a) stickiness, as readers stay longer to click the notes, and add notes themselves (perhaps), and (b) serving ads in the annoation popups.
* * *
Readers, feel free to contact me with (a) links, and even better (b) sources I should curate regularly, and (c) to find out how to send me images of plants. Vegetables are fine! Fungi are deemed to be honorary plants! See the previous Water Cooler (with plant) here. And here's today's plant (Adrian):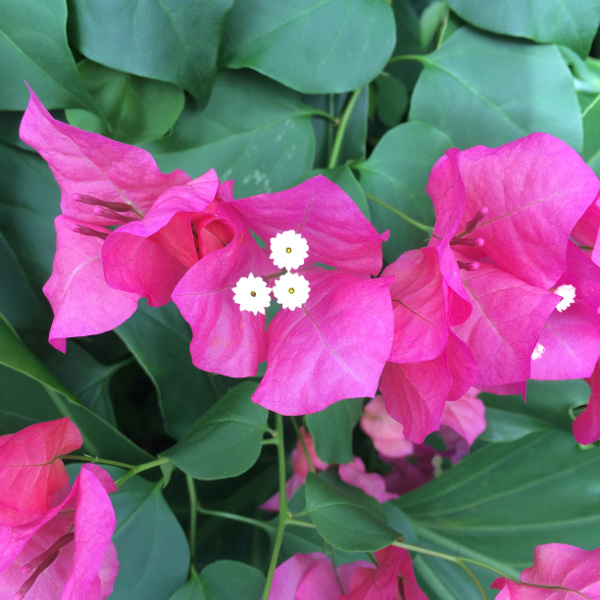 Adrian writes that this bougainvillea was from an exhibition: "All the plants Frida Kahlo had included in her paintings and which she grew herself at the Casa Azul."
If you enjoy Water Cooler, please consider tipping and click the hat. Winter is coming, I need to fix my laptop, and I need to keep my server up, too.