Yves here. Reader ifthethunderdontgetya™³²®© cited @ryanlcooper on a reason, in addition to the ones cited by Richter, why banks are champing at the bit for higher interest rates:
Say the Fed wanted to raise short-term interest rates to 1 percent, meaning that it did not want banks to lend at lower rates. Because the glut of reserves is so great, the Fed could not easily raise rates by reducing the availability of money. Instead, the Fed plans to pre-empt the market, paying banks 1 percent interest on reserves in their Fed accounts, so banks have little reason to lend at lower rates. "Why would you lend to anyone else when you can lend to the Fed?" Kevin Logan, chief United States economist at HSBC, asked rhetorically.

This is not a cheap trick. Since the crisis, the Fed has paid banks a token annual rate of 0.25 percent on reserves. Last year alone, that cost $6.7 billion that the Fed would have otherwise handed over to the Treasury. Paying 1 percent interest would cost four times as much. The Fed has sent roughly $500 billion to the Treasury since 2008. As the Fed raises rates, some projections show that it may not transfer a single dollar in some years. Instead, the Fed will pay banks tens of billions of dollars not to use the trillions it paid them previously.
It's also worth pointing out that financial firms historically have been losers in tightening cycles because they hold inventories of securities which fall in value as interest rates rise. In the past, they were inevitably net long. There simply was not enough hedging capacity for big dealers to go net short or simply flatten their positions. But Dodd Frank has forced dealers to cut their positions considerably, so the banks may feel they can make enough profit on having customers rearrange their lives (as in taking advantage of volatility) to offset losses on their OTC trading positions. i'd be curious to get informed reader views.
Now the Fed could use its reverse repo facility too, as reader craazyboy pointed out. But the Fed is already accounting for a significant portion of that market and may not want to become the repo market. Hence interest payments on reserves could be the Fed's first line of intervention.
Separately, I find the idea that the banks are having a hissy fit over the need to preserve their profits to be all too typical. The fact is we need a smaller financial system (and that means shrinkage in more than just the banks). More and more economic research has shown that larger financial services sectors are a drag on growth. So the outcome that financiers are trying to depict as a negative is actually one sorely to be wished.
By Wolf Richter, a San Francisco based executive, entrepreneur, start up specialist, and author, with extensive international work experience. Originally published at Wolf Street.
"Let me assure you, if the revenue environment weakens or interest-rate structures don't move up and the economy slows down, we'll have to take out more costs," Bank of America CEO Brian Moynihan said on Thursday at the Barclays Global Financial Services Conference. And that would mean more job cuts.
BofA is famous for whittling down its headcount in recent years. In Moynihan's 25-slide presentation, there was this chart that shows just how skillfully he has trimmed down his workforce, chopping it by 25% overall since the second quarter of 2011: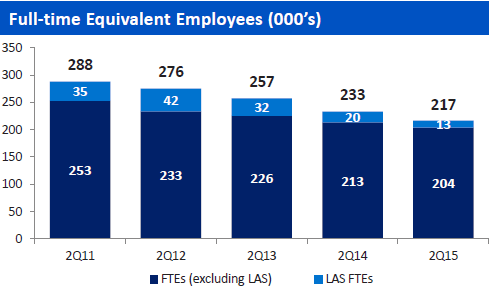 So if, as he said, "interest-rate structures don't move up," there would be more of the same. These interest-rate structures are the result of the Fed's zero-interest-rate policy. The purpose of this policy suddenly isn't the wealth effect any longer – Bernanke's stated purpose – but ironically, as Chair Yellen claimed today somewhat defensively, to "put people back to work."
Not get them axed from banking jobs.
Banks try to make money in a myriad newfangled ways. But the classic way is on the spread between the interest they pay on deposits and the interest they charge on loans. A wide spread fattens their profits. But these spreads have become paper-thin.
Banks can get all the money they need from the Fed at near-zero cost. They don't need depositors, and there is no competition for depositors. So, in one of the biggest scams in history, depositors get next to nothing from banks around the country. And the banks' cost of money is near zero.
But there is desperate competition for making loans in an environment when bankers and their customers, especially big corporate customers, wade up to their nostrils in Fed-engineered liquidity. This mad frenzy pushes down lending rates (along with bond yields). And the banks' spreads and profit margins have been squeezed.
The entire world has its eyes riveted on the Fed. There are days, like today, when nothing seems to matter other than what the Fed is going to do.
But the Fed once again couldn't figure out what to do. It certainly didn't want to ruffle the markets by doing anything in particular, such as raising rates from nearly nothing to almost nothing because it might somehow derail this economy of ours, or worse, that of the entire world.
So it did nothing. Now, no one can figure out under what conditions the emergency that led to this extreme monetary policy in 2008 might be deemed over, or whether it will be reclassified as a permanent condition, rather than an emergency, and remain in place until something Really Big breaks that will make the prior emergency seem banal.
Uncertainty – and frustrated bankers – is the result.
Instead of soaring, stocks languished. But the banking sector got hit hard. The KBW Bank Index dropped 3.0% from today's high just before the announcement. Shares of Moynihan's BofA dropped 3.9% from today's high just before the announcement; Zions 4.2% from; Fifth Third Bancorp 3.8%; Citizens Financial 3.7%. Banks got crushed by the Fed's inaction.
Now bankers are losing patience with the Fed. And they were firing back today while at the Barclays Conference.
US Bancorp CEO Richard Davis already lost patience; his bank would cut expenses – at a bank, that means jobs. Focusing on costs would allow him to "care less" about interest rates rise and whether they'd finally rise or not, he said according to the Wall Street Journal. And the shares of his bank dropped 2.4% following the Fed's announcement.
"It would be a good thing to raise rates," explained JP Morgan CEO James Dimon, as JPM dropped 3% from the hopeful moments just before the announcement. "It would be a good sign," he said but didn't expect his wishes to come true.
"I dream about it every night," is what BB&T Corp. CEO Kelly King said about rate increases. His bank's shares dropped 3.1% from the moments when hope still reigned.
A wider interest rate spread would come in handy because not all is well in banking land. Yesterday, Citigroup CFO John Gerspach, warned that trading revenue could fall 5% in the current quarter.
Moynihan's slide deck shows that investment banking fees at BofA in Q2 2015 were lower than in both Q2 2014 and 2013. Sales and trading revenues were also lower in Q2 this year than in both prior years. Moynihan said that revenue from trading bonds, currencies, and commodities would be down this quarter as well.
Meanwhile, according to the presentation, BofA's global average loan losses are rising. That's not a good combination.
The financial sector plays an outsized role in the US economy, and if it sneezes, the Fed gets even colder feet. But the medication for banks – higher rates – may not be available, or not in sufficient measure, in this perverted economy that the Fed has so skillfully engineered over the past seven years.
But Wall Street engineering does perform miracles, even though investors in such miracles are now getting their hands burned off. Read… A Spinoff Goes to Heck, after Just 10 Months