This is Naked Capitalism fundraising week. 1002 donors have already invested in our efforts to combat corruption and predatory conduct, particularly in the financial realm. Please join us and participate via our Tip Jar, which shows how to give via check, credit card, debit card, or PayPal. Read about why we're doing this fundraiser, what we've accomplished in the last year, and our fourth target, 24/7 coverage, 365 days a year.
* * *
By Lambert Strether of Corrente
"[R]egulatory cooperation presents a unique opportunity for corporate interests on both sides of the Atlantic to lobby for these standards to be brought down to the lowest common denominator" [Counterpunch]. "Many of the major corporate interests pushing for TTIP actually think this, not ISDS, is the aspect of the deal that is most important to them. … What's most dangerous about regulatory cooperation is that it will make the trade deal a so-called 'living agreement'. This means that negotiators will continue to dismantle regulation behind closed doors for years after TTIP is no longer the focus of media attention."
"This think-piece presents a roadmap for countries to enhance regulatory coherence across jurisdictions by engaging in regulatory cooperation, an area of increased priority for trade and regulatory authorities alike. As is well documented, regulatory fragmentation results in unnecessary barriers to international trade as exporters need to not only customise their products so that they comply with different and sometimes conflicting regulations, but also often test and certify them multiple times over to ensure that compliance is proved to the satisfaction of the local authorities" [The E15 Intitiative]. Exactly. If US air pollution standards hadn't been so much higher than European ones, honest VW would never have been forced to install its cheating software!
"[T]he European Union and the United States appear willing to go beyond traditional international treaty-making to explore new avenues of international regulatory cooperation. In addition to the traditional commitment to eliminate tariffs in free trade agreements, the central tenet of TTIP is represented by the Horizontal Chapter on Regulatory Coherence, an innovative [uh oh] approach to international regulatory cooperation (IRC)" [Cato Institute]. "Despite being neutral to the operation of each party's constitutional systems, this agreement will inevitably entail some limitations on regulatory autonomy." As in a race to the bottom?
2016
Voters
"The media often places far too much emphasis on polls taken weeks (or in the United States, months) in advance of an election. In reality, voters do change their minds at the last minute. Many people are not as interested in politics as commentators who write or talk about politics for a living" [WaPo]. "But, like students who are not that interested in school, they may decide to "study" at the last minute and then vote. This appears to have been the case in Canada." Big Mo!
Money
"Facing nervous donors, [Jebbie's] Right to Rise USA is airing a new ad nationwide on Fox News, even though its strategist called national advertising a "fool's errand" in a recent interview" [National Journal]. Leadership!
The Trail
Best quote EVAH, from Jebbie: "Super Girl is on TV. I saw it when I was working out this morning. There's an ad promoting Super Girl. She looked pretty hot" [Tampa Bay Times]. Who's writing Jebbie's material? Craazyman?

"Clinton Takes Her Adviser's Side, Attacking Big Banks but Not BlackRock" [David Dayen, The Intercept]. Ka-ching.

UPDATE "Hillary Rodham Clinton's presidential campaign is moving swiftly but delicately to try to win over Democrats who wanted Vice President Joseph R. Biden Jr. to challenge her for the party's nomination, assuring them that she shares his devotion to hard-working Americans and that the darkest days of her campaign are now behind her" [New York Times]. I can almost hear the stenographer's pen scratching with that "hard-working Americans."

UPDATE "While this has been an incredibly unpredictable campaign season so far, those developments [following Biden's withdrawal] will give Hillary Clinton clear command of the Democratic presidential race" [First Look].

"Trump nears 100 days on top" [The Hill]. Flash in the pan, totally.
The Hill
The House reminds me of an old couch with the stuffing coming out of it. So I've added some buckets to handle the mess.
Benghazi
Live transcript: Clinton testifies before House committee on Benghazi [WaPo]. And the livestream.

"Clinton Benghazi Hearing Is a Face-Off of the Frauds" [Ron Fournier, National Journal].

"Hillary Clinton's Benghazi testimony started with a bang" [Business Insider].

Trey Gowdy (R-Wingnut):

GOWDY: This committee is the first committee, the only committee, to uncover the fact that Secretary Clinton exclusively used personal email on her own personal server for official business and kept the public record … in her own custody and control for almost two years after she left office. You made exclusive use of personal email and a personal server. When you left the State Department you kept those public records to yourself for almost two years. You and your attorneys decided what to return and what to delete. Those decisions were your decisions, not ours.

He's right. If public officials can privatize their email servers, as Clinton did, then freedom of information and the whole concept of "public records" is a dead letter.

Elijah Cummings (D-Black Misleadership Class):

They set up this select committee with no rules, no deadline, and an unlimited budget. And they set them loose, Madam Secretary, because you're running for president

He's right. Benghazi is a ginormous politically motivated fishing expedition. Unfortunately (see above) they caught a fish.

Pretty cool [Wall Street Journal, "Search Hillary Clinton's Emails"].
Leadership Contest
"What is the House Freedom Caucus, and who's in it?" [Pew Research]. "The Freedom Caucus does not officially disclose who belongs to it. Membership is by invitation only, and meetings are not public." Who do they think they are? The Bolsheviks? (Here is an unofficial list.)

"Paul Ryan will be the next speaker of the House. Now what?" [WaPo]. I dunno. Reporting on this is extremely conflicted, and the "Freedom Caucus" is opaque. Ryan got the "support" of the Freedom Caucus but not their "endorsement." So WTF…
Debt Ceiling/Government Shutdown Cliffs
"The Treasury this morning announced that it is postponing the 2-year note auction that was scheduled for October 27 pending a resolution to the debt ceiling impasse" [Across the Curve].

"I've made it clear we're not going to default on our debt," Boehner said Tuesday evening on Fox News" [Market News].
Stats Watch
Leading Indicators, September 2015: "[N]ot a positive for the outlook on growth which the report pegs at a moderate 2.5 percent trend. Pluses were led, as they often are, by the report's interest rate component that reflects the Fed's accommodative policy" [Econoday]. Building permits below expectations. (But part of what pulled them down was driven by a rush to build in New York before a tax break expired, followed by a drop.) However: "The index does not adjust for inflation or population growth, is not final for several months after being published, and is subject to annual revision" [Econintersect].
Kansas City Fed Manufacturing Index, October 2015: "The Kansas City manufacturing sector came up for badly needed air in October, ending a long run of deep contraction. The composite came in at only minus 1"  [Econoday]. "The real positive is the new orders index." However: "Of the three regional manufacturing surveys released to date for October, all are in contraction" [Econinterest].
Chicago Fed National Activity Index, September 2015: "September was a weak month across the economy" [Econoday]. "Production is the weakest component in the report, down 0.18 and reflecting in part export troubles in manufacturing. Sales/orders/inventories are at zero while the personal consumption & housing component is at minus 0.08. Employment is also in the negative column, at minus 0.11."
Jobless Claims, week of October 17, 2015: "Jobless claims are pointing to very tight conditions on the unemployment side of the labor market with initial claims coming in at a lower-than-expected 259,000 in the October 17 week" [Econoday].
FHFA House Price Index, August 2015: "Home-price appreciation slowed in August, to plus 0.3 percent for FHFA's house price index" [Econoday].
Bloomberg Consumer Comfort Index, week of October 18, 2015: "The consumer comfort index fell back in the October 18 week, down 1.7 points to 43.5 and erasing two prior weeks of solid gains" [Econoday]. "[T]he reading is respectable …. solid going into the holidays."
Existing Home Sales, September 2015: "Existing home sales bounced back very strongly in September, up 4.7 percent to nearly reverse the prior month's revised decline of 5.0 percent, a decline that now looks like an outlier" [Econoday]. However: "Our analysis of the unadjusted data shows that home sales improved – but that the rolling averages declined" [Econintersect]. And: "Higher than expected, not directly a contributor to GDP or a measure of output. The change in fed mtg regs that caused the blip and mtgs and subsequent reversal needs to play out here as well" [Mosler Economics].
Ag: "The prospect of weaker returns may prompt an exit by funds from agricultural commodities, the World Bank said, downplaying the prospect of El Nino causing rises in world crop prices" [Agrimoney]. "The comments in fact contrast with data from the venture capital sector of an increased interest, with food and agriculture sectors combined attracting a record inflow of more than $480m in the July-to-August period, according to Dow Jones VentureSource."
Honey for the Bears: "[Thomas J. Curry, Comptroller of the Currency] told his audience at an Exchequer Club luncheon in Washington, D.C. that "we are clearly reaching the point in the cycle where credit risk is moving to the forefront." Curry's laundry list of potentially problematic areas included leveraged loans, home equity lines of credit, subprime auto loans, and commercial real estate" [Wall Street on Parade]. And then there are derivatives… 
Fear & Greed Index, October 22, 2015: 55 (+5); Neutral [CNN]. Last week: 41 (Fear). (0 is Extreme Fear; 100 is Extreme Greed).
Health Care
An awesome article on Electronic Health Records (EHRs), by one who lives with them [ZDogg MD].
Dear Old Blighty
"[T]he [UK's] Family Division of the Judiciary has put out a memo declaring exactly how it will remove children from the homes of anyone it suspects might radicalize those children" [TechDirt]. "Radicalize" means what?
"The Bank of England has entered the EU referendum debate. Its report, along with comments from governor Mark Carney, emphasise the benefits that membership of the EU brings the UK" [The Conversation].
Cameron: "It's no good simply talking about violent extremism. We need to confront all extremism" [BBC]. Yikes!
Two women waving Tibetan flag near Xi's vehicle arrested for "conspiracy to commit threatening behavior" [Quartz]. By whom? The Ministry of Silly Walks?
"David Cameron is likely to preside over the largest sustained fall in NHS spending as a share of GDP since 1951, an analysis by the King's Fund says" [BBC].
"[Living within our means' may sound like common sense, but this platitude has no place in 21st-century economics" [Guardian]. "[Shadow Chancellor John McDonnell] pointed out that running a budget surplus means taking demand out of the economy, so there is an economic illiteracy in wanting to run one more or less permanently. He also argued that surplus should be run only on the current (consumption) component of the budget, and that deficit could – and should – be run on the capital (investment) component of it. His view was that if you borrow to invest, the debt will more than pay for itself in the long run as the investment matures and raises the economy's output, and thus tax revenue."
Black Injustice Tipping Point
"Open Letter to DeRay Mckesson on TFA and Racial Justice in Education" [Working Educators]. "As the social justice caucus within the Philadelphia Federation of Teachers, we were surprised to see that you are coming to Philadelphia to speak alongside leaders of Teach for America (TFA). The Caucus of Working Educators (WE) is committed to racial justice in our schools and society, and we stand in solidarity with the #BlackLivesMatter movement…. We view the hiring of cadres of racial, cultural, and geographical outsiders with very little teaching preparation as part of a larger neoliberal effort to privatize education and replace unionized teachers (many of whom are teachers of color) with young, inexperienced teachers (most of whom are white and do not intend to stay in the teaching profession and commit to the long-term improvement of their teaching practice)." They're polite; they don't use the word "scabs."
"How Black Lives Matter Uses Social Media to Fight the Power" [Wired]. When technology triumphalism about a social movement enters the mainstream, that's often a sign of things going rancid.
"DNC gives blessing to Black Lives Matter presidential town hall — but won't add debate" [WaPo].
"Church drummer Corey Jones was shot and killed by police after his car broke down; details about the shooting are scarce" [Miami Herald]. No doubt.
"Accelerant used to set another church on fire overnight, authorities say" [KMOV].
Ferguson Considers Settling Suit Over 'Debtors Prison' Abuses [HuffPo].
"Lawsuit challenges Mississippi 'debtor's prison'" [MSNBC].
Class Warfare
"John Locke advocated for a world based on expropriation, enslavement, and serfdom" [Jacobin].
"Charles Koch: The Popular Mechanics Interview" [Popular Mechanics].
News of the Wired
"Smilingly Excluded" [Richard Lloyd Parry, London Review of Books]. Western expats in Japan, and expatriation generally.
"Twitter CEO Jack Dorsey to developers: We're sorry" [Fortune]. And so they ought to be, when they closed Twitter to outside developers.
"Gravity is both glue and lubricant; holding stones in place and slipping them apart. Opposites are at work at all times and that dichotomy is at the heart of dry stone construction" [Dan Snow]. Building a dry stone wall in Boise, Idaho.
"[The] so-called Influence Machine [is] a term psychiatrists borrowed from the study of static electricity to describe the elaborate mechanical contraptions drawn by [Nineteenth Century] schizophrenics to explain their delusions [The Verge]. And the Internet of Things looks an awful lot like an Influence Machine.
* * *
Readers, feel free to contact me with (a) links, and even better (b) sources I should curate regularly, and (c) to find out how to send me images of plants. Vegetables are fine! Fungi are deemed to be honorary plants! See the previous Water Cooler (with plant) here. And here's today's plant (OregonCharles):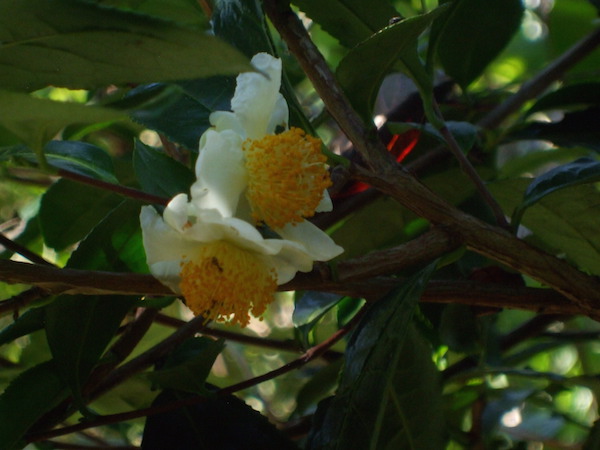 Camellia sinensis, a tea flower, I believe. I like the experience of finding something beautiful to photograph in shadow.
Readers, Water Cooler is funded solely by you, through the Tip Jar below; that is, the Naked Capitalism fundraiser going on now covers my regular posts, Links, and everything else Yves kindly mentions here, but not Water Cooler. And so far, your contributions have been generous enough to allow me to keep Water Cooler going. (I'm pretty fast, as readers see when I correct things on the fly, but it does take several hours of foraging and writing!)
If you can, and without detracting from Naked Capitalism fundraising week as a whole, what would remove a lot of stress from me and really take the edge off would be more subscriptions from you, in any amount, over the course of the year. 30 subscriptions and I'd be happy; 40, and I'd be ecstatic. Just click the hat below. Thank you!