By Lambert Strether of Corrente
Readers, I have to leave for my annual eye exam even before stats come out (Durable Goods, Case Shiller, PMI Services Flash, Consumer Confidence, Richmond Fed Manufacturing Index), and the optometrist is going to dilate my eyes, so I won't be in any shape to write before 2:00PM. But I had to blow past a lot yesterday, so think of this as Monday's B-side. –lambert
2016
Thought: Politics ain't beanbag. It's Calvinball!
Policy
"Sanders' career in Congress has been living testimony to the fact that opposing wars but supporting our soldiers are not mutually exclusive goals. He has been a consistent advocate for both active duty military and veterans, and there are now signs that those veterans are returning the favor, organizing for his campaign" [Alternet].

"Bernie Sanders doesn't need to pay for his socialist utopia" [The Week]. "Not only do we not need to pay for Sanders' programs, we shouldn't pay for them. In fact, the federal government's budget deficit is much too low. How could I possibly suggest anything so loony? Contrary to popular belief, smaller deficits are not always better. How big or small the deficit should be is determined by how it interacts with the rest of the U.S. economy and other international economies." Nice to see MMT concepts making their way into the mainstream. Note that running a deficit was a winning policy for Justin Trudeau of Canada's Liberals (who aren't very); NDP's Mulcair stuck to balanced budgets and austerity, and went down the tubes. Rightly.

"Bill Clinton's presidency had enshrined political homophobia in Democratic politics, and it took almost 20 years for it to begin to diminish.The Defense of Marriage Act is part of that legacy" [Michelangelo Signorile, HuffPo]. 
Voters
"Republican voters view Donald Trump as their strongest general election candidate, according to an Associated Press-GfK poll that highlights the sharp contrast between the party's voters and its top professionals regarding the billionaire businessman's ultimate political strength" [AP].

"[W]hat remains striking is the absolute certainty among Republicans that Clinton can't possibly win, because they see how distasteful and scandal-ridden a figure she truly is, and swing voters will just have to see it their way, because it's so obvious to them" [Greg Sargent, WaPo]. Not only Republicans.
 Money
Trump: "My father gave me a small loan of a million dollars" [WaPo]. What, "small" like a lemonade stand?

"Nearly half of the leading donors to [W's] 2004 re-election who are still alive [!!] appear to be on the sidelines, while about 15% have peeled off to a dozen other candidates" [Wall Street Journal, "Jeb Bush Struggles to Galvanize His Family's Donor Base as Campaign Falters"].

"The Man Who Bought the Clintons: the Political Business of Terry McAuliffe" [Counterpunch]. But will they stay bought?
The Trail
Karl Rove: "President Bush is mystified, I think that's the right word to say, that Donald Trump — I mean, here's a guy who called for the impeachment of President George W. Bush, criticized Nancy Pelosi in 2007 for not doing enough to remove the Republican president from office" [Business Insider]. Trump is right on Pelosi, who woke up in the morning after the Democrats won the House in 2006 and took impeaching Bush off the table. The Donald's looking better all the time!

"Don­ald Trump has lost the lead in the latest Iowa polls, and the Club for Growth has a pretty good idea why: $1 mil­lion in at­tack ads that the group aired over a three-week peri­od" [National Journal]. "Two polls re­leased this week showed Trump over­taken by re­tired neurosur­geon Ben Car­son among GOP voters in Iowa. Where Trump had once re­ceived about 28 per­cent sup­port, he is now down to 20 per­cent."

Jebbie: "I'm past Donald Trump" [New York Times, "Jeb Bush Expresses Despair About Toxic Tone of Campaign"]. True. On the way down.

Jebbie, of W: "How he responded to 9/11 was just awe-inspiring" [The Hill]. 

Jebbie: "Blah, blah, blah. That's my answer — blah, blah, blah," dismissing "critics who said the changes reflect a struggling campaign that is losing ground to any number of rivals" [USA Today].

O'Malley: "Hillary Clinton has changed her position on virtually every defining issue in this race, except for one — and that is to protect the big banks on Wall Street and go along with business as usual. I don't believe that that's what the people of our country are looking for" [Wall Street Journal, " No More Messrs. Nice Guy: First Sanders, Now O'Malley Takes Glove Off "].

Josh Marshall on Clinton at the Benghazi hearings [Talking Points Memo].

When I watched my thought was, Wow, she'd be rock solid [in the Situtation Room]. Granular and detailed is seldom spell-binding. But over the course of the endless testimony, anyone who had the slightest sense that Clinton had been some sort of figurehead Secretary of State who left the key work to subordinates would have been thoroughly disabused of that notion. …. She knows her stuff and she's a pro. You could not watch that testimony and not come away with that conclusion.

Assume that's true. If so, that means Clinton's decision to vote for Iraq (a mistake) was a pro's decision; the planning at State behind TPP (a flip-flop/headfake left) wasn't done by a figurehead; the studies on Keystone (a flip-flop/headfake left) wasn't left to subordinates; and the support for war in Libya (a debacle) was done by somebody who knows their stuff. Alrighty, then.

So MoDo deked Biden on Beau's dying words? [WaPo]. Entirely plausible. But if it wasn't working for the famously genuine Biden, why wait 'til now to shoot down the story?

"Carly Fiorina's campaign includes the rare job: 'body woman'" [AP].
The Hill
Leadership
"In addition to wanting to privatize both Social Security and Medicare, Ryan has indicated that he essentially wants to shut down the federal government in the sense of taking all of the money for the non-military portion of the budget" [Dean Baker, Common Dreams]. "This fact is one that is easy to find if a reporter is willing to do five minutes of research. Ryan directed the Congressional Budget Office to score his budget plans back in 2012. The score of his plan showed the non-Social Security, non-Medicare portion of the federal budget shrinking to 3.5 percent of GDP by 2050 (page 16). This number is roughly equal to current spending on the military. Ryan has indicated that he does not want to see the military budget cut to any substantial degree."

"Fuming over Ryan, some conservative voices turn on the Freedom Caucus" [WaPo]. Yikes!
Debt Ceiling/Government Shutdown Cliffs
"After five years of bitter clashes, Republican congressional leaders and President Obama on Monday tentatively settled what is likely to be their last budgetary fight by agreeing to modestly increase spending over the next two years, cut some social programs, and raise the federal borrowing limit" [New York Times, "Congress and White House Reach Tentative Budget Deal"]. "Those increases would be offset by cuts in spending on Medicare and Social Security disability benefits." 
Stats Watch
"[Joshua Siegel']s StoneCastle Financial is among the funds that are reviving the collateralized debt obligation, or CDO. … The CDO that StoneCastle put together is another kind. It's backed by subordinated debt issued by about 35 community banks, some of them so small they don't have credit ratings" [Bloomberg]. "Today's CDOs are a better bet because the banks have learned from the credit crunch. They're stronger, with more capital and better regulation, Siegel said in an interview."
"Valeant's newest disclosure — the $100 million option to buy a company for nothing" [Francine McKenna, MarketWatch]. "On the call, CEO J. Michael Pearson admitted the structure of the deal to potentially buy Philidor was 'probably' unusual but said, 'I think it is legal.'" So that's alright, then.
The Fed: Does anybody other than me read "Federal Open Market Committee" as containing at least one oxymoron?
Health Care
"The rise in healthcare costs and a better understanding of the benefits of medical tourism have really begun to spur interest with U.S. companies. With that in mind, there are a number of legislative initiatives aimed at providing a hospitable legal landscape for medical tourism, both inbound and outbound." [Medical Tourism]. How about letting us spend our Medicare dollars abroad, for starters? Bigger bang for the buck, and unless you've got the skills and privileges that let you work the system here, without the ignorance and brutality that characterizes the extractive health care system in the country.
"Uniting Behind the Divisive 'Cadillac' Tax on Health Plans" [Larry Summers and Greg Mankiw, New York Times]. Mankiw (Republican) and Summers (Democrat) are both possessed of notion so lunatic that only a neo-liberal economist could love it: That having cut benefits (in this case, the so-called Cadillac plans), employers will raise wages to compensate. Pause to savor that. I'll just drop this quote here:
Might companies use the Cadillac tax as an excuse to reduce health coverage and, instead of increasing wages, simply pocket the savings? Some may try, but the success of this strategy would be fleeting. , the compensation of labor, like most prices in the economy, is governed by supply and demand. Any employer that tries to pay less than the market requires will struggle to recruit and retain workers.
In the long run…. In the long run…. Didn't some other famous economist use that phrase? Not in the health care context, I grant, but they might as well have, eh?
"Medical information exchange: The patient, doctor, computer triangle" [Edward Tufte]. "Information exchange" between patient and doctor has nothing to do with EHR, which has to do with billing, not health care.
Black Injustice Tipping Point
"[W]hen black families attain middle-class status, the likelihood that their children will remain there, or do better, isn't high" [The Atlantic].
"Corey Jones had a right to arm himself on Sunday when an officer wearing a T-shirt and baseball cap in an unmarked van pulled up to his disabled SUV on an otherwise deserted highway off ramp" (after which — I'm sure you know how this ends — Jones got whacked by the cop) [Palm Beach Post]. "In fact, had Jones fired at the officer, he could have defended his action under the state's "stand your ground" law, legal experts say."
"Disturbing Video Shows School Cop Body Slam and Drag a Black Female Student" [Mother Jones]. She's tiny, too. 
"Aryan Outfitters" [Mother Jones]. Photo essay and profile of Klan seamstress "Ms. Ruth." Here's the (especially) sad and terrible part:
Ms. Ruth changes her daughter's IV fluids. "They said she wouldn't live for more than three months. I refused to leave her in the hospital, so I took her home." Caring for her daughter Lilbit is a full time job. Ms. Ruth rarely leaves the house; she spends most of her time sewing and taking care of her daughter and her animals.
"From Private Violence to Mass Incarceration: Thinking Intersectionally About Women, Race, and Social Control" (PDF) [Kimberlé W. Crenshaw, UCLA Law Review]. From 2012, but still interesting.
Corruption
"More big money from powerful city hall special interests has found its way into One San Diego, the charity started last year by San Diego Republican mayor Kevin Faulconer, ostensibly to advance his anti-poverty agenda" [San Diego Reader]. "The president of One San Diego is Tony Young, a Democratic ex–city councilman who resigned in the midst of his term to briefly run the Red Cross here. He left that post to set up his own lobbying firm, Civic Link Strategies, which in the second quarter of this year received $15,000 from SDG&E." So, one big happy.
"Dependence on student loans was not incidental to the for-profit boom—it was the business model. The schools may have been meeting a genuine market need, but, in most cases, their profits came not from building a better mousetrap but from gaming the taxpayer-funded financial-aid system" [The New Yorker]. Totally unlike charters, which are about gaming state legislatures and city governments for free facilities. (And what the heck does "meeting a genuine market need" without a product that makes a profit sound like to you? That's right, a market failure, which is why we have public services.)
Police State Watch
Radley Balko on last week's White House forum on criminal justice: "Mostly, though, this panel was a president and two long-time players in the system praising themselves for having finally come around" [Marshall Project]. "So much of the talk today was guarded. It was about gradualism and caution. I suspect that's because real reform would take a lot of power away from the very sorts of people on today's panel. So of course they'd like to see it happen slowly." There's a lot of that going around.
Imperial Collapse Watch
"New York Man's Not-So-Sovereign Nation in Utah Now Has Passports and a Border-Patrol Gate Guarded by a Robot" [New York Magazine].
Guillotine Watch
"[Crispin Odey] has acquired a colorful reputation among London's hedge fund managers. In 2012, he got planning permission to build a 130,000-pound ($200,000) Palladian-style chicken house on his country estate" [Bloomberg]. Fortunately, Crispin's hedge fund played the wrong ponies last week and lost a packet, after dropping 17% in six days.
Class Warfare
Study on credit cards: "The kinds of cards aimed at rich, educated people did not seem interested in making money off financial mistakes like the occasional late payment" [WaPo]. "In contrast, the card offers sent to poorer, less-educated people were often loaded with risky features: low introductory APRs, high late fees, and penalty interest rates that kick in if you break the rules." And here is the [significant pause] money quote, from aptronymic study co-author Antoinette Schoar, MIT Sloan School economist:
"Poorer people usually have worse credit, so standard economic theory predicts their regular APR should be higher. And it's not clear why the late fees, the hidden fees, the fees that hit you when you fall behind on your payments — why are they so high for the poor."
"[I]t's not clear." Perhaps not to a professional economist, no, though to be fair, I'm glad they did the study.
"Just over half, or 51 percent, of the 1,200 individuals polled, who were drawn from all segments of the [food] industry (restaurants, farms, grocery stores) answered that they always, or frequently, will go to work when ill" [Grub Street]. Of course, the 1% have personal chefs, their own wait staff, and food tasters. So that's alright, then.
"If you start from Engels' Condition of the Working Class in England and start reading Capital not from the beginning but from chapter 10, another Marx emerges – one whose thinking was rooted in empirical facts about the working lives of the worst off and in an urge to improve these. It is this Marx which is still relevant today" [Stumbling and Mumbling].
* * *
Readers, feel free to contact me with (a) links, and even better (b) sources I should curate regularly, and (c) to find out how to send me images of plants. Vegetables are fine! Fungi are deemed to be honorary plants! See the previous Water Cooler (with plant) here. And here's today's plant (Isabel, who's been so helpful to NC on Portugal):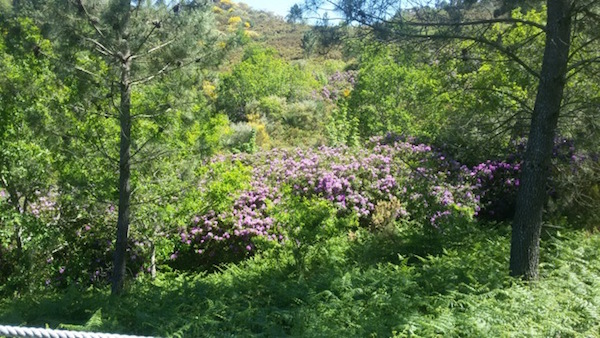 Rhododendron ponticum ssp. baeticum
If you enjoy Water Cooler, please consider tipping and click the hat. Winter is almost here, I need to buy fuel, and I need to keep my server up, too. And thanks so much for the donations during the annual fundraiser. They are much appreciated, both practically, and as signs that you enjoy the work.