This is Naked Capitalism fundraising week. 1058 donors have already invested in our efforts to combat corruption and predatory conduct, particularly in financial realm. Please join us and participate via our Tip Jar, which shows how to give via check, credit card, debit card, or PayPal. Read about why we're doing this fundraiser, what we've accomplished in the last year, and our fourth target, 24/7 coverage, 365 days a year.
* * *
By Lambert Strether of Corrente
TPP/TTIP/TiSA
TPP: "'I'm very worried about the Technical Barriers to Trade chapter…. This is the chapter that will essentially hamstring the capacity of governments in the United States and around the Pacific Rim to regulate dangerous chemicals of the kinds that cause cancer and autism and birth defects,' said [Friends of Earth Trade Policy Analyst Bill Waren]" [Accuweather (!)].
TTIP: "As Miami talks wind up, environmental safeguards are 'virtually non-existent' in trade deal negotiating text for sustainable development, lawyers say" [Guardian]. 
TTIP: "The necessity of TTIP's success stems from the threat to Europe (and, thus, to the transatlantic relationship) posed by Vladimir Putin, who is working to subvert the deal" [Cato Institute]. Wait, that means it's not a "trade deal"?
TTIP: " But even as Deputy U.S. Trade Representative Michael Punke sounded more optimistic on Wednesday about the negotiations, a European Commission decision that Starbucks and Fiat Chrysler must pay back up to $22 million in tax breaks set off grumbling in the U.S. business community" [Politico]. "'The ruling injects 'a significant degree of uncertainty into the business climate, retroactively calling into question thousands of tax arrangements that were previously understood to be legal and appropriate,' complained Sean Heather, a vice president at the [US Chamber of Commerce]." I've never understood the whinging about "uncertainty." I thought entrepreneurs thrived on risk.
2016
Voters
Flesch-Kincaid readability test shows Trump speaks to voters at the fourth-grade level, Clinton at the eighth grade level, and Sanders at the level of a high school sophomore [USA Today]. So if Sanders wants to win, he should emulate Trump.
Money
UPDATE "Jeb Bush is shaking up his struggling presidential campaign, ordering across-the-board pay cuts, downsizing his headquarters staff, cutting ties with some consultants and refocusing his efforts on retail campaigning and on-the-ground organizing in the early voting states" [WaPo]. Weird to announce this Friday morning, instead of burying it after 5:00PM. Message to funders? Wall Street always loves job cuts, after all.

UPDATE Private jet spending. Well, look who's #3!

Jeb Bush leads all candidates in spending on private jets (including Trump!) via @elizacollins1: pic.twitter.com/NFUZghRgmu

— Ari Melber (@AriMelber) October 23, 2015

"The main super PAC backing Donald Trump is shutting down amidst increasing scrutiny of its ties to Trump's campaign" [Politico].

UPDATE "This wireless meat thermometer out-raised Lousiana Governor Bobby Jindal [on Kickstarter] by almost $300,000" [Recode]. Ouch. And Jindal isn't even wired!
The Trail
Chafee drops Presidential race [US News]. Had raised $15,000. Message had been "prosperity through peace," which has the great merit of being true, but politics ain't beanbag.

"Lincoln Chafee finally says it: Hillary's too corrupt to be president" [Jennifer Rubin, WaPo]. A fair summary of Chafee's views, actually.

"Iowa Poll: Carson surges to 9-point lead; Trump slides" [Des Moines Register].

UPDATE: "Here's Why Donald Trump Really Could Be Elected President" [Vanity Fair]. "[T]he election comes down to Florida and Ohio, two states where Trump has significant advantages."

"As a man who has been lauded and lacerated his entire career for a lack of political discipline, Biden certainly had the urge to hurl the football down the field for a Hail Mary pass one more time" [US News]. "Instead, he bucked his defining political instinct and took a knee."
The Hill
Leadership Contest
Freedom Caucus co-founder, of Ryan: "It's like interviewing a maid for a job, and she says, 'I don't clean windows, I don't do floors, I don't do beds, these are the hours I'll work" [Chicago Tribune]. Well, that sets the expectations nicely, eh?

"[Ryan] promises to delay discussions of overhauling a procedural mechanism to oust a sitting speaker" [Politico]. "Possible changes to the so-called "motion to vacate" will now come as part of a larger discussion of reworking internal party and House rules. Should he become House speaker, Ryan will set a deadline by which the House Republican Conference will change chamber and party rules." This is the mechanism that determines whether Ryan will keep his job.

"Paul Ryan, a Speaker for the Freedom Caucus" [Editorial, New York Times]. " He showed real cunning [!] in stating his conditions for agreeing to accept the office, but he will have to be even more crafty [!!!] to survive their demands and ultimatums."
Benghazi
Headline: "Benghazi bust" [Byron York, Washington Examiner]. "There's a reason Benghazi Committee chairman Rep. Trey Gowdy offered Hillary Clinton the chance to testify in a private, closed hearing. And there's a reason Clinton wanted to appear in an open setting, with the whole world watching."

Headline: "The Benghazi Hearing Should Not Be, But Is, A Waste of Time" [Erick Erickson]. "The hearings are a waste of time because everything about it is politicized and nothing is going to happen. There will be no scalp collection. In fact, it is clear from today's hearing that Trey Gowdy and Peter Roskam seem to be the only two people on the committee of either party who are capable of asking exacting, precise questions. Most of the rest of the committee just wants to grandstand for the folks back home as either prosecutors of or defenders of Hillary Clinton."

Headline: "The Conservative Reviews [see above] Are In: Benghazi Hearing a Bust" [Bloomberg]. 'In the end, Republicans threw some red meat to their conservative base but failed to land a blow to Clinton's credibility or unearth a meaningful discovery about the 2012 attacks on a U.S. outpost that left four Americans dead in Libya. It wasn't just Clinton loyalists saying that."

So, a Martian would conclude that: (1) The Libyan operation, as such, was jake with the angels (along with setting the rest of the south and east Mediterranean and Black Sea littoral on fire, I suppose) and (2) henceforth, American officials can privatize all their digital communications. So far as the bipartisan consensus in the Beltway's political class, what's not to like? Well done, all.
Debt Ceiling/Government Shutdown Cliffs
"If House Speaker John Boehner has a debt ceiling strategy, he has only a handful of days to sketch it out and begin to move legislation through Congress. Boehner is scheduled to leave Congress in a week and Treasury has said that it will exhaust it's extraordinary measures on November 3" [Market News].
Stats Watch
PMI Manufacturing Index Flash, October 2015: "In a surprise upturn boosted by domestic demand, the manufacturing PMI is signaling monthly strength, coming in at 54.0 for the October flash for the best showing since May. New orders are at a seven-month high and are described as strong despite only a modest contribution from export orders." [Econoday]. "This report conflicts with the regional manufacturing reports which so far are pointing to another weak month for October. And this report typically runs hot."
"Investors raced back into higher-yielding junk bond funds at the fastest pace in four years, following a broad rally in both equity and fixed income markets as concern the Federal Reserve will tighten policy this year faded" [Across the Curve (quoting the FT)]. "Junk bond funds have recorded their best single month since the first quarter of 2012 following four months of declines, gaining 2.64 per cent, according to Barclays Indices." Consistent with the Greed & Fear index; maybe there's something to it (hat tip, Jim Haygood).
"Traditionally limited to institutional investors and high-net-worth clients, J.P. Morgan is about to make it easier for retail investors to gain access at the IPO price. The bank is announcing today that it will partner with Motif Investing to give ordinary investors the option to purchase shares in IPOs that are managed by J.P. Morgan" [TechCrunch].
"China's central bank cut benchmark interest rates for the sixth time since November on Friday in a bid to support the slowing economy with lower financing costs for home mortgages and loans to big companies. [FT, "China cuts rates again as economy slows"]. "The People's Bank of China also cut the share of customer deposits banks must hold in reserve, injecting Rmb560bn ($90bn) of cash into the banking system to counteract the cash drain from capital outflows in recent months." That sounds a little sketchy to me. Readers?
"Total international containers handled by the Northwest Seaport Alliance increased 3.7 percent in September from the same month last year as the ports of Seattle and Tacoma continue to regain traffic lost earlier in the year due to port congestion and labor disruptions associated with the coastwide longshore contract negotiations" [Longshore & Shipping News]. Turns out the unions had some muscle after all, eh?
Ag: Farmers hedging on their machinery by leasing it [Agrimoney]. Literally hedging, if I understand the column correctly.
Honey for the Bears: "ECRI's WLI Growth Index which forecasts economic growth six months forward – declined and remains in negative territory. This index had spent 28 weeks in negative territory, then 15 weeks in positive territory – and now is in its tenth week in negative territory [Econintersect]. Crapified economy staggering along….
Rapture Index: Down 1 on oil supply (180) [Rapture Ready]. The higher the index, the closer the Rapture.
Today's Fear & Greed Index: 54 (+2); Neutral [CNN]. Last week: 47 (Neutral). (0 is Extreme Fear; 100 is Extreme Greed).
Big Brother is Watching You Watch
"An amendment to a controversial cybersecurity bill will allow US courts to pursue and jail foreign nationals even if the crimes they commit are against other foreigners and on foreign soil" [Guardian]. Hmm. 
Dear Old Blighty
"The number of people in-work who fall below the poverty line has risen by 70 per cent in London" [Telegraph].
When I listened to the news this week reporting on George Osborne's plans to take £1,300 a year or £108.33 a month – that's £25 a week – away from low-paid families, I cried.

Of course, a mere £25 is what Osborne might spend on a single bottle of wine.

But when you are strapped for cash, like I am, £25 is equivalent to a week's worth of vegetables, milk and eggs.
Luxury! Who said the poor deserved milk?
"The regulator of water companies has been accused of allowing firms to enjoy a profits windfall of £800m at the expense of the consumer" [Sky News].
Corruption
"Dyson accuses Bosch of cheating on vacuum cleaner efficiency tests" [Ars Technica]. Bosch also wrote the cheat code for VW, of course. Sounds like they've got an entire engineering department devoted to that!
Gaia
"Women hoping to fall pregnant should avoid "toxic June", scientists have suggested, after showing that babies do less well if they are conceived in the summer month" [Telegraph]. "Scientists believe that high levels of pesticides sprayed on crops and differing levels of light and vitamin d could be responsible for the differences."
Class Warfare
Political Economy 101 explainer: "You can divide up the economy into two parts: money that goes to workers, in the form of wages and benefits, and money that goes to owners of capital, in the form of corporate dividends, bond payments, rent to landlords, etc." [Dylan Matthews, Vox]. Hmm. First, one might do a "Fixed it for ya" routine: There's money that "goes to workers," and money that " goes to owners of capital is taken from workers." (For the capitalist perspective, simply invert.) Second, just read the words: All the forms of capital listed are extractive and parasitical (see Michael Hudson's Killing the Host). Vox mentions dividends, interest, and rent. But — amazingly — they do not mention profit, and they do not mention capital cycled back into the capital investment, presumably to satisfy demand and serve the social purpose that allocating capital surplus to requirements presumably serves. One might speculate that Vox is faithfully reflecting the views of its squillionaire funders, here; that they themselves agree they are parasites. Now, I don't want to be overly harsh to Matthews here; this is, after all, a piece on labor's declining share of income. But the words have a plain meaning..
"Study shows Maine's lottery amounts to multimillion-dollar tax on poor" [Bangor Daily News]. "For every 1 percent increase in joblessness in a given ZIP code, sales of scratch and draw tickets jump 10 percent." So the lottery is an automatic stabilizer. Except backwards.
"Entrepreneurs are redesigning the basic building block of capitalism" [The Economist]. "But, after a century of utter dominance, the public company is showing signs of wear."
"I Cannot Stop Laughing at These Tone-Deaf Airbnb Ads" (with images of said ads) [Motherboard]. "Are the Yes Men viciously parodying Airbnb? This reads like something an entitled, clueless San Francisco startup would say, but then would be prevented from actually saying by the sole adult in the room charged by the board of directors to stop all the babies in hoodies from having an accident all over themselves."
News of the Wired
"A Whirlwind Tutorial on Creating Really Teensy ELF Executables for Linux" [Muppet Labs (RE)]. I recommend that all humanities majors read this explication de texte; there really is such a thing as software engineering.
"System shock" [Medium]. "A story of a 25-year-old font coming back with a vengeance." To me, typography is the last vestige of pure love in tech. I just hope somebody in the NSA (or the Google/Facebook/Apple imperium) hasn't managed to turn fonts into tracking devices, or something.
"The cloud is well on its way to becoming the standard model for IT, just sixteen years after it first formed. It couples flexibility, scale, and reliability to user-friendliness and ubiquity. It has created some of the world's largest companies, as well as empowering some of the smallest" [Ars Technica]. And all you've got to do is give up control of your data.
UPDATE "I'll give you any valuation you want if you let me write the rest of the term sheet" – Every VC who has ever lived" [Pando]. Unlocked just now.
"NIH's mental health chief on why he's leaving for Google: Technology may hold key to better diagnosis" [WaPo]. "At Google, he'll be exploring how the company's technological expertise can be applied to mental-health issues." Just what we need: Google's nutball hive mind defining sanity.
"Cheese is addictive as drugs, study finds" [Telegraph]. "Research by University of Michigan finds love of pizza is largely because of cheese addiction."
* * *
Readers, feel free to contact me with (a) links, and even better (b) sources I should curate regularly, and (c) to find out how to send me images of plants. Vegetables are fine! Fungi are deemed to be honorary plants! See the previous Water Cooler (with plant) here. And here's today's plant (Pat):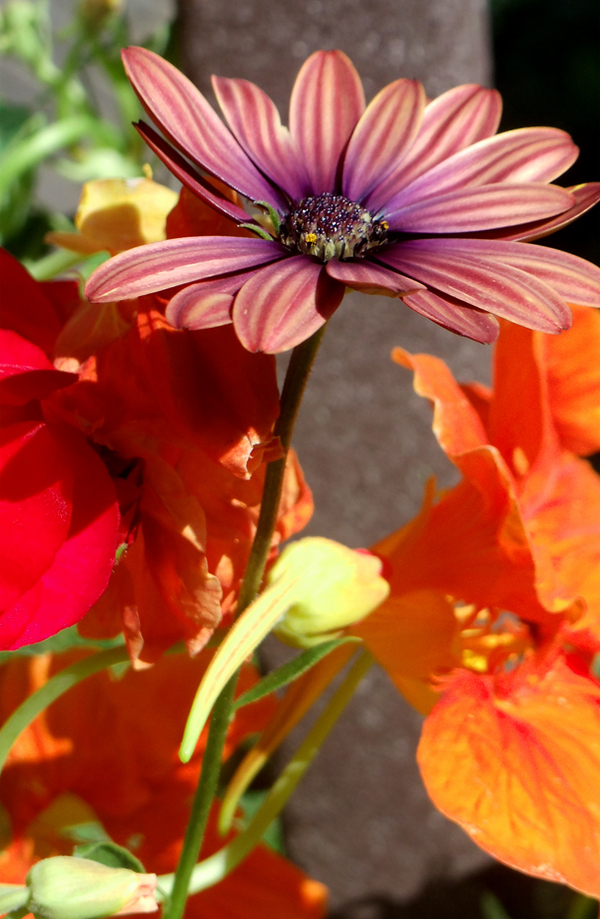 Mastershalums, as Pooh called them.
Readers, Water Cooler is funded solely by you, through the Tip Jar below; that is, the Naked Capitalism fundraiser going on now covers my regular posts, Links, and everything else Yves kindly mentions here, but not Water Cooler. And so far, your contributions have been generous enough to allow me to keep Water Cooler going. (I'm pretty fast, as readers see when I correct things on the fly, but it does take several hours of foraging and writing!)
If you can, and without detracting from Naked Capitalism fundraising week as a whole, what would remove a lot of stress from me and really take the edge off would be more subscriptions from you, in any amount, over the course of the year. 30 subscriptions and I'd be happy; 40, and I'd be ecstatic. Just click the hat below. Thank you!