By Lambert Strether of Corrente
2016
Policy
Syria, Clinton: "'I personally would be advocating now for a no-fly zone and humanitarian corridors to try to stop the carnage on the ground and from the air,' Clinton said this month" [Foreign Policy]. "'Establishing a no-fly zone in Syria means "a very large military commitment, and you are potentially shooting down Russian planes,' [Maine's Angus] King said. 'Where does that lead?'" Where Clinton wants? Based on her past votes, and past policies?

UPDATE "There is no contemporaneous evidence, however, to support the claim that the Clinton White House considered a possible federal constitutional amendment to be a concern, based on a BuzzFeed News review of the thousands of documents released earlier this year by the Clinton Presidential Library" [Buzzfeed].

"Why you can get a free college education in Germany but not in California" [Los Angeles Times]. Good round-up of beliefs, if not necessarily realities.
Money
"Bruised and muddied by controversies this election season, the Clinton Foundation says it has nonetheless raised more money so far in 2015 than it did during the same period last year" [The Hill]. Meaning the smart money is OK with an influence peddling/money laundering operation, even if it makes them look bad for five minutes. Ka-ching.

"The Center for American Progress, the preeminent liberal think tank in Washington, is poised to exert outsized influence over the 2016 president race and — should Hillary Clinton win it — the policies and agenda of the 45th President of the United States. CAP founder John Podesta is set to run Clinton's presidential campaign, and current CAP president Neera Tanden is a longtime Clinton confidante and adviser" [WaPo].

Perhaps most notably, given CAP's advocacy for an economically progressive agenda, is that CAP's top donors include Walmart and Citigroup, each of which have given between $100,000 and $499,000. Other donors to CAP — a leading advocate of health care reform — include the Pharmaceutical Research and Manufacturers of America, which represents leading biotech and bio-pharma firms, and Blue Cross Blue Shield Association, both of which have given up to $49,000.

Ka-ching. And:

A number of journalists, such as Dan Berman and Ken Vogel, have rightly pointed out that CAP's donors include three who gave over $1 million who are labeled "anonymous," and a number of others who are similarly labeled, and have questioned whether CAP is being fully transparent. My understanding is that these are donors who explicitly asked to remain anonymous.

Oh, they asked to be anonymous. So that's alright, then. Ka-ching.

"Both the amount donated to the foundation and the number of donors in the first three quarters of the year are higher than during the same period in 2014, the [Clinton Foundation] said. It didn't provide total figures. Its updated list showed that among donors who gave $10,000 or more, fewer than 100 gave for the first time" [Wall Street Journal, " Clinton Foundation Says Donations Have Picked Up "]. (That is, the Clintons did not expand their network significantly.) "The Journal reported in February that the foundation had accepted donations from countries including the United Arab Emirates, Saudi Arabia and Oman.  Since then, the foundation has decided to continue accepting donations from foreign governments, primarily from six countries" (Australia, Canada, Germany, the Netherlands, Norway and the U.K.) I'm glad the U.K. is on that list; you can launder anything through London. Ka-ching.

Carson and Mannatech [New York Magazine]. Carson says he never had "any kind of relationship" with the nutritional supplement firm, despite taking it, endorsing it on national television, collecting fees for speaking at their engagements, and Mannatech having endowed a chair for him. OK. (Interestingly, Carson's business manager is Armstrong Williams, who readers with long memories will remember taking money under the table from the Bush administration to endorse its education programs.)
Debates
"The Republican National Committee has pulled out of a planned Feb. 26 debate with NBC News after widespread criticism of this week's CNBC debate from both the party and campaigns" [The Hill]. Why don't Sanders, O'Malley, and Lessig do the same, and put up an empty podium for Clinton?
The Trail
UPDATE Bush oppo on Rubio in 112-page internal document provided to U.S. News: "[The section is] titled 'Marco Is A Risky Bet,' and it bullet-points Rubio's 'misuse of state party credit cards, taxpayer funds and ties to scandal-tarred former Congressman David Rivera'" [US News & World Report]. Makes you wonder if there's a reason the Mittster didn't pick such a superficially attractive candidate for Veep. (But here's a beat sweetener from the Daily Shopper.)

UPDATE "[T]he sanity wing of the Republican Party is now down to Gov. John Kasich of Ohio" after Bush's lousy debate performance [New York Times].

"Hillary Clinton has hit 50 percent support for the Democratic presidential nomination for the first time since April, around the time she launched her campaign, according to a new national poll" [The Hill]. "Clinton's support among Democratic and Democratic-leaning voters has ticked up 9 points since mid-September, based on the latest NBC News/Survey Monkey online poll." Biden and the Gowdy, et al., did her a huge favor, then. "Clinton is the overwhelming choice for those surveyed who are 30 or older. Sanders has a 15-point edge, 48 percent to 33 percent, among voters aged 18-29." Which from a policy perspective is bizarre. Sanders is far Clinton's superior on both health care and retirement.

UPDATE "Clinton allies shout 'sexism' at Sanders" [Politico]. Any stick to beat a dog, I guess. I wish I had the big data chops to go back and see how many of these operatives were making misogynist jokes about Clinton, when Clinton was running against Obama in 2008. I'd start here.
The Hill
"Saving Speaker Ryan" [Domeocracy]. "When the clock strikes midnight tonight, it may well toll the end of the best day in the speakership of Paul Ryan…. One development that is unlikely to occur is the tempering of the Freedom Caucus. They have Mr. Boehner's head mounted on the wall, and they have made it clear they expect fealty from the new Speaker." Wonky, too. A good read.
"Justice Scalia warns that the US Supreme Court is causing the 'destruction of our democratic system'" [Business Insider]. That's rich. My personal view is that Scalia selected Bush in Bush v. Gore to put future justices on the court whose views on, say, the Fourth Amendment would be congenial to his own, and that all decisions after the first such justice was elevated should be treated in the manner of fruit of the poisonous tree and rolled back.
Stats Watch
Personal Income and Outlays, September 2015: "Inflation is not building based on the Fed's favorite reading, the core PCE price index which inched a lower-than-expected 0.1 percent higher in September with the year-on-year rate steady and flat at only plus 1.3 percent" [Econoday]. "These results will not lift the odds for a December hike at the next FOMC."  And: "The data this month showed relatively weaker income growth (and on the low side of market expectations) – and spending growth slowed (and also was on the low side of expectations)" [Econintersect].
Consumer Sentiment, October 2015: Down [Econoday]. "The current conditions component, at 102.3, and the expectations component, at 82.1, both show gains from September though both also are down from mid-month." And Surveys of Consumers chief economist, Richard Curtin: "The entire October rebound from September was due to gains in confidence among lower income households, while confidence among households with incomes in the top third of the income distribution retreated a bit due to concerns about financial markets" [Econoday].
Chicago PMI, October 2015: Surges over consensus, but volatile: [Econoday]. "Advance indications on the October economy are mixed with a sweep of regional Fed surveys pointing to another month of contraction for the factory sector but other readings, including this one, mixed to upbeat." And: "The Chicago Business Barometer significantly improved and now is in expansion. .Last months contraction seems to have been a flash-in-the-pan" [Econintersect].
Employment Cost Index, Q3 2015: "The employment cost index came in on the hot side as expected, up 0.6 percent in the third quarter vs a record soft 0.2 percent in the second quarter." [Econoday]. "The latest quarter is on the high side and though it follows a very weak prior quarter, policy hawks can definitely cite a tangible upward trend in this series consistent with low levels of unemployment that may be forcing employers to raise wages and benefits to attract employees." 
"Leading Index Review: September 2015 Philly Fed Leading Index Showing Stable Rate of Economic Growth" [Econintersect]. Handy chart of leading indexes by state shows the collapse of the oil patch vividly. And Maine (!) is roaring along!
"Rail Week Ending 24 October 2015: A Worse Week Among Bad Weeks" [Econintersect]. The analysis backs out coal and grain. Intermodal (containers) is up, but carloads are down, outweighing intermodal. Why?
Honey for the Bears from packaging once more (a revision from yesterday). Lots of detail, but this caught my eye: "One reason for the lack of confidence, [Acme Corrugate] President Bob Cohen] said, is that in a very low inflation environment, people defer purchases in the expectation that they will be able to pay less for goods and services in coming months, as prices fall" [Market News]. Cohen: " "Nobody's putting anything on their floor unless they think they can sell it. Nobody's taking inventory unless they think they can move it. You've been buffeted by one bad economic sign after another, and I don't think anybody has confidence."
Honey for the Bears: "The London housing market has formed the world's biggest house price bubble, according to the Swiss bank, UBS" [BBC]. "In its Global Real Estate Bubble Index, UBS says any city scoring more than 1.5 is at risk of a bubble. London had the highest score, at 1.88. Hong Kong came second, with a score of 1.67. Real house prices, after adjusting for inflation, have soared by almost 40% in London since the beginning of 2013, said UBS."
"PayPal suffers temporary breakdown in digital payment service during data center power outage" [Daily News]. "The extent of the disruption for the company's 173 million users worldwide wasn't immediately clear, but PayPal began working again early Friday." Of course, this will never happen with digital currency.
"The technology behind bitcoin lets people who do not know or trust each other build a dependable ledger. This has implications far beyond the cryptocurrency" [The Economist].
The Fed: "The nuanced shift in the wording of the assessment, and the specific mention of the "next" meeting created a powerful incentive to market participants to re-price the risks of a December hike" [Brown Brothers Harriman, Across the Curve].
Today's Fear & Greed Index: 71 (+0); Greed [CNN]. Last week: 58 (Greed). (0 is Extreme Fear; 100 is Extreme Greed)
Imperial Collapse Watch
"Pentagon: 'We're in combat' in Iraq" [CNN]. It's like we never left!
Our Famously Free Press
"We in the media suck because we have rewarded [the] rampant dishonesty and buffoonery [of Republican presidential candidates] with nonstop news coverage. Which, of course, has encouraged more dishonesty and buffoonery" [Catherine Rampell, WaPo]. That's true. But that's not the only reason you suck. I'd single out the Times WMD Iraq coverage — Hi, Judy Miller! [waves] — which was in essence a disinformation campaign orchestrated by the White House Iraq Group, for special mention, but there are many, many other examples. 
Gaia
"A rapid warming of the Gulf of Maine off the eastern United States has made the water too warm for cod, pushing stocks towards collapse despite deep reductions in the number of fish caught, a US study has shown" [Guardian]. "The Gulf of Maine had warmed faster than 99% of the rest of the world's oceans in the past decade, influenced by shifts in the Atlantic Gulf Stream, changes in the Pacific Ocean and a wider trend of climate change, it said." And: "It's just the latest in a series of findings and occurrences — ranging from gigantic snows in Boston last winter, which scientists partly linked with warm seas, to a sudden and "extreme" sea level rise event in 2009-2010 — suggesting that this particular stretch of water is undergoing profound changes" [WaPo].
"Indonesia fires: Widodo visits haze-hit zone as country becomes worst polluter" [Guardian]. "More than 117,000 forest fires have been detected via satellite in Indonesia this year, most of which are believed to have been started deliberately to clear land for farming…. Luhut Pandjaitan – a minister who has accompanied Widodo to South Sumatra – said this week that 'economic considerations' meant the government would not name the corporations suspected of involvement in starting the fires." This story is itself hazy. What's burning? I hear forests, I hear peat. Who's doing the burning? Slash and burn agriculturists? Straws for palm-oil corporations? Hard to tell.
"It is rare for a new animal species to emerge in front of scientists' eyes. But this seems to be happening in eastern North America" [The Economist].  Wolf + coyote + dog. "The mixing of genes that has created the coywolf has been more rapid, pervasive and transformational than many once thought." Wow, evolution happening in real time. Who knew?
Corruption
"When FDA inspectors showed up at a Chinese company that supplies key ingredients to two of the U.S.'s biggest drug companies, a curious thing happened" [Bloomberg]. "After lunch, they walked into a quality control lab on the second floor, where they saw a worker pull what looked like a memory stick from a computer and put it in the pocket of his lab coat. The inspectors asked to see what he'd taken. And then the man turned and ran."
Class Warfare
"Your job is literally 'killing' you" [WaPo] (original study, "Exposure To Harmful Workplace Practices Could Account For Inequality In Life Spans Across Different Demographic Groups"). As I keep pointing out, they don't call it class warfare for nothing.
"Economics predicts that wherever there is a profit, someone will be there to make it. To that, Akerlof and Shiller propose a corollary: Wherever there is an opportunity to profit off people's weaknesses, someone will exploit it" [WaPo]. This is an interview with Akerlof and Shiller, well worth a read. 
News of the Wired
"SXSW's Astounding Ideals of Cowardice" [Medium]. Nice rants, thoroughly justified.
"Danger of Repeat Head Injuries: Brain's Inability to Tap Energy Source" [Ohio State University]. "Second injury not '1+1' but more like '1+10,' researcher says." Listening, NFL?
"Why NASA Needs a Programmer Fluent In 60-Year-Old Languages" [Popular Mechanics]. FORTRAN a perfectly good language, though you won't see any startups using it (which is perhaps a good thing, for spacecraft). The assembly code might be another matter. The program manager laments that "most younger people can't or really don't want to" work with spacecraft and assembly language; just can't get good help these days, I guess. If only there were a method to match the demand for labor to the supply for it!
* * *
Readers, feel free to contact me with (a) links, and even better (b) sources I should curate regularly, and (c) to find out how to send me images of plants. Vegetables are fine! Fungi are deemed to be honorary plants! See the previous Water Cooler (with plant) here. And here's today's plant (Isabel):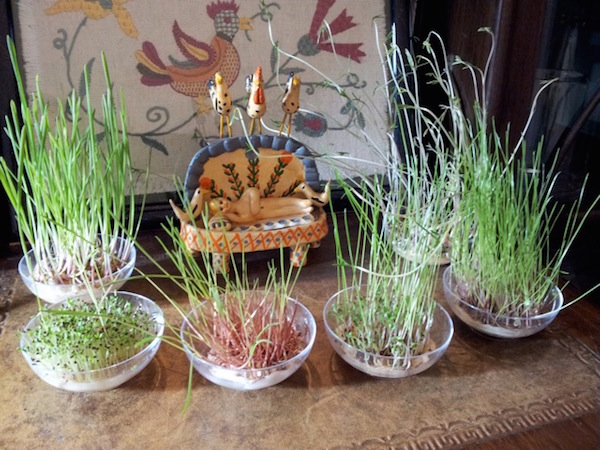 Searas do Menino Jesus, from Portugal. Isabel writes:
In some parts of Portugal seeds of wheat, rye, alpist, etc are "sowed" on December 8 so that they will be ready for Christmas. Some germinate in the dark so that they turn pink, and they are all put in front of the crib.
If you enjoy Water Cooler, please consider tipping and click the hat. Winter is almost here, I need to buy fuel, and I need to keep my server up, too. And thanks so much for the donations during the annual fundraiser. They are much appreciated, both practically, and as signs that you enjoy the work.