By Lambert Strether of Corrente
TPP/TTIP/TiSA
"[W]hile the public and the press are not allowed to see the negotiating text for either of these agreements (and Members of Congress were only granted very limited access after years of demands), more than 500 so-called "trade advisors," nearly 9 out of 10 representing corporate and industry interests, have special access" [Eyes on Trade]. "The European Commission's move to publish its textual proposals proves that USTR's extreme secrecy measures, which it has repeatedly defended, are completely unnecessary."
"TTIP: Jeremy Corbyn, Nigel Farage, Nicola Sturgeon and Natalie Bennett sign appeal to exempt NHS from trade deal" [Independent].
It is feared that an American private healthcare firm which was prevented from buying up part of the NHS would be able to go to the ISDS and claim millions of pounds in compensation from the British government for lost business.
Doing for the Brits what they've done to us!
"TTIP goes beyond the scope of our other trade deals and asks what can be done to improve an already very healthy economic relationship. … [W}e will also look for other areas where just a little fine tuning can mean a big boost for our economies. One such area is making regulations more compatible" [USA Today]. "Just a little fine tuning…."
"Leaked TAFTA/TTIP Chapter Shows EU Breaking Its Promises On The Environment" [TechDirt].vo
One sign of that panic is that the original ambitions to include just about everything are being jettisoned, as it becomes clear that in some sectors — cosmetics, for example — the US and EU regulatory approaches are just too different to reconcile. Another indicator is an important leaked document obtained by the Guardian last week. It's the latest (29 September) draft proposal for the chapter on sustainable development. What emerges from every page of the document, embedded below, is that the European Commission is now so desperate for a deal — any deal — that it has gone back on just about every promise it made (pdf) to protect the environment and ensure that TTIP promoted sustainable development.
2016
Republican Debate (tonight)
"During a tense 30-minute meeting at the Coors Event Center, which was described by three sources present, several lower-polling campaigns lashed out at the RNC. They accused the committee of allotting them less-than-hospitable greenroom spaces while unfairly giving lavish ones to higher-polling candidates, such as Donald Trump and Ben Carson" [Politico]. "Trump was granted a spacious room, complete with plush chairs and a flat-screen TV. Marco Rubio got a theater-type room, packed with leather seats for him and his team of aides. Carly Fiorina's room had a Jacuzzi. … Then there was Chris Christie, whose small space was dominated by a toilet. So was Rand Paul's."
Policy
"Donald Trump says the United States needs a "better deal" from the developer of the Keystone XL oil pipeline before the project is approved" [The Hill]. Boy, that thing really is dead.
Voters
"Hillary Clinton's crazy-good new Iowa poll numbers are crazy, good" [WaPo]. Press climbs on board the bandwagon!

"The campaign is aiming to match President Obama's historic performance among this [young] voters in 2008. Already, in polls in key nominating states, Sanders is outperforming Hillary Rodham Clinton, in some cases by lopsided margins, among young voters" [WaPo]. "The challenge is likely to be even greater for Sanders [than for Obama], whose message seems to tap into anxiety as much as hope. Nonetheless, drawing out these young voters with a vision of a more just country has become a central thrust of Sanders's strategy to win the Democratic nomination."

"The overwhelming majority of Republican voters have repeatedly told pollsters this year that, whatever their choice in any given poll, they haven't made up their minds yet. Most won't think hard about their decision for at least another three months. At this point in 2008, Rudy Giuliani was the polling leader. In 2012, it was Cain" [New Yorker]. And in 2008, there was McCain. In 2012, there was Romney. Who is there today? Bush?
Money
"Those lapses appear set to catch up with the foundation (now formally known as the Bill, Hillary, & Chelsea Clinton Foundation), which has until November 16 to amend more than ten years' worth of state, federal and foreign filings. According to Charles Ortel, a financial whistleblower, it will be difficult if not impossible for the foundation to amend its financial returns without acknowledging accounting fraud and admitting that it generated substantial private gain for directors, insiders and Clinton cronies, all of which would be against the law under an IRS rule called inurement" [100r.org]. Hmm.
The Trail
"Turns out, Donald Trump's not too proud to beg" [Des Moines Register]. "'Iowa, will you get your numbers up, please?' he pleaded to a crowd in Sioux City, where he made his first stop in Iowa since recent polls showed him falling behind retired neurosurgeon Ben Carson. 'I promise you, I will do such a good job'" [Des Moines Register].

"Kasich: 'I've Had It' With Trump, Carson" [Daily Beast].

"Sen. Sherrod Brown endorses Hillary Clinton for president" [Cleveland Plain-Dealer]. "Brown said in a statement: 'From opposing unfair trade deals to fighting for a fair financial system, Hillary Clinton has shown she puts working families first.  She knows as president that her first job will be creating jobs for the middle class.  I am proud to endorse her today because I know she will keep Ohio moving forward.​'" See also "The Endorsement Primary" [FiveThirtyEight].

"A super PAC supporting Clinton's presidential candidacy is [launching] a nearly $1 million [ka-ching] project designed to soften the Democratic front-runner's image and improve her relatability with voters" [WaPo]. "The project's rollout is pegged to Clinton's 68th birthday on Monday, when a Web site will debut with the first two videos." Bizarre. Clinton's been in public life how long? And we don't know her? And since when was "relatability" a word?

Nate Silver on Iowa polls showing Carson pulling ahead of Trump: "I think it's more about Carson. … [H]e looks like he's winning the Huckabee/Santorum vote, and his profile is similar to a lot of past Iowa winners" [FiveThirtyEight]. "the Iowa caucuses are a tricky thing to poll, and you have a lot of high-quality pollsters in the state who have a lot of experience with measuring the electorate in the state. They're finding Carson ahead." Interesting discussion.
The Hill
Leadership
"[Boehner's] successor will face a difficult question: Has the office been permanently shrunken by forces beyond any speaker's control?" [Bloomberg]. Useful explainer of the history of the Speaker's office.

"Sicko Ex-Speaker Dennis Hastert Pleads Guilty, Might Go To Jail For 5 Minutes" [Wonkette]. Not only was Hastert a prime mover behind the drive to impeach Clinton over a *******, he's responsible for the forced pregnancy Hastert Amendment. In more measured language: "Dennis Hastert goes from speaker to felon, but his dark past still a mystery" [Chicago Tribune]. "[Hastert] pleaded guilty to evading currency-reporting requirements, but no further details came out about the underlying wrongdoing that led him to withdraw nearly $1 million in cash from four banks over 2 and 1/2 years." 
Debt Ceiling/Government Shutdown Cliffs
"After sharply criticizing how it came together, Wisconsin Rep. Paul Ryan announced he would support the budget deal Wednesday" [Politico]. Ryan finds his inner RINO.

"Conservatives moved quickly to revolt over a blockbuster budget deal reached among congressional leaders and the White House early Tuesday morning, calling it a 'betrayal' days before US House of Representatives Speaker John Boehner (R-Ohio) is set to leave Congress" [Business Inisder].

"Rand Paul will filibuster debt ceiling bill" [WaPo]. "Since making the decision, Paul has heard from a few other senators who would join him in the slow-down. Sen. Ted Cruz (R-Tex.) is not yet among them."

"A Visual Guide to the Federal Debt Limit" (handy charts) [Wall Street Journal].
"Oversight Committee Chairman Jason Chaffetz (R-Utah) introduced an impeachment resolution [against IRS Commissioner John Koskinen] Tuesday, days after the Justice Department concluded its investigation into IRS targeting of Tea Party groups with no charges filed [The Hill]. Wolf! Wolf!! (??)
Stats Watch
MBA Mortgage Applications, week of October 23, 2015: "After gyrating violently for the last several weeks as new disclosure rules are put in place, mortgage application volume settled down in the October 23 week. Purchase applications slipped 3.0 percent in the week with refinancing applications down 4.0 percent" [Econoday].
International trade in goods, September 2015: "September reversed August's outsized goods trade gap, coming in at $58.6 billion vs $67.2 billion. Exports jumped 3.1 percent following August's 3.2 percent decline with wide gains in consumer goods, autos, industrial supplies and capital goods. Imports fell 2.5 percent following the prior month's 2.2 percent gain" [Econoday].
Ag: "US chocolate maker Hershey and Co saw has trimmed its full-year hopes, citing weak demand in the US and China, after unveiling plummeting earnings" [Agrimoney]. Chocolate?!
The Fed: "Federal Reserve officials are widely expected to announce Wednesday that short-term interest rates will remain near zero, leaving mid-December as the central bank's last chance to raise rates this year" [Wall Street Journal, "The Fed Strives for a Clear Signal on Interest Rates"].
UPDATE The Fed: FOMC statement here [Federal Reserve]. "To support continued progress toward maximum employment and price stability, the Committee today reaffirmed its view that the current 0 to 1/4 percent target range for the federal funds rate remains appropriate. In determining whether it will be appropriate to raise the target range at its next meeting, the Committee will assess progress–both realized and expected–toward its objectives of maximum employment and 2 percent inflation." Free money! And: "[T]hey left interest rates unchanged" [Bloomberg]. Hermés stocking stuffers for everybody!
Today's Fear & Greed Index: 67 (+4); Greed [CNN]. Last week: 50 (Neutral). (0 is Extreme Fear; 100 is Extreme Greed)
Black Injustice Tipping Point
"Deputy who threw South Carolina student from her desk is fired" [Los Angeles Times]. 
"Generally, people are thought to spend 20 percent of their night in slow-wave sleep, and the study's white participants hit this mark. Black participants, however, spent only about 15 percent of the night in slow-wave sleep" [The Atlantic]. Everything is deeply intertwingled… 
Corruption
Profile of muckraking journalist Lincoln Steffens [Zolcalo Public Square]. Well worth a read, both for Steffens' journalistic practice and his views on corruption.
Andrew Cuomo scalps Mets tickets after cracking down on scalpers [International Business Times].
Health Care
"More Trouble in Coal Country: Health Care at Risk for 12,000 Retired Miners and Their Families" [Pro Publica]. Peabody spun its health benefits off into a subsidiary called — hilariously enough — Patriot Coal. You won't believe what happened next! "Patriot filed for bankruptcy two years ago, retiree benefits for thousands of mining families were put at risk. While Peabody eventually agreed to pay for some of those costs, Patriot is now back in financial trouble. This time around, Peabody is quietly seeking to get out of paying for any of its remaining agreed-upon obligations to its retirees." 
"Only about 15 per­cent of un­in­sured Amer­ic­ans—and 17 per­cent of the gen­er­al pub­lic—know when [ObamaCare's] open en­roll­ment be­gins, des­pite health in­sur­ance mar­ket­places kick­ing off the third open sea­son this Sunday, ac­cord­ing to the Oc­to­ber Kais­er Health Track­ing Poll" [National Journal]. Maybe the administration is afraid more people will get health care?
Gaia
"Rising temperatures and humidity due to climate change are likely to increase the number of days with unsafe "heat stress", putting south-east Asia at great risk of significant drops in productivity, a research firm said on Wednesday" [Guardian].
"By the end of this century, areas of the Persian Gulf could be hit by waves of heat and humidity so severe that simply being outside for several hours could threaten human life" [New York Times, "Deadly Heat Is Forecast in Persian Gulf by 2100"] (original study). "The research raises the prospect of 'severe consequences' for the hajj, the annual pilgrimage that draws roughly two million people to Mecca to pray outdoors from dawn to dusk."
"Climate scientists ponder spraying diamond dust in the sky to cool planet" [Nature].
Class Warfare
Class vs. caste on the left in India [N+1]. Worth viewing our own brand of identity politics through this lens.
News of the Wired
Cognitive interviewing as a form of lie detection [Anecdote]. "Morgan found that the use of these mnemonic props – open-ended questions about various sensations and sequences of events – dramatically increased memory recall about what had happened. The subject's stories consequently became more and more complex, and richer in detail. Or at least, they did when people were telling the truth. When it came to the lies, even well-rehearsed ones, the subjects tended to falter and were unable to complete the interview. According to Morgan, this was because when they were prompted to dredge up deeper memories, the liars had nothing to draw on. Instead, they merely repeated what they'd already said, or waited for the interviewer to fill in the gaps themselves. He equates the memory of an honest storyteller with a high-resolution image, and that of a liar with a child's rough sketch."
The F-35 has a home page [Lockheed-Martin]. Pricey!
* * *
Readers, feel free to contact me with (a) links, and even better (b) sources I should curate regularly, and (c) to find out how to send me images of plants. Vegetables are fine! Fungi are deemed to be honorary plants! See the previous Water Cooler (with plant) here. And here's today's plant (Isabel, who's been so helpful to NC on Portugal, once again):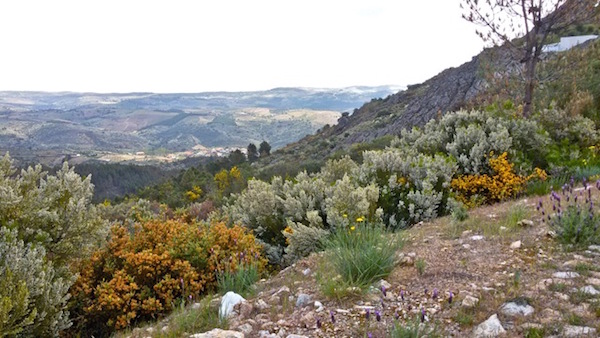 Lavandula stoechas on the foreground and on the right. The rest…?
If you enjoy Water Cooler, please consider tipping and click the hat. Winter is almost here, I need to buy fuel, and I need to keep my server up, too. And thanks so much for the donations during the annual fundraiser. They are much appreciated, both practically, and as signs that you enjoy the work.