By Lambert Strether of Corrente
TPP/TTIP/TiSA
Plenty of other TPP material today already here and here (which also explains why today's Water Cooler is a bit light on links)."
Editorial: "President Obama Needs to Make Case for Pacific Trade Deal" [New York Times]. Ideas: Release the full text pronto, release all the "parallel agreements," and stop fighting the open records requests for communications between Froman — a former Citigroup executive — and financial services companies with vested interests in the deal's structure." I mean, clearly Froman is clean, so what could the issue possibly be? I mean, come on. You're not going to make me get out my magic markers for another one of Obama's greatest speeches ever, are you? Show us something.
"Trans-Pacific Partnership: Should the key losers – China and Europe – join forces?" [Bruegel]. We have always been at war with Eurasia and Eastasia…
"In the meantime, it will be essential to review the TPP when it becomes public and, while the agreement itself cannot be changed, Congress can insist on side deals" [Jared Bernstein, On the Economy]. How about some strange bedfellows draft a side deal gutting ISDS?
2016
Policy
"Al Gore at the Washington Ideas Forum" [James Fallows, The Atlantic]. Really a teaser for an upcoming Fallows article, but with an interesting factoid from Gore.

"Democratic presidential front-runner Hillary Clinton laid out a broad vision Monday to reduce gun violence in the US in the wake of last week's mass shooting at a community college in Oregon" [Business Insider]. "Though Sanders and Clinton agree on many gun-control proposals, such as closing the so-called gun-show loophole on background checks, Sanders' somewhat checkered history on the issue allows Clinton to stake out a position to his left."
Money
"Jeb is cooked: Why megadonors' millions (probably) aren't going to save Bush's disastrous campaign" [Salon]. Granted, Salon is an outpost of the Democratic nomenklatura, but you can't beat something with nothing, and right now Bush personifies nothing. (He's stupid, too; Maggie Thatcher, not a US citizen, on our ten dollar bill? WTF?)

"Mr. Lessig's $1 million haul, raised from 10,000 donations, was largely pledged over the summer in the lead-up to his campaign." [Wall Street Journal, "Tech Icon Lawrence Lessig Raises $1 Million for Presidential Bid"]
The Voters
"62% of Americans think the country is off on the wrong track, continuing a record 11-year streak of polls finding most people think the country is not moving in the right direction. The new poll also found that 80% of Americans were either angry about the political system, anxious about the economy or both. More than half of Americans say they are upset enough about something that they would carry a protest sign for a day" [Wall Street Journal, "Voters' Mood: Surly Side Up, With a Side of Optimism, Poll Shows"]. "Here's the ray of hope: More than half of Americans — 53% — say they are confident and optimistic about their own financial situation. But that upbeat assessment is unevenly spread…."
The Trail
"In a nationally televised New Hampshire town hall event broadcast on NBC's 'Today' show, Clinton accused Republicans of exploiting the deaths of four Americans in the September 11, 2012 Benghazi terrorist attack to score political points against her; crowed about her national and early-voting state polling leads; and made impassioned liberal arguments for gun control and income equality" [The Hill]. "Crowed"?

Sanders in Portland, ME: "Sanders has been known as a democratic socialist for decades. This didn't matter much to Kiley or York, or to most other Sanders supporters I met during the next few weeks; mainly, they were impressed that he hadn't shed the term" [The New Yorker]. "York thought that, because of Sanders and his 'social-media-driven fans,' socialism was 'getting a bit of a P.R. makeover.'"
Stats Watch
International Trade, August 2015: "Exports were down nearly across the board" [Econoday]. "A surge in imports of new iPhones helped feed what was an unusually wide trade gap in August of $48.3 billion, well up from July's revised $41.8 billion." But: "Import goods growth has positive implications historically to the economy – and the seasonally adjusted goods and services imports were reported up month-over-month" [Econintersect].
Gallup US Economic Confidence Indicator, September 2015: "Unlike other confidence readings that are climbing, Gallup's reading is holding at lows" [Econoday]. "For current conditions, 24 percent of the sample rates the economy as excellent or good vs 31 percent rating it as poor. For expectations, 38 percent say the economy is getting better vs 58 percent who say it's getting worse."
ZPOP index: "The ZPOP ratio is an estimate of the share of the civilian population aged 16 years and over whose labor market status is what they say they currently want (assuming that people who work full-time want to do so). A rising ZPOP ratio is consistent with a strengthening labor market" [Macroblog]. "Unlike the headline U-3 unemployment rate, which remained unchanged from August to September, the seasonally adjusted ZPOP ratio improved slightly (from 92.0 to 92.1 percent). Relative to an estimated 230,000 increase in the population over the month, the improvement in the ZPOP ratio was the result of an increase in the number of people who said they do not currently want a job and a decline in involuntary part-time employment in excess of the decline in total employment."
"Has Liquidity Risk in the Treasury and Equity Markets Increased?" [Liberty Street]. "In this post, we argue that recent changes in liquidity conditions may best be described in terms of heightened liquidity risk, as opposed to general declines in liquidity levels."
"The latest Blogger Sentiment Poll released 05 October 2015 by Ticker Sense is slightly less bullish than last month" [Econintersect]. Not sure whether this will help with that ten-bagger or not…
Capex revision: " New orders for non-military capital goods outside of aviation fell 0.8 percent in August, the Commerce Department said on Friday" [Mosler Economics]. "The government had previously reported that this gauge, which is a leading indicator of business investment, had fallen 0.2 percent during the month."
"These Activists Are Making Life Miserable for SEC, Wall Street" [Bloomberg]. Good stuff, but the list has a glaring omission.
Fear & Greed Index, October 5, 2015: 30 (-1); Fear [CNN]. Last week: 12 (Extreme Fear). (0 is Extreme Fear; 100 is Extreme Greed).
Gunz
The shooter, his mom, and their guns [New York Times]. No, not the Lanza family and Sandy Hook.
Dear Old Blighty
The Sun's "claims Jeremy Corbyn funded 'IRA bomber' turn out to be 30 years old – and inaccurate" [Independent]. Wow. They just make sh*t up, don't they?
Water
"Ground hasn't yet been broken on the [ $3.4 billion San Antonio pipeline project] 142-mile project, known as the Vista Ridge pipeline, but it is under attack both at its source, from rural and environmental interests anxious about drawing down the water table, and at its destination, from critics who say the city and its water utility haven't been sufficiently transparent about its costs" [The Statesman].
Gaia
"A federal court Monday rejected central pieces of the Environmental Protection Agency's (EPA) regulations to reduce the spread of invasive species through ship ballast water" [The Hill].
"Last week, Representative Lamar Smith (R–TX), the chairman of the science panel of the House of Representatives, announced plans to investigate a nonprofit research group led by climate scientist Jagadish Shukla of George Mason University in Fairfax, Virginia. He is the lead signer of a letter to White House officials that urges the use of an antiracketeering law to crack down on energy firms that have funded efforts to raise doubts about climate science" [Science].
"Darwin's Classic Monster: The Parasitoid Wasp" [Wired]. Inspired by Michael Hudson.
Imperial Collapse Watch
The Syrian tar baby [Salon]. This chart is an absolute must-read. Either a complete clusterf*ck, or Mission Accomplished (i.e., the Middle East set on fire for a generation, ka-ching).
Class Warfare
"How income affects life expectancy" [World Economic Forum]. With handy chart: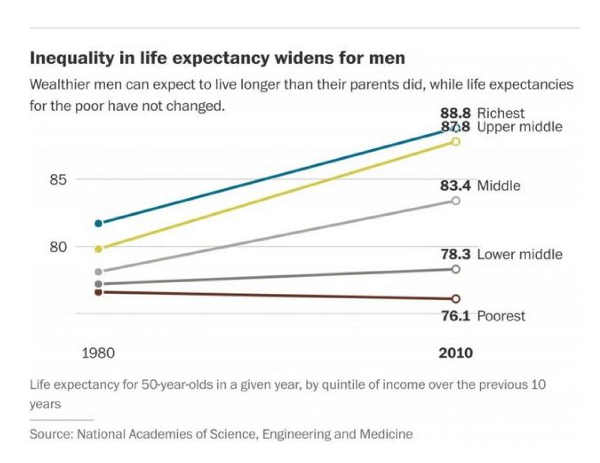 They don't call it class warfare for nothing.
"The great recovery in U.S. manufacturing jobs — a surprising five-year surge that blossomed in the aftermath of the financial crisis and added almost 900,000 people to payrolls across the country — appears to be dead" [Bloomberg]. "What's more, the industrial slump dims hope for the manufacturing renaissance economists and President Barack Obama touted earlier this decade. Obama set a goal in 2010 to double exports in five years; shipments actually rose a little more than half that amount. And hiring hasn't come close to replacing the 2.3 million workers lost in the 2008-2009 recession. There are currently 12.3 million factory employees in the U.S." Wow, what a shocker.
News of the Wired
"A Brief History of the Corporation: 1600 to 2100" [Ribbonfarm]. Still useful!
"A Different Approach To VC" [AVC]. "Fhe biggest thing that is wrong with the startup sector right now is entrepreneurs and their teams are too focused on valuation and not enough focused on business fundamentals." Froth works! Until it doesn't.
"The Blockchain Might Be The Next Disruptive Technology" [TechCrunch]. When I hear the word "disruption," I reach for my Browning. And prosecution futures.
"Closing a door" [The Geekess]. "Given the choice, I would never send another patch, bug report, or suggestion to a Linux kernel mailing list again. I am no longer a part of the Linux kernel community." Another example of business strangling industry.
"When Sex Doesn't Sell: Using Sexualized Images of Women Reduces Support for Ethical Campaigns" [PLOS One].
"Sprout 3D PC & Scanner, New 'Tour Truck' Draw Throngs at World Maker Faire" [Make]. The Sprout really does look like a cool machine.
* * *
Readers, feel free to contact me with (a) links, and even better (b) sources I should curate regularly, and (c) to find out how to send me images of plants. Vegetables are fine! Fungi are deemed to be honorary plants! See the previous Water Cooler (with plant) here. And here's today's plant (Steve):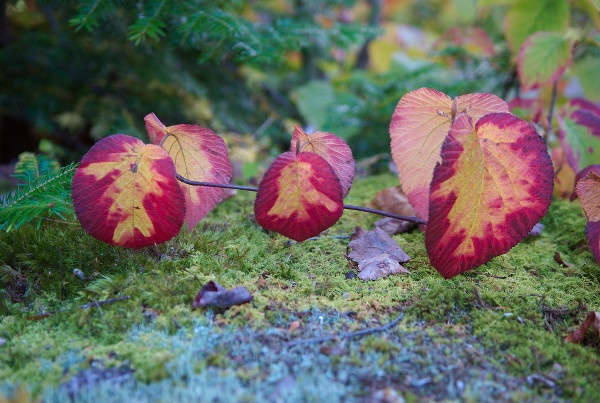 We don't have any fall color up here, yet. Seems late, but perhaps I'm just ahead of myself.
If you enjoy Water Cooler, please consider tipping and click the hat. Winter is coming, I need to fix my laptop, and I need to keep my server up, too.