By Lambert Strether of Corrente
TPP/TTIP/TiSA
I'll have a TPP post — the bastards passed it — later today. For now:
In final hours, #TPP negotiations interrupted by protesters pic.twitter.com/yU6jj2kpn4

— Matthew Schewel (@mschewel) October 4, 2015
2016
The Voters
"Since March, the share of all registered voters who say it is more important for a presidential candidate to have "new ideas and a different approach" has surged – with virtually all of the increase coming among Republican and Republican-leaning voters. Today, by more than two-to-one (65% to 29%), Republican and Republican-leaning registered voters say it is more important that a candidate have new ideas than "experience and a proven record." Just five months ago, GOP voters valued experience and a proven record over new ideas, 57% to 36%" [Pew].
The Trail
"Video: SNL Turns Into A Hillary Clinton Campaign Advertisement" [The Gothamist]. Clinton said to have stolen the show from Miley Cyrus….

"Gov. John Hickenlooper on Thursday became the latest Hillary Clinton supporter to express doubt about her candidacy for president, telling a Denver audience that the 2016 election is "kind of grim, to be blunt'" [Denver Post].

"A Joe Biden presidential campaign would help Bernie Sanders by hurting Hillary Clinton, according to Democratic Party insiders and other experts" [The Hill]. Those insiders who have done so well for the party over the years.

"Sanders's camp has to hope that its surprisingly robust fund-raising can be converted into greater name recognition nationwide" [New York Magazine]. Boston is a college town, so one would expect his Boston speech to skew young. But I didn't like the description of the crowd much… 

Carson  on brain surgery: "I finally found a little spot, and I could open up a very tiny hole under the microscope into the brain stem" [Time]. 

"When asked about Thursday's shooting at an Oregon community college, [Bush] argued for caution against more gun control as an instant reaction, saying that "stuff happens, there's always a crisis" you have to respond to when in leadership" [NPR].

" Unlike most other 2016 Republican hopefuls, [Kasich is] not calling for photo ID at the polls" [National Journal]. Sane!
The Hill
Chaffetz announces bid for speaker [The Hill]. "Chaffetz said as Speaker he would also restore regular order and engage in 'meaningful' process reform to maximize member input and participation." Hmm. I wonder how restoring the regular order will jibe with an apppropriations process the avoids a shutdown.
Stats Watch
Labor Market Conditions Index, September 2015: "Weakness in the labor market conditions index should be no surprise given weakness in last week's employment report. The index came in at zero, ending four months of emerging strength" [Econoday]. "[O]ffers ammunition to the doves as evidence of labor market weakness."
PMI Services Index, September 2015: "Growth in the service sector is slowing but remains very solid. Growth in new orders and production both slowed slightly but growth in employment, in contrast to last week's employment report, is still described as 'robust'" [Econoday]. "This, unlike manufacturing reports, is a domestic-based report and continues to point to fundamental resiliency for the economy."
ISM Non-Mfg Index, September 2015: "Understandable slowing in new orders and business activity" [Econoday]. "One component, however, that did not slow and which, had it been released last week, would have sent the wrong signal for the employment report is a 2.3 point jump in the employment index to 58.3. This, together with July's 59.6, are some of the strongest readings in the 18-year history of this series and a puzzle given softness in the government's payroll data. This report, together with the services PMI released earlier this morning, underscore the fundamental domestic-based strength of the U.S. economy." And: "There are two sub-indexes in the NMI which have good correlations to the economy – the Business Activity Index and the New Orders Index – both have good track records in spotting an incipient recession – both remaining in territories associated with expansion" [Econintersect].
Gallup US Consumer Spending Measure, September 2015: "Americans' daily self-reports of spending averaged $88 in September, essentially the same as the $89 found in August" [Econoday]. 
"Europe's economic recovery is showing dangerous signs of falling flat after another disappointing set of data from the single currency" [Telegraph]. " The weak numbers all but guarantee the European Central Bank will be pushed into further stimulus measures, ramping up its €1 trillion quantitative easing programme." Same self-licking ice cream cone as here.
"Singapore is in danger of entering recession in the third quarter, in what could be a sign of a wider, deeper slow down all over Asia" [Business Insider]. "The country usually starts to slow down considerably one to two quarters earlier than its neighbors."
"The shake-up of America's strengths" [Economist]. "The United States now accounts for only 23% of world GDP and 12% of world merchandise trade. But America dominates the brainiest and most complex parts of the global economy." Rather, global elites based in the United States dominates "the brainiest part" — rather like T. Gondii.
More employment graphs [Calculated Risk].
"Hedge funds make positive shift in ag bets, led by sugar" [Agrimoney].
"Annually, America's toll agencies take in $13 billion in revenue and the New York tri-state area accounts for nearly a third of that" (with map) [Econintersect]. 
"This past Saturday, Adam Posen, the President of a powerful think tank, the Peterson Institute for International Economics, delivered a speech at a conference sponsored by the Federal Reserve Bank of Boston, calling the U.S. Financial Stability Oversight Council (FSOC) 'a mess.' That speech has gone missing from online access" [Wall Street on Parade]. Gee, that's odd.
Fear & Greed Index, October 5, 2015: 31 (-11); Fear [CNN]. Last week: 12 (Extreme Fear). (0 is Extreme Fear; 100 is Extreme Greed).
Health Care
"Hospital Care Unaffected By Quality Payments, GAO Finds" [KHN]. Whoops. Another cornerstore of market-based approaches to health care provisioning crumbles.
Big Brother is Watching You Watch
"The United States Mission to the European Union has responded to the opinion by the Court of Justice of the European Union's Advocate General Yves Bot that the current Safe Harbour scheme may be illegal because of NSA spying. It claims that the US ", including ordinary European citizens" [Ars Technica]. (Here is a history of the Safe Harbour provision.) "Does not and has not engaged in indiscriminate surveillance of anyone." BWA-HA-HA-HA-HA-HA!!!!!!
"British 'Karma Police' program carries out mass surveillance of the web" [The Verge]. "[T]he GCHQ program pulls web data from intercontinental data cables landing at Cornwall, giving it ongoing access to as much as a quarter of global web traffic since 2009."
"Smartwatch sensors can be used to eavesdrop on the keys you're typing" [Sophos]. Via motion tracking — just of the arm on which the watch is worn. But still. Maybe they'll triangulate the clicking sound to track the keystrokes from the other hand or something… 
Police State
Stingray Non-Disclosure Agreements with police departments: "'These NDAs are the keystone in this very corrosive regime of secrecy that both interferes with the public's ability to know what their local police departments are doing, but also interferes with defendants' due process rights in individual cases,' said Nathan Wessler, an attorney with the ACLU's Speech, Privacy & Technology Project" [Vice].
"Prosecutors who bend or even break the rules to win a conviction almost never face any punishment. But even given lax controls, the blatant and systemic misconduct in the Orange County district attorney's office in Southern California stands out. In a scheme that may go back as far as 30 years, prosecutors and the county sheriff's department have elicited illegal jailhouse confessions, failed to turn over evidence that is favorable to defendants and lied repeatedly in court about what they did" [New York Times, "Dishonest Prosecutors, Lots of Them"]. "These unconstitutional abuses are all the more troubling because Orange County is not some corrupt backwater with one rogue prosecutor."
Black Injustice Tipping Point
"Dunkin' Donuts employee writes '#blacklivesmatter' on Providence police officer's cup" [Boston Globe]. So the cops' union holds an emergency meeting and Dunkin' Donuts apologizes. Because you know how cops are with their donuts! (Remember when they kept Dunkin' Donuts open in Central Square, Cambridge, when the whole city was shut down after the Boston Marathon Bombing?) Good thing there weren't any employees with donut decoration skills there; they could have written #blacklivesmatter in frosting, right on top of a Boston Creme!
"Voter ID and driver's license office closures black-out Alabama's Black Belt" [AL.com]. With a hat tip to the Roberts Court for gutting the Voting Rights Act, and a nod of acknowledgement to the Democrats who let it all happen.
"Ferguson activist talks civil rights in America since Michael Brown's death" [Daily Dot]. "I couldn't believe something like that could happen… in America."
"Florida Teen Also Arrested For Science Experiment But Not Invited to the White House" [Complex].
Class Warfare
"Volkswagen didn't make a faulty car: they programmed it to cheat intelligently. The difference isn't semantics, it's game-theoretical (and it borders on applied demonology)" [Institute for Ethics of Emerging Technologies]. "But that was before. Things now have software in them, and software encodes game-theoretical strategies as well as it encodes any other form of applied mathematics, and the temptation to teach products to lie strategically will be as impossible to resist for companies in the near future as it has been to VW, steep as their punishment seems to be. As it has always happened (and always will) in the area of financial fraud, they'll just find ways to do it better." This is under Class Warfare because ask yourself: Who owns the software?
"My theory in this essay was that, since all prize programs slowly converge on the same people, what the prize-givers are obviously trying to establish is not the merit of the prize-recipient but their own credentials, their own place in the community of right-thinking people. …. It would be so much easier, I thought, if they just gave the prizes directly to one another [The Baffler (DG)]. "Of course they do this too. … And in 2012 [the Clinton Global Citizen Award for Leadership in Philanthropy] went to billionaire Carlos Slim, who was then the richest man in the world.' You couldn't make this sh*t up.
Trickle-down economics in the medieval era [Irina Metzler]. Fascinating. Makes our economists today sound a lot like the Scholastics.
News of the Wired
Jack Dorsey becomes Twitter CEO [New York Times]. "Born in St. Louis, Mr. Dorsey has often said he grew up enamored with the niceties of densely urban areas — mass transit, maps and the nature of dispatch and communication." Of course, after Ferguson, St. Louis has been in the news for other reasons…..
"Why Cats were hated in Medieval Europe" [Medievalists.net]. N-o-o-o-o-o-o-o-o-o!!!
"[L]ate-model cars are vulnerable to cyberattacks that can range from the annoying – say, an uncontrollably blasting horn – to the potentially lethal: slamming on a Prius's brakes at high speeds, killing power steering with commands sent from a laptop, spoofing GPS, and tinkering with speedometer and odometer displays" [Sophos (GF)]. And now researchers have discovered that the same can be done with police cars.
* * *
Readers, feel free to contact me with (a) links, and even better (b) sources I should curate regularly, and (c) to find out how to send me images of plants. Vegetables are fine! Fungi are deemed to be honorary plants! See the previous Water Cooler (with plant) here. And here's today's plant (Pat):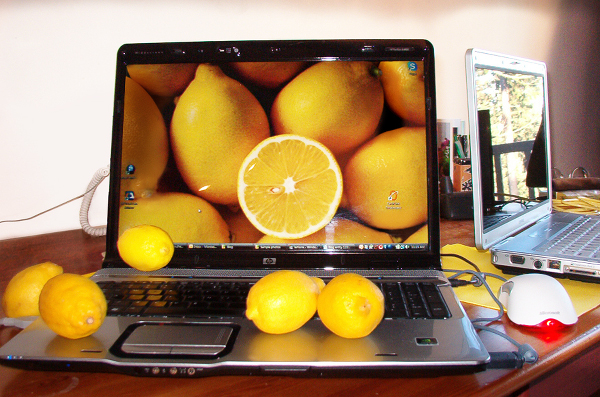 Make lemonade!
If you enjoy Water Cooler, please consider tipping and click the hat. Winter is coming, I need to fix my laptop, and I need to keep my server up, too.