By Lambert Strether of Corrente
TPP/TTIP/TiSA
UPDATE "TPP Treaty: Intellectual Property Rights Chapter, Consolidated Text (October 5, 2015)" (PDF) [Wikileaks (Ira)].
Australia: "Under these circumstances, signing up to the TPP is a bit like buying a used car over the phone with no detail as to the state of the vehicle or the clicks on the odometer, but with glowing assurances from the dealer that 'she's a beauty'" [Sidney Morning Herald].
Australia: "Trade Minister Andrew Robb has acquiesced to United States demands to accept investor-state dispute settlement" [The Age]. "For public health advocates, the decision of TPP negotiators to allow countries to "carve out" tobacco from the investor-state dispute settlement mechanism will therefore be a welcome one. It remains unclear whether any of the other "carve-outs" proposed by Australia (for the Pharmaceutical Benefits Scheme, Medicare Benefits Scheme, Therapeutic Goods Administration and the Office of the Gene Technology Regulator) remain in the final text. It seems unlikely, given that they are not mentioned in Robb's press release announcing the deal. What is certain is that all other health and environmental policies are not explicitly exempted from the settlement mechanism."
Australia: "We have been told that 'TPP will not require any changes to Australia's patent system and copyright regime'" [Lowy Institute]. However, "before a parliamentary committee the Department of Foreign Affairs and Trade said it was not aware of any increase in our IP obligations in the Korean Free Trade Agreement, a position they later had to change."
Europe: "Over 50,000 demonstrators are expected to gather in front of Berlin's central train station on 10 October to protest the EU's planned free trade agreements with the United States and Canada, TTIP and CETA. Special public transit lines and hundreds of buses are planned to meet the extra demand" [Euractiv].
Malaysia: "SUMMARY OF THE TRANS-PACIFIC PARTNERSHIP AGREEMENT" (PDF) [Ministry of International Trade and Industry]. This English text appears to be lifted directly from the USTR press release, at least section 9, "Investment."
2016
Policy
Utah Republican Jason Chaffetz admitted Thursday that there was no indication that Planned Parenthood had misused its federal funding [HuffPo]. Plenty of gold, but no fleece, right, Jasie-boy?

"In Praise of Hillary Clinton's Shameless Pandering" [David Dayen, Fiscal Times]. "But the bigger issue is this: What's wrong with pandering? Our system of government, as it has evolved, offers precious few opportunities for ordinary people to get into the national conversation. Big Money has a tight grip on governance through insistent lobbying, and for the most part they fund national elections."

Sure. I mean, I'd prefer that Clinton pander to the left rather than, as so often, to the right (or to wander off into triangulated trivialities like Clinton I's school uniforms). The issue will be (a) the wiggle room in the panders, and (b) how to hold Clinton to her words. Will the Democratic regulars, even shorn of the Blue Dogs, be in sufficient fear of their base to accomplish that?

"Why Clinton's TPP opposition unnerves me" [Ezra Klein, Vox]. "Of late, Clinton is again looking like the kind of candidate who puts polls in front of policy." Damn! Reach me those pearls!
The Trail
O'Malley hoping for a breakout in Tuesday's debate, in truly ridiculous beat sweetener from [CNN]. "And yet, despite his record and campaign promises, O'Malley has been drowned out by Clinton's establishment credibility, Sanders' appeal to the party's most hardcore and intrigue around whether Vice President Joe Biden will enter the race."

"Though the New York real estate developer still leads the Republican field in national polls, Mr. Trump's ability to command voter and news media attention simply by being his outlandish, bombastic self is starting to wane. The decline in attention for Mr. Trump seems particularly pronounced in the conservative news media that carry influence over many Republican primary voters" [New York Times]. So our famously free press has decided to deprive Trump of oxygen?
The Hill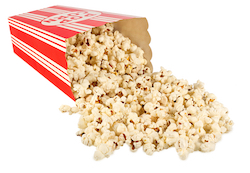 Pass the popcorn.
[12:45PM EDT] "The pressure is on Rep. Paul Ryan, the GOP vice presidential nominee in 2012, to run for House speaker in the chaotic aftermath of Majority Leader Kevin McCarthy's astonishing decision to abandon his campaign for the post" [AP]. Oh, so that's who ran with the Mittster in 2012. I've been trying to remember.
[11:36 AM EDT] "Rep. Paul Ryan (R-WI) told NBC News through a spokesperson Friday that despite Republicans calling for him to enter the race for Speaker of the House, he's still not interested" [Talking Points Memo].
* * *
The mysterious letter: "A North Carolina congressman threw confusion over House Majority Leader Kevin McCarthy's sudden departure from the speaker's race with a letter he later insisted had nothing to do with McCarthy at all" [McClatchy]. "Jones, who has had troubled relations with House GOP leaders, warned in his letter that House members with "skeletons in their closet" should stay away from leadership races." And here, The Hill does a hilarious house organ dance around the salient point.
The mysterious letter: "It Turns Out We Weren't Kidding About Kevin McCarthy's Sex Scandal. Huh!" [Wonkette]. "And we were like, it's a SCIENCE FACT that every Republican speaker or almost-speaker of the House has had naughty sexxytime skeletons dirty dancing in his closet." In fact, they're right. That was one of the more entertaining aspects of the Clinton impeachment saga.
McCarthy's gaffe: "'Everybody thought Hillary Clinton was unbeatable, right?' McCarthy told Fox News Channel's Sean Hannity, who had challenged him to state a promise that Republicans had delivered on. 'But we put together a Benghazi special committee, a select committee. What are her numbers today? Her numbers are dropping'" [WaPo]. This is, of course, a "Kinsley gaffe." Kinsley: "A gaffe is when a politician tells the truth – some obvious truth he isn't supposed to say."
Post editorial board clears throat, weighs in: "After McCarthy, the GOP must sideline the Freedom Caucus" [WaPo]. "Everyone on this list may deserve blame, but at this point we hope members of Congress will shift from pointing fingers to thinking seriously about the good of the country and the dangers it faces." Harrumph.
Meanwhile, we have a debt ceiling fight and a shutdown fight coming up [USA Today]. 
Idea: The Speaker of the House is a Constitutional office, and whoever holds the office doesn't even have to be elected [New York Times]. So I'm throwing the floor open to nominations for an "outsider." Not Maggie Thatcher; she's dead (we think).
Stats Watch
Import and Export Prices, September 2015: "A bounce back for petroleum prices helped to limit import-price contraction in September, coming in at only minus 0.1 percent. But contraction in export prices, where agriculture and not petroleum is the wild card, was very heavy, at minus 0.7 percent in the month" [Econoday].
"A striking detail on the import side is slightly deepening year-on-year contraction in various core readings, still in the low to mid single digits with non-petroleum down 3.3 percent. This is the largest decline since October 2009 and points to fundamental price weakness for imports, in part a function of the strong currency which is giving U.S. buyers more for their dollars." But: "There is only marginal correlation between economic activity, recessions and export / import prices. Prices can be rising or falling going into a recession or entering a period of expansion" [Econintersect].
Wholesale Trade, August 2015: "Wholesale inventories look to be pulling down on third-quarter GDP, up only 0.1 percent in August following a downwardly revised 0.3 percent decline in July" [Econoday]. "The stock-to-sales ratio rose to 1.31 in September from July's 1.30." And, based on three-month rolling averages: " August 2015 Wholesale Sales Remain In Contraction" [Econintersect].
"As suspected, the drop in gas prices was pretty much a net 0 for GDP" [Mosler Economics]. Consumers spent on other stuff.
In China, manufacturing job postings are crashing [Business Insider]. A clever proxy for the real economy, as opposed to the government's stats.
VW: "[S]tate police and prosecutors raided Volkswagen facilities and some employees' homes in Wolfsburg, Germany, where the carmaker is based, taking documents and electronic media" [Bloomberg]. Oh, and 400,000 cars to refit, which will take years (why?).
VW: "Federal and California regulators have begun an investigation into a second computer program in Volkswagen's diesel cars that also affects the operation of the cars' emission controls" [New York Times]. Shouldn't we just assume all software is gamed?
VW: "Mercedes-Benz, Honda, Mazda and Mitsubishi have joined the growing list of manufacturers whose diesel cars are known to emit significantly more pollution on the road than in regulatory tests" [Guardian]. Just because all the other kids are doing it doesn't make it right.
The Fed: "The minutes said policymakers didn't expect to reach their 2 percent inflation goal before the end of 2018" [CNBC].
The Fed: "The [minutes] show [Fed] officials were generally upbeat about the the health of the U.S. recovery, which has boasted declining unemployment rate and steady economic growth" [WaPo].
The Fed: "[F]or strong global growth, we would seem to need another credit boom somewhere. But where might that happen? The obvious candidate for another such boom would be the US. If so, weak global demand is likely to keep US interest rates very low. [Martin Wolf, FT, "Reason for low rates is real, monetary and financial"].
Honey for the bears: "[T]he dangers facing the global economy are more severe than at any time since the Lehman Brothers bankruptcy in 2008" [Larry Summers, WaPo]. "Policymakers badly underestimate the risks of both a return to recession in the West and of a period where global growth is unacceptably slow, a global growth recession. If a recession were to occur, monetary policymakers would lack the tools to respond. There is essentially no room left for easing in the industrial world."
Honey for the bears: "'This is a pretty unforgiving environment,' and 'not a type of economy in which one can make mistakes,' Bank of England Governor Mark Carney said Thursday at annual meetings of the International Monetary Fund and World Bank in Lima. 'Everybody needs to recognize there isn't going to be a big surge of demand from abroad'" [Bloomberg].
Fear & Greed Index, October 9, 2015: 44 (-3); Fear [CNN]. Last week: 20 (Extreme Fear). (0 is Extreme Fear; 100 is Extreme Greed).
Dear Old Blighty
"Salami-slicing the state won't be enough to reboot UK Plc" [Telegraph]. Tory triumphalism seems pretty intense, given the voter (as opposed to seat) margin in the last election. Speculating freely: A Scotland exit and resulting Tory dominance is "priced in" already. UK readers?
Our Famously Free Press
"This story was generated by Automated Insights" [The Verge]. AP's earnings stories. Then, they came for political reporting… 
Rumor: McClatchy to close DC and foreign bureaus [@DionNissenbaum]. For those who came in late, McClatchy, then Knight-Ridder, was the only news-gathering organization to make the right call on Bush's Iraq invasion and the disinformation campaign that preceded it. So this is their reward, while the Washington Post and the New York Times — Hi, Judy Miller! [waves] — carry on. Disgusting.
Mother Jones wins lawsuit against major Republican donor, squillionaire Frank VanderSloot [Mother Jones].
Imperial Collapse Watch
"The Landscape of Dreams" [The Archdruid Report].
ll this poses an immense embarrassment to the United States and its allies, which have loudly and repeatedly proclaimed the Islamic State the worst threat to world peace since the end of the Third Reich but somehow, despite a seemingly overwhelming preponderance of military force, haven't been able to do much of anything about it. Though it's hard to say for sure, given the fog of conflicting propaganda, it certainly looks as though the Russians have done considerably more damage to the Islamic State in a week than the US and its allies have accomplished in thirteen months of bombing. If that's the case, some extremely awkward questions are going to be asked. Is the US military so badly led, so heavily burdened with overpriced weapons systems that don't happen to work, or both, that it's lost the ability to inflict serious harm on an opponent? Or—let's murmur this one quietly—does the United States have some reason not to want to inflict serious harm on the Islamic State?…

What troubles me most about all this is what it says about the potential for really serious disruptions here in the US in the near future. I'm sure my readers can think of other regimes that reached the stage where moving imaginary armies across a landscape of dreams took precedence over grappling with awkward facts, and once that happened, none of those regimes were long for this world. The current US political system is so deeply entrenched in its own fantasies that a complete breakdown of that system, and its replacement by something entirely different—not necessarily better, mind you, but different—is a possibility that has to be kept in mind even in the near term.
Guillotine Watch
"Driven by a lust for power, greed, and a desire to improve their own financial position and reputation at the expense of investors and decency, a cabal of Pacific Investment Management Company LLC ("PIMCO") managing directors plotted to drive founder Bill Gross out of PIMCO in order to take, without compensation, Gross's percentage ownership in the profitability of PIMCO. Their improper, dishonest, and unethical behavior must now be exposed" [Bloomberg]. You know… I think I'm going to just leave this here.
Class Warfare
"If a proposal for a massive expansion of charter schools in Los Angeles moves forward, the casualties probably would include thousands of teachers who currently work in the city's traditional public schools" [Los Angeles Times]. Spurred by squillionaire Eli Broad, it's the "Great Public [snort] Schools" program. Ka-ching.
"Democratic Governor Dannel Malloy's administration has dropped a stunningly anti-union, anti-faculty, anti-Connecticut State University proposal on the table as it begins its contract negotiations with the CSU Chapter of the American Association of University Professors (AAUP), the union that represents faculty and a variety of education professionals at the four universities of CSU" [Jonathan Pelto].
This development comes on top of the news that Malloy's political appointees on the University of Connecticut's Board of Trustees have authorized a contract with an extremely controversial, high profile, anti-union, Governor Chris Christie affiliated New Jersey law firm to lead the negotiations against the UConn Chapter of the AAUP. That contract could cost taxpayers and students as much as $500,000 or more.
What's "stunning" about a Democrat hating unions?
News of the Wired
"Gene patents probably dead worldwide following Australian court decision" [Ars Technica]. Information stored in DNA is a product of nature, hence not patentable.
"Epigenetic 'tags' linked to homosexuality in men" [Nature]. "Linked to" is vague, and no doubt the story is more studiously qualified than interpretations of it will be. Still, from the 30,000 foot level, searching for "factors that could mediate a link between environment and genes" is an important research area. Especially for Rawlsians.
"Keyboard Smörgåsbord" [Eli Schiff]. For UI/UX and keyboard geeks. TLDR: Apple's ideological commitment to design minimalism makes their screen keyboards hard to use.
"A Japanese mathematician claims to have solved one of the most important problems in his field. The trouble is, hardly anyone can work out whether he's right" [Nature]. A proof in four papers, each 500 pages long.
* * *
Readers, feel free to contact me with (a) links, and even better (b) sources I should curate regularly, and (c) to find out how to send me images of plants. Vegetables are fine! Fungi are deemed to be honorary plants! See the previous Water Cooler (with plant) here. And here's today's plant (Howard):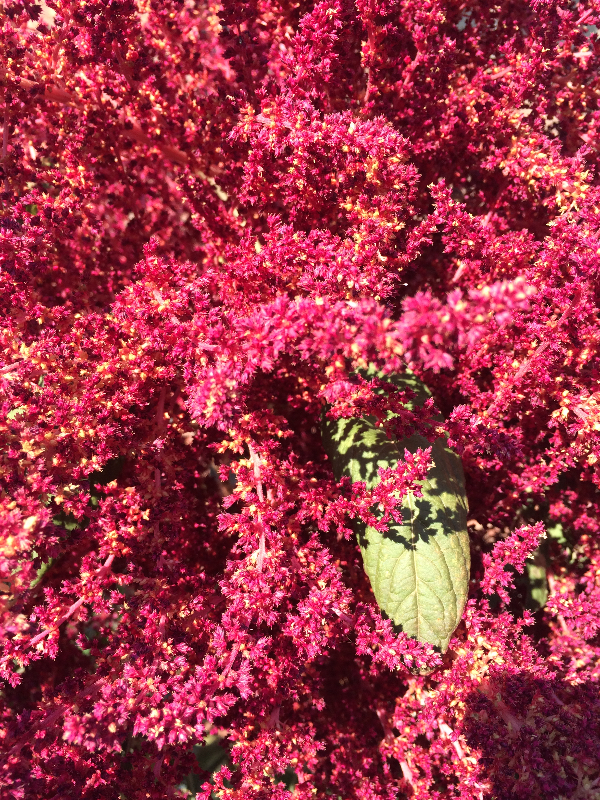 Wow! It's a Red Garnet variety Amaranth. Howard comments:
I saw a comment you made recently that people's gardens are winding down this time of year — though you should know that here in the Austin TX area, early to mid Fall is high planting season. Summer is the lean time here, because of the heat and dryness.
Fifty slaps with a wet noodle for Lambert! As it gets colder and darker up here, I'm about to go into the mode of photographing decaying plants, and it's hard to imagine things are different elsewhere. So whoever else is in the midst of the high planting season, please send in what you've got!
If you enjoy Water Cooler, please consider tipping and click the hat. Winter is coming, I need to buy fuel, and I need to keep my server up, too.