By Lambert Strether of Corrente
2016
Policy
Ben Carson, long interview. Let me quote the interviewer: "Ryssdal: I'm really trying not to be circular here, Dr. Carson, but if you're not gonna raise the debt limit and you're not gonna give specifics on what you're gonna cut, then how are we going to know what you are going to do as president of the United States?" [Marketplace].

"The Republican acknowledged that "there is sea level rise" in his native Florida, and that the flooding should be addressed with preventative measures in the short term. But Mr. Rubio said that market-based approaches should be employed to tackling climate-based problems in the long-term, and that he didn't believe in numerous pieces of legislation that sought to regulate the matter" [Wall Street Journal, "Marco Rubio Says New Regs Wrong Way to Fix Climate Change"].

Clinton campaign taking advice on banking from Barney Frank, now a banker, who doesn't want to reinstate Glass-Steagall [Business Insider]. Ka-ching.

"Clinton's campaign confirmed that the proposal for tax on high-frequency trading was crafted with input from her campaign Chief Financial Officer Gary Gensler" [Reuters]. "Gensler's hiring was seen as a move to both contain the high costs that plagued Clinton's 2008 presidential bid and send a signal that she would take a hard line on Wall Street." See Yves and Bill Black on Gensler here.

"Hillary Clinton's TPP opposition shows just how worried she is about Bernie Sanders" [WaPo].

"Conservative groups have written to President Barack Obama asking him to back a push for strong encryption" [Daily Dot]. And they're right.
Money
How Revolution Messaging has "been working to translate grassroots enthusiasm for Sanders into dollars" [Yahoo]. "The loyalty established among the campaign's followers, [Dean alum Michael Whitney] says, is due to their willingness to learn about the policies that are central to the election, and parse through emails from Sanders that are sometimes as long as 2,000 words." This reads like a beat sweetener, but there's also a lot of good detail.

"How Did the Democrats Become Favorites of the Rich?" [New York Times].

Profile of reclusive Republican hedgie squillionaire Robert Mercer, international man of mystery [WaPo]. His own staff sued him for screwing them out of their pay, along with assorted wacky behaviors typical of the overly entitled [Bloomberg].
The Voters
"[A]fter a bruising 2012 cycle, in which its polls were farther off than most of its competitors, Gallup told Politico it isn't planning any polls for the presidential primary horse race this cycle. And, even following an internal probe into what went wrong last time around, Gallup won't commit to tracking the general election next year" [Politico].
The Trail
UPDATE "These People Are the Secret to Bernie Sanders's Success" [The Nation (Furzy Mouse)]. Aidan King, the Sanders volunteer group's 24-year-old senior digital organizer:

"I was so excited about Obama. And I still think he's done amazing things. But I wanted more follow-through," says King, listing "drone strikes, kill lists, NSA spying on Americans, the expansion of Bush-administration policies, a failed drug war, failed foreign policy," and the increasing influence of money in politics as his main concerns.

That's quite a list.

"I put a lot of stake in authenticity," [King] says. "And I've been exposed to Bernie's politics and his honesty since I was in diapers."

Rubio panders to Uber and AirBnB [Bloomberg]. "Ask any Uber driver about the wonders of the on-demand economy, and you'll get an earful about the squeeze being put on them."

"When asked why Trump is so popular [Bill] Clinton said it was because the real-estate mogul is a 'master brander' and 'the most interesting character out there.' [Hill: "Thanks, Bill!"] Clinton explained that when Trump speaks he 'overrides the ideological differences'" [Salon].

Graydon Carter returns to the fray: "Why Donald Trump Will Always Be a 'Short-Fingered Vulgarian'" [Vanity Fair].

To this day, I receive the occasional envelope from Trump. There is always a photo of him—generally a tear sheet from a magazine. On all of them he has circled his hand in gold Sharpie in a valiant effort to highlight the length of his fingers. I almost feel sorry for the poor fellow because, to me, the fingers still look abnormally stubby.

"As Colombian Oil Money Flowed To Clintons, State Department Took No Action To Prevent Labor Violations" [Business Insider].
Stats Watch
Jobless Claims, week of October 3, 2015: "Initial claims fell 13,000 in the October 3 week to 263,000 for the sharpest decline and lowest level in 2-1/2 months" [Econoday]. "Breaking even lower to point to even less slack on the unemployment side of the labor market." And: "Claim levels are at 40 year lows (with the normal range around 350,000 weekly initial unemployment claims of levels seen historically during times of economic expansion" [Econoday].
Bloomberg Consumer Comfort Index, week of October 4, 2015: "Consumer confidence readings continue to show unusual strength and acceleration" [Econoday]. Up nearly 5 points since mid-September for the best 3-week run in six years, a run that belies soft job growth and volatility in the global markets."
Consumer Credit, August 2015: "Revolving credit continues to show life, up a solid $4.0 billion in August for a sixth straight gain. Non-revolving credit, driven by both vehicle financing and student financing which is tracked in this component, rose $12.0 billion to make for a headline increase of $16.0 billion." [Econoday]. "Gains in this reading, which have been scarce this recovery, perhaps suggest that consumers are growing less reluctant to run up their credit cards, which would be good news for retailers going into the holidays"
Glencore: "Glencore's problems strongly suggest that we will be hearing more about bank or hedge fund losses tied to this commodities behemoth before this cycle ends in the same kind of hubris as the last one – with regulators rolling out the same nonsense that no one could have seen it coming" [Wall Street on Parade]. And a parade of horribles indeed, including Deutsche Banks ~$8 billion kitchen sink.
VW: "[New CEO Michael] Horn said he was made aware of the 'possible emissions non-compliance' following the publication of a West Virginia University study in spring 2014" [Sky News]. But this is 2015, amiright?
VW: "[Michael Horn]: 'This was a couple of software engineers who put this in for whatever reason" (the defeat device) [NBC]. Had anyone heard the phrase "rogue engineer" yet? How about "bad apples"?
Canada: "Now that Statistics Canada has reported the latest numbers for July, we can see that the country's economy has once again surpassed economists' expectations. July GDP grew 0.3% month over month, ahead of the consensus forecast by a tenth of a percentage point" [Econoday]. And: "Canadian housing starts surged in September" [Market News]. Good news for Harper?
Ag: "Crop market behaviour signals that prices have reverted to a long-term downward trend seen before the 2008 spike, United Nations researchers said, casting doubt on the prospects of a rebound in values for now" [Agrimoney]. "'That agricultural commodity prices are interconnected with energy prices has long been established,"'the [UB] said in a report, noting the use of many crops in making biofuels, and the increased mechanisation which has increased farm sector's fuel dependency."
The Fed: "The Federal Reserve needs to prepare financial markets for a possible rate hike soon, if it hopes to raise rates off the zero lower bound in December, Moody's Analytics Chief Economist Mark Zandi said Thursday" [Market News]. "'Financial markets are not on the same page as the Fed,' Zandi said in an economic briefing. 'If policymakers don't soon prepare markets for a rate hike, it won't be in December.'" Well, as I keep saying, the 1% need to buy their stocking stuffers. So no "lift-off" in the holiday season! And: Asset purchases by central banks from 2009 (handy chart) [The Economist].
Honey for the Bears: "The next financial crisis is coming, it's a just a matter of time – and we haven't finished fixing the flaws in the global system that were so brutally exposed by the last one." [Christine LaGarde, Guardian].
Fear & Greed Index, October 6, 2015: 39 (-2); Fear [CNN]. Last week: 17 (Extreme Fear). (0 is Extreme Fear; 100 is Extreme Greed).
Gunz
Headline: "Good woman with a gun shoots up Home Depot parking lot trying to take down suspected shoplifters" [Salon]. Remind me what's "good" about filling a parking lot with random gunfire over some guy trying to boost a power drill? How much you wanna bet she didn't have gun insurance? 
.@people comes out hard for reasonable gun control, publishes EVERY Congressperson's number, tells readers to call. pic.twitter.com/jy3DFNsRDY

— Maryn McKenna (@marynmck) October 7, 2015
Here's the list from People. It would be great if this list were updated and kept public somewhere. "People" seems like a great place to do that, if you think about it.
Dear Old Blighty
"The Great British Bake Off 2015: the final – Nadiya crowned winner" [Telegraph]. This is such an encouraging story!
Our Famously Free Press
"The 'value' of a Peter Spiegel retweet in EU policy communications" [LinkedIn, naturellement]. "It's a metric by which Brussels communicators often measure success. Often, it's the only metric."
"The Story Behind Medium's New Logo" [Medium]. Once you see that Medium's new "M" logo looks like an "N," you won't be able to unsee it.
Imperial Collapse Watch
"Everyone loves an artfully shot post-communist ruin" [The Calvert Journal]. Look on my works, ye mighty…. 
Gaia
"World's oceans facing biggest coral die-off in history, scientists warn" [Guardian].
Guillotine Watch
"Zeines and Hurwitz made their money in a field that's now called merchant cash advance" [Bloomberg]. "They figured out how to hook people such as florists and pizzeria owners with promises of fast cash and discovered just how ridiculous the profits could be—even if it meant driving their borrowers into bankruptcy." Giving bros a bad name….
Class Warfare
"Why the term 'sharing economy' needs to die" [Guardian]. It will die when the froth from QE ends, which looks like never.
"Online Dating Made This Woman a Pawn in a Global Crime Plot" [Wired]. System D breaks bad.
"The one number that's eerily good at predicting your success in love" [WaPo]. Spoiler alert: Your credit score. So we, as a society, have decided to define reproductive fitness by the simple rules of neoliberalism. That will work, until it doesn't.
"Federal Reserve economists Andrew Chang and Phillip Li set about researching how many of the results published in top economics journals could be replicated — repeating the study and finding the same results" [Business Insider]. "That leads the researchers to a pretty blunt conclusion: 'Because we are able to replicate less than half of the papers in our sample even with help from the authors, we assert that economics research is usually not replicable.'" Perhaps the papers, economic research, and the *** cough *** discipline of economics, serve some other purpose than disinterested science… 
"Why Free Markets Make Fools of Us" [Cass Sunstein, New York Review of Books]. Review of Akerloff and the aptronymic Shiller's new book: "Phishing for Phools: The Economics of Manipulation and Deception." Surely "The Economics of Manipulation and Deception" could have some needless words omitted?
News of the Wired
"Off the Rails: A Journey Through Japan" [Al Jazeera]. For train fans and Japan fans!
"A new study reveals where Americans have the most trouble sleeping" [WaPo]. Me, last night, anomalously in Maine, which is why Water Cooler is a bit light on links today. Phases of the moon? Mercury in retrograde?
"The people saying these things are my neighbors. They jog by me in the park, nodding their good mornings, and queue up with me at the bank. They are the same people who belly up to the stands at this farmers' market, pressing their fingers lightly into the flesh of avocados, testing for ripeness" [Zocalo Public Square]. Potential expats, consider.
Vote for the woman you want on the $10 bill here, or via #TheNew10 [WaPo]. How about Eleanor Roosevelt? Just to balance out that dim bulb Jebbie's suggestion of Maggie Thatcher. I mean, at least Roosevelt is a U.S. citizen…
* * *
Readers, feel free to contact me with (a) links, and even better (b) sources I should curate regularly, and (c) to find out how to send me images of plants. Vegetables are fine! Fungi are deemed to be honorary plants! See the previous Water Cooler (with plant) here. And here's today's plant (Adrian):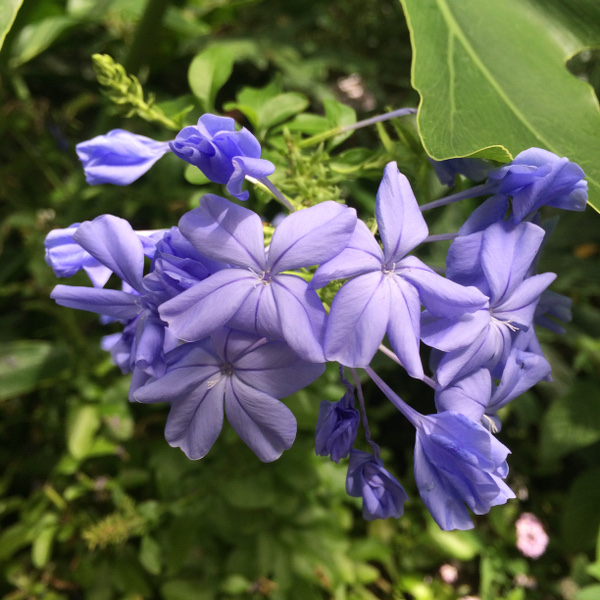 Adrian writes that this plant (whose name "I cannot for the life of me remember") was from an exhibition: "All the plants Frida Kahlo had included in her paintings and which she grew herself at the Casa Azul."
If you enjoy Water Cooler, please consider tipping and click the hat. Winter is coming, I need to buy fuel, and I need to keep my server up, too.