This is Naked Capitalism fundraising week. 508 donors have already invested in our efforts to combat corruption and predatory conduct, particularly in financial realm. Please join us and participate via our Tip Jar, which shows how to give via check, credit card, debit card, or PayPal. Read about why we're doing this fundraiser, what we've accomplished in the last year, and our third target, funding our guest bloggers.
Koko the Gorilla Gently Plays With a Box of Kittens For Her Birthday Yahoo (furzy mouse). To be clear, she plays with the kittens, not the box, and the kittens seem to like her.
Uzbek farmers told to glue cotton back on bushes for official visit Guardian (reslic). From Count Potemkin's playbook.
Wanted: 2,300 people to dance like the walking dead at Halloween zombie part Japan Today (furzy mouse)
Meson f0(1710) could be so-called "glueball" particle made purely of nuclear force GizMag (furzy mouse)
Our Vanishing Flowers New York Times :-(
Al Gore's Green-Technology Investment Strategy and the Fight Against Climate Change Atlantic
Bolivia: People's Climate Summit demands social change to save life GreenLeft (Sid S)
US puts a plug on Arctic oil exploration Financial Times. The howling is overdone. As OilPrice pointed out, when Shell canceled its plans because the economics did not work, that meant Arctic drilling was over. The US is just getting in front of a mob and trying to pretend it's a parade. And in a new layer of headfakery, the oil industry, which was not going to go forward, is pretending it was done a dirty.
U.S. lawsuits build against Monsanto over alleged Roundup cancer link Reuters (furzy mouse)
Automating big-data analysis: System that replaces human intuition with algorithms outperforms 615 of 906 human teams. MIT Technology Review (David L)
Facebook wants you to spend all your time on Facebook Washington Post. Furzy mouse: "Help me, Obi Wan." The idea of FB as a walled garden is hardly news, but some of FB's ruses might not be familiar to you.
China?
Chinese general says will never recklessly resort to force in South China Sea Reuters. Furzy mouse: "Watch their actions, not their words."

The Japan Syndrome Comes to China Jeffrey Sachs, Project Syndicate

Now China is starting to tell us ugly things about the rest of the world Business Insider
Canada's Election Matters More Than You Think Bloomberg (resilc)
'There is no money': cash-strapped Cuba is forced to cut vital imports Guardian (resilc)
Syraqistan
Refugee Crisis
Hungary closes border with Croatia BBC

Germany ready to give Greece financial aid to tackle refugee crisis Guardian

Interior Department curbs future Arctic offshore drilling Associated Press (furzy mouse)
Big Brother is Watching You Watch
One Story Shows Just How Insane U.S. Drone Policy Is George Washington
Police State Watch
Florida Sheriff Furious Obama Took His Military Tank Away Alternet. An important policy shift, but there is still a lot of materiel out there.
NYPD has some scary-sounding x-ray vans – and it's refusing to talk about them BCR (furzy mouse)
Cops Pepper Spray Crowd of School Kids Protesting a Cop Caught on Film Body Slamming Child Free Thought Project
2016
Majority say Clinton won debate The Hill. Note this is based on one online survey. Online surveys are notoriously unreliable due to sample bias. We need to see new poll numbers (as in conducted on a comparable basis to earlier polls) to see if anything changed in Clinton v. Sanders numbers. But that won't reflect just the debate but will also include any impact of all of the pundit "Clinton won" messaging. Both sides have a strong incentive and means to game surveys like this, which is why of the preliminary results so far, I'd trust well-selected focus groups the most and ignore everything else.

Bernie Gets It Done: Sanders' Record of Pushing Through Major Reforms Will Surprise You Alternet

We Are Already Months Into the Biden Campaign New York Magazine (resilc)

Spending Spree on Groundwork Is Clinton's Bet on the Future New York Times. Lead story on the front page. Clearly meant to say: "Hillary is a winner because she can raise enough to buy her way into the White House." But notice the "cash hungry juggernaut" presented as as plus. Yet with all this spending on infrastructure, she's been falling in the polls, getting higher disapproval ratings, and locals in battleground states say they don't see any signs on lawns for her. And she raised way less in the last quarter than the one before that. Not sayin' she might not pull this off, but there are a lot of visible holes in this thesis.

Seth MacFarlane's Intro for Bernie is Incredible Ring of Fire (furzy mouse)

Trump criticizes George W. Bush over 9/11, Jeb Bush hits back Reuters

Rand Paul: The rise and fall of Silicon Valley's Republican dream candidate Mark Ames, Pando (Gabriel U). Briefly unlocked at Pando. Be sure to read it sooner rather than later.

Ben Carson Suddenly Doesn't Think Popeye's Called The Police After "Robbery" Daily Kos

Forget the debate: Two simple reasons a Republican will likely win in 2016 Reuters
Trade Traitors
RESIST TPP AND THE GLOBAL CORPORATE AGENDA SUNDAY CALL MoveOn. The fact that MoveOn (barely progressive) is on this is a tell that this deal is deeply unpopular and therefore vulnerable.
There's No Way to Avoid Default Without Raising the Debt Limit, Treasury Says WSJ Economics
Spotlight shines, stage right, on U.S. House Freedom Caucus Reuters. EM: "A wealthy white landowners' caucus – welcome back to the 1780s!"
10-mile stretch of vehicles stuck on State Route 58 in Tehachapi KABC (furzy mosue)
Families Outraged After Illinois Fails to Pay Out $288 Million in Lottery Winnings Inside Edition
Mark Cuban unleashes on high-frequency trading Yahoo (furzy mouse)
SEC reveals hedge fund managers' failings Financial Times. Quelle surprise! Hedgies are ripping off their clients too!
Not Just Manufacturing: Strong Warning Services About to Stall Michael Shedlock
Class Warfare
Antidote du jour. @planetpics via Lambert: "How to organize your cats":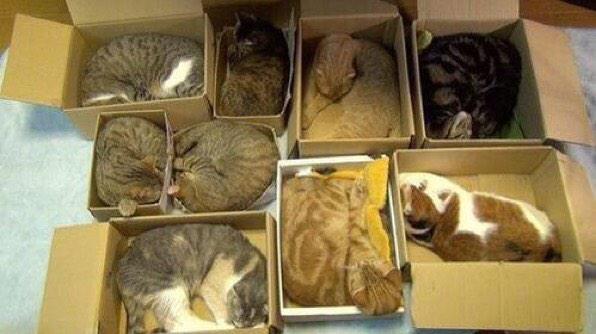 See yesterday's Links and Antidote du Jour here.