Sight Of 400 War Elephants On Horizon Marks Hillary Clinton's Arrival In Swing State Onion (David L)
Shark attack saves man's life after he discovers he has cancer Independent (Chuck L)
Coastal Commission bans captive orca breeding at SeaWorld San Diego Los Angeles Times (furzy mouse)
First ancient African genome solves migration mystery BBC (furzy mouse)
HOW ANALOG TIDE PREDICTORS CHANGED HUMAN HISTORY Hackaday (Chuck L). Hard core geekery meets war!
Terrifying Footage Shows Moment Bridge Snaps Under Hikers' Weight Gawker (Chuck L). The bad part is that the bridge looked pretty solid.
Musk lashes out at Apple's car ambitions Financial Times
Breast cancer cases among men on the rise USA Today
Facebook blocks breast cancer post for being 'overly sexual' Irish Times. This is ridiculous. Manual exams are better at detecting the truly dangerous growths than mammograms. Allan: "'Leaning In' apparently doesn't include proper instruction for self-exams."
Mark Carney: Emerging market debt is the biggest risk right now Telegraph
Lagarde open to second term as IMF chief Financial Times
Germany, the eurozone's economic engine, is sputtering as its biggest companies struggle Financial Post
Éric Grenier's Poll Tracker CBC. JSC: "Useful for following the numbers in the Canadian election. Their results for the unprecedented NDP victory in Alberta were quite accurate.
Sowing the Seeds of War in Uruguay Counterpunch
China?
One in three young Chinese men will die from smoking, study says BBC (furzy mouse)
Syraqistan
The Week in Review: Putin in the UN and Russian forces in Syria Une parole franche (margarita). Today's must read.

Putin – the incredible Abou Ali Vineyard of the Saker (margarita)

How Putin will Win in Syria Counterpunch (furzy mouse). I am reminded of a line from Cate Blanchette in Elizabeth: "I do not like wars. They have uncertain outcomes." Nevertheless. the point is that Putin seems to have a credible plan for winning and is executing well so far, which is more than the US has been able to do in our Middle Eastern nation-breaking exercises.

David Cameron on Saudi deals Channel4 (guurst)

Obama Official Says Putin's New War Is a Sign of American Success Daily Beast. Resilc: "We must be on fourth string JV at DoS by now."

Russia's holy war in Syria Middle East Eye

The Future Of Saudi Arabia – Really? By Walrus Sic Semper Tyrannis

Why is the US Aiding and Enabling Saudi Arabia's Genocidal War in Yemen? Counterpunch (furzy mouse)
Big Brother is Watching You Watch
Victory in California! Gov. Brown Signs CalECPA, Requiring Police to Get a Warrant Before Accessing Your Data Electronic Frontier Foundation

THE FBI WANTS YOUR FACE AND FINGERPRINTS WhoWhatWhy (furzy mouse). Maybe it's time we all start wearing fake noses on a regular basis. And mole appliques.
Police State Watch
FBI chief: 'unacceptable' that Guardian has better data on police violence Guardian (furzy mouse). This is laughable. We are to take this consternation seriously? The FBI has access to the same public information as the media, and they have access to at least some police databases. We are really supposed to believe that the FBI can't do better, as opposed to it is politically not acceptable for it to show how bad things are, since it has access to more data?
Trade Traitors
How the Trans-Pacific Partnership Threatens America's Recent Manufacturing Resurgence Atlantic (resilc)
2016
Why speaker of the House is the worst job in Washington Vox
The best Democratic burns from the House GOP's leadership meltdown Quartz (resilc)
Kevin McCarthy's Exit Came After Personal Threat Over Affair Allegations Huffington Post
Kevin McCarthy Enters Rehab After Admitting Struggles with Nouns, Verbs New Yorker (furzy mouse)
Fed
Outsourced Monetary Tightening Menzie Chinn, Econbrowser. Important.

Quantitative frightening Economist

Fed believes economy insulated from China slowdown, documents show Washington Post
Reason for low rates is real, monetary and financial Martin Wolf, Financial Times
VW scandal: Regulators investigate second emissions software program New York Times (EM)
Qatar's Wealth Fund Said Interested in Glencore Agriculture Sale Bloomberg
That Bill Gross law suit in full FT Alphaville
Class Warfare
The Ongoing Destruction of Public Education Charles Pierce, Esquire (resilc)

Charter School Nonsense: No, Hedge Fund Billionaires Aren't Going to Save All the Children Diane Ravitch
Antidote du jour. I had another photo from a series sent by Diane P but neglected to include the story:
An unusual family of animals is winning hearts on Instagram. This has attracted over 77,000 followers so far by regularly sharing snapshots from the life of one man's pets: a eccentric but tight-knit group that consists of one golden retriever, one hamster, and eight birds.

31-year-old Luiz Higa Junior of São Paulo , Brazil , tells PetaPixel that his golden retriever, Bob, is a little less than two years old. In the beginning, he just had Bob, a cockatiel and a parakeet.

"Since the beginning I put them together to see their behavior," he tells us. "It was nice, so I decided to have them play together sometimes during my free time."

He then added more birds and a hamster to the group, and his Instagram account has been steadily growing in popularity since. Higa's photos show the group posing, playing, exploring, and resting together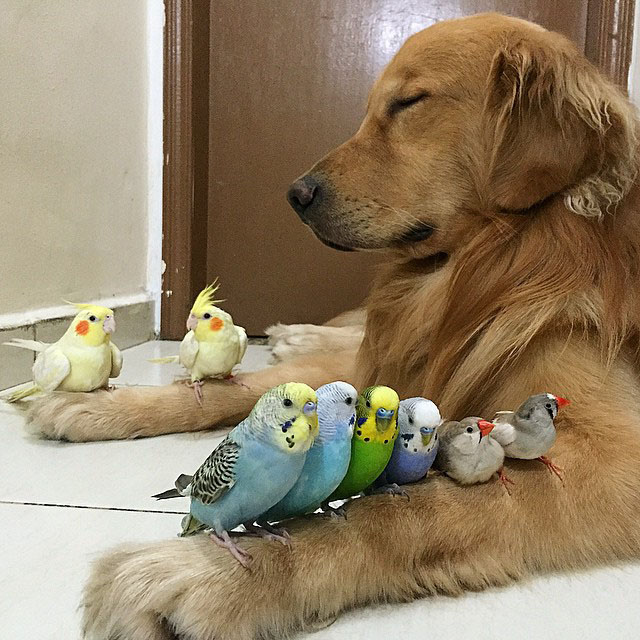 See yesterday's Links and Antidote du Jour here.