This is Naked Capitalism fundraising week. 977 donors have already invested in our efforts to combat corruption and predatory conduct, particularly in financial realm. Please join us and participate via our Tip Jar, which shows how to give via check, credit card, debit card, or PayPal. Read about why we're doing this fundraiser, what we've accomplished in the last year, and our fifth target, more original reporting.
Yves here. I'm a little leery of giving The Donald such prominent play, but he happens to be right on the TPP. Moreover, given his popularity among Republicans, he's a valid indicator of a large swathe of opinion in that party. And there is no way that Obama gets the TPP passed if enough Republicans fail to fall in line.
By Leith van Onselen who has previously worked at the Australian Treasury, Victorian Treasury and Goldman Sachs. You can follow him on Twitter at twitter.com/leithvo. Originally published at MacroBusiness
After Democratic front-runner, Hilary Clinton's, recently voiced her opposition, the Trans-Pacific Partnership (TPP) trade deal is facing an increasingly difficult task in being ratified by Congress.
US Republicans appear to be split over the deal, with front-runner Donald Trump tweeting several direct critiques of what the Obama administration negotiated: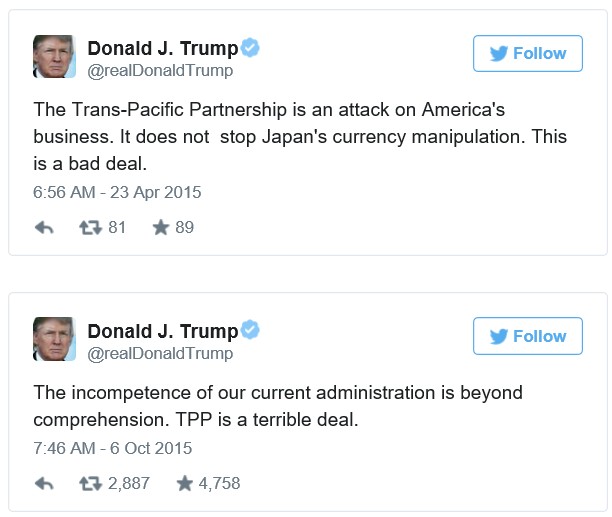 Trump has also previously labelled the TPP "a disaster".
Others in the Republican movement are more supportive, such as Jeb Bush, who has thrown his support behind the pact.
Meanwhile, President Obama is in damage control, looking to shore up Democratic support for the TPP after Clinton's public opposition:
President Barack Obama was scheduled to meet with congressional Democrats at the White House on Wednesday evening in an effort to convince them to rescue his landmark Pacific Rim trade pact as it faces increasingly long odds.

…many Democrats appear hardened in their opposition ahead of a 90-day review period that precedes an up-or-down vote on the deal – which could still change as participating nations continue to negotiate their own side agreements. And with lawmakers granting the president so-called "fast-track" authority to negotiate the multilateral agreement by the narrowest of margins this summer, Obama has little room for error…
It seems most sides are dissatisfied with the TPP.
The powerful US pharmaceutical lobby is livid that the TPP did not secure better monopoly protections, whereas Big Tobacco and its representatives in Congress are furious that the industry has been carved-out of the investor-state dispute settlement provision, thus limiting its ability to take legal action against member states that regulate against the tobacco industry. Whereas on the left, opponents to the TPP include organised labor and most environmental groups who are concerned about the TPP's impacts on American jobs and the environment.
Given the mounting opposition to the TPP, rumors have emerged that the Obama Administration will wait until the lame duck session after next year's Presidential Election to give Congress the chance to take its first vote on the deal, effectively delaying ratification to late-2016 at the earliest.
For now, political opposition in the US and elsewhere remains the best chance of the TPP being scuttled, or at least delayed.
Given the dubious provisions surrounding intellectual property and investor-state dispute settlement, here's hoping.