By Lambert Strether of Corrente
TPP/TTiP/TISA
"Trade Negotiator Michael Froman Insists TPP Will Work" (audio) [NPR]. Steve Inskeep deploying the syrupy, soporific, "We're all reasonable people here" NPR Voice in service of Froman's disinformation campaign. Listening to it — Froman's relaxant-smoothed voice works well with Inskeep's — while making sure not to allow my hands to form fists; basically, Inskeep quotes Trump, Warren, and a few other critics, and then always gives Froman the last word. Have fun!
Investor Rights: "When State Senator Virginia Lyons thought it would be wise to develop legislation to reduce harmful electronics waste in her state of Vermont, the last complaint she expected to receive was from the People's Republic of China. The Chinese it seemed, had issue with how new E-Waste reduction measures for Vermont would impact their sales of electronics to the USA" [European Free Alliance]. "'I was taken aback' said Senator Lyons at a meeting of the Vermont Commission on International Trade and State Sovereignty. 'Why was an issue like better recycling causing such a fuss? They pushed hard on us to change our minds. In the end we implemented the changes, and I'm pretty sure the Chinese are still selling electronics.'" And that's before anybody threatened to sue for billions. Anyhow, I had no idea there was a "Vermont Commission on International Trade and State Sovereignty." Or a "Maine Citizen Trade Policy Commission." Readers, anything like this in your home states?
TTIP and ISDS: "The European Commission has formally presented its proposed reforms on the controversial investment protection and dispute resolution for the Transatlantic Trade and Investment Partnership (TTIP). The 'more transparent' investment court system will replace the so-called investor state dispute settlement (ISDS) mechanism. It aims to safeguard the right to regulate and create a court-like system with an appeal mechanism based on clearly defined rules, with qualified judges and transparent proceedings" [Parliament Magazine]. Global Justice Now: "This 'new' system retains most of the major problems with ISDS. It effectively provides corporations with a taxpayer underwritten risk insurance should governments feel the need to protect labour rights, the environment or vital public services." Not so sure about "right to regulate," which seems to be popping up everywhere. Since when was this government function even negotiable, especially in a democracy?
TPP Chapter 7, Sanitary and Phytosanitary (SPS):  "Under the TPP rules and trade policy more generally, what trade and regulatory officials deem to be 'appropriate' levels of protection are judged on whether SPS measures to provide that protection are potential or 'disguised' trade barriers. Such judgments require a use and understanding of 'science' that is filtered through confidentiality requirements, which are antithetical to the peer review that scientific consensus methodologically requires" [Institute for Agriculture and Trade Policy]. Well worth a read, and not just on the SPS vertical.
Inclusion of the tobacco carve-out clause shows that general protection of public health measures is weak (PDF) [Australian Fair Trade & Investment Network].
Canada: "Digital guru Michael Geist says the TransPacific Partnership trade agreement has a "made in America" approach to the technology sector that may well put Canadian companies at a disadvantage" [CBC].
Obama and TPP: "​Outside of his education policies, the headlong rush into the TPP is going to be one of the only acts of his presidency with which the president justifies the criticisms levelled at him from the left. That's not a bad batting average, but this is an awful exception to the rule." [Charles Pierce, Esquire]. The Kool-Aid is strong. As also shown in this Alternet interview with Stiglitz, where the good professor characterizes TPP as a "mistake," claims that Obama doesn't "understand" that corporations wrote the TPP, not voters, bends over backward to assume good faith ("he wants to chalk up some kind of an achievement"), opines that ObamaCare is the "legacy" that cutting off access to pharma will somehow undermine, and on and on and on. Very sad.
2016
Policy
"Students across U.S. march over debt, free public college" [Yahoo].
Voters
UPDATE Jennifer Lawrence: "My view on the election is pretty cut-and-dried: If Donald Trump is president of the United States, it will be the end of the world. And he's also the best thing to happen to the Democrats ever" [Vogue].

"The Economy Is Better — Why Don't Voters Believe It?" [FiveThirtyEight]. (A classic case: "When you hear 'the economy,' ask 'whose economy?")

This is one of the central paradoxes of the 2016 presidential campaign. The economy is, by virtually any measure, drastically improved from when President Obama took office nearly seven years ago. And yet poll after poll reveals a national electorate that is deeply skeptical of that progress. In one recent Wall Street Journal poll, more than half of voters said the economic and political system was "stacked against people like me."

Obviously, none of these propositions are incommensurate. The last line, from a devout Christian: "Nothing has changed since they crashed the economy the last time,' he said. 'They're going to do it again.'" Ding ding ding! We have a winner!
Money
"Almost four out of five of his 2012 donors haven't given any money to Hillary Clinton or Bernie Sanders" [Wall Street Journal, "Big Obama Donors Stay on Sidelines in 2016 Race"]. "In interviews ahead of this Saturday's Democratic debate in Iowa, donors said Mrs. Clinton, the party's front-runner, hadn't motivated them to give the way Mr. Obama and previous Democratic candidates had." Clinton hasn't moved far enough to the right?
"How to watch the Iowa Democratic debate" [USA Today]. Carefully scheduled by the Democrats for minimum viewership and impact.
The Trail
Trump's epic rant in Iowa: "Trump to Iowans: Don't fall for Carson's 'crap'" [Des Moines Register]. Since this is Iowa, you have to read to the end and filter for Iowa nice: "[S]ome said they wished he had focused more on his own policies rather than attacking other Republicans." Can anybody decode that?

UPDATE Headline: "Donald Trump begs Iowans not to believe Ben Carson: 'Don't be fools, okay?'" [WaPo]. "as the speech dragged on, the applause came less often and grew softer. As Trump attacked Carson using deeply personal language, the audience grew quiet, a few shaking their heads. A man sitting in the back of the auditorium loudly gasped." I'd believe this, if it weren't so obviously a hit piece. Let's watch what the locals do.

UPDATE Headline: "The Wheels Are (Finally) Coming Off the Trump Campaign" [Fiscal Times]. Well, they wish.

Headline: "The dangerous anger of Donald Trump" [Chris Cilizza, WaPo]. Because it's totally not like people have anything to be angry about. And remember: In the Beltway, anger is utterly taboo. Nobody must ever be angry.

UPDATE Carson's response to Trump: "Pray for him" [Business Insider]. Which I believe decodes to "Bless his heart."

UPDATE "Is [Rubio] built to win in either Iowa or New Hampshire? Remember, in this modern political era, every GOP nominee has won EITHER Iowa or New Hampshire. Right now, he's standing in third place in public polling in both states – behind both Trump and Carson" [NBC]. And the press is trying to knock both Trump and Carson out, so you can see who will come up on the outside, as it were.

Sister Souljah: "[Clinton] reminds me too much of the slave plantation white wife of the white 'master'" [The Hill]. Payback for Bill Clinton's "Sister Souljah" moment, the archetypical "throwing under the bus" moment Democrats are so well-practiced at.

"Morning Plum: Hillary Clinton appears to have neutralized the Bernie Sanders threat" [Greg Sargent, WaPo]. Quoting a New York Times poll:

And it also finds that Clinton has effectively tied Sanders or leads him among Democratic voters on the issues that were supposed to give him the advantage:

— Among Democratic voters, a total of 84 percent are either very confident (39) or somewhat confident (45) in Clinton to "make the right decisions about the economy." For Sanders, the total is 68 percent (32 percent very confident and 36 percent somewhat confident).

— Among Democratic voters, a total of 67 percent are either very confident (25) or somewhat confident (42) in Clinton's ability to "help reduce the gap between the rich and poor." For Sanders, the total is 64 percent (30 percent very confident and 34 percent somewhat confident).

— Among Democratic voters, a total of 70 percent are either very confident (30) or somewhat confident (40) in Clinton's "ability to make the right decisions when it comes to regulating large banks and financial institutions." For Sanders, the total is 65 percent (29 percent very confident and 36 percent somewhat confident).

— Among Democratic voters, 62 percent say Clinton "could bring about real change in the way things are done in Washington," while 51 percent say that about Sanders.

I dunno. It doesn't seem clear to me how anybody who looks at both candidates carefully could believe this — and the primaries haven't even started (though granted, the Democratic nomenklatura has worked successfully to shield Clinton in the debates. And if Sanders has an independent base of small donors, he can do whatever he wants (including kicking the table over by launching a real movement). It's clear that Sargeant would like this to be true, for exactly the same reason the political class would like to put Trump back in his box.
Stats Watch
Producer Price Index – Final Demand, October 2015: "PPI-FD fell an unexpected 0.4 percent in October vs Econoday expectations for a 0.2 percent gain and vs a low estimate of minus 0.1 percent" [Econoday]. "Year-on-year, prices are down a very sizable 1.6 percent." Too much money chasing too few Hermés stocking stuffers, I guess. Oh, wait….
Retail Sales, October 2015: "Sales rose only 0.1 percent, 2 tenths under the Econoday consensus" [Econoday]. "But when excluding vehicles, which slipped back after surging in prior months, and when also excluding gasoline stations, where sales once again fell on price weakness, core sales rose a respectable 0.3 percent which hits the consensus…. [T]his report is better than it looks, showing underlying strength that shouldn't scale down expectations for a December FOMC rate hike." But: "Retail sales improved insignificantly according to US Census headline data. Our view is that this month's data was weaker than last month, There was a decline of the rolling averages. Consider that the headline data is not inflation adjusted and prices are currently deflating making the data better than it seems" [Econintersect].
Business Inventories, September 2015: "Business inventories rose a higher-than-expected 0.3 percent in September on a back-up of inventories in the retail sector" [Econoday]. "The build is a plus for third-quarter GDP revisions but may not be a plus for future production and employment. Had this morning's retail sales report for October proved stronger, the September build for retail inventories would be no concern. But the October sales report proved soft, raising the risk that retailers may be over-estimating holiday demand."  But: "Even with inflation adjustments, business sales are in contraction. The inventory-to-sales ratios remain at recessionary levels" [Econintersect]. And: "The Producer Price Index year-over-year deflation grew. The intermediate processing continues to show a large deflation in the supply chain" [Econintersect].
Consumer Sentiment, November 2015: "Consumer sentiment is moving sharply higher this month, to 93.1 for the mid-month flash in the highest reading since July. Expectations are especially showing life, up 3.5 points to 85.6 which is the best since June. Strength in expectations points to confidence in the outlook for the jobs market and, to a lesser degree, for the stock market as well" [Econoday]. "Inflation expectations are moving lower, at least for the 1-year outlook which is down a steep 2 tenths to 2.5 percent. This reading is a reminder of how weak inflation reports are coming in, including today's data on producer prices." And: "the long-term inflation expectations figure held steady at 2.5% in November.  This marks the second month in a row that the gauge has been slightly below the range that has prevailed for years.  I do not expect Fed officials to flip out over a tenth of a percentage point on this inflation expectations gauge, but the low readings in October and November certainly feed into the narrative that the inflation environment remains squishy" [Across the Curve].
Ag: "Lenders are downbeat on farmland prices in major US agricultural states despite some signs of the retreat in values losing steam, as high yields cushion farmers somewhat from the pain of low prices" [Agrimoney].
Shipping: "Retailers anticipate a jolly November for U.S. ports, with the National Retail Federation predicting that containerized imports will increase 8.3 percent over November 2014. Furthermore, last-minute importers of holiday merchandise should experience little if any port congestion" [Longshore & Shipping News].
Shipping: Tankers anchored of Galveston [Marine Traffic]. The inference was low oil prices, but I'm fascinated to learn there's a live map of shipping, equivalent to the live maps of aircraft!
Honey for the Bears: "The debt that built up in emerging markets after the American bust is still there. It has continued to grow even as the economies have slowed, and now overhangs them ominously. In the past, the rich world had the muscle to shake off such problems elsewhere. But emerging markets now make up most of the world economy (around 58% if exchange rates are measured at purchasing-power parity). They are quite capable of weighing down rich-world recoveries" [The Economist].
Honey for the Bears: "I have published numerous articles here on the evaporation of liquidity in both the corporate bond market and the Treasury market. Add a new giant market to that list as Bloomberg reports this morning on the impairment of liquidity on the Brobdingnagian FX market" [Across the Curve, quoting Bloomberg]. "Currency traders accustomed to shifting billions of dollars around the globe are starting to suffer as dealers retrench."
Honey for the Bears: "This shows how private sector credit deceleration is associated with recessions" (handy chart) [Mosler Economics].
The Fed: "The FOMC, which kept the funds rate in a zero to 25 basis point target range on Oct. 28, where it's been for nearly seven years, reiterated that to start raising the key overnight rate it needed to see 'some further improvement in the labor market' and be 'reasonably confident' inflation will rise to its 2% target 'over the medium term"" [Market News]. More cowbell inflation!
Today's Fear & Greed Index: 49 (-6); Greed [CNN]. Last week: 72 (Greed). (0 is Extreme Fear; 100 is Extreme Greed). The needle slams back toward Fear. 
Black Injustice Tipping Point
Feedback from Mizzou to Ferguson [Yahoo].
Police State Watch
"Stop-and-Seize Turns Police Into Self-Funding Gangs" [Bloomberg].
Class Warfare
"Take Two: Can Your Second Career Act Be Successful?" [Forbes] Second? What are these people on? How about [counts] sixth, leaving aside the factory jobs?
"[T]he underground drug trade that defines eastern Kentucky today as coal, oil and timber once did…" [Guardian]. "Builders," in William Gibson's The Peripheral.
News of the Wired
"Microsoft has launched a new kind of cloud service in Germany where user data is controlled by a 'data trustee' operating under German law. Microsoft is unable to access user data without the permission of the data trustee or the customer, even if it is instructed to do so by the US government. If permission is granted by the data trustee, Microsoft will still only do so under its supervision." [Ars Technica].
"DOJ Tells Archivist Not to Do His Job; Govt Argues OLC Memos both Authoritative and "Pre-Decisional", and Much More: FRINFORMSUM 11/12/2015" [National Security Archive]. Sounds Orwellian.
"Is This the Worst NYC Apartment Listing You've Ever Seen?" [Esquire]. This CraigsList ad went viral, but if I were twenty — well, thirty — years younger… 
"Today, around 100km2 [of French land] (roughly the size of Paris), is still strictly prohibited by law from public entry and agricultural use because of an impossible amount of human remains and unexploded chemical munitions yet to be recovered from the battlefields of both world wars" [Messy Nessy Chic]. Industrial civilization in concentrated form?
* * *
Readers, feel free to contact me with (a) links, and even better (b) sources I should curate regularly, and (c) to find out how to send me images of plants. Vegetables are fine! Fungi are deemed to be honorary plants! See the previous Water Cooler (with plant) here. And here's today's plant: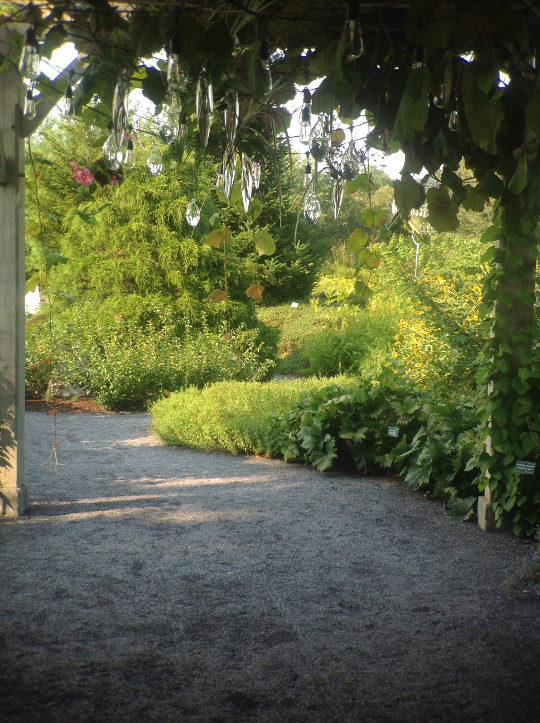 Another inviting walkway at the Coastal Maine Botanical Gardens.
Readers, I'm running a little short on plant images, which is why I'm putting my own up. Anything's good! Fall color. Fungi Your projects. Greek olives, Portuguese figs. The UK? France? Spain? Asia? You can use the contact form above. Thank you!
If you enjoy Water Cooler, please consider tipping and click the hat. Winter has come, I need to buy fuel, and I need to keep my server up, too.