By Lambert Strether of Corrente
Patient readers, this will be a bit shorter than usual because it took me longer to struggle into and out of my yellow waders when I posted on Clinton and single payer. Every time I post on Clinton, this happens, for some reason.
TPP/TTiP/TISA
"The International Trade Commission (ITC) on Tuesday (Nov. 17) predicted that its report on the economic impact of the Trans-Pacific Partnership (TPP) will not be ready until May 18, effectively pushing congressional consideration of a TPP implementing bill past that date" [Inside Trade]. This is behind a paywall, though an additional snippet tantalizingly showed up at an aggregator: "This is because the ITC report traditionally accompanies a free trade agreement implementing bill when it is sent to Congress, although there is no formal requirement under the 2015 fast-track law that…."
SPS: "TPP guarantees that companies can provide SPS Committee consultations with their own confidential research in a similar way [to how the FDA exonerated glyphosate from being an endocrine disruptor based on pesticide industry studies], and that no outside scrutiny will be permitted unless those companies agree"  [TechDirt]. (SPS is "Sanitary and Phytosanitary": food safety, and animal and plant health in agricultural trade.)
Congress: "Republicans are deeply disappointed with the deal negotiated by Obama's team, as are many business groups, which have yet to embrace it. Some are suggesting the administration may need to reopen the negotiations, even if that means seeking an accord with a smaller number of countries" [The Hill]. Could be just posturing, though. ("No. I mean 'What do you want?'" [opens briefcase].)
ISIDS: "Far from contributing to human rights and development, the international investment regime and ISDS have resulted in growing inequality among states and within them. Article 103 of the UN charter is clear: in case of conflict between the charter and any other agreements, including ISDS, it is the UN charter that prevails" [Guardian].
"While supporters argue that 'no deal is perfect,' sadly the main shortcomings of the TPP are not attributable to compromises among trading partners.  The deal is at its best where it embraces the interests of the global 99 percent.  It's shortcomings are a straight-up sell-out to the highest bidders" [The Hill]. The author is a Fellow — non-resident, I grant — at Brookings. Still, Brookings. 
2016
Policy
"Cruz to offer bill banning Syrian refugees" [The Hill]. Impressively rapid pandering to the bedwetting crowd. (Oh, and "Police believe attackers used forged passports to stigmatize refugees," so banning Syrians won't work. We'd better just ban the French and the Belgians instead. The lizard backbrain is great on rapid reaction, maybe not so good on strategy and tactics. Not to compare Cruz to a lizard.)

"The United States will have 'absolutely no choice' but to close down some mosques where 'some bad things are happening,' Donald Trump said in a recent interview, explaining his rationale for doing so" [Politico]. Unlike, say, child abuse in Christian churches. Or billions in ecclesiastical crime worldwide. "Bad," after all, is just a word.

"[Bush] is emphasizing his 40 years of private sector executive experience and selling himself on the stump as 'the steady hand,' although he brings little direct experience in the foreign policy realm aside from being brother to the president who waged the U.S. war in Iraq" [Politico]. Help me.
Voters
"Democrats: 'We lack a clear message'" [McClatchy]. I'm linking to this again because it's so idiotic. Also too, there's a nice big picture of Debbie Wasserman Schultz, with a look of quite possibly genuine concern on her face.
The Trail
"Donald Trump on Tuesday named Sen. Ted Cruz (R-Texas) when asked about his possible running mate in 2016" [The Hill]. "'Ted Cruz is now agreeing with me 100 percent,' he said." Cruz is good like that, isn't he?

"Ohio Gov. John Kasich on Tuesday proposed a new government agency tasked with promoting 'core Judeo-Christian, Western values' as a means of combating the threat from the Islamic State in Iraq and Syria (ISIS) and other terror groups" [The Hill]. Impossible to tack back to the center after that one, so I guess Kasich will be joining Huckabee on the wingnut welfare circuit. Ka-ching.

"Ben Carson's … took to social media to share a map of the United States in which five New England states were placed in the wrong location" [WaPo].
Stats Watch
"From British MPs to bank chiefs in the US – everyone seems to be worried about the lack of liquidity in the global fixed income markets" [Telegraph]. "It is worth pausing here to ask whether there is a certain amount of self-interest behind the warning from banks. Is this just a more creative way for them to chafe against demands that they hold more capital? And would they really throw themselves in front of falling prices for the greater good when the crunch came? Liquidity had a habit of mysteriously disappearing during previous crises, even before the new rules were in place."
Housing Starts, October 2015: "Pulled down by a big drop in multi-family homes, housing starts fell a steep 11.0 percent in October to a 1.060 million annualized rate that is far below Econoday's low estimate" [Econoday]. "And there is important good news in this report. Permits are up."
MBA Mortgage Applications, week of November 13, 2015: "The jump in interest rates following the October employment report, and the risk that they may move yet higher, has tripped a surge in mortgage applications for home purchases, up 12.0 percent in the November 13 week" [Econoday]. And: Permits and starts are noisy data series, but both are decelerating based on three-month rolling averages [Econintersect].
Atlanta Fed Business Inflation Expectations, November 2015: "Inflation expectations over the next 12 months remain unchanged, at a soft plus 1.8 percent in the Atlanta Fed's business survey for November" [Econoday]. " Actual costs are also unchanged, at an even softer plus 1.3 percent. Readings in this report have been very weak, underscoring the difficulty the Fed is having in raising inflation expectations."
The Fed: "Richmond Federal Reserve Bank President Jeffrey Lacker, who was the FOMC dissenter in September and October, Wednesday told CNBC that he has his "fingers crossed" that conditions will finally be right for a rates liftoff in December" [Market News]. Not behind his back, one hopes.
Honey for the Bears: "Axa Wins Approval for Tallest London City Skyscraper" [Bloomberg. (See The Economist, "Towers of Babel," for a handy chart showing how skyscrapers correlate to economic crisis.)
"The latest major terrorism event to strike the Western world proved once again that stock markets are largely immune to terrorism" [Barron's].
"Apple is taking 94% of profits in the entire smartphone industry" [Business Insider].
"Constellation Brands, a $26 billion U.S. distributor of motley alcoholic beverages, has revealed some of the fizzy finances underlying craft brewing. Though its $1 billion acquisition of Ballast Point, maker of Grapefruit Sculpin IPA, is small beer compared to AB InBev's $100 billion-plus takeover of SABMiller, it provides a glimpse into how much it is costing Big Beer to stay cool" [Breaking Views]. So they'll crapify craft beer and get caught naked when the tide goes out? 
"Overt Monetary Financing – again" [Bill Mitchell]. This is, among other things, a takedown of John Cassidy's recent New Yorker article, "Printing Money" (which sounds like a Terry Pratchett novel. But the writing isn't nearly as good).
Mosler to speak to European Parliament [Mosler Economics]. That's pretty cool.
Today's Fear & Greed Index: 49 (+1); Neutral [CNN]. Last week: 63 (Greed). (0 is Extreme Fear; 100 is Extreme Greed).
Black Injustice Tipping Point
"Report: D.C.'s Black Unemployment Rate Is The Highest In Country" [DCist]. Given Washington's current dominance, organizing it would be a lot like organizing Paris in 1788.
"After days of protests, students occupy building at Occidental College" [Los Angeles Times].
Water
"The total amount of groundwater on the planet, held in rock and soil below our feet, is estimated to be 23 million cubic km" [BBC]. "If this volume is hard to visualise, imagine the Earth's entire land surface covered in a layer some 180m deep." If only we could monetize it all…. 
Gaia
"Michael Pollan's Letter to the Future" [EcoWatch].
"Will the "Tobacco Strategy" Work Against Big Oil?" [The New Yorker].
Corruption
"New coalition backing charter schools asks legislature to intervene, 'fix' Supreme Court ruling" [Seattle Post-Intelligencer]. See, the charter-backing squillionaires think it's a great idea that charter schools get state tax money without actually being accountable to state voters for how their tax money is used; this is, after all, the sort of "fixed" deal they like for themselves. The Supreme Court disagreed.
Class Warfare
"If America was truly on the right track, would our plants and utilities have been operating at 85 percent of capacity in the 70s, 80s and 90s, and now only operating at 77.5 percent as of this October – despite trillions of dollars spent on unprecedented fiscal stimulus, Fed loans to Wall Street and three rounds of quantitative easing since the crash?" [Wall Street on Parade]. In Veblen's terms, this is business sabotaging industry.
"Driver says Uber targeted his profile after he critiqued high-level executive" [San Francisco Examiner]. Stay classy, Travis!
"A group of Sidwell Friends alumni are raising concerns related to the private school's decision to purchase a nursing facility that neighbors the District campus, a land deal that will displace more than 100 of the home's sick, elderly residents" [WaPo]. Well, everybody has a kid at Sidwell Friends. So that's alright, then.
News of the Wired 
"Google Search 'grows up': App now understands the meaning of questions and can answer more complex queries" [Daily Mail]. (Hilariously, this article shows up when I type in its sample question "who was the US president when the Angels won the world series." Too meta!)
"Hundreds of thousands of Texas women attempted self-induced abortion – study" [Guardian]. Mission accomplished!
"After Paris Attacks, Here's What the CIA Director Gets Wrong About Encryption" [Wired].
"How Islamic State Teaches Tech Savvy to Evade Detection" (with handy chart) [Wall Street Journal].
"Many physicists believe that entanglement is the essence of quantum weirdness — and some now suspect that it may also be the essence of space-time geometry" [Nature].
"Mr. and Mrs. B" [Longreads]. A beautifully written and lavishly leisurely character assassination of William F. Buckley, not there's anything wrong with that.
* * *
Readers, feel free to contact me with (a) links, and even better (b) sources I should curate regularly, and (c) to find out how to send me images of plants. Vegetables are fine! Fungi are deemed to be honorary plants! See the previous Water Cooler (with plant) here. And here's today's plant (KS):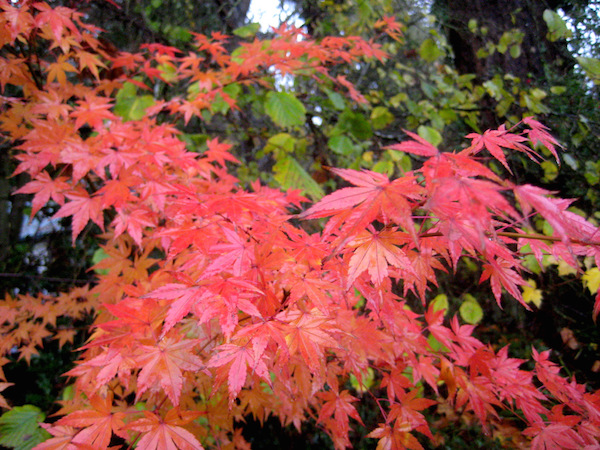 If you enjoy Water Cooler, please consider tipping and click the hat. Winter has come, I need to buy fuel, and I need to keep my server up, too.