By Lambert Strether of Corrente
TPP/TTiP/TISA
"How the TPP may put your health care data at risk" [Toronto Star].
"45 times Secretary Clinton pushed the trade bill she now opposes" [CNN].
2016
The Trail
"Rapper Killer Mike, Sanders dine in Atlanta" [The Hill]. At the Busy Bee Cafe. Video.

Killer Mike: "I believe it because [Sanders], unlike any other candidate, said I would like to restore the Voting Rights Act. He, unlike any other candidate, said I wish to end this illegal war on drugs. Unlike any other candidate in my life, he said that education should be free"  [Atlanta Journal Constitution]. "But as I read The Atlanta Journal-Constitution's comments about me speaking tonight, one jumped out at me. And it broke my heart. It said, 'I don't listen to rap and I will no longer be listening to Bernie Sanders.' I just want to say that, whoever wrote that, before I was a rapper, I was a son of Atlanta." An act of courage by Sanders, given the obvious possibility of this reaction. 

"The Vermont senator said that while King is remembered mostly for his efforts on racial equality, he should be more fully understood as a "revolutionary" who spoke out against "the entire establishment" on matters from race relations to economic and foreign policy" [US News]. "'What King said, Sanders mused, 'was that, of course, we have to end segregation at lunch counters and hotels and universities and schools. But he also said, 'What difference does it make if a family can't afford to send their kids to those schools or eat at that restaurant?'" And an act of political courage in another way.

"Terror Politics" [Paul Krugman, The New York Times]. Another unmoored column from Krugman (photoshopping a cute cat into the famous situation room shot aside). Yes, whacking Osama Bin Laden — or being seen to have done so — was good politics, but it doesn't take a "Nobelist" to tell us that. Second, the famous situation shot shows us the watchers. It doens't show us what they were watching, which is open to serious question. Finally, glorifying whacking Osama, as opposed to, say, putting him on trial on the Hague, buys into the entire so-called war on terror, particularly dubious since France, after the attack in Paris, seems about to double down on our #FAIL. If Krugman is angling for a position with the Clinton campaign, why doesn't he just say so?

"Edging right, Clinton seeks distance from Obama on ISIS" [The Hill]. Since the essence of a state is controlling territory, and only troops can take and hold ground, don't we really need to invade Syria? And if that's not the idea, what is the idea?

"Inside the Southern California factory that makes the Donald Trump hats" [Los Angeles Times]. ""A lot of what he says about Latinos is not correct," she says just as a buzzer signals the end of her Saturday overtime shift and workers line up to clock out. The sound of Spanish punctuates the air as the machines sputter to a stop. "When we first got the order [for the Trump hats], I said to myself, 'Just wait until he sees who's making his hats. We're Latinos, we're Mexicans, Salvadoreños.'""

Handy guide to Iowa caucuses [p2016].
The Hill
"The Paul Ryan House Puts A Big Down Payment On The New Republican Prosperity Agenda" [Forbes]. Monetarism never gets old. 
Stats Watch
S&P Case-Shiller HPI, September 2015: "Prices of existing homes showed a lot of life in September, up 0.6 percent" [Econoday]. "The breadth of strength is impressive with none of the 20 cities showing a monthly decline." And: "The authors of the index ask whether "the strength seen in home prices since the bottom in 2012 led some to wonder if we're entering a new bubble" (!) [Econintersect].
GDP, Q3 2015 (revised):  "Third-quarter GDP is revised to an annualized plus 2.1 percent, up 6 tenths from the initial estimate but showing less strength by the consumer with final sales now at plus 2.7 from plus 3.0 percent. Higher inventories are a big factor in the upward revision" [Econoday]. "The gain in inventories is not a positive for the fourth quarter, posing headwinds for businesses which may limit production and employment to pull down their inventories." In addition: "Inflation continues to moderate as the "deflator" which adjusts the current value GDP to a "real" comparable value continues to moderate" [Econintersect].
Richmond Fed Manufacturing Index, November 2015: "[M]uch lower-than-expected" [Econoday]. "This report along with Empire State, as well as yesterday's manufacturing PMI, are pointing to a downbeat month for the factory sector which is being held down by weak foreign demand." And: "Of the four regional Federal Reserve surveys released to date, two are in contraction and the rest are weakly in expansion" [Econintersect].
International trade in goods, October 2015: "a lower-than-expected deficit" [Econoday]. "[D]etails are not positive with exports down 2.6 percent and imports, in a sign perhaps of softening domestic demand, down 2.1 percent and following weakness also in September."
Corporate Profits, Q3: "Corporate profits in the third quarter came in at a revised $1.786 trillion, up a year-on-year 1.4 percent" [Econoday].
Consumer Confidence, November 2015: Lack of confidence in the outlook for the jobs market sank the consumer confidence index in November, which fell to 90.4 vs a revised 99.1 in October. The November reading is far under expectations and is the lowest since September last year" [Econoday]. The fall is in the expectations, not the current conditions, component. "[T]he decline in job expectations is dramatic and raises the question whether global effects, which have been negative for the U.S., are beginning to weigh on the American consumer — which would not be a positive for the holiday spending outlook."
State Street Investor Confidence Index, November 2015: "Investor confidence eased in November to 106.8 vs October's revised 114.0" [Econoday]. "North America shows a nearly 12 point decline to 112.9 with Asia down more than 9 points to a 100.7 level that is still over breakeven 100 which separates demand for risk from demand for safety…. The report attributes the decline in North America to heightened expectations for a December rate hike and the decline in Asia to strength in the dollar and continued declines in commodity prices."
Shipping: "The possibility that a new wave of M&A may be imminent was touched off by news that several carriers are in various stages of talks aimed at consolidation, including NOL and both Maersk Line and CMA CGM; Cosco and China Shipping Container Lines; and Hanjin Shipping and Hyundai Merchant Marine" [Longshore & Shipping News].
Shipping: "U.S. courier companies have seen double-digit revenue gains this year and expect similar growth in 2016 on surging demand for quick delivery of items bought on the Internet amid a general pickup in economic activity" [Market News]. Seems a different story from container ships and cardboard manufacturing. What am I missing?
The Fed: "Barring an upset, the Fed is expected to raise its benchmark interest rate in December in what may be the most anticipated policy move in its 100-year history. Because investors now think they know when the initial hike is coming, they've switched focus to the pace of subsequent increases. And "gradual" is the clue the Fed keeps providing" [Bloomberg]. "This Bloomberg article on gradualism and Fedspeak is quite unique. In thirty five years of reading analysis of the Fed I do not believe I have ever come across quotes from a linguistics professor and an etymology of a word. You learn something new each day" [Across the Curve]. The humanities are good for something!
The Fed: "'Low inflation is no surprise given the average condition of the economy in recent years,' [Michael Kiley, senior associate director at the Federal Reserve Board's Office of Financial Stability Policy and Research] writes. 'Indeed, relative to expectations based on the prior U.S. experience with high unemployment in the early 1980s, inflation has been surprisingly high.'" [Market News].
The Fed: "The Case for How the Fed Has Already Made Its Policy Mistake" [Bloomberg]. "The upshot is that with joblessness likely to bottom out below its current level, stabilizing inflation may ultimately mean the Fed has to tighten policy enough to boost joblessness by half a percentage point, an amount typically big enough to cause a recession, said Mortimer-Lee"
"Pfizer Inc.'s decision to escape the U.S. tax system by putting its legal headquarters in Ireland has stoked another round of calls in Washington to revamp tax rules and protect the corporate tax base" [Wall Street Journal, "Pfizer Inversion Puts Pressure on U.S. Lawmakers to Revamp Tax Rules"].
"Cash will be the most popular payment method for shoppers buying holiday gifts, with 39% of Americans saying they plan to use it for most of their holiday purchases" [MarketWatch]. "The preference for cash seems to be a result of shoppers not wanting to overspend, said Mike Cetera, a credit analyst at Bankrate." One more reason to abolish cash; withholding consumption is simply immoral.
"The efforts by Hello Alfred underscore how today's tech companies — even the youngest ones — have accepted lobbying as an essential part of doing business" [New York Times]. Hello Alfred is a personal butler service, and so, like Uber, it has labor issues. Unlike Uber, it's not going to simply break the law; it's going to lobby to change it. The headline is "Start-Up Leaders Embrace Lobbying as Part of the Job." Will somebody please explain to me the difference between a "start-up" and a normal business, except for the novel forms of predation and screwing the workers?
Today's Fear & Greed Index: 56 (+3); Greed [CNN]. Last week: 48 (Neutral). (0 is Extreme Fear; 100 is Extreme Greed). Never did slip back into Fear; now heading toward Greed again.
Police State Watch
"Cops Took More Property From Americans Than Burglars Did Last Year" [Gawker].
"[T]he conventional wisdom about recidivism in America is flatly wrong. In reality, the authors of the paper [from Abt Associates of Cambridge, MA] report, 2 out of 3 people who serve time in prison never come back, and only 11 percent come back multiple times" [Slate]. "The reason for the shocking discrepancy between these new findings and those of the [original BJS study], according to Abt's William Rhodes, is that the BJS used a sample population in which repeat offenders were vastly overrepresented."
Our Famously Free Press
"The Exquisite Poetry From a Day of Subheads on the Daily Mail Sidebar" [New York Magazine]. Whatever else it may be, the Daily Mail is an awesome display of technical and editorial prowess.
"The Porn Business Isn't Anything Like You Think It Is" [Wired]. 
Dear Old Blighty
"UK will speed up purchase of F-35 jets, increase anti-terror budget by 30%" [Ars Technica]. "The increases in defence and anti-terror spending, plus the aforementioned plan to cut the government's overall annual budget by around £20 billion, will mean extensive cuts to most other areas of government spending." But in exchange, you get three aircraft carriers and a pig of a plane that catches on fire!
The headline: "A new poll shows that Jeremy Corbyn is going nowhere" [The New Stateman]. The lead: "A new poll shows Jeremy Corbyn in a commanding position among members – if not his MPs. Something will have to give – but I don't think it will be Corbyn." Maybe "going nowhere" means two different things on opposite sides of the Big Pond?
"Labour must 'get its act together' so it can defend low-paid workers who are facing the most concerted attack on their living standards in a generation, the head of the UK's biggest public service union has said"[Guardian].
"Blairites, Brownites, Corbyn refuseniks: where do the New Labour tribes go next?" [Guardian]. Where the Whigs went: Out of politics.
Gaia
"NOAA chief tells lawmaker: No one will 'coerce the scientists who work for me'" [WaPo]. Sound great, but is weak; the scientists don't work for a person, but a government.
"Erowid contains highly detailed profiles of more than three hundred and fifty psychoactive substances, from caffeine to methamphetamine. Last year, the site had at least seventeen million unique visitors" [The New Yorker]. 
"In a new technical report, the American Academy of Pediatrics (AAP) argues that unnecessary use of antibiotics in livestock is fueling drug-resistant, life-threatening infections in humans, particularly young children. The report, published Monday in Pediatrics, recommends limiting the use of antibiotics on farms" [Ars Technica].
"Explainer: The legal form of the Paris climate agreement" [Carbon Brief (Paul Tioxin)].
"Agricultural policy: Govern our soils" [Nature]. "Soils are a limited natural resource, unequally divided between nations and people. They provide fertilizer for growing food; store and filter water; host rich ecosystems, including many little-known species; provide resources such as peat, sand, clay and gravel; and hold our cultural and historical memory in archaeological artefacts. The ground beneath our feet is a public good and service."
Water
"How the lack of water led to violence from Mexico to Syria" [Reveal News]. Round-up of coverage.
Class Warfare
"The Dialectic of Love and Authority" [Jacobin (DG)]. " Belief in ego, superego, and id is optional; the essential thing is to recognize that our minds have a deep structure—an unconscious—formed very early and subsequently difficult to access. The unconscious is the mold of our character, which is our usual pattern of action and reaction."
News of the Wired 
"Comcast Tests Net Neutrality By Letting Its Own Streaming Service Bypass Usage Caps" [Ars Technica].
"Hydra can modify its genetic program" [Phys.org].Hail, Hydra! Immortal Hydra! We shall never be destroyed! Cut off a limb, and two more shall take its place! We serve none but the Master—as the world shall soon serve us! Hail Hydra!!
* * *
Readers, feel free to contact me with (a) links, and even better (b) sources I should curate regularly, and (c) to find out how to send me images of plants. Vegetables are fine! Fungi are deemed to be honorary plants! See the previous Water Cooler (with plant) here. And here's today's plant (OregonCharles):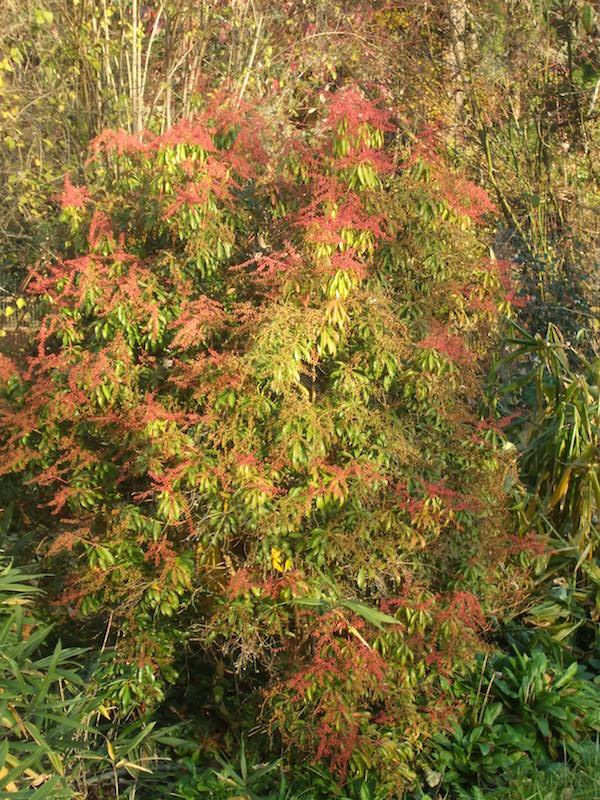 OregonCharles writes:
Dwarf pieris shrub. The red is the flower buds, which bloom white and pink in early spring and smell like sweet tortillas. This one is a seedling I rescued from a place I was working. I like converting weeds into landscaping.
A weed is just a plant you don't want…
* * *
If you enjoy Water Cooler, please consider tipping and click the hat. Winter has come, I need to buy fuel, and I need to keep my server up, too.