By Lambert Strether of Corrente
TPP/TTiP/TISA
"What is Regulatory Cooperation? The TTIP is not meant to be a traditional trade agreement. Along with trade rules agreed in the treaty negotiations, TTIP comes with a set of framework institutions, and mandates future regulatory cooperation regarding those 'barriers to trade and investment' not decided upon in the original agreement. In other words, TTIP is a 'living agreement,' an agreement that actualizes itself" [Social Europe]. Skynet! Important post; TPP is also a so-called "living agreement," as NC readers know.
"TTIP has run into a storm of public opposition, particularly in Europe, mainly stemming from the fear that the interests of multinationals are being put before those of citizens. Trade has become intertwined with the broader issues of corporate power and inequality. TTIP will not be agreed any time soon" [Guardian]. Good overview of "trade" generally.
"The texts from the various trade agreements, including the Trans-Pacific Partnership (TTP), make it clear that they will increase production, trade and consumption of fossil fuels" [Guardian].
2016
Policy
"Hillary Clinton Calls for $275 Billion in Federal Infrastructure Spending" [Bloomberg]. "Clinton's plan would put $250 billion toward direct federal spending on infrastructure, while the remaining $25 billion would be seed funds to launch what her campaign described as a "strategic infrastructure bank." The bank would leverage the initial federal investment to support another $225 billion in direct loans, loan guarantees and other forms of credit. In all, Clinton's proposal would end up putting $500 billion in public and private funds toward infrastructure projects." Needlessly complex.

"Koch 'Alliance" on Criminal Justice Reform Exposed as Trojan Horse" [Dan Froomkin, The Intercept].

"Challenging the Oligarchy" [Paul Krugman, New York Review of Books]. A useful round-up, including a debunking of "skill-biased technological change."
The Voters
"If we were betrayed by Bill Clinton, and suffered dashed hopes under Obama, maybe, just maybe, we will get from Hillary Clinton what we most need and truly deserve: a set of political practices and policies that reinforce the truth that black lives must, and do, finally matter" [Michael Eric Dyson, The New Republic].

"The Lesson Of Trump Is You Should Argue With Your Own Team" [Forbes].

"The Koch brothers are spending big bucks to win over Latinos. Here's why it probably won't work" [Greg Sargent, WaPo].

"The truth about the white working class: Why it's really allergic to voting for Democrats" [Salon]. The headline, of course, reflects Salon's party line on identity politics, although, to be fair, the article itself is useful, in a potentially intersectional way. Here, however, is the deeply buried nut graph:

So if the working class generally likes Democrats (with the exception of working-class whites), why do Democrats lose elections? The key is turnout, a point MacGillis makes, citing some of my research.

The core question then, for Democrats, is how to mobilize the low-income voters who are disproportionately harmed by Republican policies.

As has been known at least since election 2000. Yet the Democrats, from that day to this, have neither increased turnout — with the single exception of 2008, whereupon their immediate betrayals let to the 2010 debacle — nor protected voter registration rights, choosing instead to imitate Republicans. One can only wonder why. The Democrats, to say the least, have not displayed adaptability, and organisms that don't do that don't survive.
The Trail
"N.H. primary poll puts non-candidate Romney first" [Boston Globe]. Time to strap Seamus on top of the car and go for a spin again?

"Push to make ethanol a player in presidential race" [Des Moines Register]. Use oil and gas to grow plants to make gas. It's perfect.

"How a Jim Webb independent presidential bid could actually matter (hint: Virginia)" [WaPo]. Another book tour for Webb?

New Hamphire Union Leader endorses Christie [New York Times].

Sanders: "From coast to coast, the American people are crying out for change, for real change" [The Hill].
Stats Watch
Chicago PMI, November 2015: "Volatility is what to expect from the Chicago PMI which is back in contraction" [Econoday]. "New orders are down sharply and are back in contraction while backlog orders are in a 10th month of contraction." And: "wildly gyrating" [Econintersect]
Dallas Fed Mfg Survey, November 2015: "The Dallas Fed's general activity index is in contraction for an 11th consecutive month" [Econoday].
Pending Home Sales Index, October, 2015: "Sales of existing homes have been soft and are not likely to pick up in the next few months based on October's pending sales index: [Econoday]. "[T]he most striking episode in the graph above is the Great Recession in 2008-2009. Falling GDP around the world meant falling demand for commodities. It was also associated with a flight to safety in capital markets, which showed up as a surge in the value of the dollar. It's not the case that the strong dollar then was the cause of falling dollar prices of oil and copper. Instead, the Great Recession was itself the common cause behind movements in all three variables."
"Report: VW execs knew about fuel economy, emissions cheating a year ago" [Ars Technica]. "Fuel mileage issues, not 'subdued demand' behind sales halt of VW Polo BlueMotion." Sad. We're looking at millions of cars, now.
Retail: "42 Million Dead In Bloodiest Black Friday Weekend On Record" [The Onion].
Retail: "More than 103 million people shopped online over the four-day weekend, which started Thursday on Thanksgiving and continued with Black Friday, according to an annual survey commissioned by the National Retail Federation. That compares with fewer than 102 million who ventured into traditional stores" [Bloomberg]. "[I]t's hard to tell if consumers are spending as much as they once did. The average shopper shelled out $299.60 over the weekend, said the [National Retail Foundation], which commissioned Prosper Insights & Analytics to conduct the survey. But a change in methodology means that figure isn't comparable to those from prior years. It had been $380.95 in 2014's Black Friday weekend and $407.02 the year before."
Commodities: "The dramatic decline in the prices of a number of commodities over the last 16 months must have a common factor. One variable that seems to be quite important is the exchange rate" [Econbrowser].
The Fed: " The Dodd-Frank Act ended the Federal Reserve's ability to repeat the bailout of individual firms, with huge loans like those extended to AIG and Bear Stearns and also ended its power to create the kinds of lending programs that supported the ABS market and other weakened market sectors, with acronyms like TALF. In a vote later in the morning, the Fed Board is scheduled to approve the language defining the new regime, specifying that only loans aimed at "broad based" areas of the financial system are permitted and they would have to cover at least five entities" [Market News]. "The loan proceeds could not be forwarded to insolvent firms and could have an initial duration of no longer than one year. In another financial crisis, however, Congress could act to restore the power to bailout an individual firm but no longer would the Fed have the ability to act quickly and on its own authority if a single firm threatened to bring down the financial system." And clever people have been gaming this out for months… 
Today's Fear & Greed Index: 58 (0); Greed [CNN]. Last week: 53 (Neutral). (0 is Extreme Fear; 100 is Extreme Greed).
Black Injustice Tipping Point
"Top Ten differences between White Terrorists and Others" [Informed Comment]. 
"Three Men Who Shot Black Lives Matter Protesters Emerged From Internet's Racist Swamps" [David Neiwert, Alternet].
Our Famously Free Press
"So I will try to explain why the Trump candidacy has been so confounding to our political press" [Jay Rosen, Press Think]. "To an extent unrealized before this year, the role of the press in presidential campaigns relied on shared assumptions within the political class and election industry about what the rules were and what the penalty would be for violating them."
Police State Watch
St Louis judge and DS accidentally let an ACLU lawyer, Grant Doty, serve as a grand juror. Hilarity ensues [St Louis Today]. "One of Doty's questions that day led to his removal. According to legal filings, he asked an officer, 'How many police officers he had worked with who were thought by him to be corrupt?'" 
"Burger King manager: Police erased video of Chicago shooting" [AP].
NYPD Commissioner Bratton: "We have been through quite a year this past year, beginning with the demonstrations in last November and December, the street demonstrations, that led to the murder of two of our police officers" [Capital New York]. Woweers. And from Diblasio's first, and instant, appointment, too.
"[The NYPD] unveiled a new $30 million hay-filled headquarters for its 52-horse, 100-officer mounted unit on the ground floor of a luxury building on Manhattan's trendy far West Side. Gleaming gold finials atop the same brand of stalls used by the Queen" are among the features" [Telegraph]. The Queen? I would have thought Louis XVI.
Corruption
"[An AP review of calendars from the Clinton emails shows] the woman who would become a 2016 presidential candidate met or spoke by phone with nearly 100 corporate executives, Clinton charity donors and political supporters during her four years at the State Department between 2009 and 2013, records show" [AP (Daily Mail)]. "'It shows Hillary Clinton marrying her political interests with the business and policy interests of powerful people,' said Lawrence Jacobs, director of the Center for the Study of Politics and Governance at the University of Minnesota. 'These are the people you cultivate to lay the groundwork for running for president.'" Like we said: "[T]hey have created a ginormous and ever-evolving hairball of tangled and conflicted personal and institutional relationships, a permanent campaign composed of the Clinton Foundation, the Clinton Campaign, and Clintonland, the personal networks that both Clintons have accreted over the years of, er, 'public service.'"
Gaia
"More than 70 cities and counties in the Carolinas, Georgia and Florida have passed resolutions opposing oil exploration or drilling off their coasts" [McClatchy].
"The Biggest Climate Challenge: Leaving Carbon in the Ground" [Bill McKibben, Scientific American].
"The Paris Climate Talks Will Be a Historic Success. And a Historic Disaster." [Bill McKibben, Foreign Policy].
Water
"Playing politics with people's water along US-Mexico border" [Reveal News]. It's not "playing politics." It's outright corruption by the local oligarchy.
In interviews with more than a dozen current and former Webb County employees, the Texas Rangers were told that water utilities workers routinely were asked to sell tickets for dances or plates of steak – a common way to fundraise in Webb County political races.

If the workers refused or raised less money than was expected, many told the Rangers, they would be demoted, given menial tasks or threatened with dismissal.

One water utilities department employee, Magdalena Sosa, "stated she had to sell or buy $200 worth of tickets every two weeks" or she could be fired or transferred, the Rangers wrote in their report.
What a racket. I wonder how many other places this is going on?
Guillotine Watch
"Mary-Kate Olsen had 'bowls of cigarettes' for guests at wedding" [New York Post]. Even if "cigarette" is a euphemism for "joint," the cheesy transgressiveness and impunity still gets me.
Class Warfare
"Secular stagnation and the financial sector (updated)" [Crooked Timber]. FIRE sector as Australian eucalypt.
"Black Friday brawl videos are how rich people shame the poor" [WaPo]. Meanwhile, in Syria, the very serious people aren't brawling at all.
"Rococo Pastoral Paintings And The Opposite Of Marxism" [The Toast].
"Inequality isn't just unfair — it's making people sick" [Vox]. They don't call it class warfare for nothing.
"In DC, public housing tenants forced out, then homes flipped" [AP]. 
"Where's the partisan polarization on abortion?" [WaPo]. If I read the charts right, the real division is in higher-income cohorts.
The ancien regime raised money by selling offices ("venal offices"). "[Rebecca] Spang writes: 'Throughout the debate, no one (not even Marat or Robespierre) took the truly revolutionary position of suggesting venal offices might be illegitimate privileges that could be cancelled without payment.' But, she adds, 'Simply abolishing the offices was unthinkable but so too was leaving the debt on the books, since officeholders who had not been repaid would retain their property and privilege would still exist.' Settling the debts in one go would would consign the ancien regime to history and complete the revolution. Hence the issue of assignats backed by the expropriated land of the church" [Enlightenment Economics].
News of the Wired 
"The world's favorite fruit is slowly but surely being driven to extinction" [Quartz (RS)]. The banana.
"XKCD's Randall Munroe, whose excellent new book Thing Explainer: Complicated Stuff in Simple Words breaks down in absurdly detailed diagrams how everything from the solar system to microwaves actually function, using only the 1,000 ("ten hundred") most common words in the English language" [Wired]. "Microchip" = "thinking box." "Speaker" = "sound maker." And so forth.
"I have 227 browser tabs open, and my computer runs fine. Here's my secret" [Vox]. Caffeine?
"How LSD Microdosing Became the Hot New Business Trip" [Rolling Stone]. So that's what happened with iOS; I'd been wondering.
"CITE: The $1 billion city that nobody calls home" [CNN].
"The vision is an environment where new products, services and technologies can be demonstrated and tested without disrupting everyday life," says Pegasus Managing Director Robert Brumley.

Without a human population to worry about, the possibilities are endless. Driverless vehicles could be used on responsive roads, monitored from above by traffic drones.
So we're going to test driverless cars — and presumably tweak their algorithms — in an environment without any people or pedestrians. What could go wrong? Another guy with more money than sense.
* * *
Readers, feel free to contact me with (a) links, and even better (b) sources I should curate regularly, and (c) to find out how to send me images of plants. Vegetables are fine! Fungi are deemed to be honorary plants! See the previous Water Cooler (with plant) here. And here's today's plant (Marise):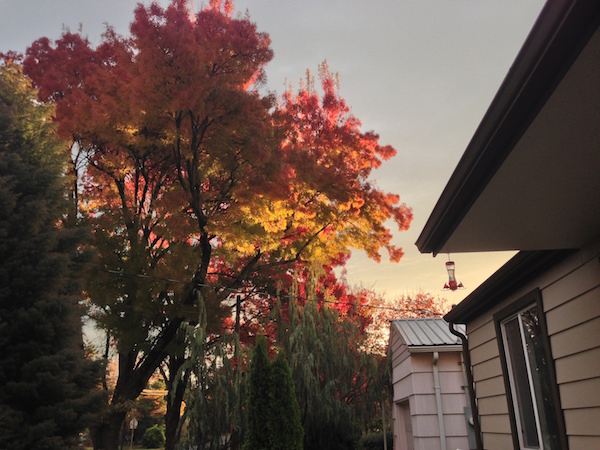 Bev's tree.
* * *
If you enjoy Water Cooler, please consider tipping and click the hat. Winter has come, I need to buy fuel, and I need to keep my server up, too.