Apologies for the lack of original posts. The site was down for a while overnight.
American companies could soon mine asteroids for profit Wired (Vlad)
Vandana Shiva: Agri-Corporations Attempt to Hijack COP21 EcoWatch (furzy mouse)
Amazon Selling $40 Android Tablets That Come With Pre-Installed Malware International Business Times
Depo-Provera, HIV and the WHO: Forsaking Science for Special Interests? Truthout (Doug S)
Apple Inc. Wants To Be Your Bank, And The Big Banks Should Be Worried International Business Times. I don't buy the concern at all. Banks have been entering into co-branded arrangements for years; I did a series of projects for Amex on this business nearly 20 years ago. Apple won't get the other skills, like risk management or credit underwriting, from this exercise.
Myanmar
China?
'Vale and BHP were completely careless': Brazil levies initial fines of $93 million over Samarco tragedy Sydney Morning Herald (EM)
Eurozone Economy Slows as Exports Weaken Wall Street Journal
Crickhowell: 'Offshore' Welsh town unites in its anger at Britain's corporate tax avoiders Independent (Chuck L)
Labour's share Andrew Haldane, Bank of England (Vlad)
Syraqistan
Imperial Collapse Watch
U.S. Airstrike Targets 'Jihadi John,' Terrorist in ISIS Beheading Videos Wall Street Journal. This isn't just a news story. The Journal saw fit to send this as an alert, meaning one of the half-dozen "must read now" stories of the day, and the BBC has it as its lead story now. This is a sign of how far the US has fallen. Things like major battles in progress are the stuff of headlines. Targeting one guy? And in another element of importance inflation, those "airstrikes" are with drones, and we haven't gotten the Bad Guy yet, although the media barrage strongly suggests that he is actually already dead or so cornered that he is certain to be dead. And we are using gee-whiz super tech that still makes red mist out of a lot innocent bystanders. This is awfully reminiscent of the "we got Osama Bin Laden" media campaign. I wonder what Wag the Dog embarrassment The Power That BE want to crowd out of the headlines right now.
Big Brother is Watching You Watch
Did the FBI Pay a University to Attack Tor Users? Tor Project. William B: "Note also that Carnegie Mellon is on the NSA's list of 'Centers of Academic Excellence' (a polite way of saying 'NATSEC Minions').

Documents Expose FBI's Targeting of School of the Americas Watch Institute for Public Accuracy
Trade Traitors
Trump Was Right About TPP Benefiting China David Dayen, Intercept
2016
Court upholds California death penalty BBC
Why Jeffrey Lacker Is Worried About Inflation New York Times (resilc)
Markets stumble after Fed comment hinting at interest rate increase Washington Post
Blackstone buys $3bn of property funds from Calpers Financial Times (Gary B). We don't have the terms, but this could prove to be a very good move for CalPERS. Blackstone has a nasty history of doing big real estate deal at the top of the market, and its foray into rental housing is not looking so smart. CalPERs is not exiting for market timing reasons, but cool-headed people were telling me the commercial real estate market looks overheated six months ago and it has only gotten worse.
Voluntary disclosure of offshore tax evasion VoxEU (Vlad)
Beyond Banking: funds' talent pool dries Financial Times
Guillotine Watch
Billionaire Spends Record $48.5 Million on Blue Moon Diamond for 7-Year-Old Daughter Newsweek
Class Warfare
What Peter Drucker Had to Say About Automation Harvard Business Review

Split emerges among US holiday shoppers Financial Times

Tech companies, labor advocates, and think tankers of all stripes call for sweeping reforms to the social safety net Washington Post. Not to help workers or stimulate demand, but to facilitate the growth of the "sharing" economy.
Antidote du jour. The famous Hachikō: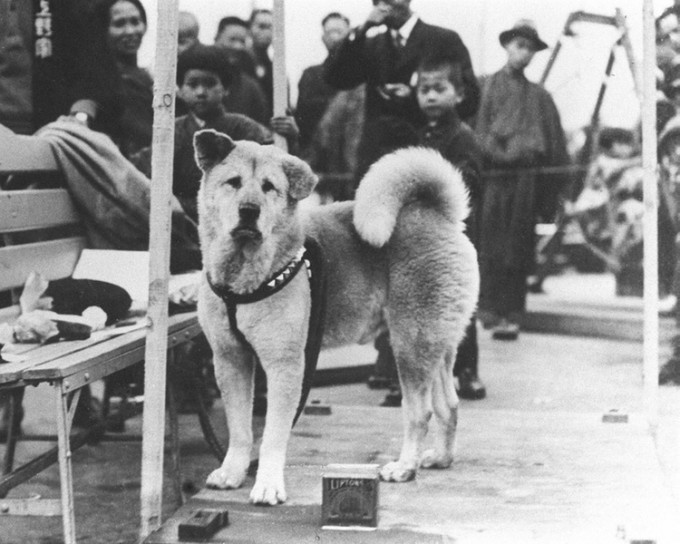 See yesterday's Links and Antidote du Jour here.